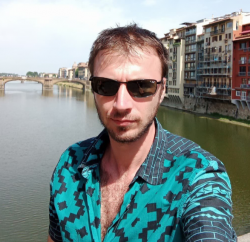 Latest posts by Stefan Stevanovic
(see all)
Evelynn, the Agony's Embrace, is among the oldest champions in the game, and, as such, she has a plethora of skins you can choose from. This sneaky assassin can be hard to master, but once you get ahold of her basics, you can become a potent weapon on the field of battle.
In this guide, I will review Evelynn's skins, talk about their features, price, as well as their pros, and cons.
Key Info Up Front
Evelynn is an assassin champion that has 11 skins. Although I like her default cosmetic, some of these items are a major upgrade. So, if you're an avid Evelynn player, I recommend you go with skins such as Coven Evelynn or Sugar Rush Evelynn.
Original Evelynn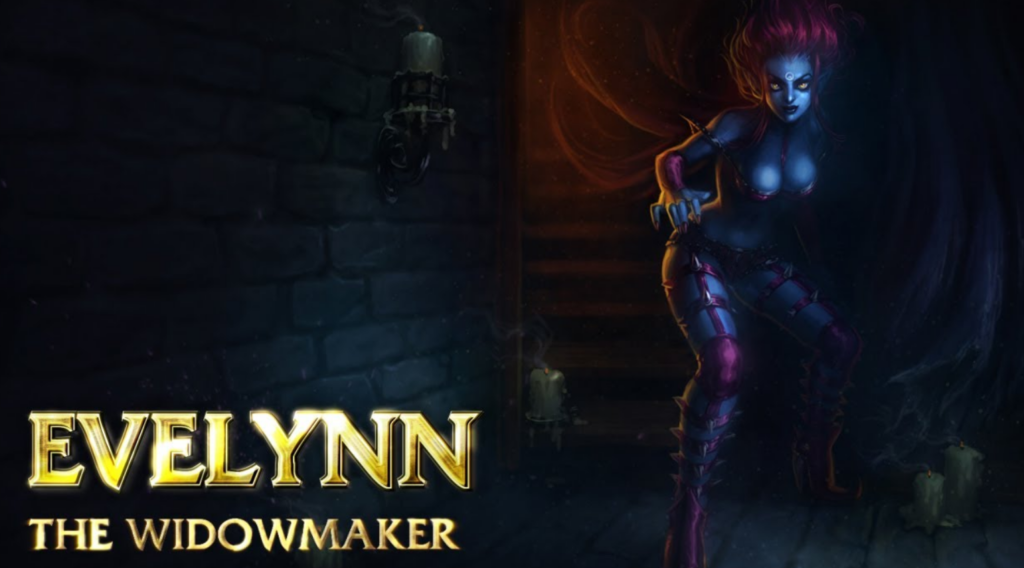 Skin Lore
Evelynn is a demonic entity that roams hidden passages of Runeterra. With her human looks, she is able to lure unsuspecting victims into her trap. Once they're close enough, the Agony's Embrace will reveal her true colors. She likes to toy with all her prisoners as their pain brings her a special kind of ecstasy. For many people, Evelynn has become a symbol of unhealthy desire.
Appearance and model
The best way to describe Evelynn is as a succubus. This trickster has all the feminine qualities combined with a demon's ruthlessness.
Her color palette combines purple, black, gray, and pink. She has high heels and a dark/purple stocking on her right leg. Evelynn barely wears anything on her upper body, which is why the champion's default skin is banned in many countries. Aside from panties, most of her body is completely revealed (although you can't see her nipples).
Instead of normal human hands, the champion has two large pink claws. Her hair is pink, with blue sections, and there is a unique kind of malice seething behind her yellow predatorial eyes. Lastly, the character has long tail-like appendages coming out of her back.
Visual Effects (VFX) and Sound Effects (SFX)
Base effects
Animations
Base animations
Pros
Her claws are pretty nice as well as her hair.
The color palette is nice, intimidating, and goes well with her lore.
Cons
I would like a few more details.
Shadow Evelynn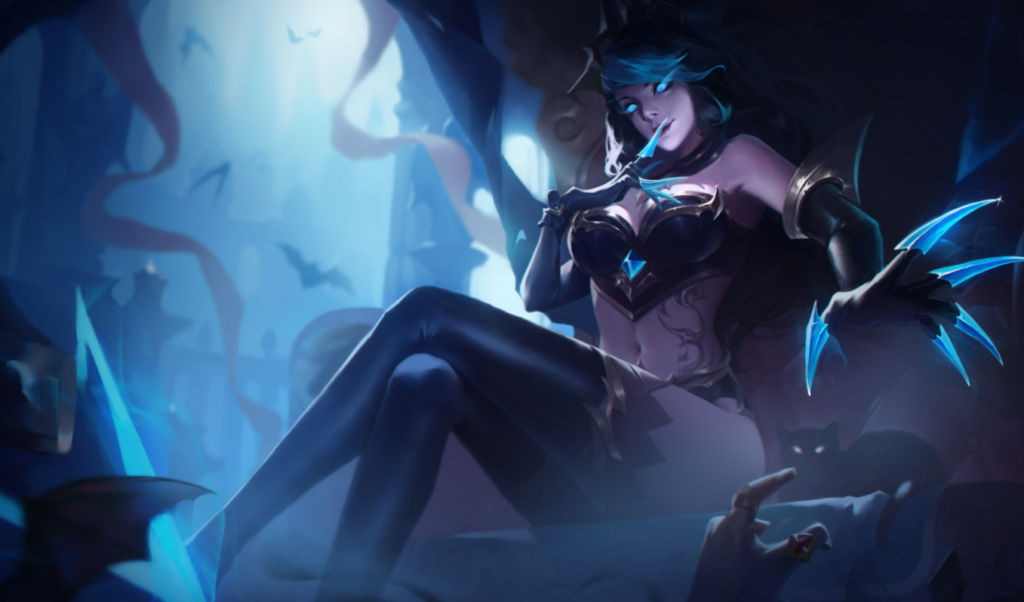 Price: 520
Skin Lore
N/A
Appearance and model
Shadow Evelynn is a solid cosmetic improvement compared to the base skin.
This particular item is more according to the lore. In other words, you can see that Evelynn has an almost human body, which she uses as a natural disguise. The champion has high heels, long dark stockings that end with golden detail.
Evelynn uses dark pants and brasier to cover intimate areas. Both of these pieces are decorated with small, gold stripes, and there is a sapphire in the center of the bra. Shadow Evelynn wears two long dark gloves ending in sharp crystal blue nails.
The Agony's Embrace has a nice golden necklace and a dark blue chocker. She has a white tan and dark hair with crystal blue strands. The champion's tail ends with two sharp-edged blades.
Visual Effects (VFX) and Sound Effects (SFX)
Base effects
Animations
Base animations
Pros
The colors are much more focused compared to the original skin; they complement each other better.
Given that the champion has a white tan, this is probably her disguise.
Cons
Another small detail could be nice
Masquerade Evelynn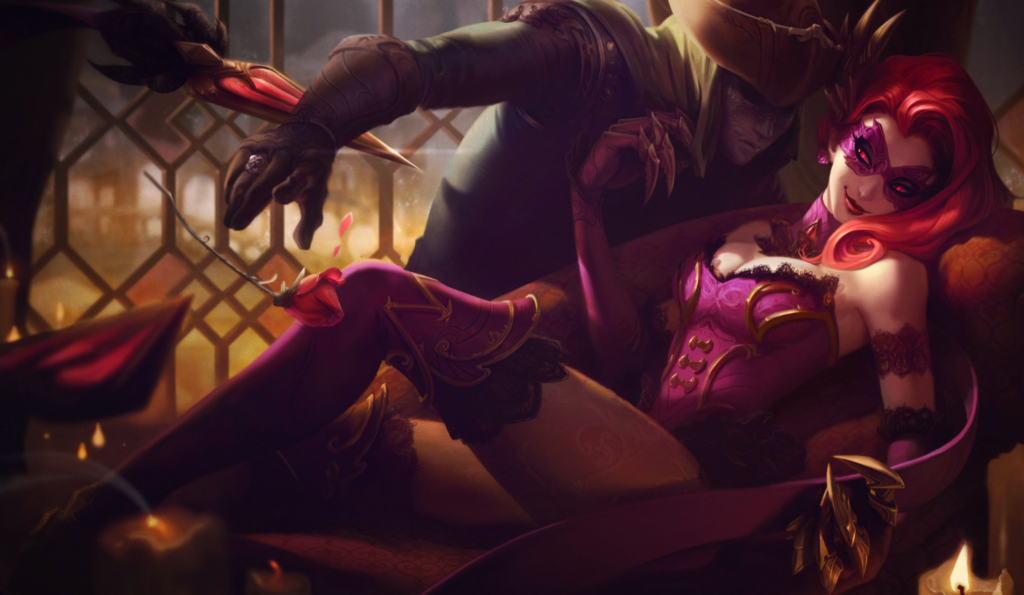 Price: 520
Skin Lore
N/A
Appearance and model
This is probably a reference to Vampire: The Masquerade. Alternatively, it might be a representation of the Venice Carnival.
Interestingly enough, Shadow Evelynn and Masquerade Evelynn have very similar shoes and stockings. However, these are very different from thighs up. The Agony's Embrace has a short skirt that reminds me of a burlesque show. It combines purple, black, and gold stripes.
The champion's shoulders and arms are naked, but she has long velvety gloves with sharp orange nails. A purple mask is the centerpiece of this skin. It covers the area around the eyes and has golden feathers on the right side. Evelynn's hair is red and stylish. The tails are also given extra details. They are purple, ending in black pleats and golden/pink daggers.
Visual Effects (VFX) and Sound Effects (SFX)
Base effects
Animations
Base animations
Pros
I simply love the hair.
Overall, the costume looks very nice and goes well with the lore.
Cons
The boots and stockings are a bit too plain.
Tango Evelynn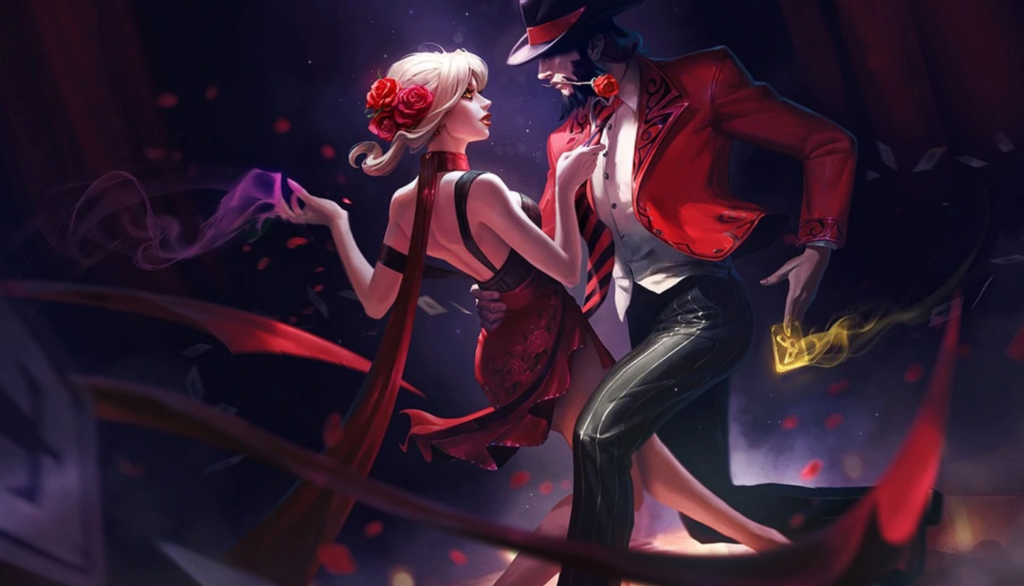 Price: 520
Skin Lore
N/A
Appearance and model
The cosmetic shares the theme with Tango Twisted Fate. If you check the skin pic, you will notice that Evelynn is trying to cast Allure while Twisted Fate is trying to stun her with Golden Card.
The item has all elements common for tango: a red dress with pleats and flowers open on one side, a short sweetheart neck top, and high heels. The champion has a white human tan, and the only thing that gives away her demonic presence is the ominous yellow eyes.
Evelynn has long pink nails that, in this particular case, look more like a fashion statement than actual claws. She wears thick eyeliner and mascara while also having passionate red lipstick. The champion has blonde hair, which she wears in a bun. A few stands are falling on her shoulders. Red roses in her hair add to the charming appeal.
As for the tails, she no longer bears daggers but, instead, just two long pieces of cloth with flower motifs.
Visual Effects (VFX) and Sound Effects (SFX)
I believe that the effects are in a slightly different color. Instead of deep purple, the designers used lighter shades of red/purple.
Animations
During the Recall spell, Evelynn sits on her tail and waves to the camera.
Pros
Great for fans of tango and dancing.
Instead of looking insidious, Evelynn looks very classy.
Cons
Pink nails are a bit out of place with all the red colors.
Safecracker Evelynn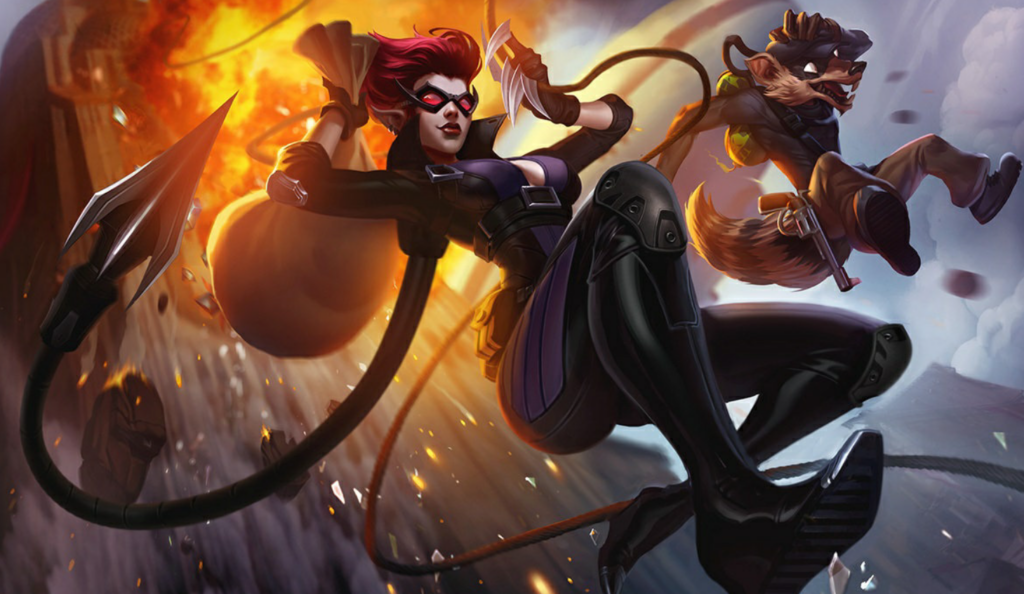 Price: 750
Skin Lore
N/A
Appearance and model
Safecracker Evelynn is a part of the Cops and Robbers collection together with Officer Vi, Officer Caitlyn, Captain Volibear, Constable Trundle, and Pickpocket Twitch. Her particular costume might be a reference to Catwoman. However, she also reminds me of a few X-Men characters.
The champion wears a one-piece black/dark blue costume. It has reinforcements on the knees and shoulders, as well as two belt pouches which are probably used for various thieving tools. Evelynn has a high collar making her extra cool. Her large, knife-life claws are protruding from black gloves.
The Agony's Embrace also has red eyeglasses and slick red hair. Her regular tails are replaced with grappling hooks, which makes it extra handy for someone in Evelyn's line of duty.
Visual Effects (VFX) and Sound Effects (SFX)
N/A
Animations
N/A
Pros
The costume is really dark, gloomy.
I love that the champion has grappling hooks for a tail.
Cons
Blood Moon Evelynn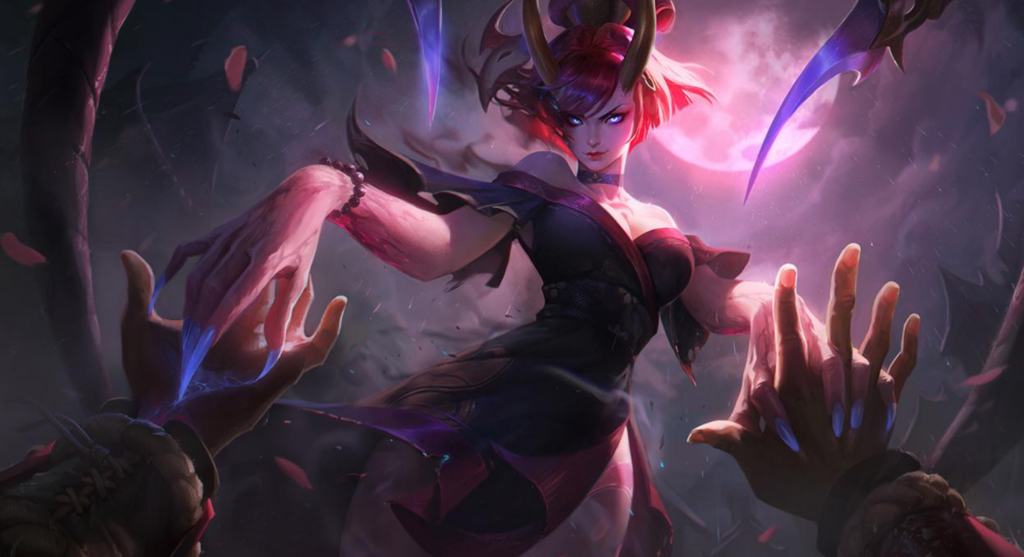 Price: 975
Skin Lore
Evelynn is summoned during every Blood Moon. She moves between settlements, bewitching its residents and luring them into a deathly trap. After falling victim to Evelynn's charms, the seductress is quick to end their existence.
Appearance and model
The cosmetic is from the Blood Moon series. Other collectibles include Blood Moon Yasuo, Blood Moon Kalista, Blood Moon Kennen, Blood Moon Master Yi, Blood Moon Akali, Blood Moon Elise, Blood Moon Diana, Blood Moon Aatrox, Blood Moon Jhin, Blood Moon Katarina, Blood Moon Pyke, Blood Moon Thresh, and others.
One of the more notable features of the skin is the mask that Evelynn carries on the side of her head. These items are common for Noh shows presented in various Japanese theaters. In fact, her appearance is very similar to Onis, creatures from Japanese folklore.
The Agony's Embrace wears long white socks ending with red ribbons. Her heels are also red and have puffy furry balls on top of them. The champion's skin is rather pale, and she has a large tattoo on her thigh and a smaller one across her chest.
The kimono dress covers the majority of the midsection, although it is rather short. The outfit combines black and red colors with hints of gold. While Evelynn doesn't wear any gloves, her hands are blood red and end in crystalized claws.
Besides the mask, she also has two golden/white horns on her head and a large golden pin in her red hair. The champion also wears red lipstick and has human blue eyes. Lastly, her tail looks like an elongated rope that ends in deadly crescent moon blades.
Visual Effects (VFX) and Sound Effects (SFX)
Instead of the bright pink color, her Hate Spike is blue. After the projectile, lots of small blue spikes will emerge from the ground, and three blue balls will encircle the opponents (instead of pink ones).
Allure has a very complex visual. The heart has several elements around its edges, making the effect much more appealing. Whiplash also looks a bit cooler than the default effect. Instead of deep purple nuances, Last Caress utilizes brighter pink colors. Also, when her passive camouflage activates, Evelynn has a much brighter, pink color instead of the dark effect.
Animations
When using Recall, Evelynn will first create a big ball of blood. After sitting on it and blowing a kiss, she will be teleported to the base. Her basic attacks create a dark red splashing mark at the point of impact.
Pros
Bright red and bright blue mash well together.
The hair, the surrounding trinkets, and the outfit are pretty nice.
Cons
The shoes reduce her intimidation factor.
K/DA Evelynn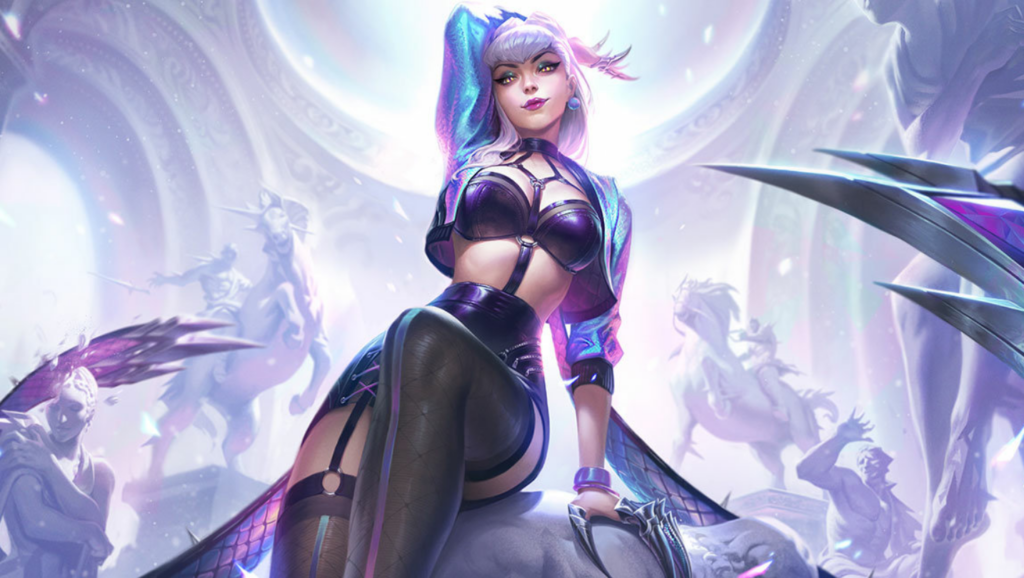 Price: 1,350
Skin Lore
K/DA Evelynn was always a source of controversy. Destined for stardom, she drives the media crazy with her outbursts. Regardless of her flaws and volatility, she is regarded as the queen of the K/DA style.
Appearance and model
K/DA is an acronym for kills/deaths and assists in showcasing a champion's efficiency. However, in this particular case, it is actually a reference to K-Pop. The cosmetic belongs to the K/DA collection together with K/DA Kai'Sa, K/DA Akali, K/DA Ahri, Popstar Ahri, K/DA Kai'Sa Prestige Edition, K/DA Akali Prestige Edition, K/DA Ahri Prestige Edition.
Basically, Evelynn looks like a real K-Pop star. Very stylish and polished, she has numerous golden chains and other trinkets on her body. Her claws are similarly gold, and she has a small mic close to her mouth. The Agony's Embrace wears lovely high heels and has a dark shirt with golden stripes.
Her upper section is covered by a brasier, and she has long purple/pink sleeves on both arms ending in golden bracelets. The champion's hair has a similar purple color as the sleeves. Tails combine dark blue, purple, and pink, and they end in two massive golden spikes.
Visual Effects (VFX) and Sound Effects (SFX)
Hate Spike utilizes yellow color instead of purple. The debuff on the enemy champion shows three triangular prisms instead of spheres. When the spikes go through the ground, they will have a similar prismatic shape, and you can notice the arrow effect going towards the target.
The heart effect during Allura is also different. The heart is fully shaped, resembling a diamond, without any empty space. It has a vivid pink color, and you can notice extra yellow effects on top of it. Whiplash utilizes a bit different color palette, although it looks somewhat similar to the original effect.
During camouflage, the champion's body will turn dark purple/black. However, you will notice that her hair and tail remain pink, with bright yellow pointy daggers at the end of it. Last Caress is also similar to the original animation. The main difference is that the designers added some yellow color shades to it.
Animations
During Recall, Evelynn performs a dance routine, after which she is teleported to base. Her basic strikes create a dark blue splashing effect.
Pros
I like how they utilized different shades of purple and black.
Unlike some other skins, her nails look much more natural.
Cons
I don't have any complaints
K/DA Evelynn Prestige Edition
Price: 100 prestige points
Skin Lore
Evelynn's golden outfit is meant to commemorate the trophy she received during the Music Awards. Used to being on the top, she is always on the hunt for new challenges.
Appearance and model
K/DA Evelynn Prestige Edition was released as a response to the enormous popularity of K/DA Evelynn. She is presented as a car model. A really interesting feature of this cosmetic is that once Evelynn reaches 6 K/DA, she will start wearing sunglasses each time she goes invisible.
The outfit combines a lot of golden and white elements with some light blue. She has really nice white high heels and two golden bracelets around her ankles. The Agony's Embrace has a white skin complexion. She wears a nice golden dress that goes from her thighs to her armpits. The outfit is really fashionable and has gentle stripes going from the bottom to the top.
Evelynn wears a white jacket, has gold claws with light blue fingertips. Aside from two golden bracelets, she also has a sapphire necklace around her neck. The pop idol has yellow eyes, short blonde hair, and two long yellow tails ending in crystal blue spikes.
Visual Effects (VFX) and Sound Effects (SFX)
Hate Spike effect is very similar to that of K/DA Evelynn. Although the shapes are the same, the color combinations are a bit different. For example, K/DA Evelynn Prestige Edition relies on light blue and gold, with some hints of white.
Allure effect is also very similar. The only difference is that the heart will turn golden/yellow instead of pink. When Demon Shade activates, Evelynn's body will turn brown/black. Her blonde hair will remain the same, and the tail will shine a bright blue color. Whiplash and Last Caress utilize golden/yellow colors instead of the previous shades.
Animations
K/DA Evelynn Prestige Edition has a very similar recall as the K/DA Evelynn. Her basic attacks leave a light blue mark instead of a dark blue.
Pros
The golden effects are really refreshing, especially if you played Evelynn for years and you're sick of the gloomy, dark palette.
I especially like the tail.
Cons
Some color combinations are out of whack.
Sugar Rush Evelynn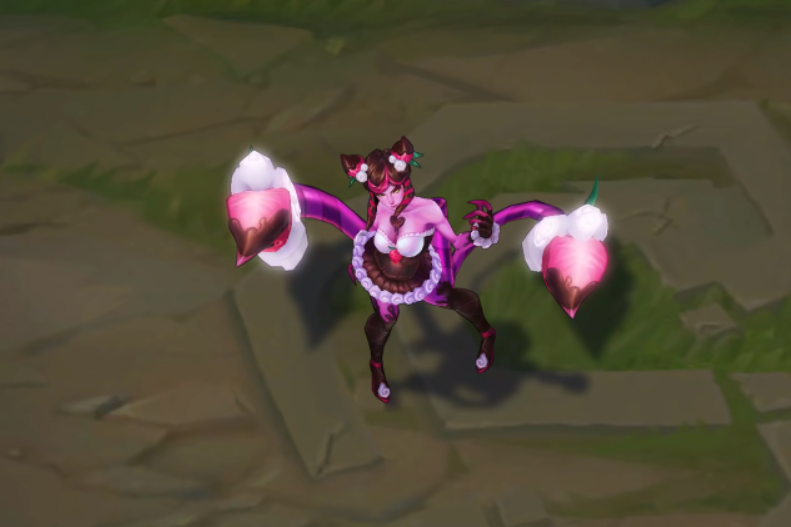 Price: 1,350
Skin Lore
In a universe where sweets are the most important currency, Evelynn's sugary bite goes a long way.
Appearance and model
The cosmetic is a part of the Sugar Rush collection alongside Sugar Rush Zilean, Sugar Rush Braum, Lollipoppy, Candy King Ivern, Dark Candy Fiddlesticks, Sugar Rush Ziggs, and Bittersweet Lulu. The chroma comes in the sweet tooth, rose quartz, jasper, ruby, amethyst, and obsidian color.
An interesting thing about the cosmetic is that Evelynn has strawberries instead of spikes at the end of her tails. She uses them to lure prey. You can also notice they are dipped in chocolate and surrounded by whipped cream. The rest of the lashers combines bright pink and purple stripes.
Out of all the Evelynn cosmetics, this is the most innovative one. In my opinion, the champion doesn't have the same sensational skins as some other characters.
Instead of the usual black stockings, her legs are dipped in chocolate. The Agony's Embrace wears red high heels with whipped cream on top of them. Her dress is rather short, resembling that of a French maid, and has whipped cream decoration on the bottom edge. There is also a strawberry stuck precariously between her breasts.
Evelynn's model is fully pink, otherwise. She wears a whipped cream choker and has a melted chocolate heart on her chest. Like legs, her arms are covered in chocolate dipping. The main difference between the two is that her arms end in razor-sharp claws.
As for the champion's head, she has an intricate hairstyle that looks like a combination of melted strawberry cream and chocolate. She also has two chocolate-covered strawberries on top of her head.
Visual Effects (VFX) and Sound Effects (SFX)
Hate Spike launches a massive strawberry toward an opponent. Once struck, three lollipops will start rotating around the target. Instead of the usual spikes, Evelynn will release a trail of pink/purple candy canes on the ground.
Allure creates a melted pink heart above the enemy's head. It has a perfect shape with gentle edges. When camouflaged, Evelynn's body turns dark purple. Strawberries on top of her head turn bright pink, as well as her tail strawberries and hand claws.
Whiplash and Last Caress utilize bright pink and purple effects respectfully. Prior to teleporting backward, you can notice a lollipop stuck in the ground where Evelynn is about to teleport.
Animations
During Recall animation, two gingerbread men will appear close to Evelynn. She will capture them with her lashers, eat them, and teleport afterward. Sugar Rush Evelynn creates a pink effect with each basic attack. You might also notice hints of green.
On critical strikes, two intertwined candy canes will appear on the enemy model.
Pros
The best out of all the Evelynn skins.
The effects are simply amazing; a lot of attention to detail.
Cons
K/DA ALL OUT Evelynn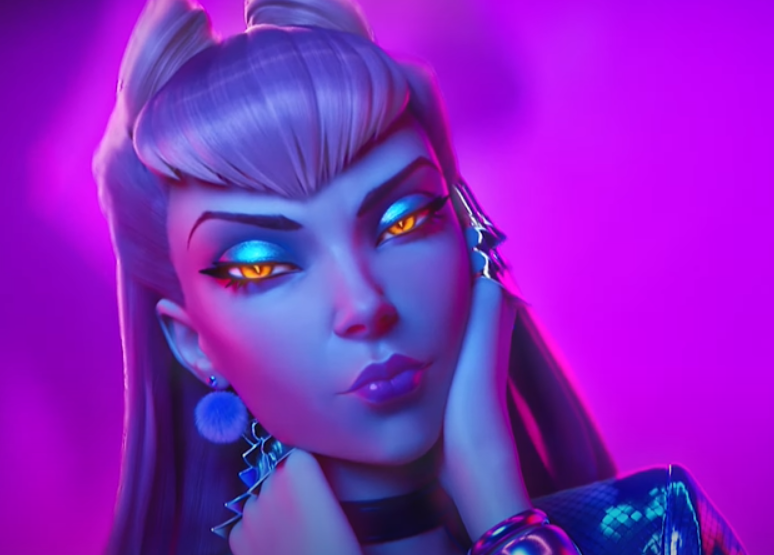 Price: 1,350
Skin Lore
Evelynn's charm can manipulate every person in her presence. She rose to the top through her charisma but decided that her fashion sense was the thing that would keep her there.
Appearance and model
Although she doesn't look like Medusa, there are a few things that connect Evelynn to this mythical being. For example, her tail has scales, her glowing eyes resemble that of a gorgon, and there are various statues of her victims in the background.
K/DA ALL OUT Evelynn is a part of a larger K/DA ALL OUT theme together with K/DA ALL OUT Kai'Sa, K/DA ALL OUT Ahri, K/DA ALL OUT Seraphine Superstar, K/DA ALL OUT Seraphine Rising Star, K/DA ALL OUT Seraphine Indie, K/DA ALL OUT Akali, K/DA ALL OUT Kai'Sa Prestige Edition.
Her chroma comes in several colors, including sapphire, tanzanite, pearl, emerald, rose quartz, turquoise, and ruby. This cosmetic reminds me a lot of the original K/DA Evelynn. The champion has high black stockings with a few cool details, such as long blue stripes. She wears silver high heels, each with a few extra decorations.
Evelynn wears a black skirt with a few sci-fi bits. Her tummy is exposed, and she has a metallic blue/black jacket. You can also see a black brasier beneath her outfit. I really like all the jewelry, such as metallic purple bracelets and earrings. Her fingers have silver metal color, and each of her middle fingers is painted purple.
As for her face, she wears a lot of makeup, including purple lipstick, mascara, and eyeliner. As always, her eyes are devilishly yellow. The Agony's Embrace's hair is light purple, which suits the overall theme of the cosmetic. Her tail is dark, leathery, with large spikes. It ends in two big spikes that have jewels inside of them.
Visual Effects (VFX) and Sound Effects (SFX)
Hate Spike releases a blue crystalized prism toward an enemy. Once it connects, three prisms will encircle the hit opponent. Subsequent ground spikes combine blue, pink, and purple colors. You can also notice cloudy effects around an opponent.
When Evelynn casts Allure, a diamond pink heart appears above an opponent's head. Unlike the default visual, this one doesn't create a circle on the ground. Whiplash leaves an effect that resembles broken blue glass. During camouflage, Evelynn's body will turn black except for her bright purple hair and turquoise tail. Last Caress utilizes several colors; during the animation, the champion's body will turn completely dark.
Animations
During Recall animation, a metal podium will appear below her feet. She will proceed to dance while slashing dark statues appearing around her. Evelynn also gets a new dance with this item. Auto-attacks create a blue, misty effect at the striking point.
When an enemy is at low health, a marker will appear on them, signifying two crossed edges.
Pros
Overall, great color combinations.
The effects are pretty awesome.
Cons
Her lasher looks like scruffy bird wings.
Coven Evelynn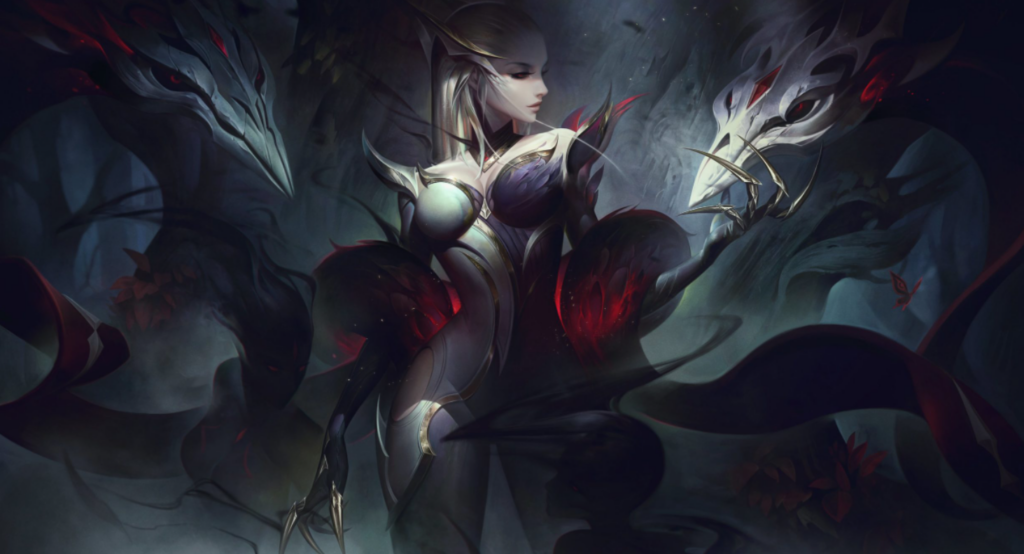 Price: 1,820
Skin Lore
Coven summons some of the oldest entities to its side. These individuals, Evelynn included, are willing to work together to bring misery and despair to other creatures.
Appearance and model
The cosmetic belongs to the Coven series. It has the same theme as Old God Malphite, Old God Warwick, Coven Ashe, Coven Lissandra, Coven LeBlanc, Coven Zyra, Coven Ahri, Coven Cassiopeia, Coven Morgana, Coven Camille, Old God Nocturne, Old God Ivern, Coven LeBlanc Prestige Edition, and Coven Zyra Prestige Edition.
Coven Evelynn comes in several colors, including sapphire, ruby, obsidian, dark ritual, pearl, rose quartz. The skin is pretty intimidating, combining silver, purple, and ruby red colors.
The Agony's Embrace wears high heels in purple and gold. She doesn't necessarily have leggings but instead a type of tattoo over her right leg, which transitions into midsection cover/armor. In many ways, the design resembles body armor, but it isn't truly so. The golden color is used to mark the edges of the outfit.
The champion has beautiful purple hands that end in golden claws. She fashions a large scarf that goes around her shoulders and transitions into a lasher. The scarf/tail is bright red with a silver ending. If you take a closer look, you will notice that Evelynn has two skulls instead of the usual blades.
Her hair is blonde, and she has two horns; one smaller purple one on the left and one larger silver/gold on the right.
Visual Effects (VFX) and Sound Effects (SFX)
There are so many cool things about Coven Evelynn's effects. When she camouflages, her body turns dark purple. The skulls at the end of the tail start shining white and red, which is the same color as her own head. Lastly, her claws will also become bright red.
Hate Spike throws a red skull projectile towards a target. Once it strikes, you can notice three dagger-like effects surrounding the victim. Evelynn proceeds by summoning barely visible spikes from the ground.
Allure creates a ring of blood beneath the opponent's feet, which will quickly turn into a white/red bat-like heart, which reminds me of Batman's logo. Whiplash has a small red splashing effect, while her ultimate will creates a red explosion of colors.
Animations
During one of her emotes, Evelynn will summon shades around her that start dancing together with the champion. The second emote shows her playful skulls battling each other.
When casting Recall, Evelynn will first turn to a demon, transition into a pile of blood, and eventually, a bat. Critical strikes have a claw-like effect, leaving a visual that looks like two crossed spears.
Pros
Amazing skin in every way.
I like everything they did with the pet skulls; they feel like separate entities.
Effects were given so much love.
Cons
FAQs
Question: What is the best Evelynn skin?
Answer: In my opinion, Coven Evelynn is simply bonkers. However, it is also worth mentioning Sugar Rush Evelynn if you want something more cheerful.
Question: What is Evelynn's natural color?
Answer: The demon combines purple, pink, and black colors for her base skin. In fact, the majority of her cosmetics utilize a similar pattern.
Question: Is Evelynn good or bad?
Answer: Evelynn is categorized as an assassin. She is a demon that possesses the souls of men and women alike, destroying them in the process. Evelynn is definitely a bad character.
Evelynn Skins Guide: Conclusion
Evelynn is a character that has received a major rework after a few years of existence. Not only did the designers change her appearance, but they also affected her cosmetics. Today, this demon has some really slick skin, such as Coven or Sugar Rush Evelynn that can significantly improve your gaming experience and refresh your daily grind.