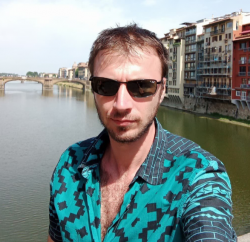 Latest posts by Stefan Stevanovic
(see all)
When we talk about stable League of Legends support, Janna is usually one of the first characters to come to mind. This wind mistress has been in the game for quite a while since its earliest days. As her nickname "The Storm's Fury" implies, the champion is able to control storms protecting allies and debilitating enemies.
Janna has lots of nifty spells. She can shield and heal allies, knockback, and slow opponents. Like any other support, she is item-independent, so you can be very effective with a minimal farm. What's even better, Janna can boost her allies' movement speed depending on the movement direction.
According to some sources, Janna draws inspiration from either X-Men Storm or Final Fantasy Barbariccia. Among others, she is one of the first champions to get a skin rework.
Key Info Up Front
Including the original design, there are 12 skins for this champion. Most of these items give Janna a gracious, majestic look. When you use some of them, the champion looks like a goddess, hovering above the field in all her splendor.
Of course, there are also a few cosmetics that are downright goofy. Forecast Janna is the first one that comes to mind. If I had to choose my favorite, that would probably be Star Guardian Janna. The model looks really nice and polished, unlike some of the other options.
Here is the list of Janna's skins based on the order of appearance.
Default Janna Skin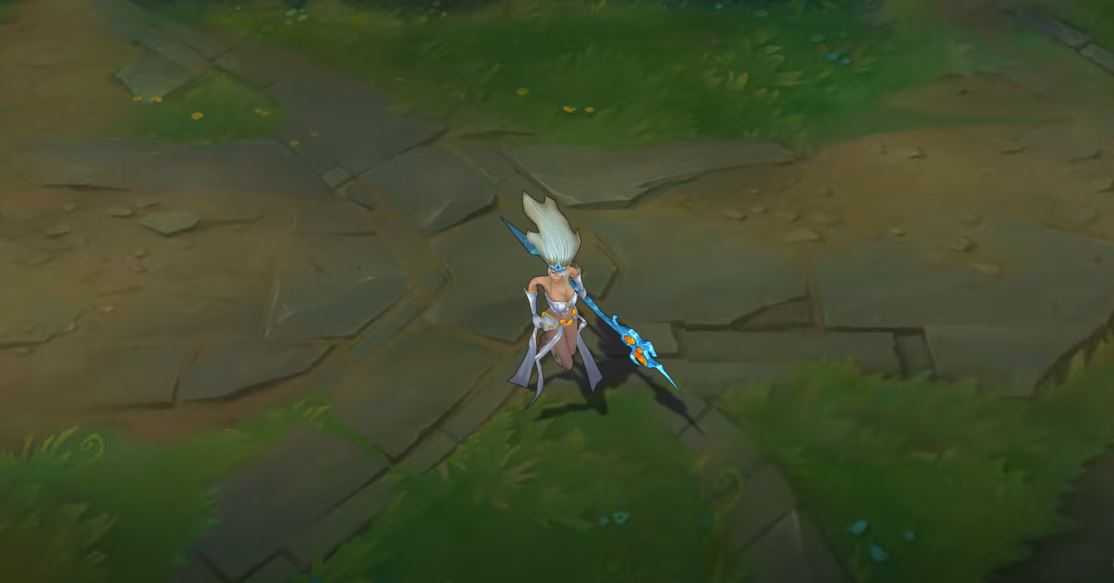 Skin Lore
Janna is an embodiment of the wind, safeguarding all of the oppressed citizens of Zaun. According to the legends, she was brought into life by the sailors who prayed for winds to carry them home. Since her materialization into this world, she has become somewhat of a deity.
People call her name each and every day, perceiving Janna as a beacon of hope. Despite the fact that we don't know much about the Storm's Fury and her whereabouts, she always comes to save us when needed the most.
Appearance and Model
As bad as that sounds, Janna is basically what you would expect from a female model in video games. Barely wearing any clothes, the basic skin is showing a lot of skin. A skimpy white outfit covers her intimate areas. She also has matching white/gold gloves and shin pieces.
The champion has pointy, elfish ears and long, blond hair going upwards. Demonstrating her status, a blue crystal crown sits atop her head. Another detail worth mentioning is the white strips flowing down from her hips. Janna carries a massive crystal scepter featuring citrines on the top.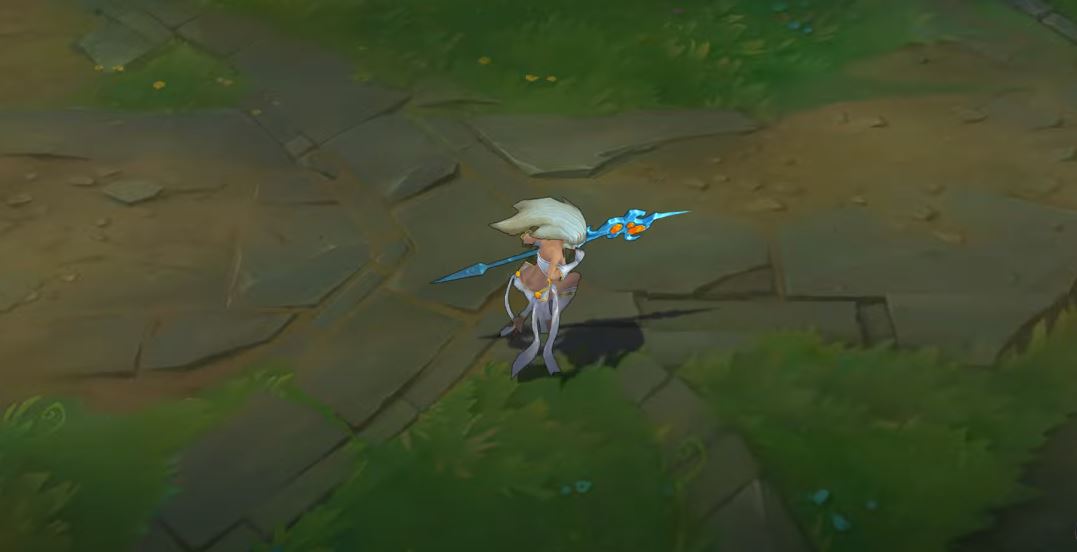 Visual Effects (VFX) and Sound Effects (SFX)
Base effects
Animations
Base animations
Pros
The simplest of all the skins, a great choice if you're a minimalist.
Cons
In many ways, this design is very boring. Although it encapsulates the champion, it doesn't have many pieces that will make you go "Wow!"
Somewhat sexualized but in a cheap way.
Tempest Janna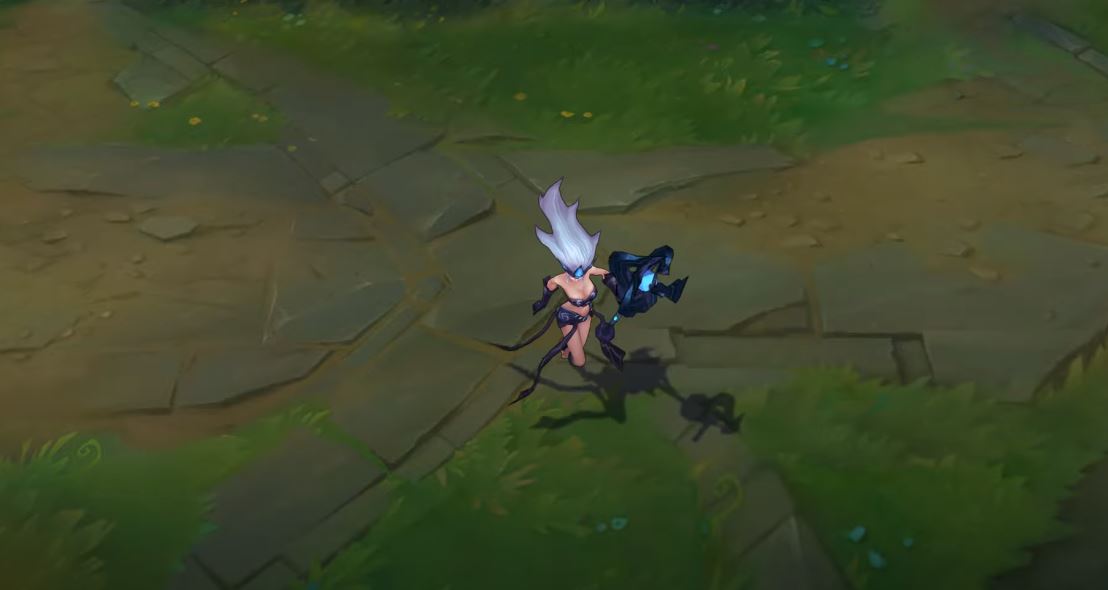 Price: 520
Skin Lore
N/A
Appearance and Model
Tempest Janna draws inspiration from Marvel's X-Men (Storm, to be specific). Instead of the plain white clothes, she now wears dark blue with hints of aquamarine.
Although she has the same pieces as the original design, they look much better with this new color scheme. Instead of the previous, unimpressive crown, she now has an enormous piece combining aquamarine and dark blue. Her hair is white, like Storms, and because she wears it differently, you can clearly see her white, luminous eyes.
Staff is also a major upgrade. It feels bigger heavier, and it has a crystal eye on top of that. The crystal detail resembles Eye of Sauron from Lord of the Rings. Overall, the cosmetic is much better and more intimidating.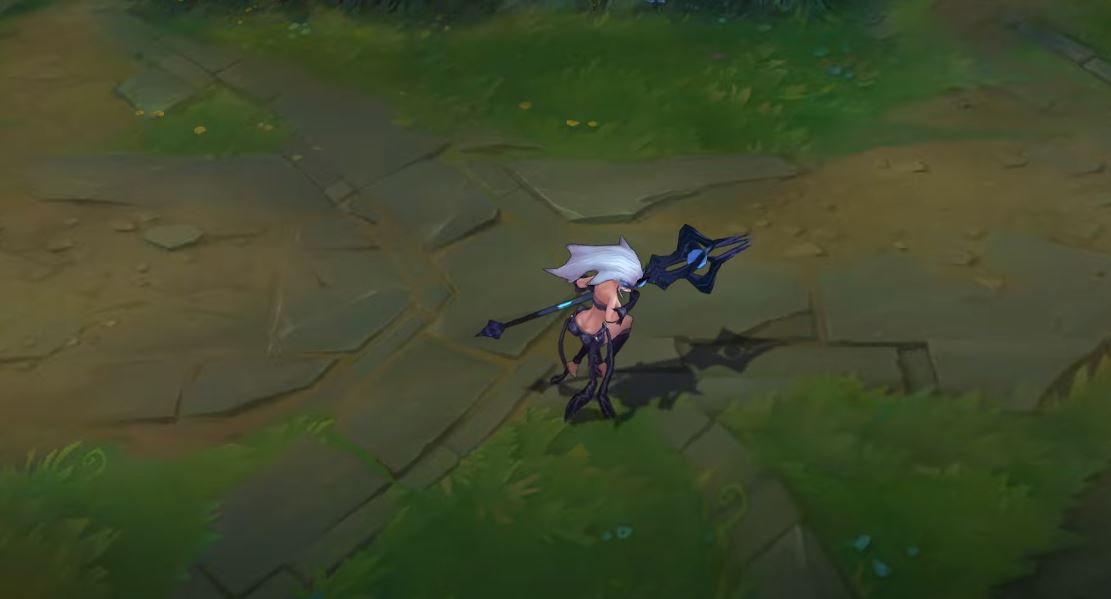 Visual Effects (VFX) and Sound Effects (SFX)
Base effects
Animations
Base animations
Pros:
It doesn't cost much, but it makes a major difference.
There are a few things I really liked, including the color, the staff, and the crown.
Cons:
While the dark blue color looks really fancy, it can also be monotonous at times. In my opinion, the cosmetic would benefit from another shade.
Hextech Janna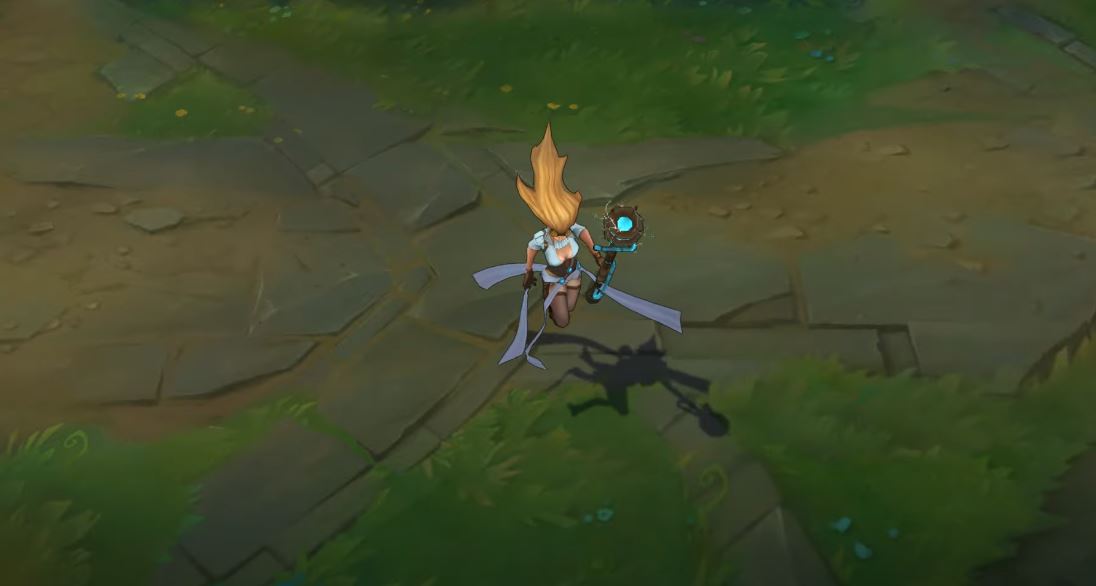 Price: 975
Skin Lore
Since the first studies, hextech users have realized that the matter's core is very potent. According to some scholars, the powers that Janna has are directly connected to her prolonged use of the crystals.
Appearance and Model
Hextech Janna is everything you'd expect from steampunk-themed skin. Having a brown, leather corset, gloves, and boots, the design feels much more complete. The rest of her outfit is dominated by white color, including a white, fan-shaped neck detail, high-collar shirt, and shorts. Like with all other models, she has stripes going down from her hips.
Hextech Janna has a small brown pouch on her hip as well as sturdy goggles sitting on top of her forehead. Once again, the designers changed the champion's hair color, turning it yellow this time around. It is worth noting that blond hair goes really well with other colors. As for the staff, she wields a long piece with a fire-shaped crystal on the top. There are numerous tubes on the side of the staff, indicating that it draws energy/power from the crystal itself.
This particular cosmetic is a part of Hextech series (Hextech Alistar, Hextech Galio, Hextech Annie, Hextech Kassadin, Hextech Jarvan IV, Hextech Amumu, Hextech Kog'Maw, Hextech Anivia, Hextech Poppy, Hextech Malzahar, Hextech Rammus, Hextech Nocturne, Hextech Sion, Hextech Renekton, Hextech Singed, Hextech Swain, Hextech Sejuani, Hextech Ziggs, Hextech Swain).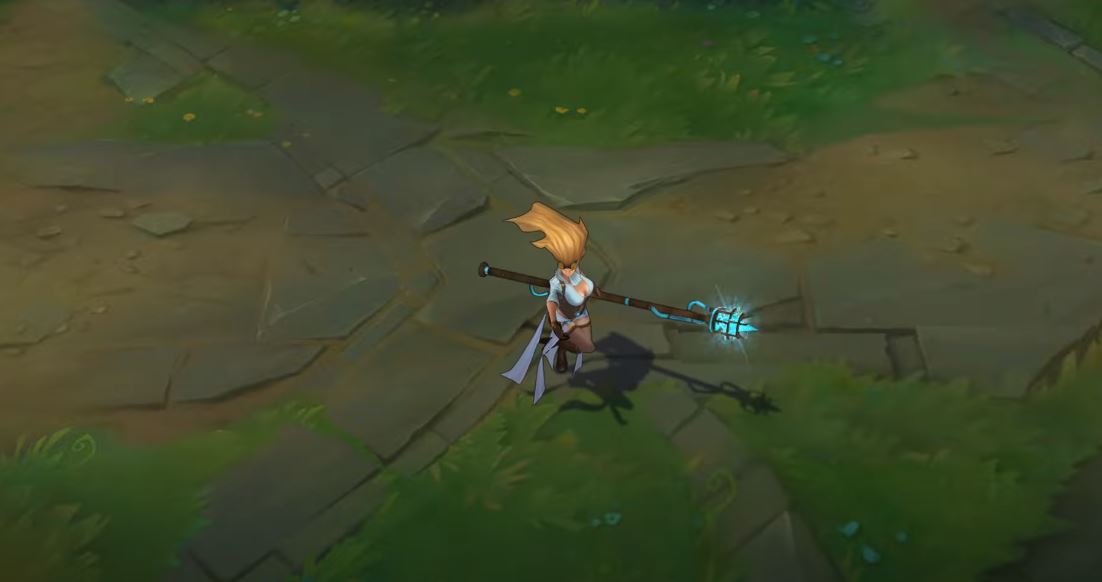 Visual Effects (VFX) and Sound Effects (SFX)
Base effects
Animations
Base animations
Pros
The color combinations are pretty nice.
There are a few pieces that look really cool such as the neck-piece
Cons
Somehow, it feels that the designer could've done more with the hair.
The staff feels really stiff and awkward.
Frost Queen Janna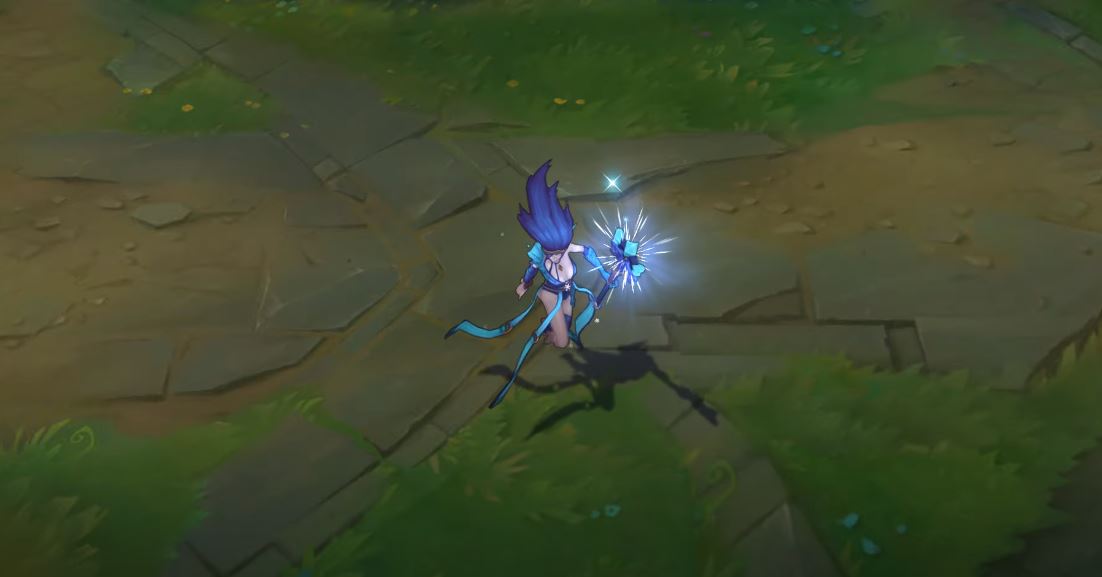 Price: 975
Skin Lore
N/A
Appearance and Model
There are several theories as to which video game character this is supposed to refer to. Some people say that Frost Queen Janna is a replica of Dota 2's Crystal Maiden. However, the designer might've created the skin as an homage to Final Fantasy's Shiva.
Frost Queen Janna is so much ahead of the basic concept. The color palette looks much nicer, and there are much more details with this outfit.
Speaking of colors, she utilizes different shades of green and blue such as aquamarine, azure, cobalt, teal, and so on. Despite combining several nuances, it all looks well on the champion. The outfit partially covers her abdomen, while her breasts are barely covered (although she wears a bra). Janna has a crystalized backpiece as well as a sturdy crystal gauntlet on her left hand.
Janna's left leg has azure wrapping, similar to that on her left arm. Instead of the previous crystal crown, she has a tiara with gold motifs. Unlike the base skin, her face and eyes are much more pronounced. Frost Queen Janna's hair is dyed in blue, and she wields a great Oriental crystal/wood staff.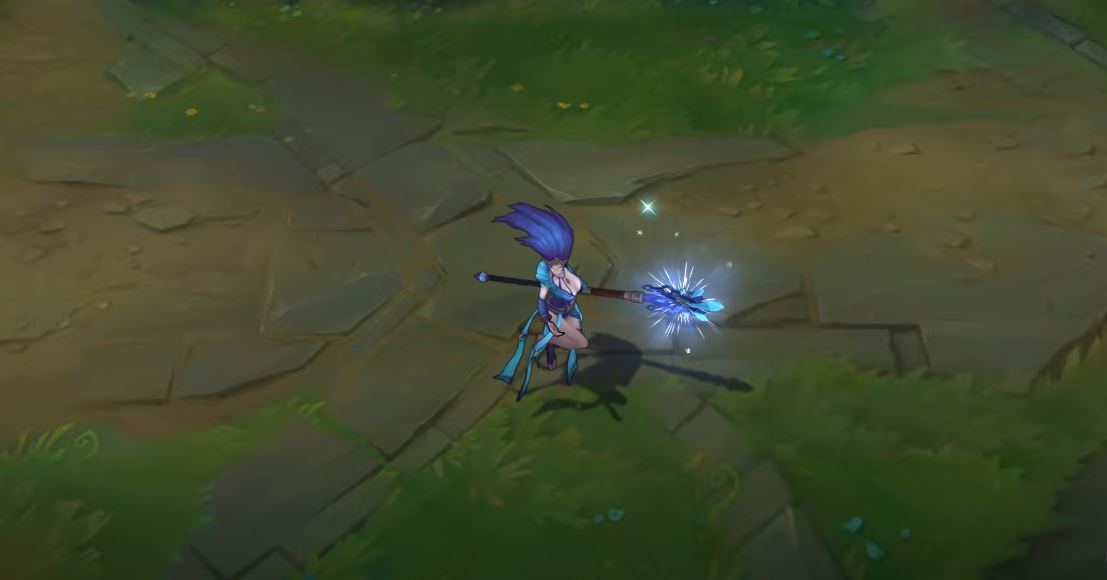 Visual Effects (VFX) and Sound Effects (SFX)
The champion received new visual effects across the board, slightly altering the base ones. However, this minor change looks awesome. The color palette is much more diversified, and the particles look more polished. For example, Eye of the Storm has much more shades to it, and it actually looks like a real shield.
Animations
Base animations
Pros
A massive upgrade compared to the basic and other previous concepts.
The shades of blue flow really well.
Cons
I didn't like the weapon.
Victorious Janna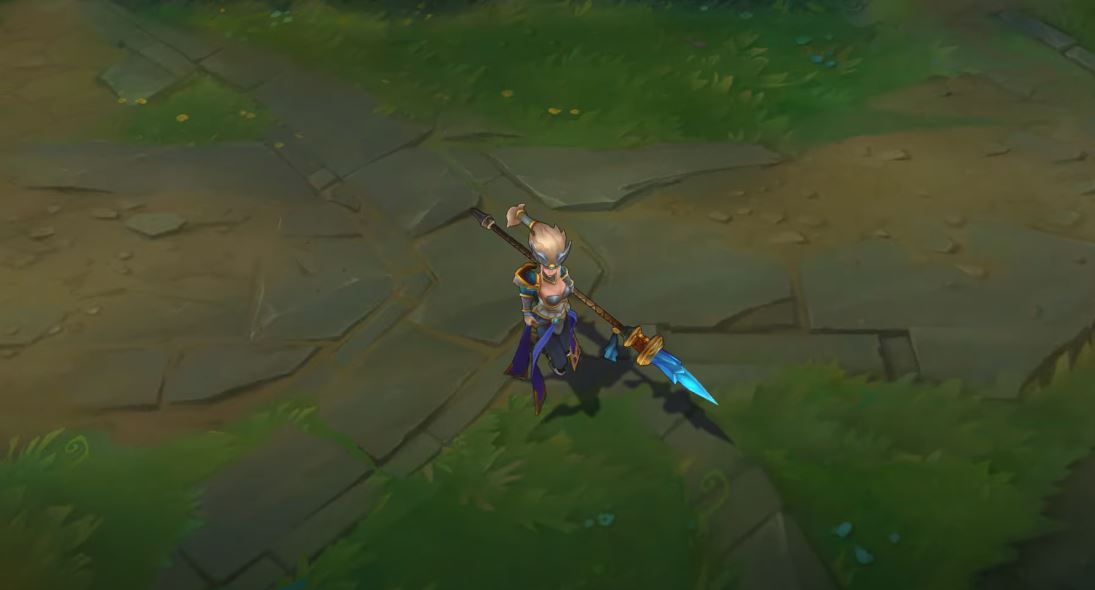 Price: You can only get it by ending a ranked season in the Gold tier or above.
Item Lore
Carrying heavy Demacian armor and beautiful but deadly staff, Janna is ready to blow her enemies off their feet.
Appearance and Model
This is one of the rarest skins in the game, and you could only get it by having one of the top scores at the end of the 2012 season. While the skin might seem unique, it is a part of an unlockable collection together with Victorious Morgana, Victorious Blitzcrank, Victorious Aatrox, Victorious Maokai, Victorious Lucian, Victorious Elise, Victorious Orianna, Victorious Graves, Victorious Jarvan IV, and Victorious Sivir.
With this cosmetic, Janna looks like an Oriental warlord. The champion wears sturdy metal greaves, pauldron, corset, and wrist pieces. Beneath it, she has linen, a turquoise shirt, and trousers. Each of the pieces has golden edges creating a regal gold/blue/gray combination. The gold color looks good with her blond hair, while the turquoise outfit matches her light blue eyes.
Janna wears a ponytail and has a wide, upward-bending, metallic crown. As for the staff, the wind champion wields something that can be described as a weapon from a Jet Li movie. Like weapons from some other packs, this one has a blue crystal on the top. However, this particular staff looks much better.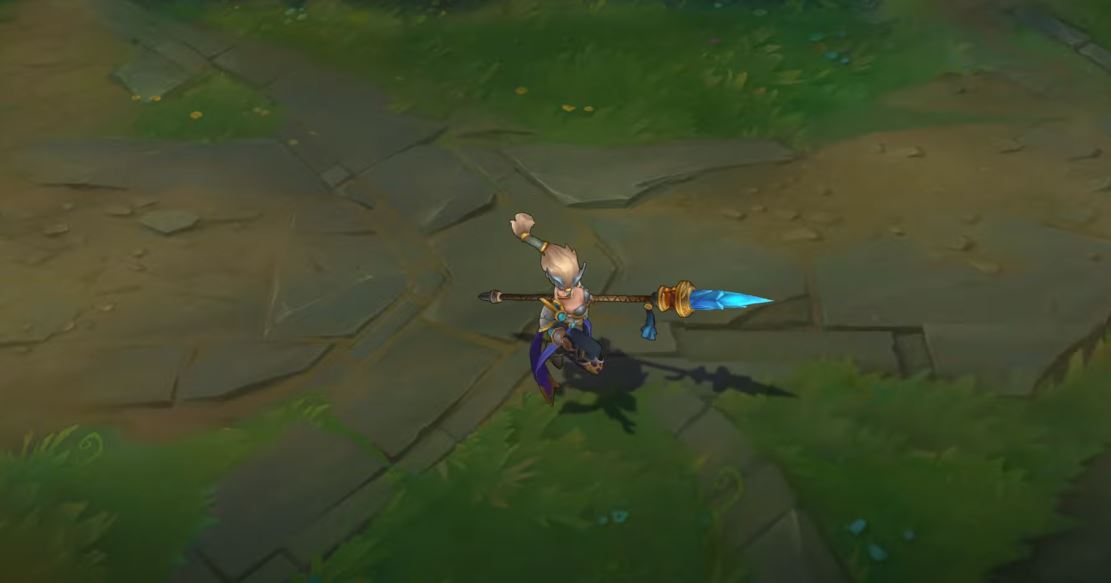 Visual Effects (VFX) and Sound Effects (SFX)
All the visual effects are slightly polished, and they don't stray a lot from the original concept. However, I prefer Frost Queen Janna effects as they have a better color palette.
Animations
The designer added a new basic attack while also altering the Recall spell a bit. Nothing special, all in all.
Pros
The skin gives Janna a completely different look and feel.
Unlike other cosmetics that make her look light, this one feels heavier, stronger.
Cons
I expected more from new visuals. Although it was a nice reward for its time, nowadays it is forgettable for the most part.
Forecast Janna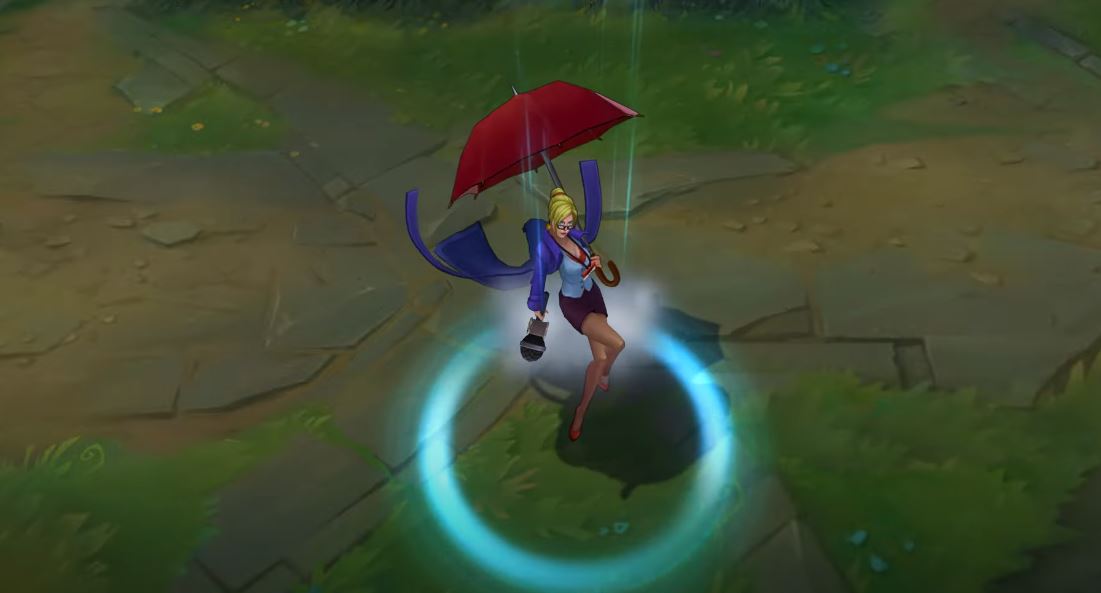 Price: 1,820
Skin Lore
Despite the fact that Janna has survived various workplace changes, her viewership is growing in age. What's even worse, the weather is becoming more unpredictable as the years go on, so she just might utilize her powers to alter it.
Appearance and Model
Finally, a skin that brings something new to the table. It is one of those purchases that you can't go wrong with, given how different it is from other cosmetics. Forecast Janna belongs to the Day Job collection (Fisherman Fizz, Groovy Zilean, Angler Jax, Hazmat Heimerdinger, Corporate Mundo, Black Belt Udyr, Lumberjack Sion, Boom Boom Blitzcrank, Firefighter Tristana, Primetime Draven, Sailor Gankplank, Matador Alistar, Lil' Slugger Trundle, Prestigious LeBlanc).
Given how forgettable most of these staffs are, changing her weapon to an umbrella seemed like the right move. There are numerous clues showing us that Janna is actually a Riot employee: there are letters "RGN" on her umbrella (Riot Games News), and there is the Riot symbol on her press pass and mic.
As for the outfit, Janna looks like a modern lady with a great fashion style. Her blue trench coat is a bit wonky, with the belt pointing straight forward. The champion wears a brown skirt, light blue shirt, and thick glasses. Janna has a blonde hair bun, crystal blue eyes, and oversized earrings that would make her a major attraction on Paris fashion catwalks. To round up the look, the champion has a red heel and bra.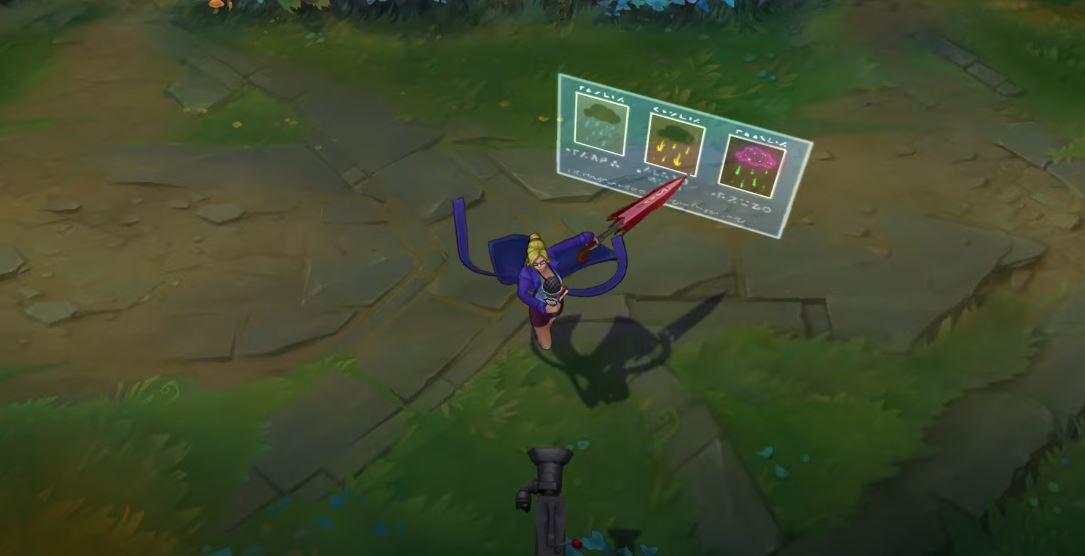 Visual Effects (VFX) and Sound Effects (SFX)
The voice lines carry many references. For example, one of the animations refers to Marry Poppins. Janna has a new dance that looks like Gene Kelly's  "Singing in the Rain."
Even the spells look awesome and have numerous minor details. For example, when she uses Eye of the Storm, you can hear the "breaking news" sound. Zephyr utilizes a sun/cloud icon that is common for weather broadcasts. Lastly, when she casts Howling Gale, you can notice Urf on top of the wind.
Animations
The designer added a new basic attack, a cool taunt that features a weather report, and a slightly altered Recall.
Pros
Alongside Star Guardian Janna, this is my favorite model.
Love her ultimate where Janna's umbrella is almost blown away by a heavy wind.
Cons
There are so many things going on the screen that it can even become distracting.
Fnatic Janna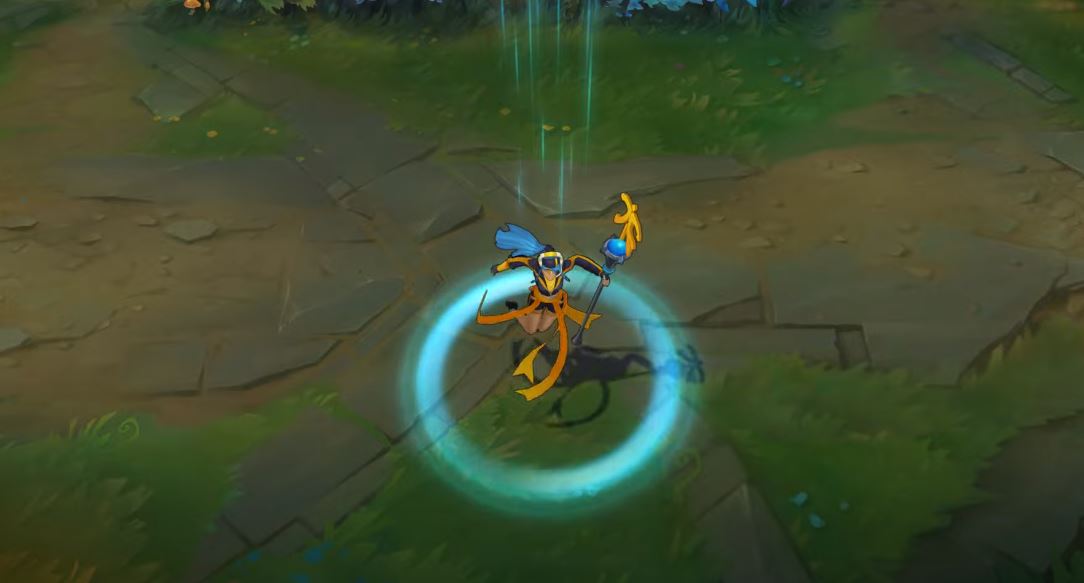 Price: 750
Skin Lore
The cosmetic was created to commemorate Mellisan's performance during the 2011 League of Legends World Championship.
Appearance and Model
As mentioned, Mellisan played Janna during the 2011 World Championship. This cosmetic is part of the Fnatic team collection, which also features Fnatic Corki, Fnatic Karthus, Fnatic Gragas, and Fnatic Jarvan IV (Fnatic's lineup at the event).
While this is a nice homage to one of the most influential esports teams, it really isn't anything special. The champion wears Fnatics black and orange colors with a hint of turquoise. She has black/orange sneakers, black/orange shorts, and black/orange hoodie.
Janna also wears fingerless gloves, large orange sunglasses, and a large team mic. Her hair is tied in a ponytail, and she has a black scarf wrapped around it. One of the most noticeable details are the orange stripes going down from her hips.
For the most part, Fnatic Janna's staff is forgettable. It looks like a generic weapon that you can copy/paste from any RPG. However, what makes it slightly better is the Fnatic icon on the top.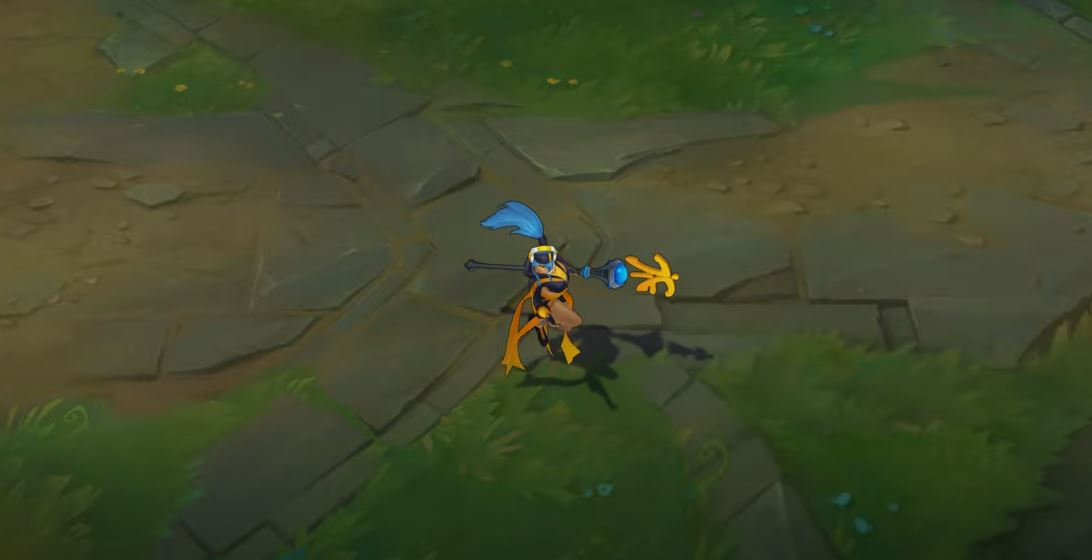 Visual Effects (VFX) and Sound Effects (SFX)
Base effects
Animations
Base animations
Pros
Great for Fnatic fans and nice memorabilia from the League of Legends past.
Although the cosmetic is pretty underwhelming, it does bring something different to the table.
Cons
Despite the nice colors, you probably won't waste money on this one.
Star Guardian Janna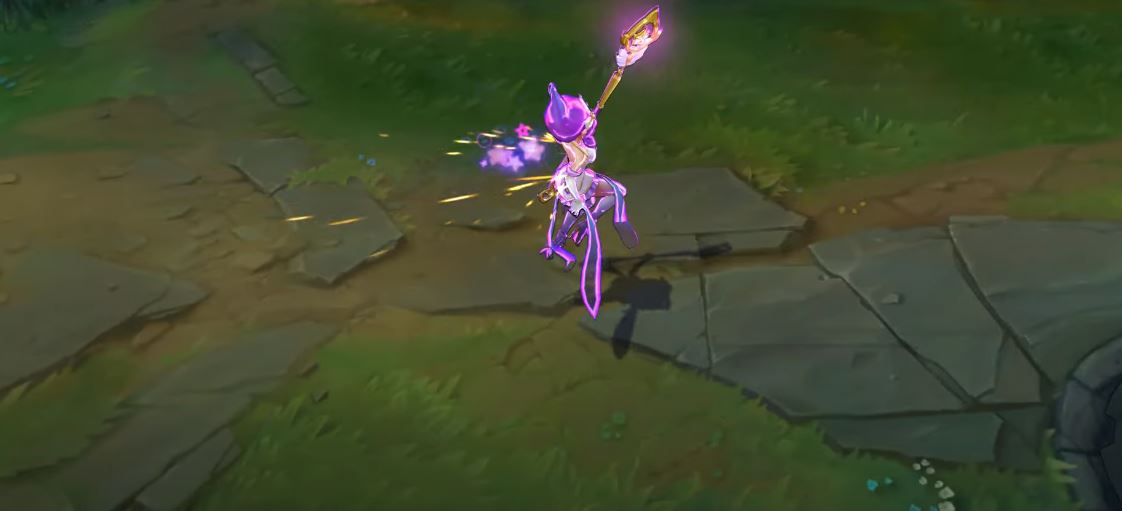 Price: 1,350
Skin Lore
As a natural leader, Janna shares advice with her team guiding them towards an imminent victory. Despite the fact that no one really knows where Janna came from, her calm nature instills trust in the teammates putting her in a position of power and reverence.
Appearance and Model
This is a part of the Star Guardian Season One collection featuring an all-girl squad (Star Guardian Lux, Star Guardian Poppy, Star Guardian Jinx, Star Guardian Lulu, Pajama Guardian Lulu, Pajama Guardian Lux). With these cosmetics, Riot pays tribute to magic girl anime shows.
As mentioned, this is my favorite Janna skin. The colors flow nicely on the champion, and there are many small details that will hook you to it. The champion wears high heel blue boots with stars on top of it. She also has long white stockings with golden ends.
Like all magic girls, the champion wears a skimpy skirt that barely covers her underwear. Star Guardian Janna also has long white gloves stretching all the way to her biceps and ending with purple pleats. The shirt is also nice, with a central, blue area and nice detail on the backside.
Jana's hip stripes are purple, more pronounced, and with a few noticeable details. Instead of the usual crown, she has a golden tiara with what seems to be cat ears. The tiara is adorned by a large gold star. The champion's hair also looks cool, curling and pointing backward.
The staff goes well with the overall theme. It is a long, golden weapon with a heavy counterweight on the bottom. It also has a large, hovering star on the top encircles by golden structure and white feathers.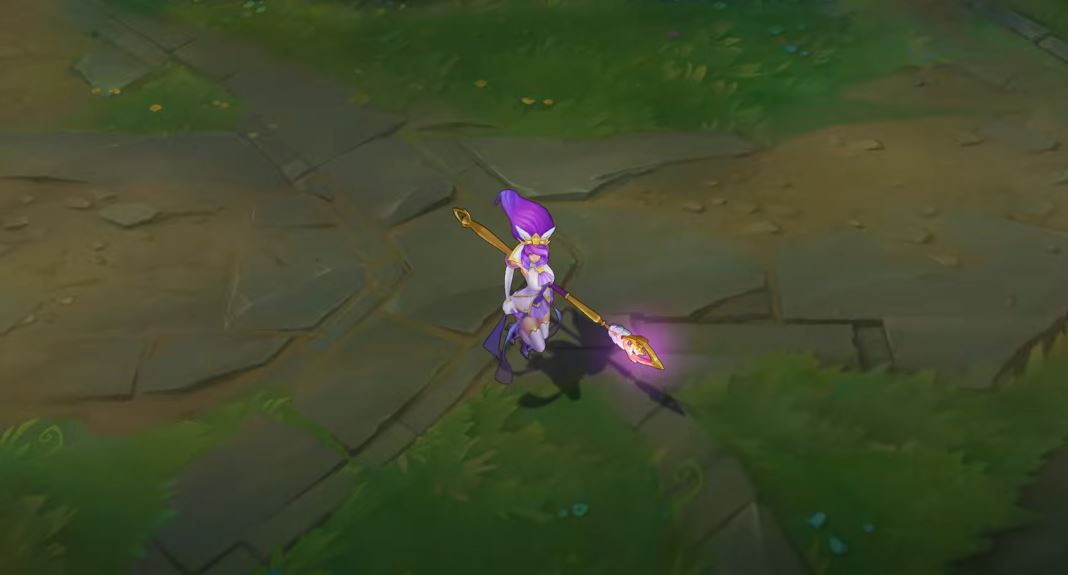 Visual Effects (VFX) and Sound Effects (SFX)
Howling Gale has a much better color palette with lots of purple shades and golden stars rotating at its peak. Besides having a nicer purple color, Eye of the Storm will emanate large gold stars. Moonson's visual beneath her feet has much more colors and a few effects on top of that.
Animations
Instead of the usual bird, Janna has a magical unicorn flying circles around her. During Ghost, Janna will fly forward, leaving a purple star in her wake. Her Recall is also very girly and pleasant.
Pros
Every part of the cosmetic looks good and in nice synergy. It doesn't feel as if it's made from different parts, which might be the case with some other skins.
This is a great pickup for all female players, but it would also improve the gaming experience for guys.
Cons
I can't say anything bad.
Sacred Sword Janna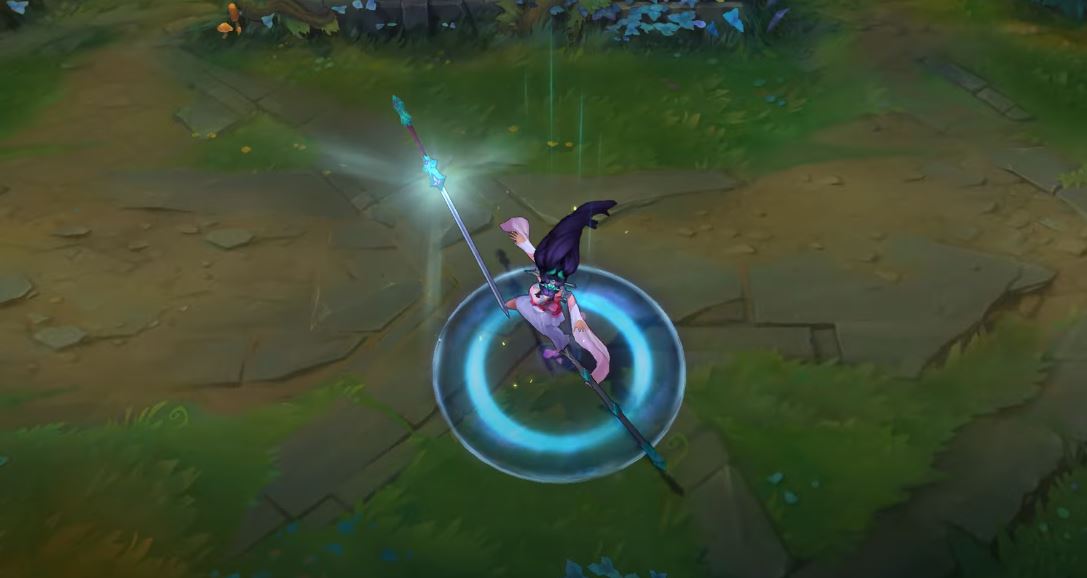 Price: 1,350
Skin Lore
Janna was tasked with the sacred duty of carrying a jaded sword that was hiding at the bottom of a crystal lake. According to the stories, those wielding the weapon will remain immortal forever. So, by protecting the sword, she is also protecting herself.
Appearance and Model
Here is another cosmetic where Janna decided to swap her trusty staff for something different. Sacred Sword Janna is a part of the Immortal Journey collection (God Staff Jax, God First Lee Sin, Enduring Sword Talon, Divine Sword Irelia, Eternal Sword Yi, Splendid Staff Nami, Soaring Sword Fiora, Majestic Empress Morgana, Valiant Sword Riven, Valiant Sword Riven Prestige Edition).
As the first chroma published for the champion, you can choose between quartz, sapphire, peridot, and aquamarine.
Sword is the focal point of this cosmetic. Unusually long, it is made from jade and silver metal. In many ways, it resembles the original staff design. Janna doesn't have her traditional falling stripes, but instead, she has very cool-looking pink sleaves that are falling all the way to the ground.
Her dress combines pink and white colors and is similar to traditional dresses from the Orient. One of her legs is visible, and you can notice fashion pieces enveloping her shins. On the front, there is a massive red ribbon that goes all the way to the back.
Once again, she has a very fashionable haircut. Dyed in black, it is combed backward, flying in the wind. She also has a tiara/crown that serves as a status item but also for holding her hair in place. The piece gives her a royal appearance.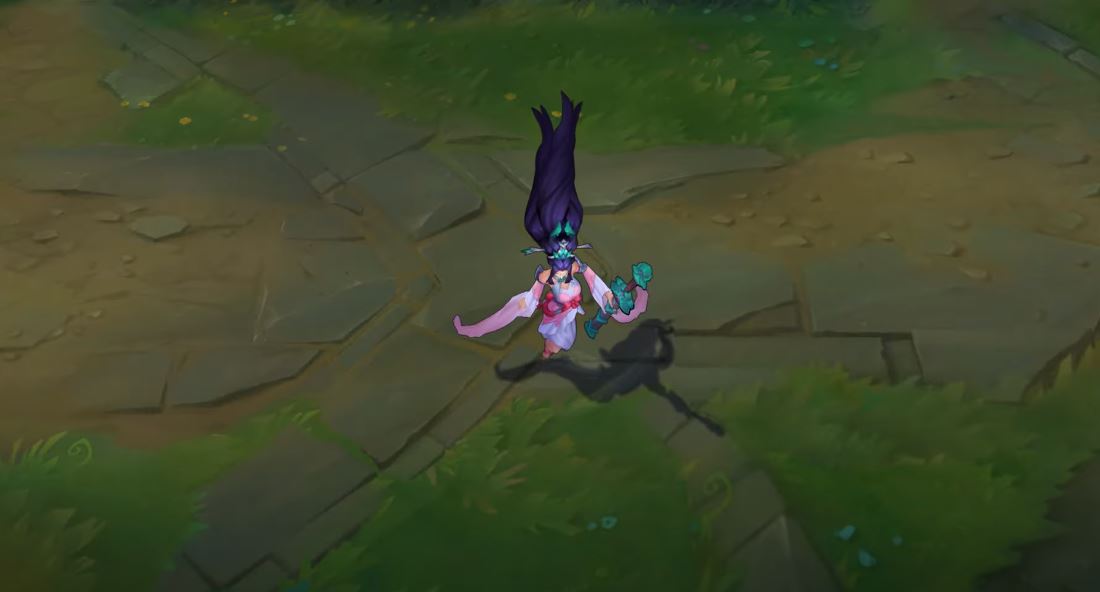 Visual Effects (VFX) and Sound Effects (SFX)
The champion got an updated voice and taunt. For the most part, Janna's abilities are similar to the original ones. The main difference is that they utilize a specific shade of blue. When using her ultimate, the ground wind will turn blue, carrying cherry tree petals.
Animations
With this skin, Janna has a flying koi fish circling around her head. When Recalling, the Storm's Fury will pull of sword out of the scabbard and use it for teleporting ritual. Like with some other cosmetic packs, this item changes the appearance of her Ghost spell.
Pros
Pretty solid skin overall. It is noticeably different from the other cosmetics.
Koi fish looks awesome.
Cons
The effects are a bit lackluster, especially if we consider when the cosmetic was published.
Bewitching Janna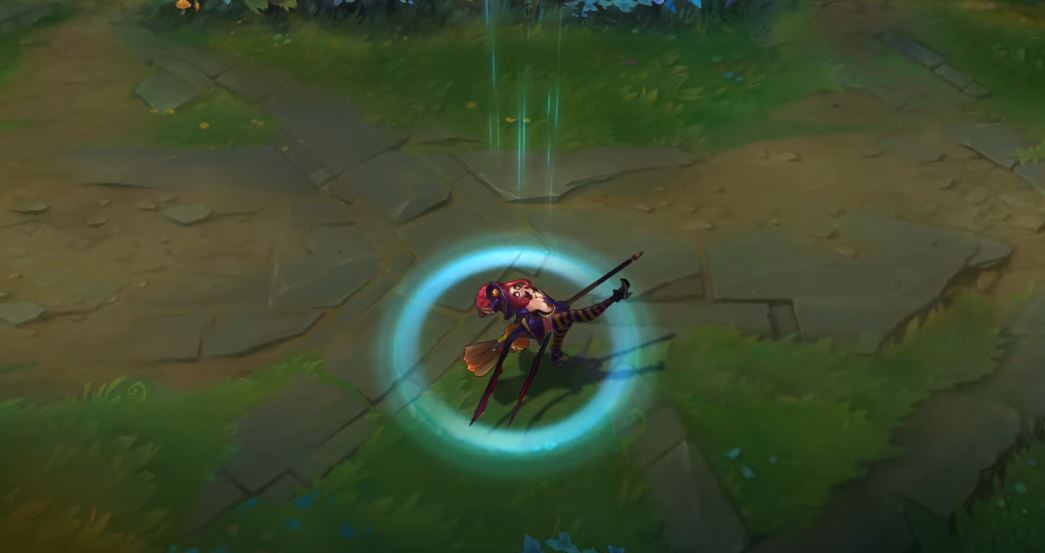 Price: 1,350
Skin Lore
Janna cannot wait for the season when dark souls start roaming Runeterra and people stuff their faces with candy once again. As the witching hours come close, put on your best suit, jump onto a broom, and ride with all the other champions.
Appearance and Model
Trick or Treat is one of the biggest cosmetic series in the history of LoL. It includes Bewitching Nami, Bewitching Poppy, Bewitching Yuumi, Bewitching Tristana, Bewitching Nidalee, Bewitching Elise, Bewitching Syndra, Bewitching Morgana, Bewitching Miss Fortune, Bewitching Fiora, Kitty Cat Katarina, Haunted Zyra, Nosferatu Vladimir, and many more.
As the lore implies, Riot published this collection during Halloween (2018 League of Legends Harrowing, to be exact). It was launched together with Count Kledula and Trick or Treat Ekko.
With this skin, Janna looks like your average witch. The champion features a broom as the main weapon, which is decorated by a large pumpkin and upward-looking bat wings. The Storm's Fury has long, striped blue/orange socks, pointy high heels, oversized blue gloves that make Janna's arms look like they're hovering mid-air, and a nice dress with batwing stripes running down to the ground.
The thing I've noticed with this cosmetic is that Janna's behind looks a bit like a beetle. The dress rounds up her hips and buttocks, changing the champion's shape. As for the other details, she has a moon choker, Harry Potter-styled glasses, and a large purplish hat with a small pumpkin on top of it.
As always, her hair is tied in the back, and it waves backward with a few strains falling down her neck. The hair is dyed in pink, and it matches the broom top.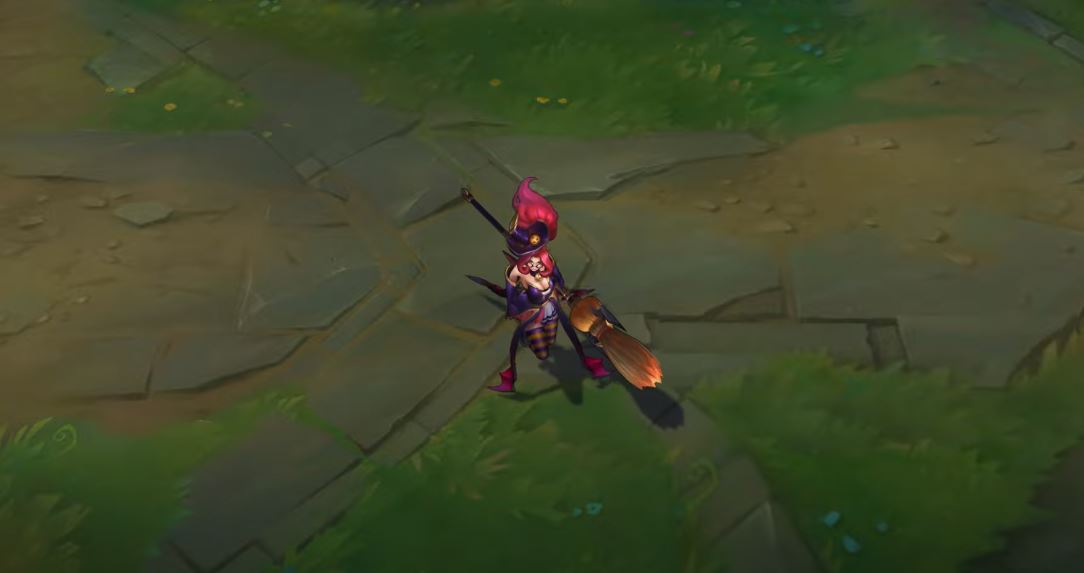 Visual Effects (VFX) and Sound Effects (SFX)
One of the best things about this skin is its visual effects. Howling Gale is purple, carries fallen orange leaves, and has two spirits circling at its top. Instead of the regular Zephyr, she will launch her new cat-bat friend. Eye of the Storm encircles her in an orange shield while Moonson turns the ground purple.
Animations
Janna has a flying cat-bat with a large pumpkin head. As the champion is about to Recall, she will mount her broom and fly away. Janna auto-attacks by launching small yellow energy balls from her broom.
Pros
I like the color choices; they provide a completely different feeling to the champion.
Cat-bat is even cooler than koi.
Broom as the main weapon is really fun.
Cons
Riot could've done a few more things with Moonson.
Guardian of the Sands Janna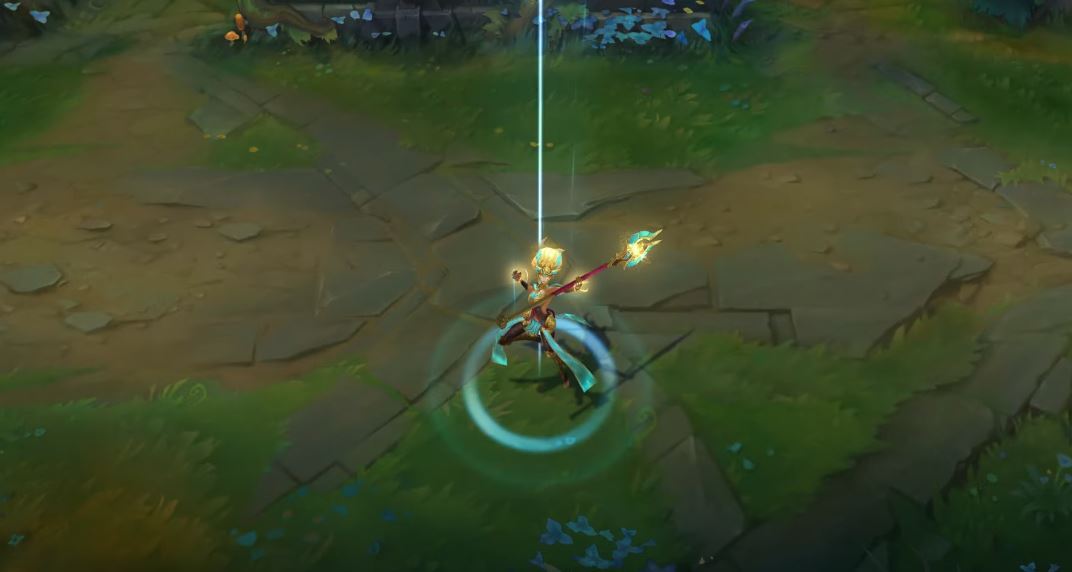 Price: 1,350
Skin Lore
Janna was summoned forth, as one of the desert guardians, to protect the land from an evil onslaught. Commanding fierce winds, she will quickly bring the enemies to their knees.
Appearance and Model
This particular skin resembles Alarielle from the Warhammer universe. She comes in peridot, sapphire, tanzanite, ruby, and rose quartz color. Guardian of the Sands Janna is a part of the Guardian of the Sands theme (Guardian of the Sands Xerath, Guardian of the Sands Skarner, Guardian of the Sands Kha'Zix, Sand Wraith Pyke, Sandstorm, Ekko, Guardian of the Sands Ryze, Guardian of the Sands Rammus, Sandstorm Katarina, Guardian of the Sands Rengar, Risen Fiddlesticks).
The cosmetic combines green, turquoise, and yellow/gold color, thus resembling scarce desert vegetation. Janna wears reinforced leggings, hip and breast guards, pauldrons, and golden gloves. For the most part, the outfit is rather skimpy.
Her hair is dyed in yellow to match the outfit. Guardian of the Sands Janna has probably the best headpiece out of all Janna skins. It is a large headguard that reaches upwards into a crown resembling something from Ancient Egyptian mythology. Rather cool, if you ask me.
The staff is much better than most of the models. I feel that Riot did a poor job with Janna's staffs over the years, and the weapons that looked good weren't staffs in the first place. Like the previous champion's staffs, this one is elongated with a wide tip, combining maroon, gold, and turquoise colors.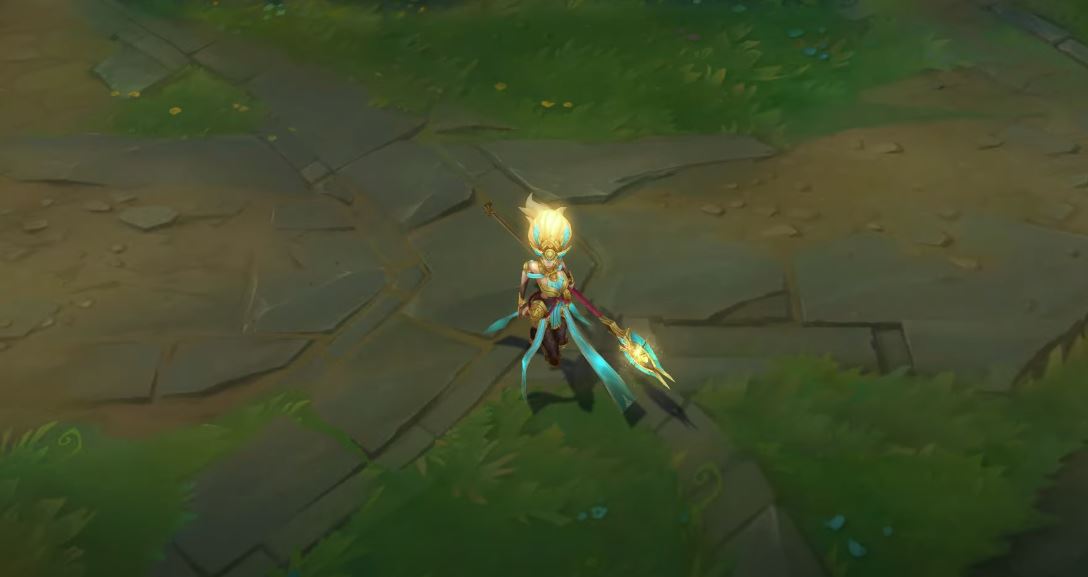 Visual Effects (VFX) and Sound Effects (SFX)
Janna's Howling Gale looks a lot like the basic spell. Zephyr is a bit better, sending the champion's new pet parrot forth to damage a target enemy. Eye of the Storm has the best effect, creating a golden shield around an ally, empowered by mystic desert runes. Moonson is also pretty cool, creating two rings of golden and turquoise runes on the ground.
Animations
Janna has a turquoise parrot and a new Recall spell. Her basic attacks are slightly altered, casting forth small energy particles.
Pros
The color combinations are pretty great. They feel very light and are relaxing to the eye.
Both the crown and the weapon are really amazing.
Cons
While really good cosmetic, it doesn't scream special to me.
Battle Queen Janna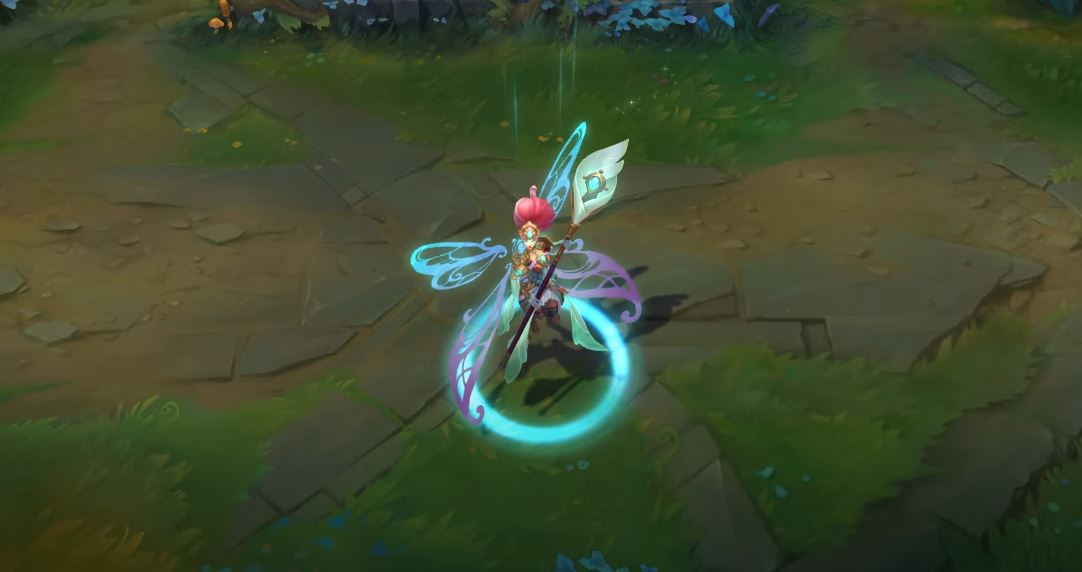 Price: 1,350
Skin Lore
With her gaze set onto the ground and the participants, Queen Janna carefully observes the tournament. She understands that a new champion is necessary to bring forth magic to the lands of Aurai. Reluctantly, Queen Jana decides to descend, thus altering the course of the battle and the fate itself.
Appearance and Model
Battle Queens collection also includes Battle Queen Rell, Battle Queen Qiyana, Battle Queen Diana, Battle Queen Katarina, and Battle Queen Diana Prestige Edition. As for Janna's chroma, it comes in obsidian, peridot, amethyst, Catseye, aquamarine, pearl, ruby, and coronation colors.
The Storm's Fury wears a floral dress combining several shades of green and white with gold elements. The champion has reinforced boots, gloves, and pauldrons. Although the white pleat dress is a bit out of whack, it does provide a certain lightness to the model.
As for minor details, she has a belt made of beads with an oval buckle. Janna adorns herself with turquoise crystals, one of which is on her crown. The pink shaded hair is in the shape of a flower bulb and goes well with the overall theme. Lastly, I have to mention her staff with a top piece that resembles closed wings or flower petals.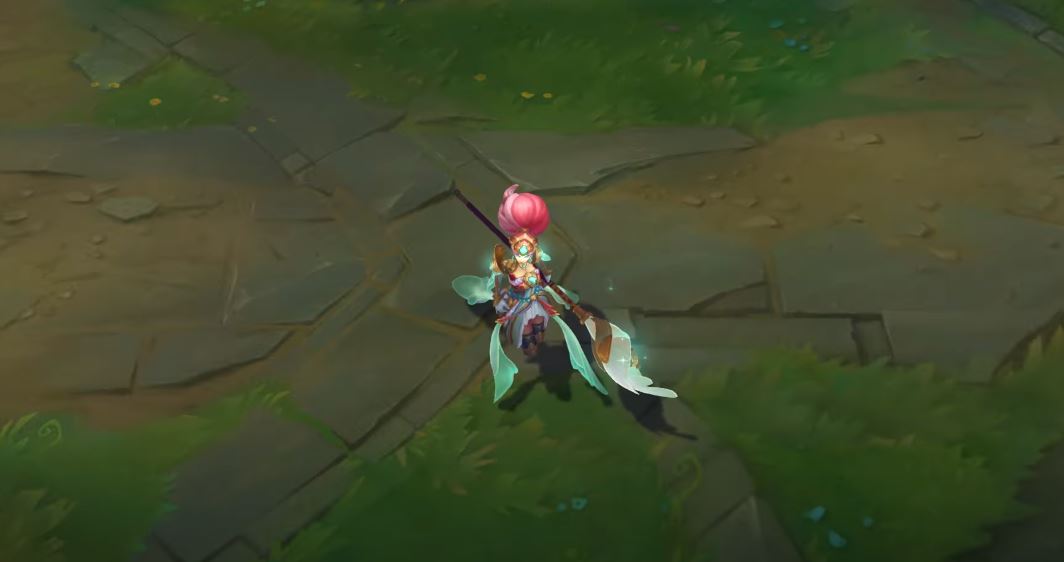 Visual Effects (VFX) and Sound Effects (SFX)
Janna's Howling Gale is slightly altered compared to the basic effect, with butterflies circling around the gust. The skin features a butterfly companion, so when casting Zephyr, Janna will send forth this pet. Eye of the Storm is somewhat similar to the Guardian of the Sands Janna effect, having runes around the shield. Similarly, her ultimate also creates rune letters on the ground.
Animations
During Recall cast, the champion will gain transparent wings spiriting her away to the fountain. The passive ability will leave a trail of butterflies under allies' feet. She also received a butterfly basic strike.
Pros
Great cosmetic for those who like butterflies, spring, and flowers.
The staff looks quite impressive. Unlike some other cosmetic items, it actually makes you feel as if Janna is a threat.
The champion hair stands out in a positive way.
Cons
Depending on the angle, she might look like an octopus due to stripes.
Janna Skins Guide: FAQs
Question: What is Janna's best skin?
Answer: Like everything skin-related, it all depends on your personal preferences. However, some of the best items are Star Guardian Janna, Sacred Sword Janna, Victorious Janna, Frost Queen Janna, and Forecast Janna. I would personally give an advantage to Star Guardian Janna and Forecast Janna. Generally speaking, newer skins are much better to look at.
Question: Is Tempest Janna rare?
Answer: Tempest Janna is classified as semi-rare skin. It was released back on the 13th of July 2010 and is nowadays considered as one of the more underwhelming cosmetics for the champion.
Question: Is Forecast Janna worth it?
Answer: I would say that Forecast Janna skin is worth your money. It gives the champion a unique feel, and it has lots of small details and effects that will improve the overall game experience.