Latest posts by Dominikas Pupkevicius
(see all)
Rune pages are a vital part of Champion Select because they determine your character's bonuses during the game. However, choosing between keystones, rune paths, and stat shards can be a confusing process if you're unfamiliar with how to set up runes correctly. 
Once you grasp the fundamental concepts, creating a rune page for each character will become a fast process. All players will receive 2 rune pages that they can customize, and additional pages cost 6,300 blue essences or 590 RP. Therefore, players often create a new rune page before starting the game to save money.
Selecting the wrong runes can put you at a massive disadvantage, so learning the system before playing is crucial. Therefore, we've created an in-depth guide to help players know what runes are and how to use them effectively.
What Are Runes?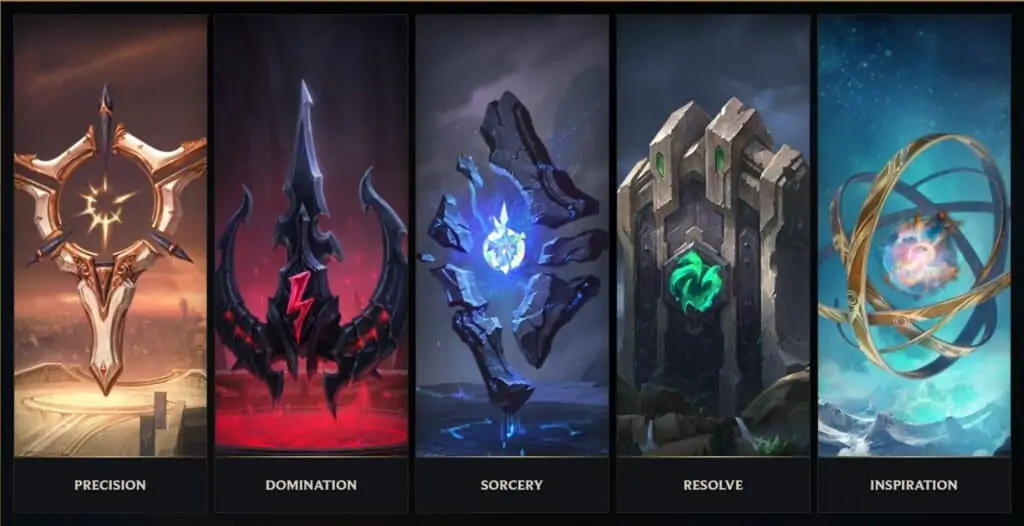 Runes are enhancements that are used to improve champion abilities and statistics. Players can customize their rune pages before the game starts and cannot redo them once the loading screen begins. However, if you don't finish your runes in time, the system will automatically load a default preset for you.
All rune pages consist of a keystone, which provides the most benefits to your champion. The main tree has 4 sub-runes giving small bonuses like life steal, more AP/AD, cooldown reduction, and more. Moreover, the rune page features a secondary tree that doesn't have a keystone but will allow 2 sub-runes to be picked. This gives variety and lets players adjust the runes to their champion and playstyle.
League Of Legends Types Of Runes 
Now, let's go over the different rune keystones League of Legends has to offer. They all provide different benefits that complement a specific playstyle. Therefore, it's crucial to select the correct runes for your champion to gain the most bonuses. All rune keystones have 4 options, and sub-runes have 3 options each:
Precision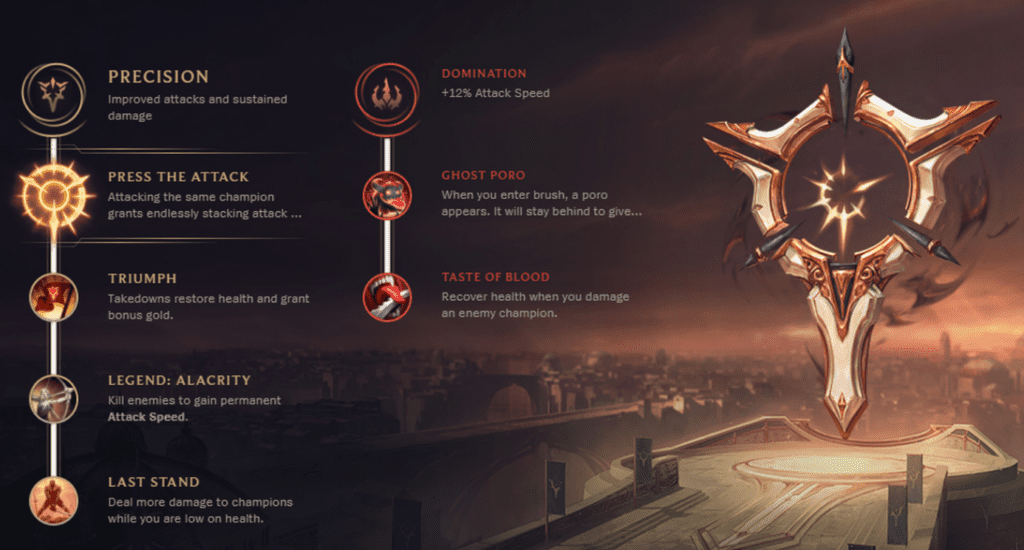 Rune Keystones
Press the Attack:

Hitting an enemy champion with 3 consecutive basic attacks deals 40-180 bonus damage. Also, the rune makes the enemy vulnerable, causing them to take 8-12% more damage from all sources for 6 seconds.

Lethal Tempo: 1.5 seconds after damaging a champion, your character gains 40-110%  attack speed for 3 seconds. Attacking a champion extends the effect to 6 seconds. Also, Lethal Tempo lets your character exceed the attack speed limit temporarily.
Fleet Footwork:

Moving and attacking builds energy stacks that will cause your next attack to deal bonus damage and heal you. Also, the rune will grant 20% movement speed for 1 second, and healing from minions is 20% more effective.

Conqueror:

Spells and attacks that damage enemy champions provide 2-6 adaptive forces for 2 seconds. The rune can stack up to 5 times to deal more damage. Moreover, Conqueror will deal true damage at maximum stacks and heal you for the damage dealt.
Sub-Runes
Slot 1:
Overheal:

Excess healing will provide a shield.

Triumph:

Takedowns restore 12% of your missing health and provide 20 gold.

Presence of Mind:

Takedowns restore 20% maximum mana and reduce your ultimate cooldown by 10%.
Slot 2:
Legend – Alacrity:

Takedowns grant permanent attack speed.

Legend – Tenacity:

Takedowns grant permanent tenacity.

Legend – Bloodline:

Takedowns grant permanent life steal.
Slot 3:
Coup de Grace:

Deal more damage to low health champions.

Cut Down:

Deal more damage to champions with more maximum health.

Last Stand:

Deal more damage to champions while you have low health.
Domination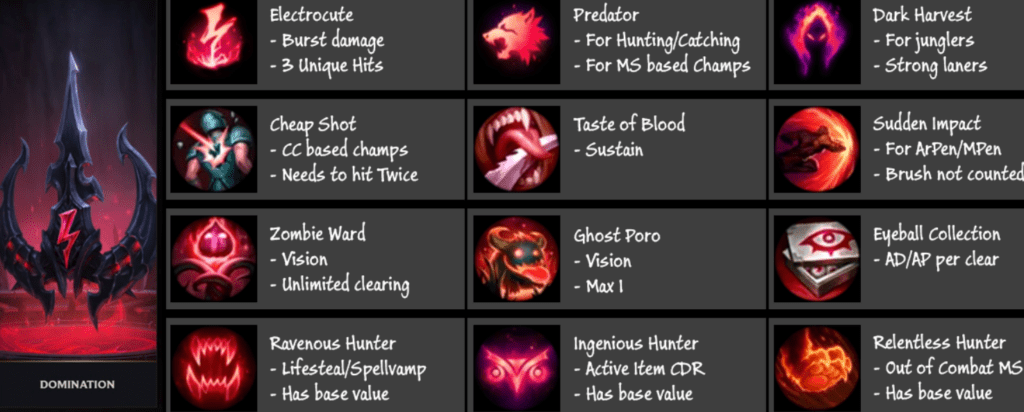 Rune Keystone
Electrocute:

Hitting an enemy with 3 separate attacks or abilities in 3 seconds deals an electric strike that deals adaptive damage.

Predator:

Provides an effect on your boots that significantly boosts movement speed towards enemies when activated.

Dark Harvest:

Damaging a champion below 50% of their maximum health deals adaptive damage. Also, the rune will harvest their souls, permanently increasing the damage by 5.

Hail of Blades:

Gain 110% attack speed when attacking an enemy for 3 seconds.
Sub-Runes
Slot 1:
Cheap Shot:

Deal bonus true damage to enemies with impaired movement.

Taste of Blood: Heal when you damage a champion.

Sudden Impact: Gain a burst of magic penetration and lethality after using a teleport, leap, dash, blink, or when leaving stealth.
Slot 2:
Zombie Ward:

A zombie ward will spawn after killing an enemy ward.

Ghost Poro:

When your wards expire, a ghost poro spawns in its place. Opposing players can scare the ghost poro by revealing its location.

Eyeball Collection:

Killing an enemy champion will grant eyeballs that provide an adaptive bonus of 1.2 AD or 2 AP.
Solt 3:
Ravenous Hunter:

Unique takedowns grant permanent healing from ability damage.

Ingenious Hunter:

Unique takedowns grant permanent item cooldown reduction.

Relentless Hunter:

Unique champion takedowns grant out of combat movement speed.

Ultimate Hunter:

Kills grant permanent cooldown reduction on your ultimate.
Sorcery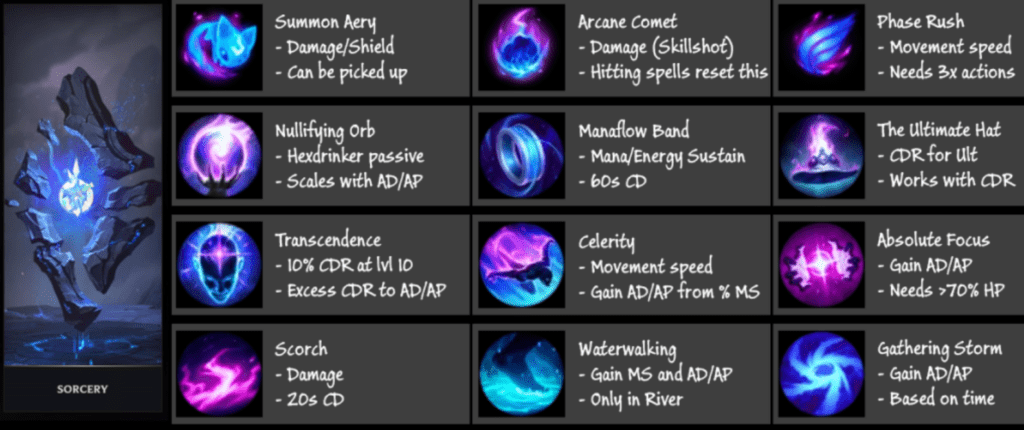 Rune Keystones
Summon Aery:

Auto-attacks and abilities send Aery to a target damaging them. Also, the Aery can shield allies for 5% of their maximum health.

Arcane Comet:

Hitting a champion with an ability sends a comet crashing down on their location, dealing magical damage.

Phase Rush:

Hitting an enemy with 3 separate attacks grant a burst of movement speed and slow resistance.
Sub-Runes
Slot 1:
Nullifying Orb:

Receive a magical shield from magic damage when your champion gets low health.

Manaflow Band:

Hitting an enemy with a spell increases your maximum mana by 25 permanently with a cap of 250. Once you reach 250 increased mana, the rune will restore 1% missing mana every 5 seconds.

Nimbus Cloak:

After casting an ultimate ability, gain a burst of decaying movement speed that lets you pass through units.
Slot 2:
Transcendence:

Gain 10% ability haste when you reach level 10.

Celerity:

Movement speed bonuses are 7% more effective.

Absolute Focus:

Champions gain extra adaptive damage if above 70% health.
Slot 3:
Scorch:

Your first ability hit on enemy champions will burn them for 10 seconds.

Waterwalking:

Gain movement speed and AD/AP while in the river.

Gathering Storm:

Your champion gains more AD or AP throughout the game.
Resolve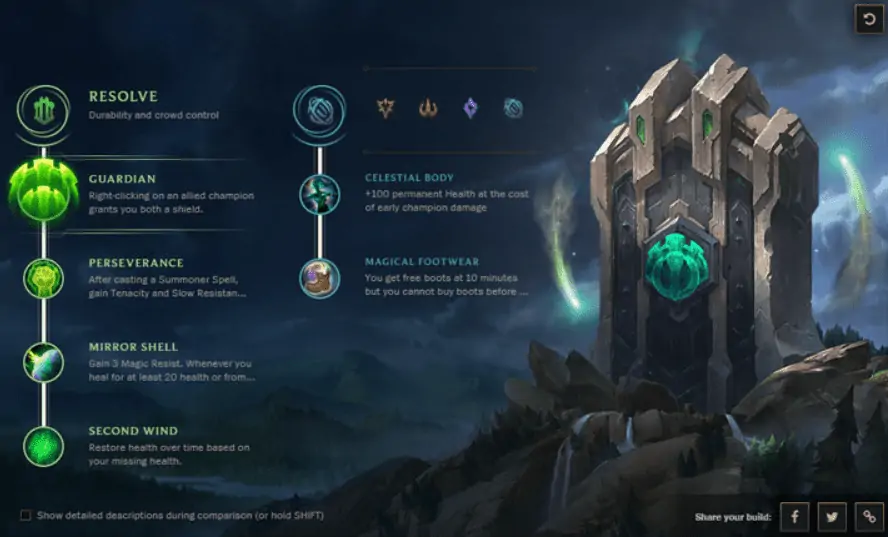 Rune Keystones
Grasp of the Undying:

Your champion will deal bonus magic damage to enemies every 4 seconds. Also, the rune will heal you and permanently increase your health.

Aftershock:

After immobilizing an enemy with a CC ability, gain defensive stats and deal a burst of damage around your champion.

Guardian:

Using abilities on allies provides a guarded status, which grants a shield and movement speed.
Sub-Runes
Slot 1:
Demolish:

Charge up a powerful attack against a tower when close by.

Font of Life:

Impairing an enemy's movement marks them for your allies that heal when damaging them.

Shield Bash:

Gain bonus magic resistance and armor when your champion has a shield. Also, your next basic attack deals bonus adaptive damage.
Slot 2:
Conditioning:

After 10 minutes, gain +9 armor and magic resistance. Conditioning also increases defensive stats by 5%.

Second Wind:

Heal yourself a small amount after taking damage from an enemy champion.

Bone Plating:

After an enemy hits you, the following 3 spells or attacks do 30-60 less damage.
Slot 3:
Overgrowth:

Gain permanent health when monsters and minions die nearby.

Revitalize:

Shields and heals are 5% stronger.

Unflinching:

After casting a summoner spell, gain slow resistance and tenacity for a short duration.
Inspiration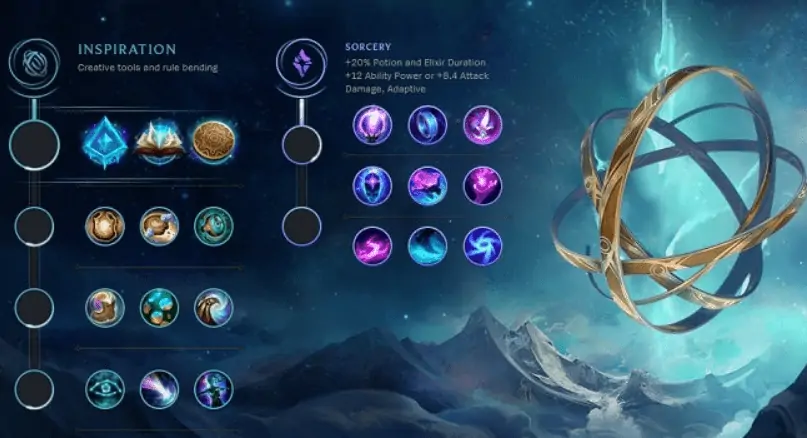 Rune Keystone
Glacial Augment:

Your first attack on an enemy slows them briefly. However, if the champion has active items, a freeze ray will be fired.

Unsealed Spellbook:

You can swap your summoner spells when out of combat.

First Strike:

Deal 10% extra damage for 3 seconds

when you first engage the enemy. Also, you'll gain gold based on the damage dealt in this period.
Sub-Runes
Slot 1:
Hextech Flashtraption:

While flash is on cooldown, it's replaced by hex flash. This ability is similar to flash as it lets you charge up a dash.

Magical Footwear:

After 12 minutes, your character receives basic boots that cost 300g. However, by using this rune, you no longer gain the option to purchase boots pre 12 minutes. Also, each takedown reduces the boots cooldown by 45 seconds.

Perfect Timing:

Receive a free stopwatch at the start of the game. After 14 minutes, the stopwatch can be activated to provide a status effect. Also, takedowns reduce the timer by 2 minutes.
Slot 2:
Future's Market:

You can enter debt to purchase items.

Minion Dematerializer:

Start the game with a Minion Dematerializer. Using them on the minion will instantly kill them and provide bonus damage to the unit type in the future.

Biscuit Delivery:

Gain a free biscuit every 2 minutes 3 times. Eating or selling the biscuit permanently increases your maximum mana.
Slot 3:
Cosmic Insight:

+10% item haste and +15% summoner spell haste.

Approach Velocity:

Gan bonus movement speed towards ally champions or enemies that you impair.

Time Warp Tonic:

Potions and biscuits immediately grant 50% of their health and mana.
How To Choose Rune For Your Champion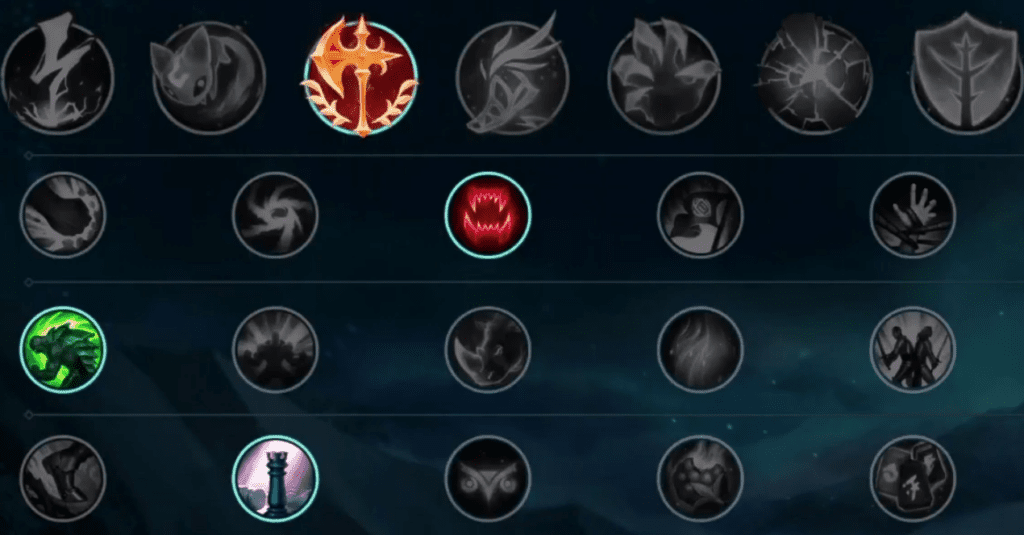 Selecting the correct runes for your champion is essential to give yourself the best chance at winning. League of Legends has multiple playstyles, and runes can complement them very well. First, you need to know your champion's strengths and play to them. For example, Zed relies on quickly killing targets and running away. Therefore, he needs runes that help with burst damage and movement speed.
All champions are unique and require different runes to improve their play style. Unfortunately, finding the correct combination is time-consuming because it requires multiple games of testing. Therefore, players can look at champion guides to find the most optimal runes instantly. 
The Best Beginner Runes In League Of Legends
The preset rune pages available to new players are more than enough to get started. However, as you play League of Legends, you'll want to tinker with some of the choices available. We've put together a handful of great builds for each role to get started. While they are not optimized for a specific champion, they are excellent in general and better than the official rune presets.
Runes for Movement Speed Champions
Champions like Udyr, Hecarim, and Singed rely on movement speed runes to close the gap between them and squishy targets. The Predator keystone is the core rune of this build because it delivers a burst of movement speed towards enemy champions. It's brilliant for engaging during ganks or before a team fight begins. However, Predator only becomes available after buying boots.
Moreover, the Sorcery tree provides out of combat movement speed, making it perfect for roaming. This build is perfect for junglers because it improves their gank success rate and additional damage when in the river.
Main Rune Page – Domination
Rune Keystone – Predator
Sub-Runes:
Taste of Blood
Eyeball Collection
Relentless Hunter
Secondary Rune – Sorcery
Sub-Runes:
Runes for ADCs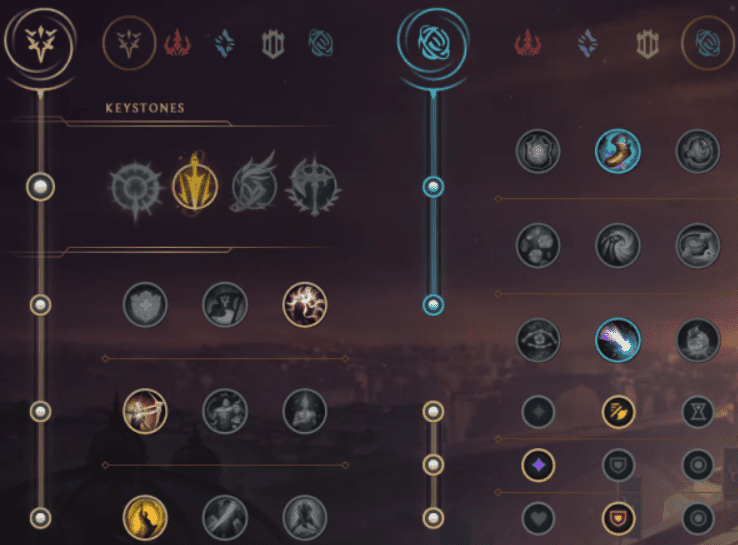 This ADC build is considered the best because it grants bonus movement speed and survivability. It's centred around the Fleet Footwork Keystone, which gives excess healing and movement speed. This lets you close the gap between enemies and make you more difficult to kill as you'll be moving faster.
As for the second path, there are several options that you can choose depending on your champion. These sub-runes can offer healing, more damage, utility, or survivability. We recommend using Domination to provide a mixture of DPS and healing, which is brilliant for ADCs.
Main Rune Page – Precision
Rune Keystone – Fleet Footwork
Sub-Runes:
Triumph
Legend – Alacrity
Coup de Grace
Secondary Rune – Domination
Sub-Runes:
Taste of Blood
Ravenous Hunter
Runes for Tanks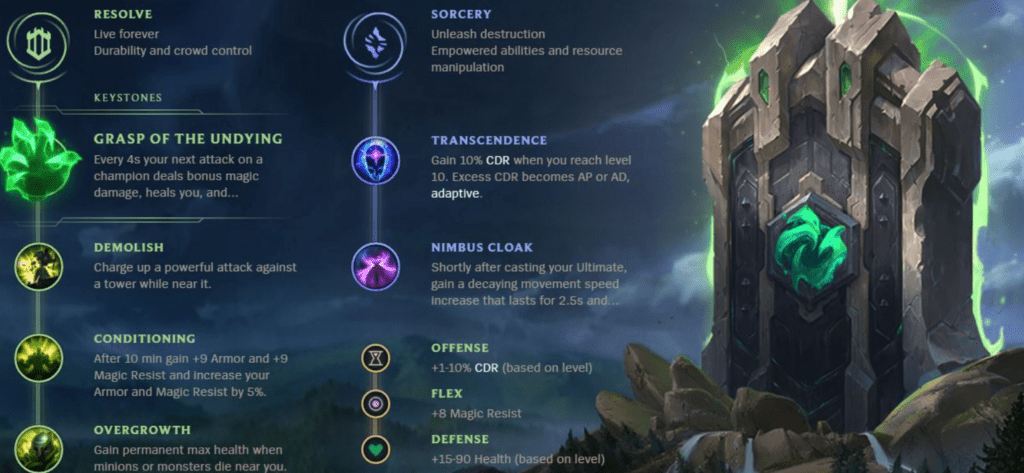 Champions like Ornn and Maokai require runes that provide durability and sustain to become an unstoppable force in team fights. Their primary focus is taking damage for the team, holding the front line, and protecting the carries. Tanks go best with Resolve as their main rune path to fit this playstyle since it focuses on giving sustain over time.
Grasp of the Undying is the core rune for tanks, as it increases your overall health during the game. The next rune is Demolish, which allows you to take tower plates early in the game by dealing devastating damage every 4 seconds.
Also, tanks choose Precision runes as their second option because it delivers healing during fights. Triumph restores 12% of missing health for an assist or kill, making it brilliant for tanking team fights.
Main Rune Page – Resolve
Rune Keystone – Grasp of the Undying
Sub-Runes:
Demolish
Bone Plating
Overgrowth
Secondary Rune – Domination
Sub-Runes:
Runes for Bruisers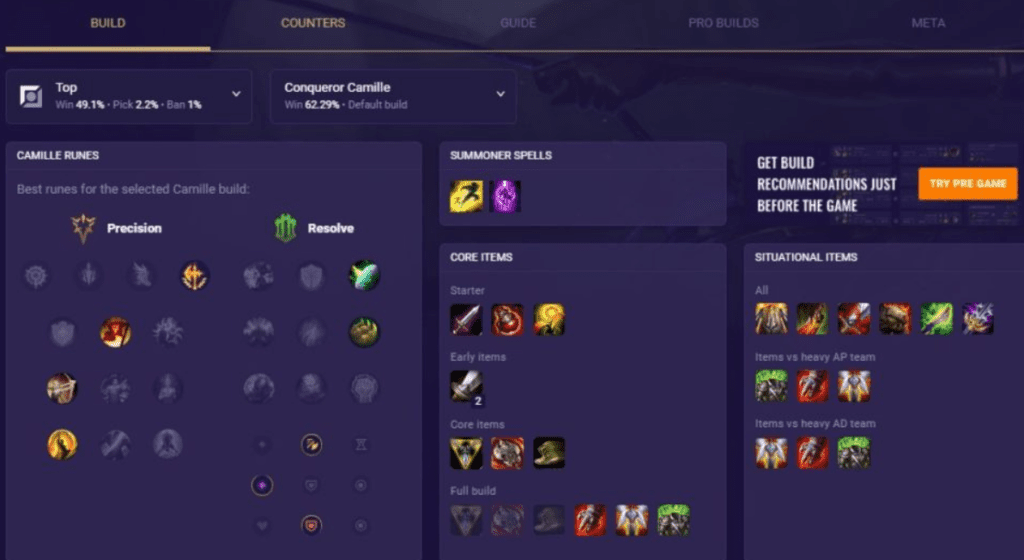 Bruisers require runes that help deal more damage and take lane control through trading. The Precision rune offers precisely this with the Conqueror keystone. During fights, it sustains you while increasing your damage output to get more favourable trades. Also, the rest of the path helps with durability by providing tenacity and healing.
Moreover, the Resolve secondary runes increase your health when minions die nearby. Also, bruisers opt for a split pushing strategy to pressure the opponent. Bone Plating compliments this playstyle well because it helps take down objectives much faster. 
Main Rune Page – Precision
Rune Keystone – Conqueror
Sub-Runes:
Presence of Mind
Legend: Bloodline
Coup De Grace
Secondary Rune – Resolve
Sub-Runes:
Runes for AP Burst Mages and Assassins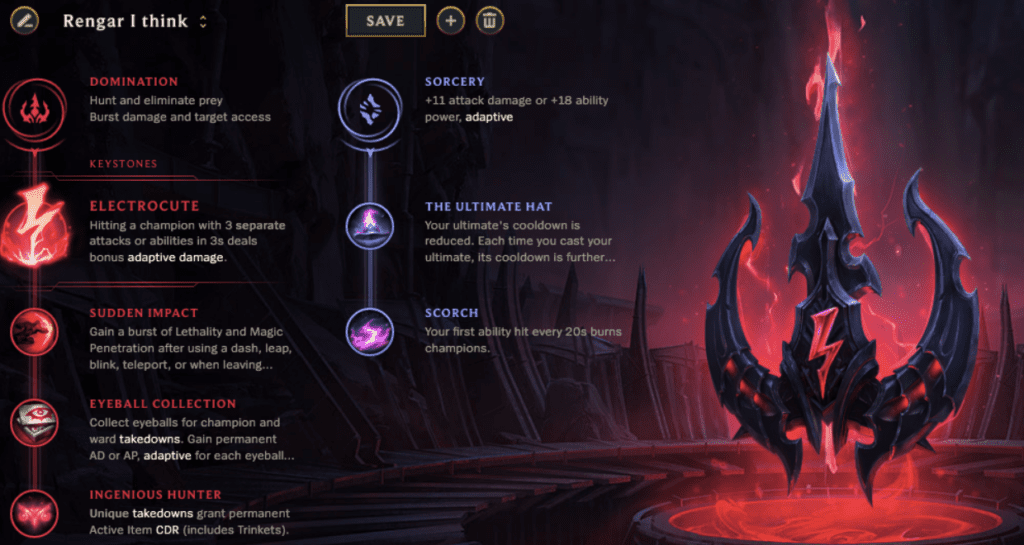 Burst AP mages and assassins require a mixture of sustain and damage output with their runes. The First Strike keystone lets your champion deal 10% more damage within a 3-second window after hitting an auto-attack or ability. Also, it grants bonus gold, allowing you to buy items much faster.
The Domination tree focuses on sustain with Taste of Blood and Ravenous Hunter. It lets champions with small health bars sustain during the early game and team fights. Also, the Perfect Timing rune gives a free stopwatch after 14 minutes and builds into a Guardian Angel or Zhonya's Hourglass.
Main Rune Page – Inspiration
Rune Keystone – First Strike
Sub-Runes:
Perfect Timing
Biscuit Delivery
Cosmic Insight
Secondary Rune – Resolve
Sub-Runes:
Taste of Blood
Ravenous Hunter
Runes for AD Mid Laners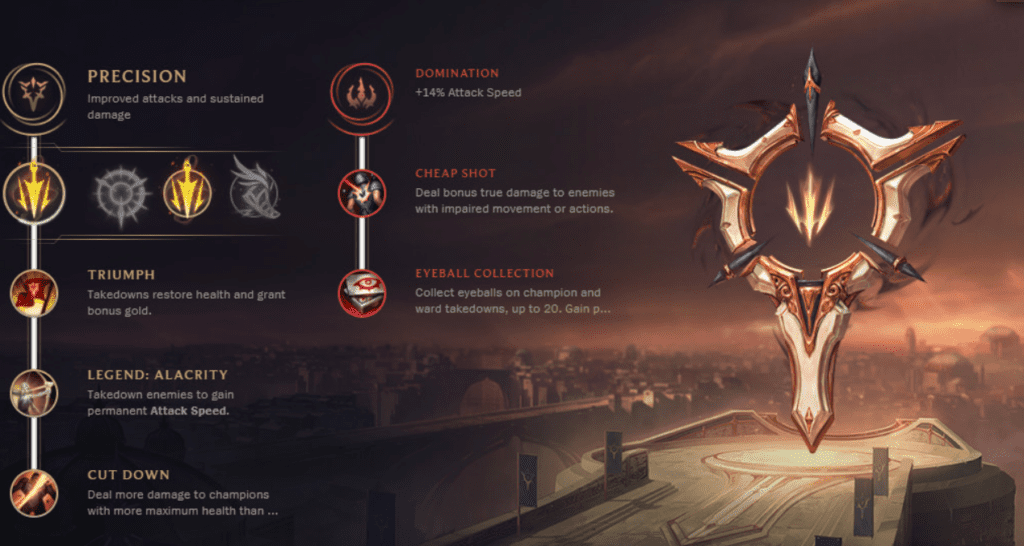 AD mid champions like Yasuo and Yone need a mixture of burst and healing to be viable. The Electrocute rune lets your champion burst enemies after 3 separate attacks. Also, most AD mid laners have dashing abilities, which synchronizes well with Sudden Impact by giving a burst of lethality.
Moreover, Legend: Bloodline and Ravenous Hunter grant permanent healing. When combined with items like the Shieldbow and Bloodthirster, killing you becomes a daunting task. 
Main Rune Page – Domination
Rune Keystone – Electrocute
Sub-Runes:
Sudden Impact
Eyeball Collection
Ravenous Hunter
Secondary Rune – Precision
Sub-Runes:
Legend: Bloodline
Coup De Grace
Runes for Tank Supports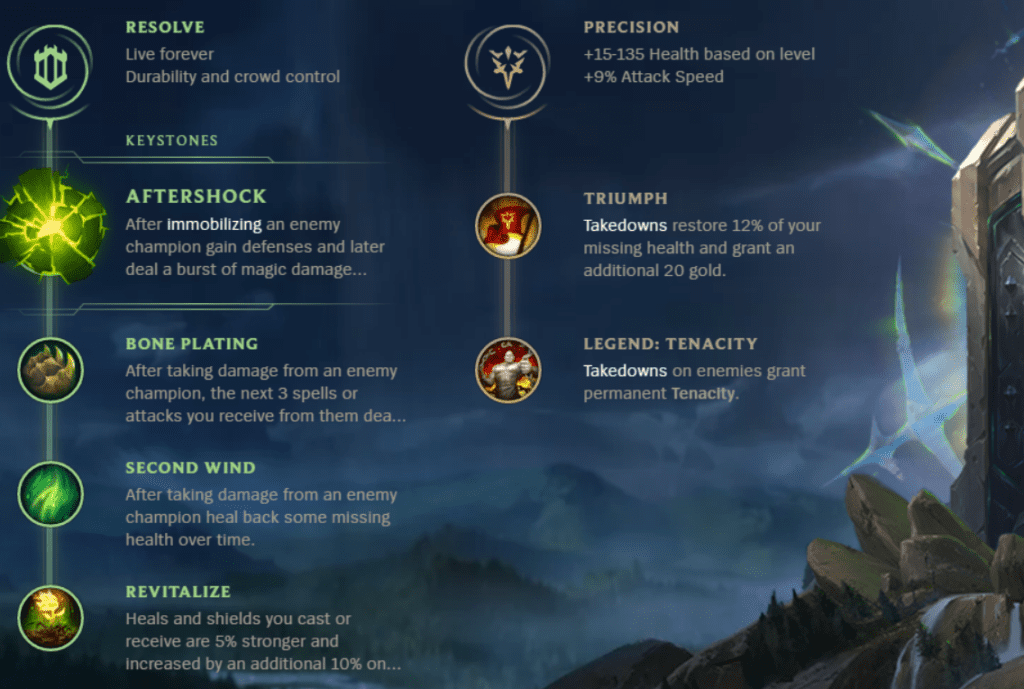 Your ADC will be grateful if you pick a tanky support to protect them during the early game and team fights. Runes that fit champions like Leona, Nautilus, Blitzcrank, and Braum fall under the Resolve path because it strengthens engaging abilities.
The Inspiration path contains runes that have healing and let you take more trades during the early game. Approach Velocity delivers bonus movement speed to champions that are impaired. Therefore, you can quickly get to a helpless teammate and shield them from incoming damage.
Main Rune Page – Resolve
Rune Keystone – Aftershock
Sub-Runes:
Font of Life
Bone Plating
Overgrowth
Secondary Rune – Inspiration
Sub-Runes:
Biscuit Delivery
Approach Velocity
Runes for AP Supports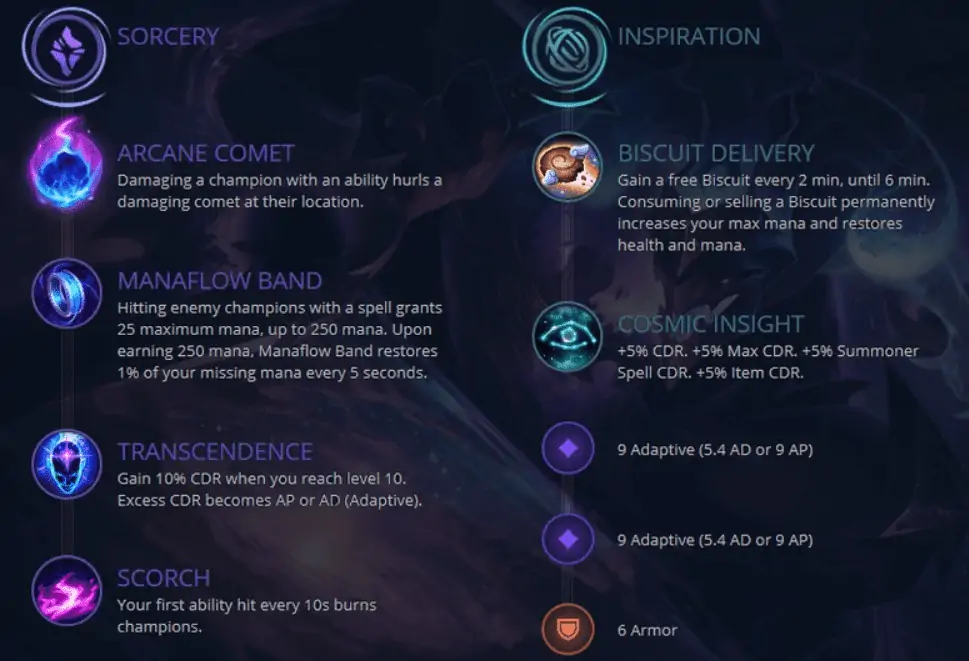 AP supports like Morgana and Zyra are excellent for dealing damage and dishing out crowd control abilities. These champions rely on zoning out the enemy ADC and making them miss farm. Therefore, AP Supports need a mixture of damage and utility when selecting their runes. The Sorcery page improves damage, increases mana pool, and shields allies.
Moreover, Inspiration grants a free biscuit every 2 minutes that heals your champion and increases mana pool by 25. Lastly, Cosmic Insight reduces the cooldown on support items, making you more useful during trades.
Main Rune Page – Sorcery
Rune Keystone – Summon Aery
Sub-Runes:
Manaflow Band
Transcendence
Scorch
Secondary Rune – Inspiration
Sub-Runes:
Biscuit Delivery
Cosmic Insight
Runes for Jungle Bruisers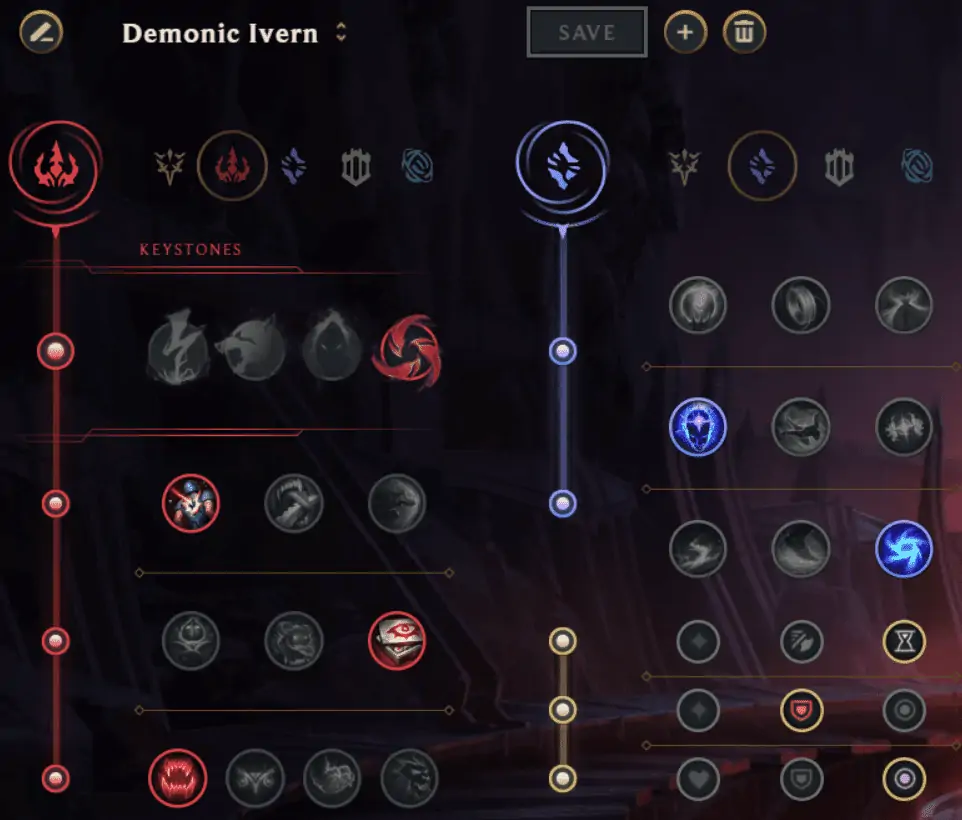 Jungle champions like Jax, Kha'Zix, and Vi want to deal as much damage as possible in a short time frame to pull off successful ganks. Therefore, this playstyle requires taking the Electrocute keystone to burst down enemies. Also, most jungle champions have dashes, so taking Sudden Impact will improve the damage output.
Furthermore, Relentless Hunter and Waterwalking improve movement speed, letting you run around the map much faster. This enables you to gank more often and get to objectives quicker.
Main Rune Page – Domination
Rune Keystone – Electrocute
Sub-Runes:
Sudden Impact
Eyeball Collection
Relentless Hunter
Secondary Rune – Sorcery
Sub-Runes:
Nimbus Cloak
Waterwalking
Runes for Jungle Tanks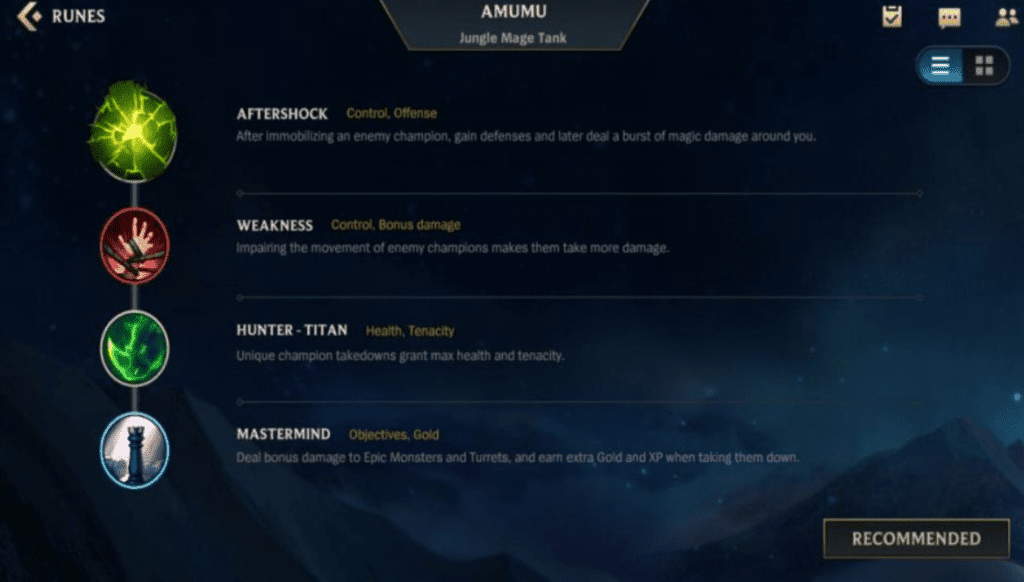 Those who rather protect the backline and be an unkillable force can play tank junglers specializing in Resolve. This makes under-tower fights easier and increases the chances of pulling off a successful gank. Also, tanks use Inspiration as their second rune tree because it provides free boots and reduces the cooldown of summoner spells.
Main Rune Page – Resolve
Rune Keystone – Aftershock
Sub-Runes:
Font of Life
Conditioning
Overgrowth
Secondary Rune – Inspiration
Sub-Runes:
Magical Footwear
Cosmic Insight
League of Legends Rune Tips
Tip 1 – Set Up Runes Beforehand: It's vital to set up your runes before matchmaking because you may not have enough time to complete them during Champion Select. If the page is incomplete, League of Legends will automatically apply default runes that are most likely not great for your champion. Also, rushing the rune page can lead to mistakes, so it's much better to take your time and complete your setup before looking for a match.
Tip 2 – Look At Champion Guides: Champion guides showcase runes tailor-made for your character. It takes out the need to guess and test your champion's best runes because other players have gone through this process. Also, guides show you the best builds, abilities to level, and best matchups for your character.
Tip 3 – Name Your Rune Pages: Default rune pages are named "New Rune Page" with a number at the end. Using the default names can make it challenging to remember which rune pages are specific to a champion. Therefore, we recommend putting a unique name to prevent you from choosing the wrong page.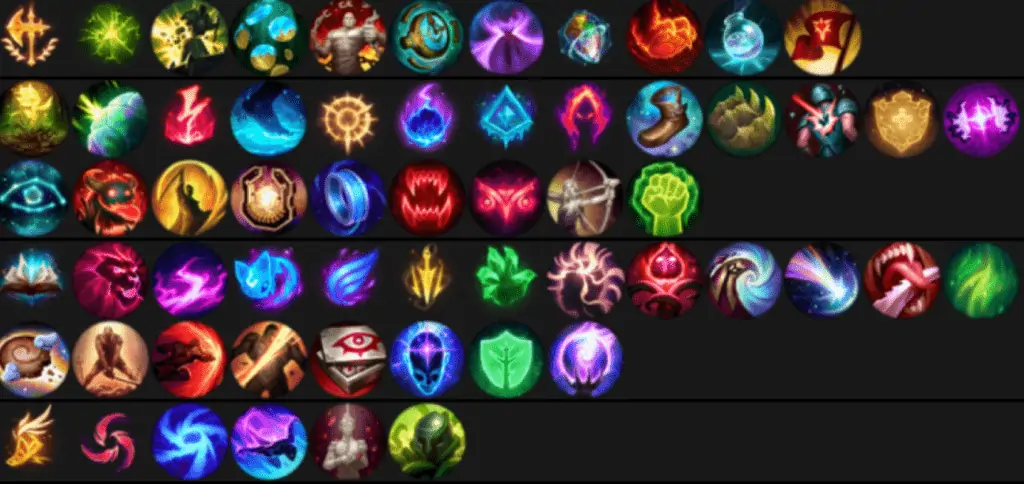 Tip 4 – Scan Your Enemy: At the start of the game, check the runes of the enemy players. This lets you see the playstyle they're going to play. For example, if the enemy jungler has Predator, you know they will focus on ganking rather than farming.
Tip 5 – Take Advantage Of Runes: Runes are there for a reason, so make the most out of them. Adapt your play style to make the runes you've selected more useful. For example, if you choose Electrocute, make sure to get 3 separate hits within 3 seconds.
Tip 6 – Selecting The Wrong Runes: If you've selected the wrong runes, you'll need to change your play style. This is because incorrect runes place your character at a significant disadvantage since you won't deal as much damage. Therefore, you'll need to play safer and take favorable fights.
Tip 7 – Buy Rune Pages: After buying all the champions you want, save up your blue essence to purchase rune pages. All players receive 2 free pages, which can become limiting if you play multiple positions. Buying multiple pages lets you set up runes without needing to do them during Champion Select.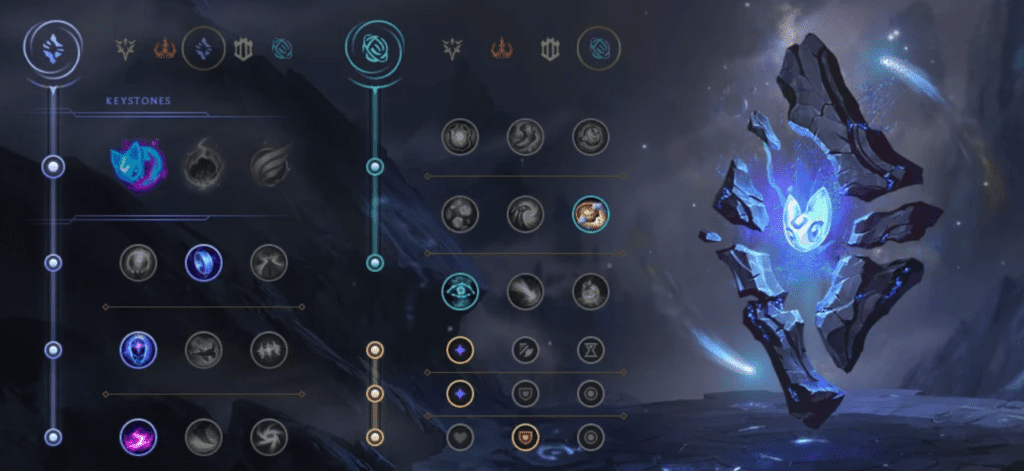 Tip 8 – Combine Summoner Spells: Runes and summoner spells can synchronize well if they share the same attributes. For example, Ghost and Predator increase movement speed massively and let you charge at the enemy quickly. This gives them less time to react and let you pull off successful attacks.
Tip 9 – Combine Items: Runes can compliment item builds exceptionally well and add additional bonuses. Items like Shieldbow can receive increased shields and improve your champion's durability. However, Shieldbow is only one of the items that can gain benefits. There are plenty of other items that benefit from runes and provide significant advantages during fights. 
FAQs
Question: What Are The Top 3 Easiest Champions In League Of Legends? 
Answer: League of Legends features over 150 champions that range drastically in skill levels. New players find most characters difficult and frustrating to play. Therefore, it's recommended to play the easier champions first to learn the game's core mechanics. Here are the top 3 characters that beginners will enjoy playing:
Master Yi
Master Yi is the easiest jungler to play because of his simple kit. He can clear jungle camps quickly and heal back using the Meditate ability. During team fights, he is difficult to kill because Alpha Strike makes him temporarily untargetable. However, Master Yi is easily countered by crowd control abilities.
Darius
Darius has always been a fun beginner pick for the top lane because of his aggressive playstyle. He is powerful in the early game because his passive can bully opponents. Darius' ultimate can execute low health targets and resets after each kill. He's pretty easy to learn, and his abilities require minimal effort to hit.
Annie
Annie is most likely the most accessible champion to play in League of Legends because her abilities are easy to hit. Her Q returns mana after killing a unit, making it straightforward to farm minions. Annie's ultimate ability spawns a huge teddy bear that deals massive amounts of damage.
Question: What Is Wild Rift?
Answer: Wild Rift is the mobile version of League of Legends. It's a 5v5 MOBA experience with new controls and fast-paced games. Players can select their lane preferences and have multiple champions to choose from. A brilliant feature of Wild Rift is that the map rotates to what side you're playing, making it easier to play.
Question: What Is Fog Of War?
Answer: In League of Legends, you'll make decisions with incomplete information. This is because you cannot see everything happening on the map due to the "fog of war". The fog of war is the darkened area on the minimap. It conceals enemy movements, making it riskier to move around without teammates.
However, you can improve the visibility by placing wards around the map. Wards provide vision in a small circle from where it was placed. Also, it can prevent deaths as you'll know the location of enemies and make plays based on this information.
Question: What Are Skins In League of Legends?
Answer: A champion skin refers to an alternate appearance of a League of Legends character. They are often bought with RP from the official store and vary in price. Also, skins have different tiers based on appearance and rarity. They are not essential to play League of Legends but can deliver a fresh look for your character.
Moreover, Hextech chests can be opened to receive skins that can be purchased with orange essence for free. However, the chests are randomized, so you can't select the skin you want.
League of Legends Runes Guide: Final Thoughts
That concludes our guide on League of Legends runes. We've covered how runes work and the best builds to set up for champions. Runes are essential to maximizing your damage output, utility, or durability. All characters benefit from a unique set of runes based on their abilities. So test out different rune pages for your champion and see what works best for you.