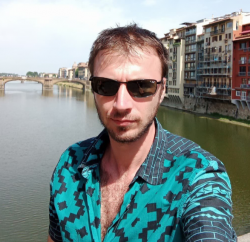 Latest posts by Stefan Stevanovic
(see all)
Leona, the Radiant Dawn, is a tank that relies on the power of the Sun to vanquish her enemies. The champion has various debilitating effects that help her control the opponents. She also has a solid defensive ability and a mobility spell.
Key Info Up Front
At this moment, Leona has a total of 12 skins. Some of these are pretty amazing, such as Mecha Kingdoms Leona, PROJECT: Leona, or Battle Academia Leona.
She also has a few funny skins like Pool Party Leona or Barbeque Leona. All in all, if you like the champion and play it frequently, you should consider getting one of these.
Original Leona
Skin Lore
Leona relies on her Shield of Daybreak and Zenith blade to persecute anyone who would attack Mount Targon. Harnessing the very power of the Sun, she destroys anyone who dares threaten her. Equipped with celestial Aspect and a plethora of ancient knowledge, she faces any challenge with open arms.
Appearance and Model
The first thing worth mentioning about Leona is her sword. It drew inspiration from the Diablo franchise, resembling Tyreal's weapon. It is a really cool-looking piece of hardware, even in its base form. It is a golden blade with edges around the hilt. Her shield is equally as impressive, covering the champion's whole body and having a radiant sun symbol at the top.
Leona's skin combines maroon and gold. She has strong, reinforced boots, maroon trousers, a golden apron, and a dress, as well as a maroon full-body shirt.
The Radiant Dawn is protected by numerous small pieces of armor, which guard her breasts, shoulders, and hands. Lastly, Leona wears something that is best described as a lateral tiara. These winged spikes add to the complexity of the model.
The champion has white skin and ginger hair.
Visual Effects (VFX) and Sound Effects (SFX)
Base effects
Animations
Base animations
Pros
So many intricate details.
In my opinion, one of the better base models in the game.
Maroon and gold look really good on her.
Cons
The sword could be a bit better.
Valkyrie Leona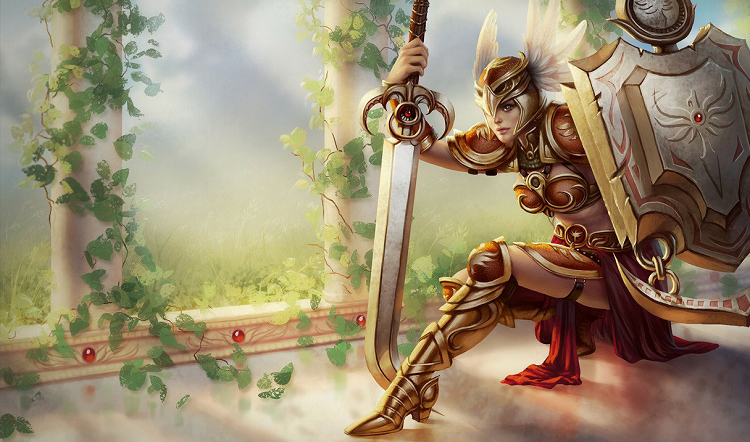 Price: 520
Skin Lore
Leona has descended from heaven to help fallen warriors and spirit them away to the Halls of Valhalla. If you're an unfortunate soul, and Leona doesn't take you along, you will end up in the ocean or in the underworld, waiting for your judgment.
Appearance and Model
Valkyrie Leona is a part of the Fables collection together with River Spirit Nami, Dark Valkyrie Diana, Loch Ness Cho'Gath, Muse Sona, Ghost Bride Morgana, Siren Cassiopeia, Leprechaun Veigar, and Sasquatch Nunu & Willump.
The champion has long greaves with golden phoenix ornaments around knees and thighs. She also wears a red clothing piece around the waist that falls back. Her torse is somewhat naked, having just breast guards, shoulder plates, and arm guards.
All the pieces are made from gold, with added orange color and phoenix decoration. Lastly, she also has a sturdy golden helmet on her head with white wings on its sides.
Leona's shield is quite unusual. It looks as if it's made out of bronze and has a large phoenix symbol in front and a blade on the bottom. Her weapon is also quite strange; it is curved at the top and has edged elements around the hilt.
Visual Effects (VFX) and Sound Effects (SFX)
Base effects
Animations
Base animations
Pros
Blade and shield are interesting just because they're so strange.
Cons
It isn't worth the price. I'm willing to argue that the base model is much better and more polished.
Too many different elements.
Iron Solari Leona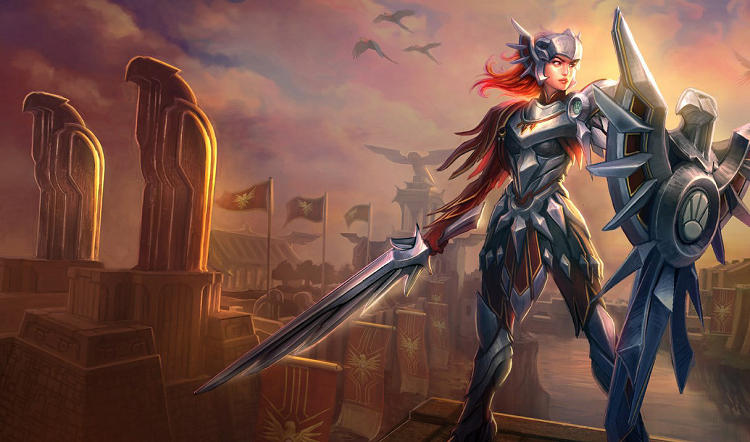 Price: 975
Skin Lore
Just by bearing the iron, Leona has a great responsibility on her shoulders.
Appearance and Model
The outfit is based on Locket of the Iron Solari, and you can also notice its visual during the Solar Flare cast. This particular cosmetic is much better than Valkyrie Leona. As the name implies, the skin consists of numerous iron parts. Leona has long greaves and a full metal dress armor.
The outfit has numerous spikey elements, and you can see a crimson red outfit beneath it. Although her arms and hands are not covered in plating, they still feature a nice red uniform.
Leona's head is protected by a sturdy armor helmet. Her shield has a shape of a winged eagle, and, I have to say, it looks pretty awesome. While the majority of the shield is silver, there are also several red sections. The sword is probably the least impressive part of the cosmetic; it is a rather plain weapon.
Visual Effects (VFX) and Sound Effects (SFX)
While traveling to its destination, Zenith Blade has phoenix wings. During Eclipse, there is a phoenix visual appearing on the champion's shield. Solar Flare leaves a massive phoenix imprint on the ground.
Animations
Base animations
Pros
Having extra effects for such a cheap cosmetic is really cool.
The shield is incredible.
Cons
Pool Party Leona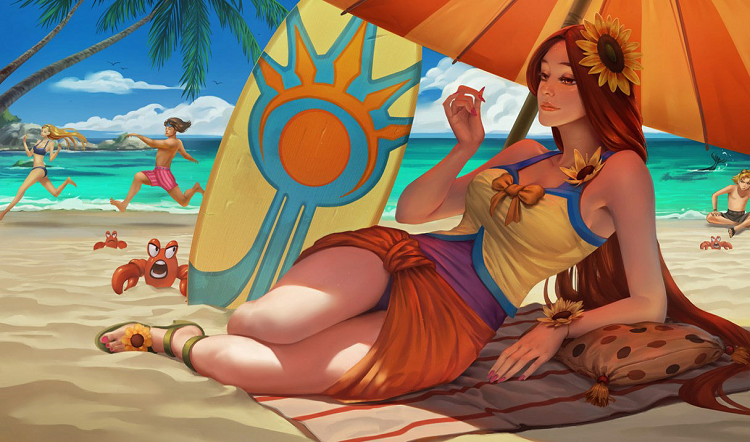 Price: 975
Skin Lore
Back in the day, Leona was a decorated surfer. Nowadays, she prefers relaxing at a beach and reading romance novels.
Appearance and Model
The skin is a part of the Pool Party set that features numerous champions such as Lee Sin, Lulu, Zac, Sett, Rek'Sai, etc. It comes in pink, azure, and lemon colors.
Like all of these cosmetics, Pool Party Leona is purely for fun. Instead of her usual shield, she has a short surfboard with what seems to be a sun symbol. Her sword is replaced by a semi-open organ/cream umbrella with a pointy ornamental top.
The Radiant Dawn wears long sandals with sunflowers on the top. She has a brown maxi skirt with a sun symbol on the back. The shirt combines purple, aquamarine, and yellow, with a ribbon around the breast area. Leona wears a few decorative sunflowers on her right hand, left shoulder, and in her hair.
Visual Effects (VFX) and Sound Effects (SFX)
Instead of throwing a spirit sword, Leona throws a spirit umbrella.
Animations
During Recall, the champion will lay down on a sunbed and doze off, waiting to be teleported.
Pros
It is so goofy, which makes it so awesome.
Cons
PROJECT: Leona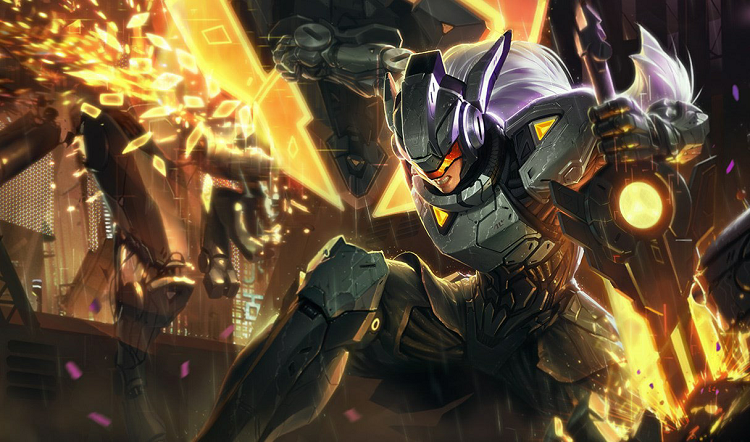 Price: 1,350
Skin Lore
Leona has managed to uncover the conspiracy behind the G/NETIC project, and she now fights with Ashe to bring the truth to light. The ion shield can store an enormous amount of energy, and the champion uses it to disable anyone who may approach her.
Appearance and Model
The skin is a part of a large PROJECT collection. Besides Ashe, there are other 24 cosmetics within the set, and most of them are pretty incredible.
Leona wears a heavy futuristic suit of armor combining gray, black, and yellow. She has long metal boots, reinforced pants, and exoskeleton body armor. For the most part, her arms are covered in metal plating, with a few weak spots. The upper areas of the body armor, shoulders, and chest, to be specific, are covered in reinforced metal. The majority of her head is covered by a helmet with a yellow visor.
As for the weapons, she wields a metallic shield with yellow ion edges. Her sword has a silver metallic hilt and a yellow blade.
Visual Effects (VFX) and Sound Effects (SFX)
Champion's voice is completely altered, and it is very robotic. Shield of Daybreak will alter the shield's appearance making it bright yellow. Upon stunning the target, you can notice a yellow cubical effect at the point of impact as well as below the opponent's feet.
As Eclipse charges, the champion's outside will generate a yellow cube shield instead of a round yellow glow. She will release this power in a similar-looking energy burst.
Zenith Blade has an awesome effect. First, she will toss a sword that looks like a yellow rectangle, and, as Leona dashes forward, you can notice a yellow glimpse in her wake. Solar Flare creates the same futuristic effect on the ground as all other spells.
Animations
During Recall, the Radiant Dawn performs a few sword moves. Her basic attacks create yellow effects with sci-fi particles.
Pros
New effects are a welcome addition.
Leona looks really cool when running and attacking.
Cons
I would love a few more yellow details on the armor.
Barbeque Leona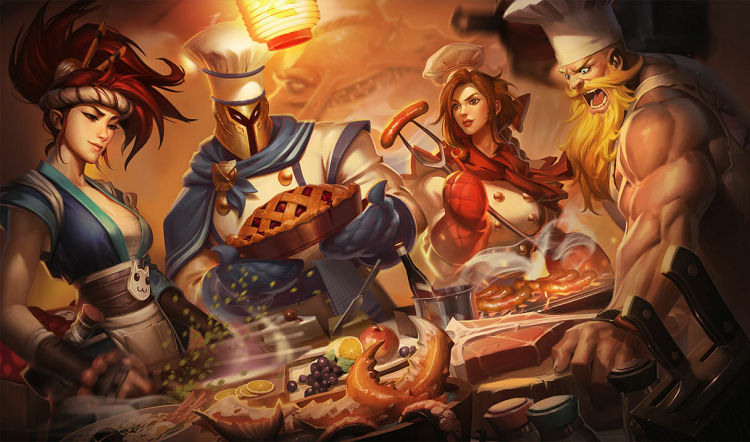 Price: 750
Skin Lore
Leona creates delicious meal recipes that will stun all your taste buds.
Appearance and Model
Barbeque Leona is a part of the Culinary Masters set. The other skins include Sashimi Akali, Butcher Olaf, Birdio, Pizza Delivery Sivir, Sinful Succulence Morgana, Baker Pantheon, and Master Chef Tahm Kench.
The cosmetic is pretty cool, jovial, and can be a nice addition to your other Leona skins.
First off, let's start with her weapons. Instead of a shield, she carries a barbeque that is peculiarly leaning to the side. Leona obviously forgot to put out the fire. Instead of a sword, she has a giant poker with a sausage at its pointy end.
The Radiant Dawn wears long dark boots, brown pants and has a chef's outfit with a long apron. There is also a star on the apron, which probably references the Michelin ranking system. Although this is a bit out of place, the champion wears a shortened red cape from her waist down. She also has red oven mitts, a red scarf, a red ribbon that ties her hair, and the usual culinary hat.
Visual Effects (VFX) and Sound Effects (SFX)
N/A
Animations
N/A
Pros
Very fun.
The weapons are probably the high point for me.
Cons
I don't like the cape.
A few minor details on the weapons might improve their overall appearance (although they are cool as it is).
Solar Eclipse Leona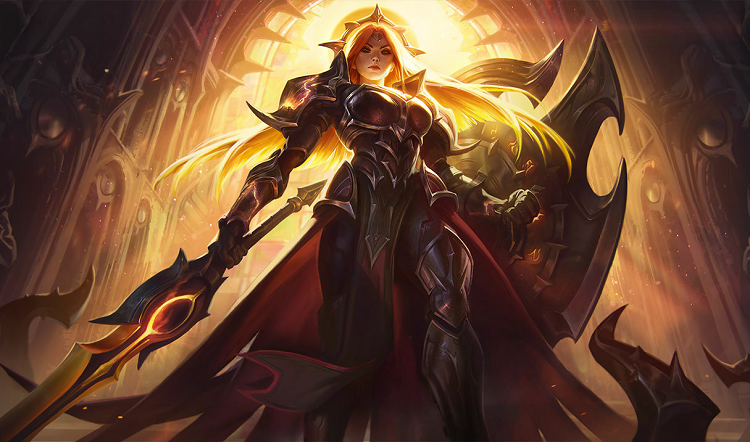 Price: 1,820
Skin Lore
Leona has offered her weapons to the service of the light. After praying to the majestic Sun, the celestial body has given her shield of light to banish the darkness while imbuing her blade with immense power that would allow the champion to scatter all the foes.
Appearance and Model
For me, this skin is even more badass than PROJECT: Leona. It has an incredible color pallet combining black, maroon, a bit of red, with lots of orange and yellow.
The champion wears sturdy greaves with sun symbols decorating the knees. Her skirt and flounce combine metallic and textile elements of varying colors. Leona's hips are protected by large metallic plates of the same material as her body armor, shoulder guards, and arm plates.
It is clear that Solar Eclipse Leona is a servant of the Sun, given all the small details. She wears a radiant emblem on her chest and a sun crown on her head. The champion has blonde, braided hair.
Both weapons look as if they're watching you. The shield has a narrow lower end with a wide upper section. In the center, there is an orange/red decoration resembling the same. A similar decorative motif can be seen on the sword, which has a long orange edge that is very wide at the tip.
Visual Effects (VFX) and Sound Effects (SFX)
Shield of Daybreak gives the shield a precarious glow, and upon impact, you will notice a strange marking on the ground. The Eclipse effect is amazing. As the shield charges, it will "open up," and the central ornament will start rotating around its axis. When fully charged, it will create a sun blast on the ground.
Zenith Blade throws a projectile that travels in a straight line. When casting Solar Flare, the central area will briefly turn dark, followed by a massive solar explosion. Even better, upon casting Solar Flare, Leona's base colors will change into brighter red/orange/yellow, and her crown and sword will receive a bright yellow glow.
Animations
During one of her emotes, Leona will put on massive orange sunglasses preparing for the upcoming Eclipse. She also has a goofy dance and an emote that summons sun particles. During Recall, she will put the shield on the ground, sticking it with the sword. This will activate a portal sending her back to base.
Basic strikes leave large glowing yellow splashes at the point of impact.
Pros
Solar Flare unlocking a different cosmetic is pretty dope.
Leona looks really intimidating with this cosmetic, yet, it goes well with her lore.
Shield, sword and their effects are amazing.
Cons
Lunar Eclipse Leona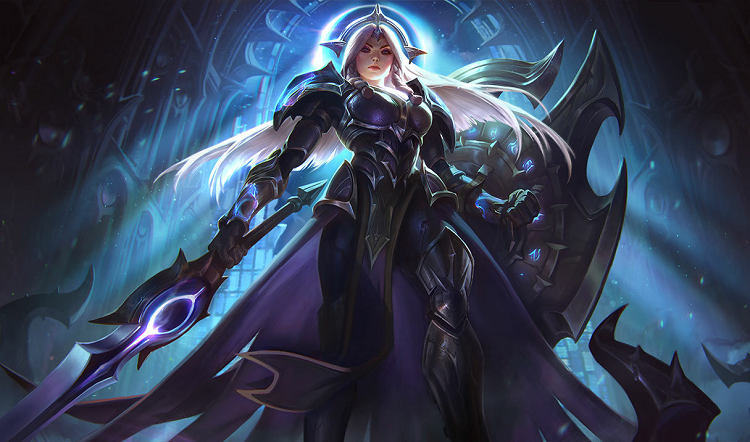 Price: 1,820
Skin Lore
Leona decided to pray to the moon for salvation. The celestial deity heard her prayers, empowering both her shield and blade against dark forces.
Appearance and Model
For the most part, Lunar Eclipse Leona and Solar Eclipse Leona are the same skins. However, there are also some noticeable differences.
First off, it is worth noting the color scheme. While Solar Eclipse Leona utilizes black, orange, yellow, and red, Lunar Eclipse Leona goes with black, dark blue, purple, and white. In all places where there was a sun symbol, you now have a moon symbol (on her chest, sword, crown, and shield).
Instead of the blonde, she has white hair with two braids in front instead of one in the back. Lastly, there is a small difference when it comes to swords. Solar Eclipse Leona used an orange-bladed sword with a dull, wide tip, while Lunar Eclipse Leona has a sharp tip with one side damaged.
Visual Effects (VFX) and Sound Effects (SFX)
Generally speaking, all the visual effects for Lunar Eclipse Leona are the same as for Solar Eclipse Leona, with the main difference that the latter utilizes dark blue color for all her effects. Furthermore, certain spells that would create the sun effect would now create a moon engraving (such as the case with Solar Flare).
Lastly, there are a few small differences in terms of the new skin when she activates Solar Flare.
Animations
When utilizing the Recall spell, Leona offers her shield to the moon while her weapon disintegrates mid-air. Instead of the orange effect, she now had a blue/purple effect on basic strikes.
Pros
Once again, the cosmetic is insanely cool.
There are very few differences between Solar and Lunar Eclipse Leona, so the optimal choice comes down to player preferences.
Cons
Mecha Kingdoms Leona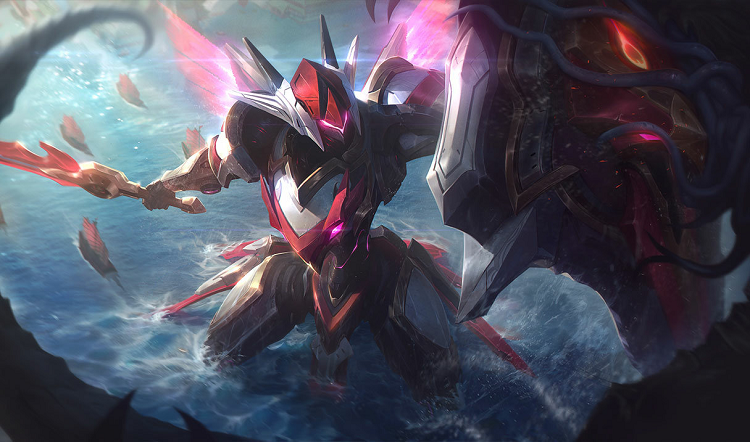 Price: 1,350
Skin Lore
Leona was the heiress of the Dawnrise Kingdom's throne. Instead of covering in her castle during the leviathan incursion, the brave princess took arms and led her people against a brutal enemy.
To ensure her success, the country's best scientists huddled together and gave Leona access to Avalon, a high-tech mech that is powered by the energy of the very being she was sworn to kill. With a new weapon in tow, there is nothing that can stop this brave heroine.
Appearance and Model
This is one of the several skins belonging to the Mecha Kingdoms series. The other cosmetics are Mecha Kingdoms Garen, Mecha Kingdoms Sett, Mecha Kingdoms Draven, Mecha Kingdoms Garen Prestige Edition, and Mecha Kingdoms Jax. The cosmetic includes 8 different colors.
Mecha Kingdoms skin completely transforms the champion to the point where you are no longer able to see her face. She is tucked safely inside of the mech, so the skin is actually a representation of the mech and not her armor.
The robot has golden boots, silver metallic legs, white gold hip plates, red flounce, silver/white arms, and a red/silver head. The cosmetic has numerous interesting details. For example, there is a massive metal bird symbol on her chest and another type of animal on her lower back. The mech also has powerful red thrusters that increase its speed in battle.
Shield combines gold/silver/red, and like the armor, it has a bird as the distinguishing mark. The champion has a red sword with a bronze hilt. It looks as if it was just taken out of the molten fire.
Visual Effects (VFX) and Sound Effects (SFX)
The champion has a deep metallic voice. Shield of Daybreak activates bright lights on your shield. Upon impact, there is a brief blue/pink effect on the ground and around the target. When you turn on Eclipse, the middle section of the shield will start rotating and will shine in a bright pin color.
This is followed by a blast that creates octagonal orange shapes on the ground and a blue blast wave. While the buff is active, an orange, futuristic shield envelops the champion. Zenith Blade throws the weapon at the enemy. You can notice the line trail behind the blade. After that, the champion dashes toward creating a pink/purple effect in her wake.
Upon casting Solar Flare, the central radius will turn dark blue leaving a grid visual on the ground. In a few short moments, the flare will descend, irradiating the area in orange/red glow.
Animations
During Recall, her shield will activate and split open. The Radiant Dawn performs a dance, after which the character is ported away. Basic strikes create an orange/red effect, in a similar color as the champion's sword.
Pros
The effects are pretty awesome.
One of the rare cosmetics in the game where you can't actually see the champion.
Cons
Mecha reminds me of an ant; with a very small head.
Battle Academia Leona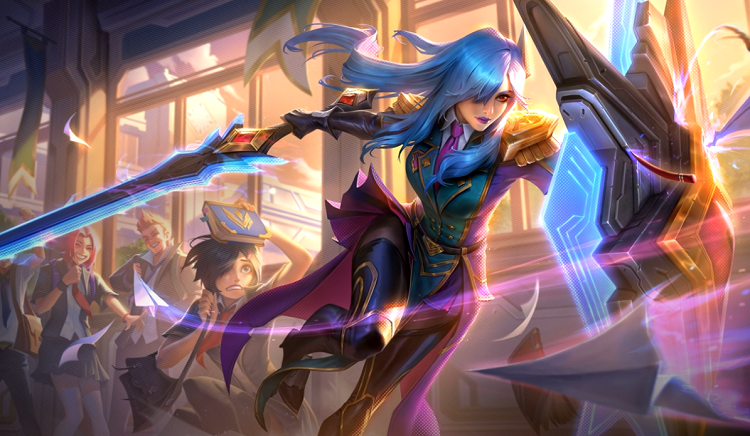 Price: 1,350
Skin Lore
A member of the school's battle club, Leona is quick to change her character when engaging in combat. Her meek personality quickly turns vicious and bloodthirsty when facing a challenge. The change is so profound that most students would simply stay out of her way, choosing not to provoke her wrath.
Appearance and Model
Battle Academia theme consists of Battle Academia Ezreal, Battle Academia Jayce, Battle Academia Wukong, Battle Professor Graves, Battle Academia Yone, Battle Principal Yuumi, Battle Academia Lux Prestige Edition, Battle Academia Garen, Battle Academia Caitlyn, Battle Academia Lux, Battle Academia Katarina, Battle Academia Leona Prestige Edition.
Chrome comes in eight colors, including turquoise, pearl, rose quartz, sapphire, ruby, obsidian, citrine, emerald. Battle Academia Leona utilizes strange color combinations, which can be a hit or miss. She wears reinforced boots and leggings. Her long flounce is purple with golden stripes, the same color as her leggings. The Radiant Dawn wears a similar purple skirt, aquamarine top with long dark sleeves.
There are lots of small details indicating that Leona is part of academia: she has golden buttons on her top, ceremonial shoulder details, and a red tie. Lastly, it is worth mentioning her light blue hair.
Her weapons are very similar in style. The shield has a silver base with crystal blue outer layers. The central part has a golden motif with a pink core resembling the Sun visual from her base skin. The sword has a similar marking, dark blade, and crystal blue outer layer.
Visual Effects (VFX) and Sound Effects (SFX)
Shield of Daybreak creates a rainbow-colored glow on her shield. Upon striking a target, there will be an ionized effect at the point of impact. For a brief moment, there will also be a visual on top of the target, which looks like the school's emblem.
When casting Eclipse, the light blue edges of the shield will spread outwards. As she charges the buff, you can notice a blue/purple bubble around the champion that intensifies as the spell's being charged. Eclipse creates a purple burst around the champion, and you can notice the same emblem on the ground as for Shield of Daybreak.
Zenith Blade launches Leona's weapon, which looks as if she threw a spear. It leaves a purple/blue lightning trail. Solar Flare creates a blue circle at the point of impact and a smaller black/purple circle at the center.
Animations
When casting Recall, Leona summons robotic practice dummies around her. As she reads a book, she slowly disposes of them, waiting for the teleportation to kick in. The basic attack creates a large light blue globe around the struck target.
Pros
I like the lightning/ion effects on the abilities.
The details mesh well, even though there are quite a few of them.
Cons
While the skin colors are not bad, there are much better choices on the market.
The shield and sword have too many colors for my liking.
Battle Academia Leona Prestige Edition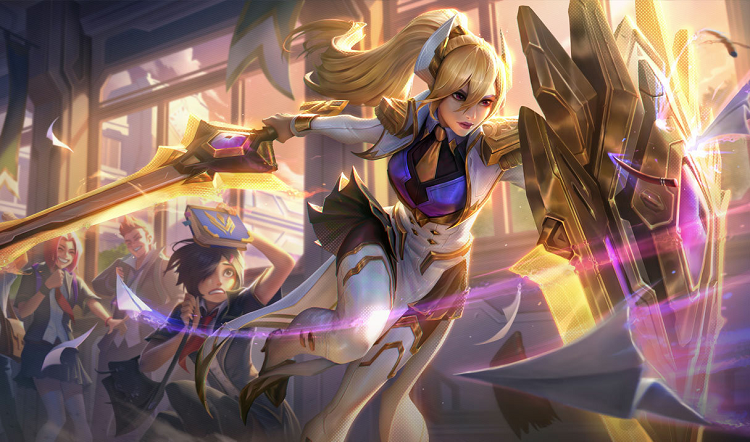 Price: 100 prestige points
Skin Lore
Over the years, Leona's battle skill was sharpened through numerous cross-school tournaments. Wielding enormous power, she destroys any opponent that looks her way.
Appearance and Model
As mentioned, this is a part of the Battle Academia theme. The Prestige Edition is very similar to the original one. The main difference is that this cosmetic utilizes a white/gold/purple color palette. Furthermore, the colors mesh together much better.
The champion has a long outfit with golden edges, a purple top, a golden tie, and two gadgets on the side of her head. The weapons look much better because of the simple fact that the designers used fewer colors. The shield and sword have golden edges with silver/whiter metallic centers.
Once again, you can notice the sun symbols, although they are much less pronounced this time around and utilize gentler shades. Speaking of shading, you can notice a bit of it on the lower parts of the shield/sword, where the golden color transitions into a soft pink.
Visual Effects (VFX) and Sound Effects (SFX)
For the most part, Battle Academia Leona and Battle Academia Leona Prestige Edition have the same effects. The main difference is that Battle Academia Leona relies on dark and purple shades, while Battle Academia Leona Prestige Edition utilizes both purple and gold.
Animations
Her Recall and basic strikes are the same as for Battle Academia Leona. The only difference is that she utilizes golden/yellow colors.
Pros
The outfit is much better compared to the original version.
A major improvement to shield and sword.
Cons
I don't like the combination of gold and purple on some of the effects.
DWG Leona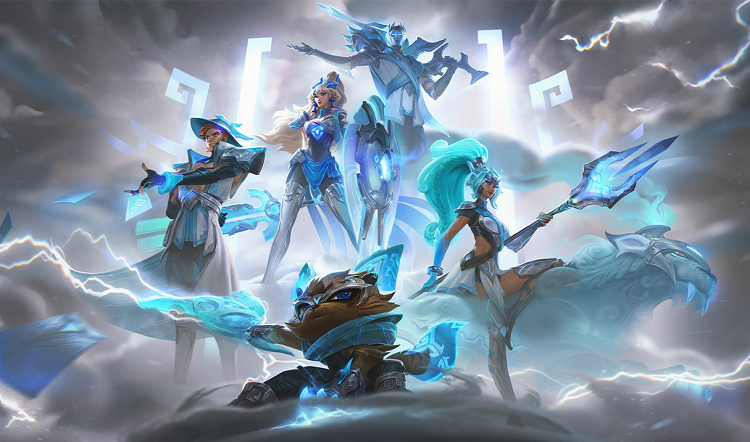 Price: 1,350
Skin Lore
This skin was created to pay homage to BeryL after his performance at World Championship 2020.
Appearance and Model
DWG Leona is a part of the 2020 World Championship collection. It comes in elite chroma.
Overall, the cosmetic looks really nice, with crystal blue as the dominant color. Leona wears dark blue leggings, dark blue body armor, and a stylish crystal blue flounce with stripes. Her hands are covered with white gloves, and she has a few crystal blue ornaments and trinkets, including a majestic tiara.
Her shield and weapon are really awesome. Shield has crystal blue edges, similar to many other cosmetics. Its interior is made out of metal with a blue crystal core. For the most part, the sword is made of blue crystal. It has the same round emblem as the shield.
Visual Effects (VFX) and Sound Effects (SFX)
Once you activate Shield of Daybreak, your shield will start glowing in light blue color. Upon striking a foe, there will be a light blue visual on the ground as well as two parallel blue lines on the struck opponent. Eclipse creates a winged bubble around the champion. After a few moments, the spell will burst with energy creating an icy, crystalized effect on the ground.
Zenith Blade sends a crystalized projectile towards the target enemy. Solar Flare summons a light blue explosion. A neat thing about this effect is that it will create an Ancient Greek decorative frame on the ground.
Animations
During Recall, the Radiant Dawn leaves her shield and sword on the ground and takes selfies. Her basic strikes create a crystal blue splash effect.
Pros
Silver and light blue go well together.
The effects are very polished and are great with this theme.
Cons
Debonair Leona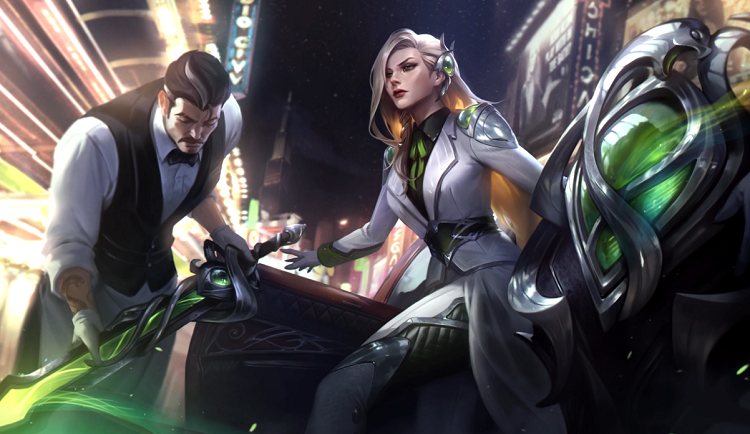 Price: 1,350
Skin Lore
Working at one of the best resorts in Solari, Leona is used to tossing out troublesome guests on the street. Even if you're one of the high rollers, you might still get in trouble for messing with this elite bouncer.
Appearance and Model
This is one of my favorite skins for Leona. The cosmetic combines silver and green, and I especially have to put emphasis on the champion's shield. It has silver edges that look like intertwined snakes, with a large emerald in the center.
The sword is not as impressive, although it is still cool-looking. It has a green blade and silver hilt. There's also a metallic snake crawling on it.
As for the clothes, she wears a silver outfit with a few green parts. For example, Leona has a green belt, green cowgirl tie, green shoulders, green jewel in her hair, and a green ribbon on the back. Everything else is either white or silver.
Visual Effects (VFX) and Sound Effects (SFX)
Shield of Daybreak generates an emerald glow from the shield. Once Leona strikes an enemy, the weapon will leave a visual effect that looks a bit like the shield itself. Eclipse creates a green bubble around the champion with silver interior edges. Once the spell activates, it leaves an intricate silver pattern on the ground.
Zenith Blade has a white/green trail, while Solar Flare utilizes a combination of dark/white/green shades. Upon cast, you can see a snake visual on the ground.
Animations
During Recall, Leona chills on a sofa while numerous bullets fly her way. The basic attack leaves a glimmering effect at the target point.
Pros
The color combinations are simply magnificent.
I like the addition of a snake; it makes for a bit different experience.
Cons
The shield is so cool that it outshines the sword.
FAQs
Question: How Many Skins does Leona Have?
Answer: There is a total of 13 cosmetics for the champion if we consider prestige skins, default skin, and other variations.
Question: Does Leona Have a Shield?
Answer: Not only does Leona have a shield, but it is an important part of her arsenal. A lot of her abilities and visuals revolve around the shield and not the sword.
Question: What is the Best Skin for Leona?
Answer: If I were to choose a skin for the champion, I would have to go with either Debonair Leona, DWG Leona, or Battle Academia Leona Prestige Edition. Any of these three should be good.
Leona Skins Guide: Conclusion
Leona is a very potent champion that has been around for a while. Some of her skins are pretty impressive, especially Debonair Leona and Battle Academia Leona Prestige Edition. If you wish to improve your gaming experience, you should definitely get one of those.