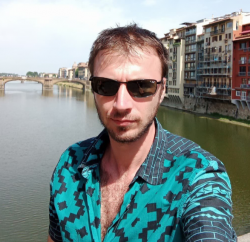 Latest posts by Stefan Stevanovic
(see all)
Katarina, the Sinister Blade, is a proficient assassin that can quickly dispose of squishier opponents. She is highly mobile and gets stronger as she takes down opponents. She works by throwing knives around her current position and collecting them, which provides her special benefits.
Although the champion has great mobility and solid damage, you need to plan your attacks to get the most out of her. Katarina is considered a high-difficulty character but is very fun to play.
Key Info Up Front
As it goes for all older characters, Katarina has received numerous skins over the years. Today, you can get one of 11 purchasable cosmetics that will completely alter the character's appearance. Some of them, such as PROJECT: Katarina, are truly worth your money.
Original Katarina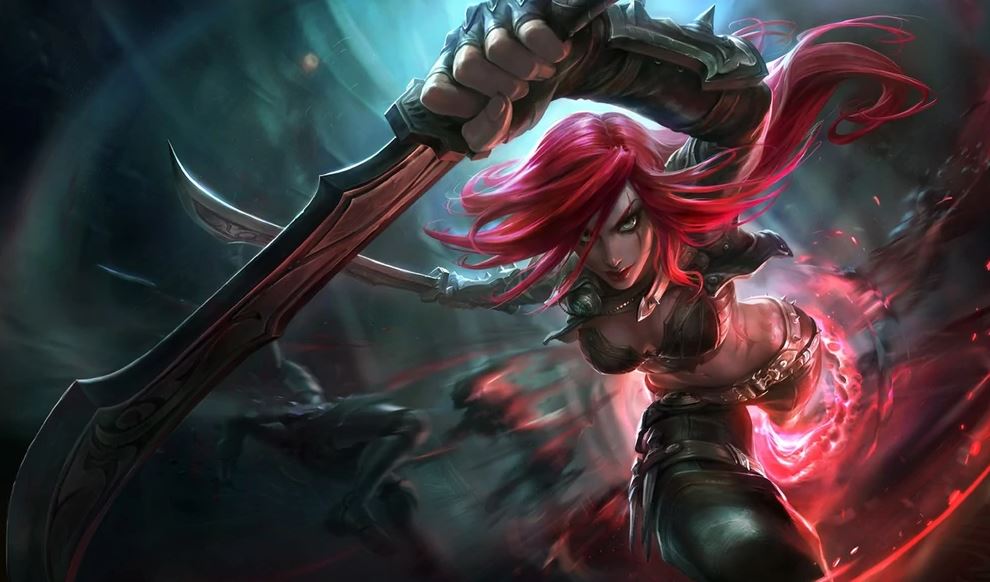 Skin Lore
Katarina is renowned as one of the elite Knoxian assassins. Wielding dual blades, she is able to dispose of enemies in a blink of an eye.
Always looking for a challenge, the Sinister Blades is continuously looking for heavily-guarded, high-value targets. Her ambition is so great that she often disregards allies while pursuing the target. No matter what, Katarina's strikes always yield results.
Appearance and model
Katarina's base skin is mostly consisting of black leather and silver metal parts. Her dark trousers have additional holsters for knives, and there is a large blade at her left hip. The champion also has spiked metal wrist, shoulder, and leg guards.
Her middle section is bare naked, and she fashions a leather jacket. The assassin has long, red hair and a noticeable scar over her left eye. The Sinister Blade carries two shortened katanas on her back, on top of her 2 main blades.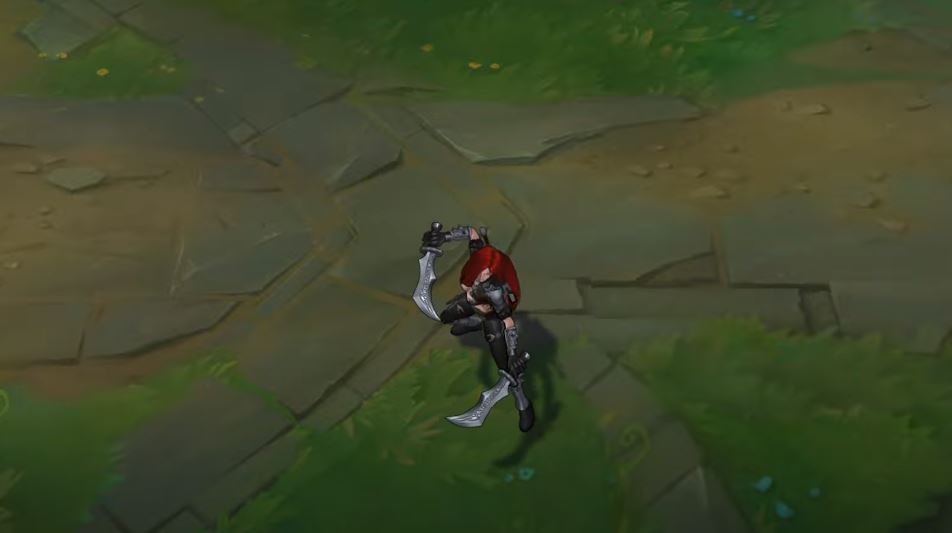 Visual Effects (VFX) and Sound Effects (SFX)
Base effects
Animations
Base animations
Pros
Basically, this is what an assassin should look like.
She carries a lot of blades, which makes sense given how her abilities work.
Cons
While the appearance is well-rounded, there is nothing special or eye-catching to it.
Mercenary Katarina
Price: 520
Skin Lore
N/A
Appearance and model
Almost the same as the default skin, with a few minor differences. For example, she wears a green jacket instead of the black one, and her left hip blade has a different holster. Lastly, her hair is white instead of red, which matches a bit better with metallic parts and a new green jacket.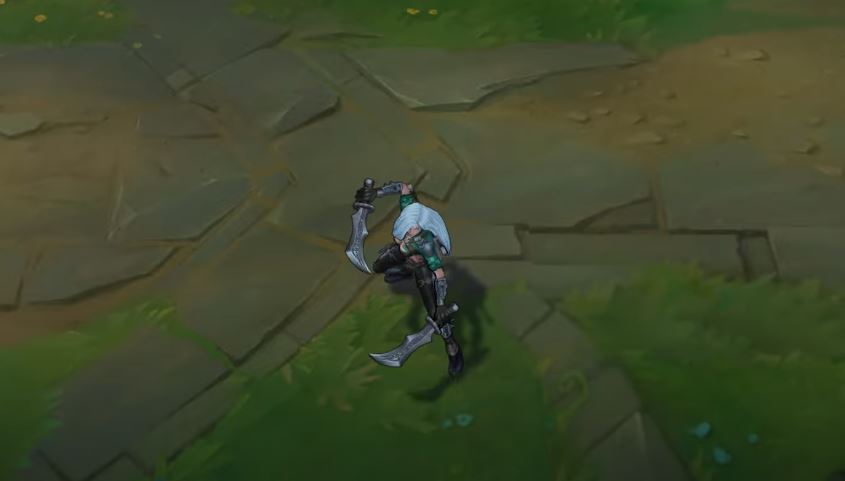 Visual Effects (VFX) and Sound Effects (SFX)
Base effects
Animations
Base animations
Pros
A change to white hair is nice.
Cons
I see it as a downgrade compared to the default model. The green jacket is especially out of place.
It isn't worth 520 points as it doesn't provide enough to justify the purchase.
High Commander Katarina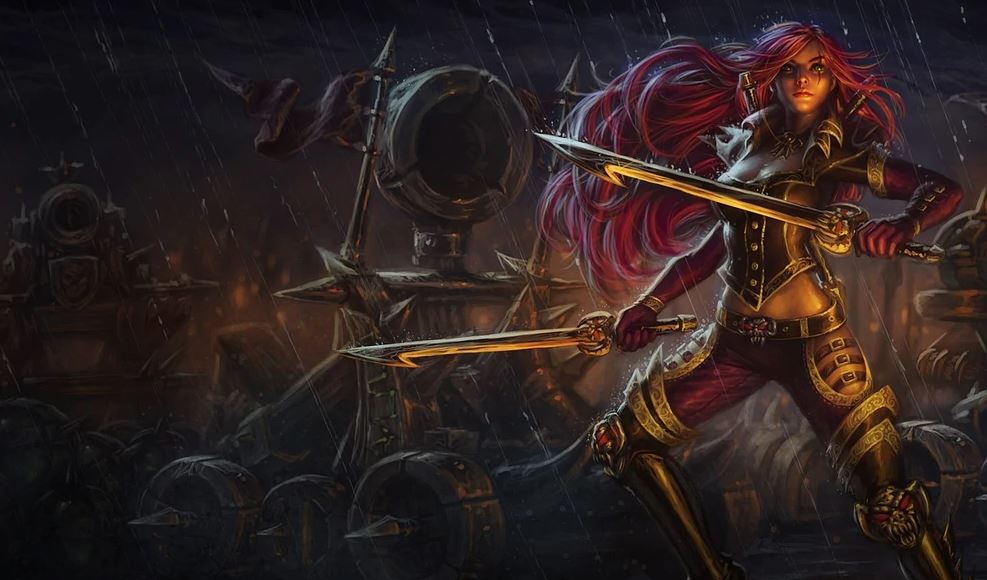 Price: 750
Skin Lore
N/A
Appearance and model
Another relatively forgettable skin, it represents an upgrade compared to Mercenary Katarina.
The color scheme is not that bad. The champion's outfit combines maroon, dark blue, and golden. She has long boots with demon skulls adorning her knees. The lower part of the boots somewhat resembles ninja tabi.
Unlike the base model, her abdominal section is somewhat covered, only showing the love handles. What I really nice about this cosmetic is that you have golden edges to differentiate between different sections of the outfit (i.e., gloves from the shoulders).
Although the champion doesn't have extra knives or hip blades, she still wields two short katanas on her back. The Sinister Blade has a black choker with red ruby, which probably signifies her high class.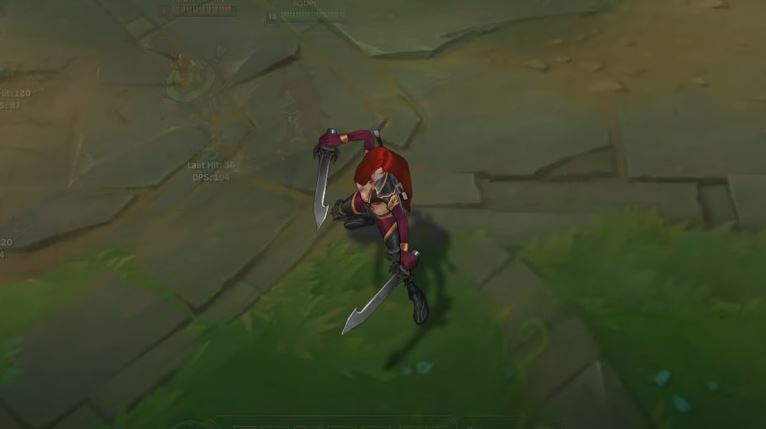 Visual Effects (VFX) and Sound Effects (SFX)
Base effects
Animations
Base animations
Pros
It gives the champion a more authoritative look.
The color combinations are awesome. There aren't excess details, and everything flows well together.
Cons
Although the base model has its issues, it makes the champion look more like an assassin than this one.
Sandstorm Katarina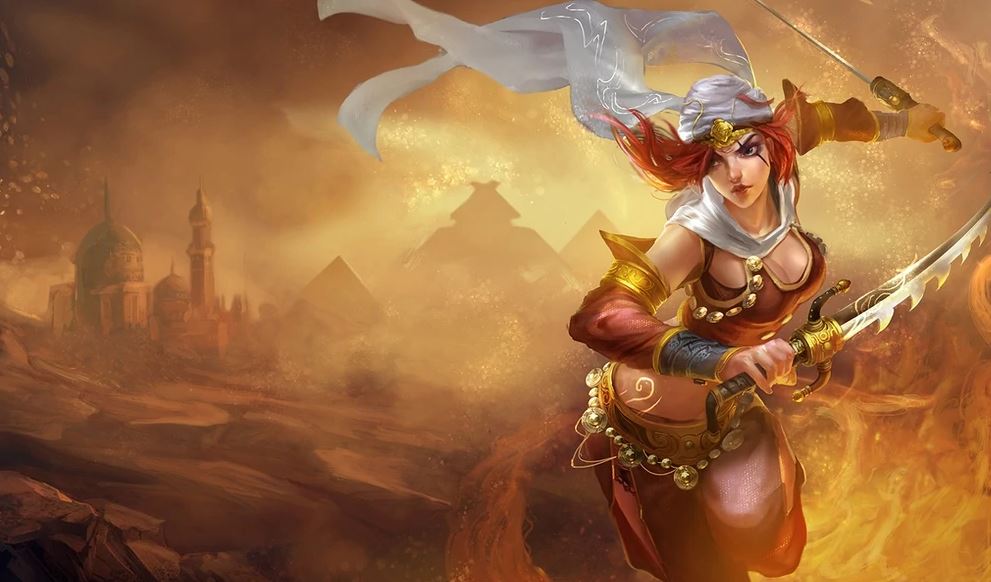 Price: 975
Skin Lore
N/A
Appearance and model
Sandstorm Katarina has an appearance of a desert, nomadic warrior. The designer embraced the colors used for High Commander Katarina and played with them a bit. So, the champion now wears long maroon trousers that look very comfy. Instead of the usual boots, the Sinister Blade has open-toe sandals, which are much better for the desert climate.
Her stomach area is fully uncovered, and she has a maroon shirt. Aside from the golden belt, the champion has several gold bands on top of that. The tattoo on her left side, which was previously partially covered, is now fully visible.
As you can guess, Katarina fancies a white scarf over her head that flows down her back. Instead of katanas, she now has sabers, and instead of the usual blades, she wears scimitars with teeth.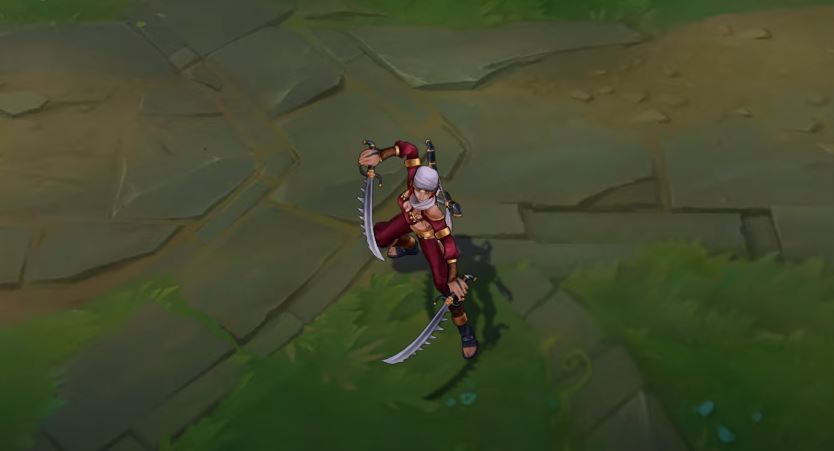 Visual Effects (VFX) and Sound Effects (SFX)
Base effects
Animations
Base animations
Pros
I love how the scarf flies around when she's striking enemies.
When she's running, it feels as if she's running against strong wind.
Given that the first assassins come from the middle east, this is a nice homage.
Cons
Some people might think that it's too expensive as it doesn't provide new animations.
Bilgewater Katarina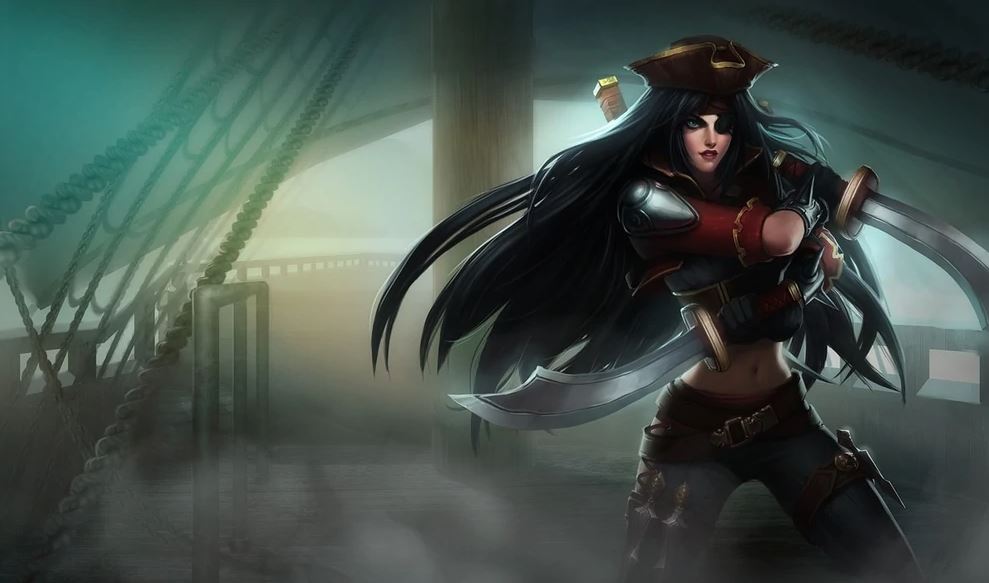 Price: 975
Skin Lore
Although most people don't understand the intricacies of Bilgewater politics and find them rather crude, these thieves and pirates have a very strict code of conduct. As someone who has been around for a while, Katarina is known as someone who can take out any target at any time. For the right price, that is.
Appearance and model
This skin is a part of the Bilgewater: Burning Tides collection. It has the same theme as Cutthroat Graves, Ironside Malphite, Kingpin Twitch, Bilgerat Rumble, Buccaneer Tristana, Bilgewater Swain, Captain Fortune, Captain Gankplank, Corsair Quinn, Pirate Ryze, Fiddle Me Timbers, Cutpurse Twisted Fate, Sea Hunter Aatrox, and Rogue Admiral Garen.
The champion's outfit carries many similarities to her default clothes. She has the same dark trousers and boots, although there is a red section around her waist. Katarina no longer carries a hip blade but still has her trusty knives safely tucked within thigh holsters.
Instead of a black jacket, she wears a red one and has a corset that looks like something from the 17th or 18th century. Like any pirate, she has a patch over her left eye and a brown pirate hat. You can also notice a red bandana beneath her dark hair.
Katarina's weapons are slightly altered, having different handles.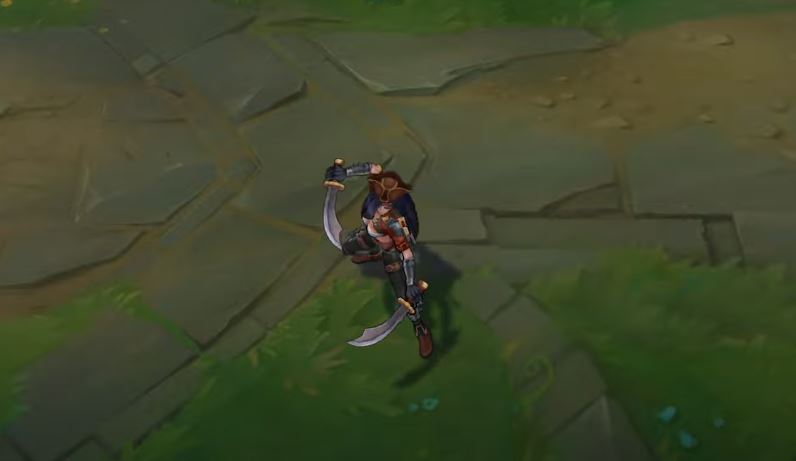 Visual Effects (VFX) and Sound Effects (SFX)
Base effects
Animations
Base animations
Pros
The outfit feels a bit more polished compared to the default one. All elements go well together.
The addition of the red color seems refreshing.
Cons
Very expensive for the low value.
Kitty Cat Katarina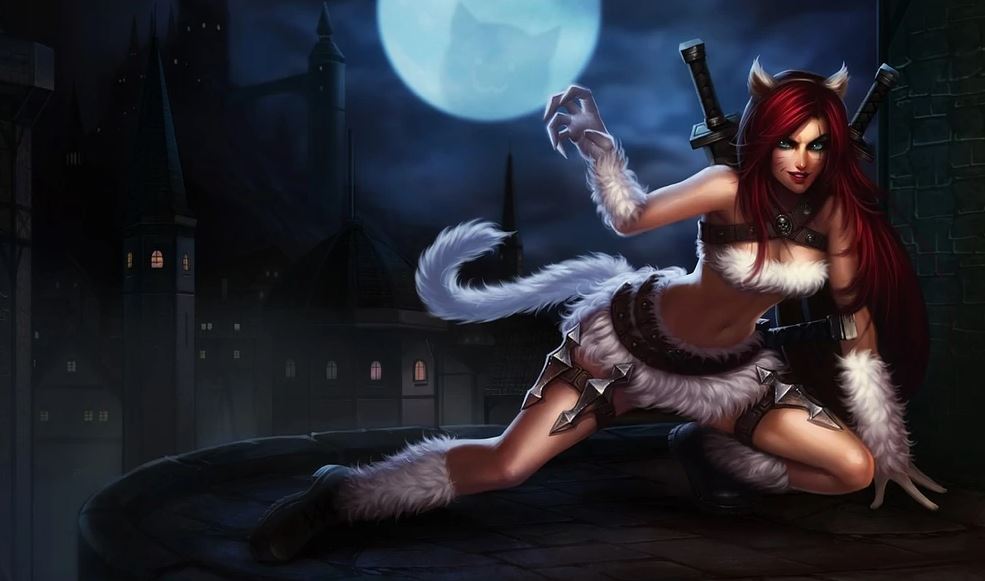 Price: 975
Skin Lore
Occasionally, Katarina will question the task at hand. Strangely enough, this isn't one of those situations.
Appearance and model
The skin is a part of a massive Trick or Treat collection that also features other classics such as Nosferatu Vladimir, Bewitching Morgana, Bewitching Yuumi, Haunted Zyra, Mundo Mundo, Haunting Nocturne, FrankenTibbers Annie,           Witch's Brew Blitzcrank, etc.
Like all other cosmetics in the category, Kitty Cat Katarina is quite unique. Although the skin probably doesn't merit a purchase, it can be a good buy if you're trying to get them all.
The champion is, for the most part, naked with a few furry sections. For example, she has leather boots with fur around ankles, furry wrist guards, white fur shorts and brasier, and finally, furry cat ears and tail. Katarina retained all the weapons from the original skin, including one hip blade, thigh knives, back katanas, and main weapons.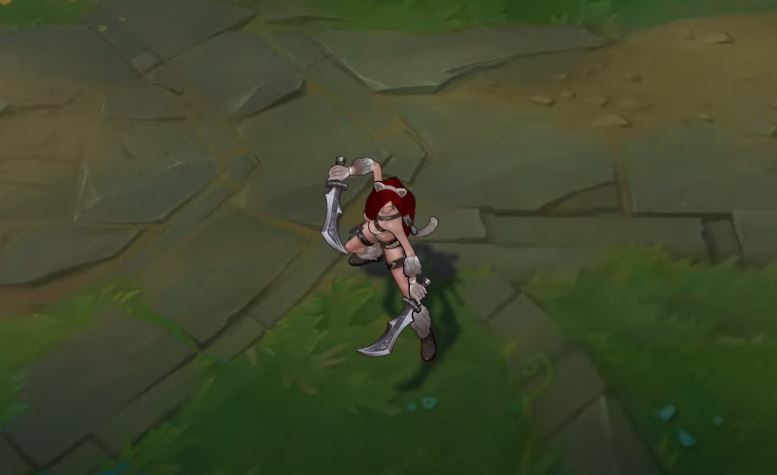 Visual Effects (VFX) and Sound Effects (SFX)
Base effects
Animations
Base animations
Pros
Great theme, a nice piece for collectors
Obviously, this one is better for girls and cat lovers.
Cons
Not many details. If you're buying for the skin alone, there are much better alternatives out there.
Red Card Katarina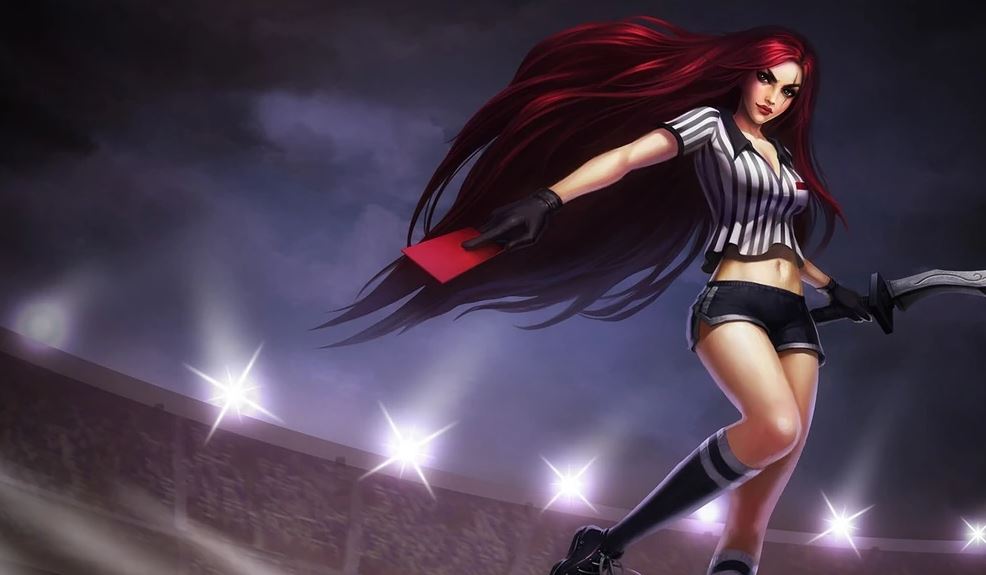 Price: 975
Skin Lore
If you're wondering, "Why does a referee need a knife?" there really isn't a good answer to that question. However, it definitely prevents any arguing with the official.
Appearance and model
Red Card Katarina was published back in 2010 to commemorate the soccer World Cup. She is a part of a collection featuring Sweeper Rammus, Striker Lucian, Striker Ezreal, Superfan Gragas, Playmaker Lee Sin, Goalkeeper Maokai, Sweeper Alistar, Red Card Twisted Fate, All-Star Akali, Goalkeeper Blitzcrank.
Overall, the cosmetic doesn't have too many details. Katarina is wearing a skimpy referee outfit with extra short shorts, a striped shirt, black gloves, black sneakers, and blue socks. If you zoom closely, you can even notice a red card in her shirt pocket.
It is worth noting that she has only one set of weapons, which would be her regular blades. So, she isn't as intimidating as she usually is.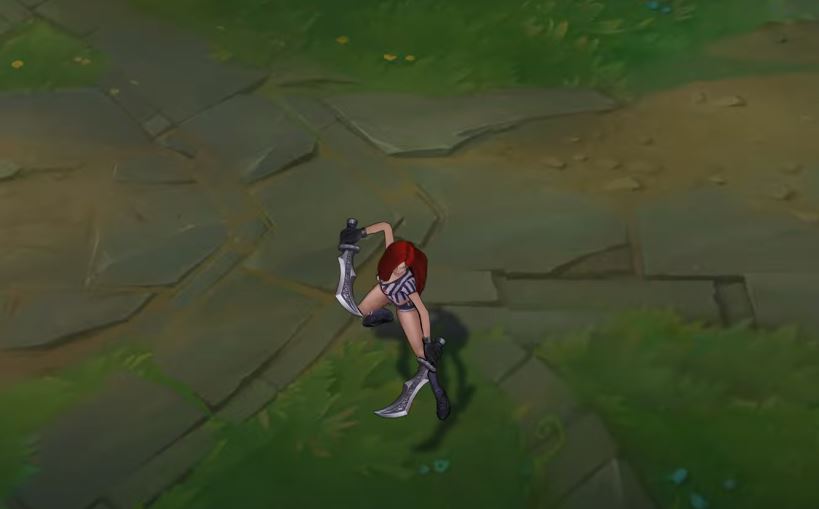 Visual Effects (VFX) and Sound Effects (SFX)
Base effects
Animations
Base animations
Pros
It was a really cool purchase during the World Cup
Cons
Skin is really bad overall without many redeeming qualities.
Slay Belle Katarina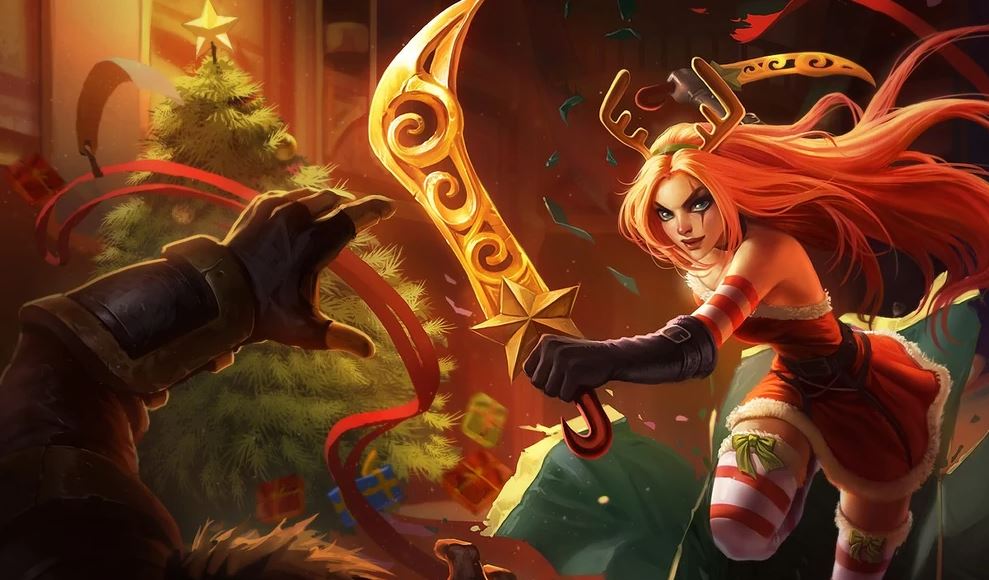 Price: 975
SkinLore
Wearing various trinkets meant to spread the Christmas spirit, Katarina melds perfectly with her environment. However, this is only a cover as she has a much bigger fish to fry. So, if you hear jingles, run and find a cover.
Appearance and model
This particular cosmetic is a part of the massive Snowdown Showdown theme that also features awesome pieces like Santa Gragas, Snowmerdinger, Earnest Elf Tristana, Happy Elf Teemo, Ambitious Elf Jinx, Re-Gifted Amumu, Reindeer Kog'Maw, Old Saint Zilean, Festive Maokai, Santa Draven, Snow Bunny Nidaleee, etc.
Like all other skins from the collection, this one is pretty ridiculous and jovial. The champion wears long white/red stockings that go all the way to her thighs. She has high elvish heels and long gloves that go forth into red/white sleeves.
Her dress is completely red, with white fur edges, and is a female version of Santa's outfit. The Sinister Blade has a few green ribbons, reindeer ears on her head, and a set of long blonde hair. Instead of the standard hilts, her blades have stars and, in a way, resemble Santa's sleigh.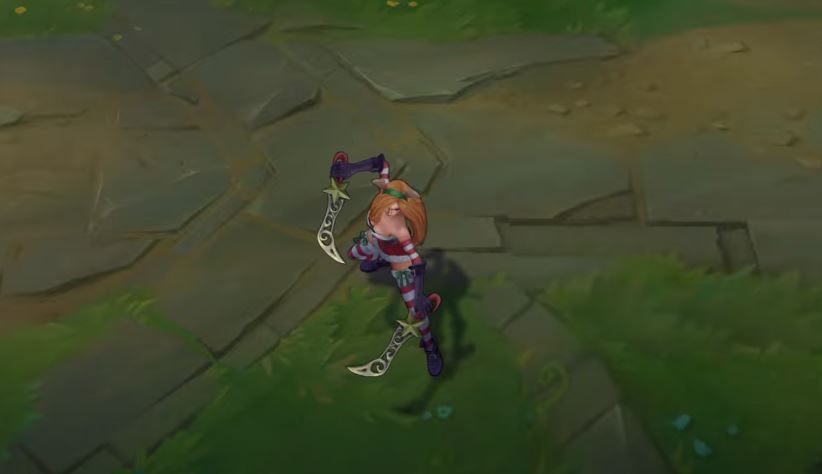 Visual Effects (VFX) and Sound Effects (SFX)
All her taunts and dances now have jingles to them.
Voracity now has a green color effect instead of the red one. When using Death Lotus, the ability's edges will be green with green/red lights. Similarly, the Bouncing Blade effect will produce a green effect as the weapon flies in the air.
Animations
When casting Recall, Katarina summons a massive candy cane which she then splits into two parts.
Pros
Nice for the holidays.
Finally, a skin with extra animations and effects.
Cons
A bit better compared to other cosmetics from this price class, but still, it doesn't provide that much.
Warring Kingdoms Katarina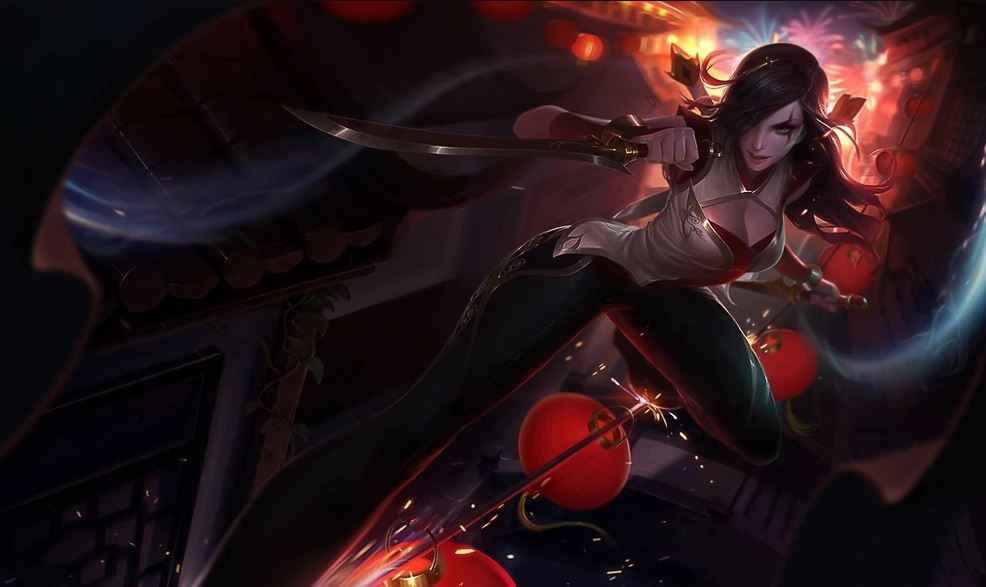 Price: 975
Skin Lore
No longer satisfied with her position on the court, Princess Katarina ran away from a life of luxury to pursue the greatest champions of Warring. Attacking from the cover of shadows, the deadly assassin eliminates the country's high-ranking officers one by one.
Appearance and model
This particular cosmetic is a part of Lunar Revel: Warring Kingdoms set alongside Warring Kingdoms Tryndamere, Dragonblade Talon, Dragonblade Riven, Warring Kingdoms Nidalee, Warring Kingdoms Xin Zhao, Warring Kingdoms Vi, Warring Kingdoms Garen, Warring Kingdoms Azir, and Warring Kingdoms Jarvan IV.
The outfit is very sleek. She has long dark blue trousers that go alongside her body with a few distinct golden stripes. On the top, Katarina wears a sleeveless shirt that combines white, pink, and gold colors. Other noticeable details are the golden wristbands.
Instead of her traditional red hair, the Sinister Blade fashions a darker shade. The scar on her eye is much more pronounced. It is also worth mentioning the extra details on the weapons; they look much sturdier with nice rope hilts and long sharp edges.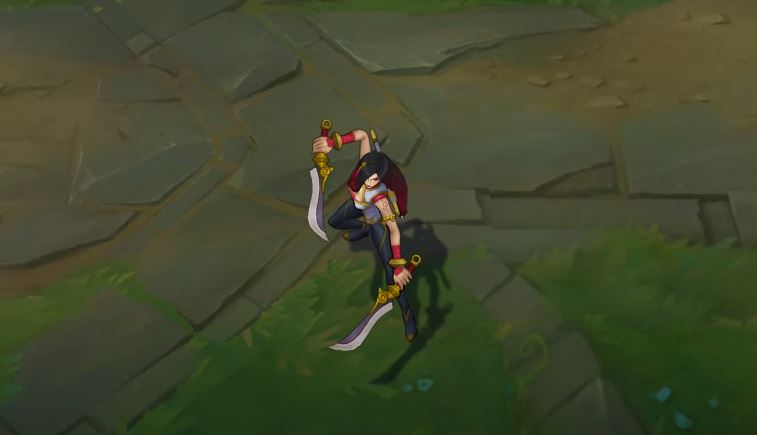 Visual Effects (VFX) and Sound Effects (SFX)
Bouncing Blade leaves a flower trail as the weapon flies. Instead of the regular dagger, a new weapon will be placed in the ground. The weapon toss visual is the same for Preparation. When Katarina uses Shunpo, she will leave a barely noticeable trail of flowers, similar to what her blades leave.
When Katarina activates Death Lotus, you will notice that the outskirts of the ability have changed. They have red edges with white clouds. Furthermore, each dagger she throws will leave the same flower trail as the other abilities.
Animations
When casting Recall, Katarina will do a short blade dance.
Pros
The skin looks pretty clean.
I was especially taken by the blades. While they don't feel special, they are definitely clean and polished.
Cons
You don't get much from the animation. All of them rely on the same visual effect.
PROJECT: Katarina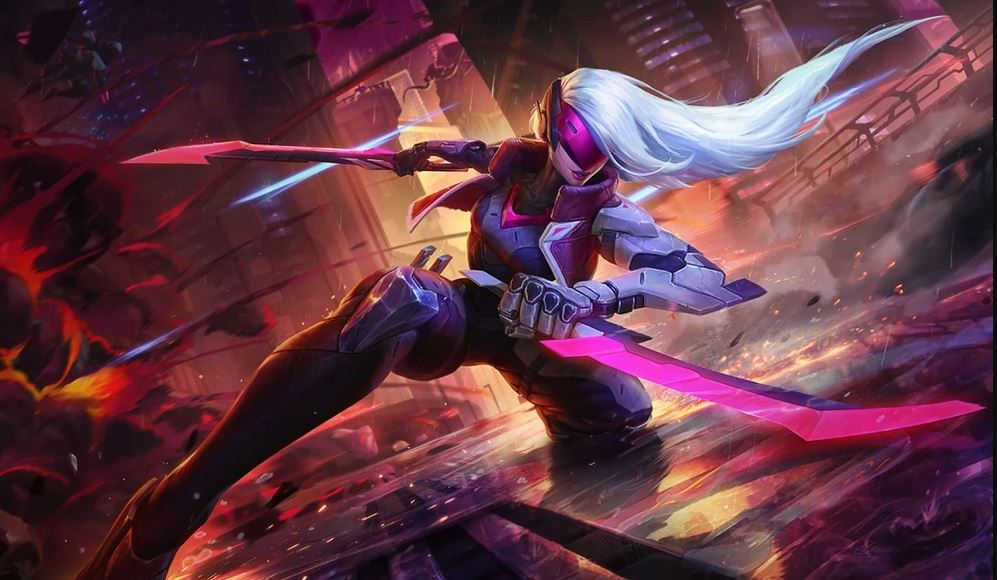 Price: 1,350
Skin Lore
Back in the day, Katarina was one of the officers spearheading the G/NETIC revolution. After having a confrontation with Ashe, she decided to return to the command line. Once again, Katarina is summoned to protect the project. But this time around, the rebels can only hope that she's on their side.
Appearance and model
This is my favorite Katarina cosmetic. It is a part of the PROJECT collection together with PROJECT: Sylas, PROJECT: Vi, PROJECT: Akali, PROJECT: Irelia, PROJECT: Jinx, PROJECT: Pyke, PROJECT: Yi, PROJECT: Lucian, etc.
The skin reminds me a lot of NieR: Automata or Metal Gear Solid. It is quite charming, futuristic, and polished. The champion's body is covered in a hard exoskeleton shell in the color of rust. There are also white, red, and blue elements to it.
Instead of the standard daggers, she now has something that resembles laser blades on her hips. The Sinister Blade's face is covered with a pink visor, and she now has a set of white hair. Both of her blades are fluorescent pink, similar to daggers on her sides, and they look pretty incredible.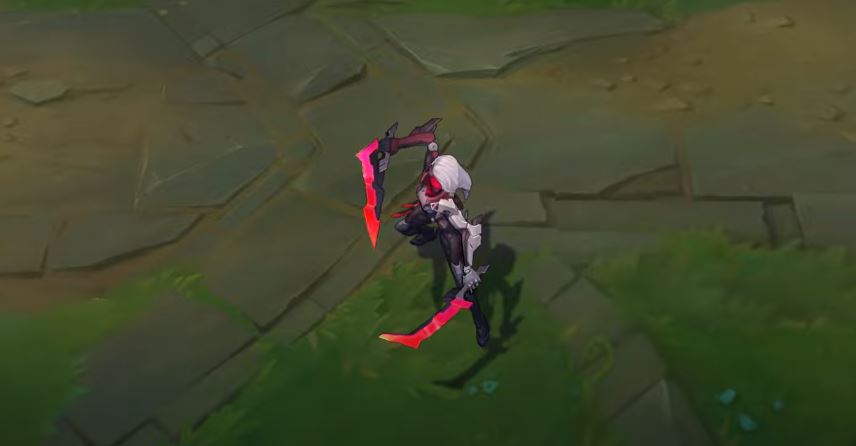 Visual Effects (VFX) and Sound Effects (SFX)
With this cosmetic, the champion has a deep, robotic voice.
Bouncing Blade leaves a hologramic trail behind the blade. When the blade falls into the grounds, it will leave a futuristic circle and effect. Voracity creates a pink ring that, instead of the regular clawing effect, creates a square-like trail. Shunpo and Preparation create similar pink particles with straight edges.
Death Lotus is the most impressive; it creates a pink circle on the ground, as well as around the champion. Each blade will leave a pink trail behind it.
Animations
When casting Recall, Katarina will start teleporting all over the place. During the last frame, she will seemingly teleport, creating a hologram effect upon departure.
Pros
The sci-fi effects are pretty incredible.
I love the suit, I love the weapons, and I especially like the visor.
Cons
Death Sworn Katarina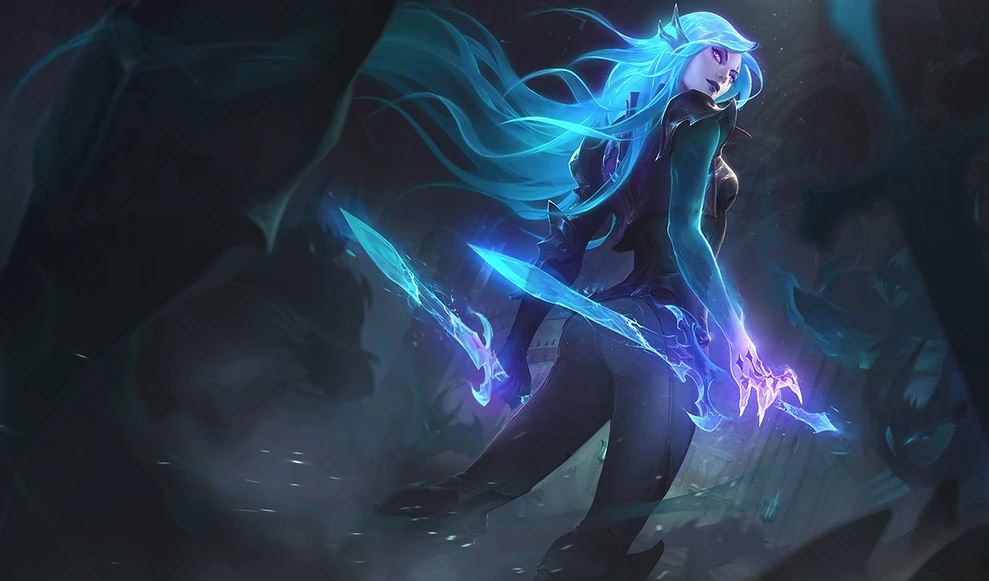 Price: 1,350
Skin Lore
The only way to become one with death is to start sacrificing other mortal souls. As someone who has been an assassin her whole earthly life, Katarina had no problem accepting this role. In the end, this is how she would get quick access to both underworld and the world of the living.
Appearance and model
Death Sworn Katarina is a part of the Death Sworn theme. The other skins include Underworld Wukong, Reaper Soraka, Reaper Heracrim, Death Sworn Victor, Underworld Twisted Fate, and Death Sworn Zed. The cosmetic is inspired by X-Men Psylocke.
The champion combines light and dark gray, purple, and light blue. Overall, her appearance is quite impeccable. Katarina wears reinforced boots with kneecaps that resemble heads of dead spirits. She also has gray trousers with dark blue stripes.
Katarina's midsection is covered with a dark shirt. She also has reinforced metallic shoulder plates, purple sleeves, and metallic finger guards. Her high collar looks pretty good. What's specific about this cosmetic is that the champion's left eye is covered with hair (usually, it is the right one). The Sinister Blade wears a lapis lazuli around her neck and has long crystal blue hair. Her right arm is a bit different from her left one, having a long, blue sleeve.
Lastly, I have to mention Death Sworn Katarina's weapons. Instead of the usual blades, she now has two crystal blue sais. They go really well with her hair.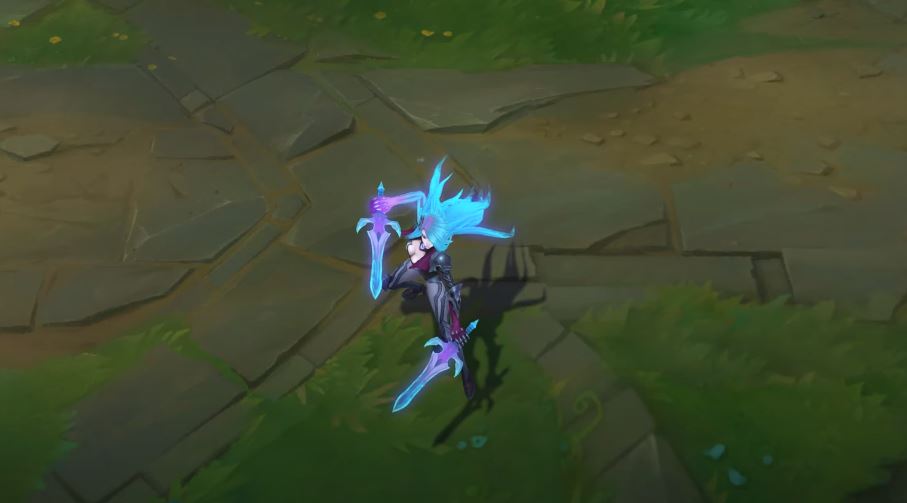 Visual Effects (VFX) and Sound Effects (SFX)
The effect on this cosmetic is pretty incredible. When throwing her weapon with Bouncing Blade ability, sai will rotate in the air, unlike other effects where it only glides through the air. Once it falls into the ground, it will create a dark blue circle around it.
The champion's passive creates a deep purple ring of blades, cutting everyone in its path. Shunpo isn't as flashy as some of these other effects, but it is still pretty nice, especially when you compare it to dull, default animation.
During Death Lotus, Katarina will start spinning around her axis, creating pink/dark blue effects in a radius. The ability leaves dark blue/pink edges on the ground.
Animations
During the Recall spell, Katarina creates a spirit cloud above her head and is promptly sucked into it. The weapon swings feel amazing, and they leave a light blue trail behind them.
Pros
The color combination looks ghastly but in a good way.
I just can't get over the fact of how great the spinning weapon looks like during Bouncing Blade.
Cons
Battle Academia Katarina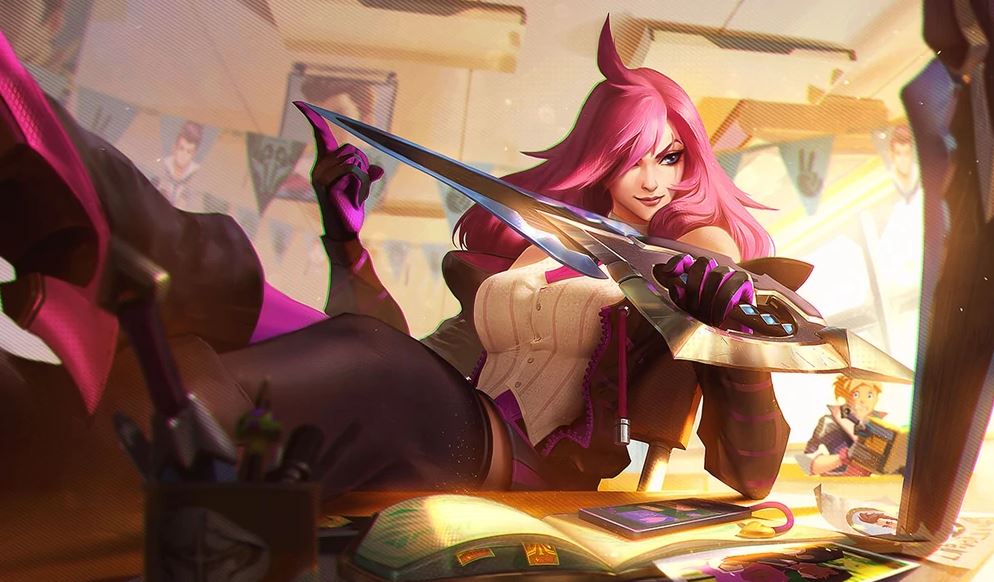 Price: 1,350
Skin Lore
Katarina was never interested in Durandal Academy's politics. A second-year student, she has become renowned as one of the best talents within the academy's assassin club. Most colleges don't dare approach her, fearing Katarina's sharp blades.
Appearance and model
The chroma comes in ruby, tanzanite, sapphire, pearl, formal, citrine, turquoise, obsidian colors. Battle Academy's theme consists of Battle Academy Graves, Battle Academy Jayce, Battle Academy Yone, and many other cosmetics.
In many ways, Battle Academia Katarina resembles a Hogwarts student or any other student from school teen shows. She has one black and one purple stocking, with black high heels. Her skirt looks like it has pleats and the white shirt only covers the frontal area.
To make her even more badass, as if that's possible, the designer gave Katarina a black/purple hoodie with the school's logo on the back. The Sinister Blade wears it casually around her shoulders. Instead of the usual red hair, she has pink, and her blades somehow remind me of massive sci-fi scissors. Not that they're bad or anything.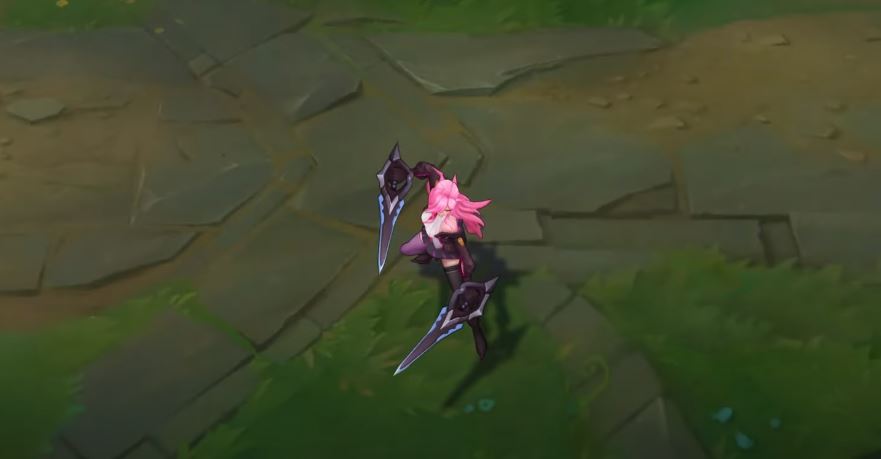 Visual Effects (VFX) and Sound Effects (SFX)
Her visuals use a purple/dark blue scheme. When a dagger is in the ground, there will be a massive school logo on the ground as well. Her passive is also cool looking, combing pink and blue.
Katarina's Death Lotus was given the most attention. Unlike effects for other skins, where you will only see the borders of the spell, with Battle Academia Katarina, the ground will turn into a purple cyclone. If you pause mid-animation, you will also notice that the champion is creating shades around the blade radius.
Animations
Before recalling, the champion will summon what seems to be a training pad with dummies. She will slice them one after another, after which she will be teleported to the fountain. During the Ghost spell, Katarina holds a blade in her right hand and an open book in her left.
Pros
I simply love the ultimate.
The blades are very different from other weapon skins, and she finally gets a Ghost animation.
Cons
The outfit is somewhat simple and uninspiring.
Blood Moon Katarina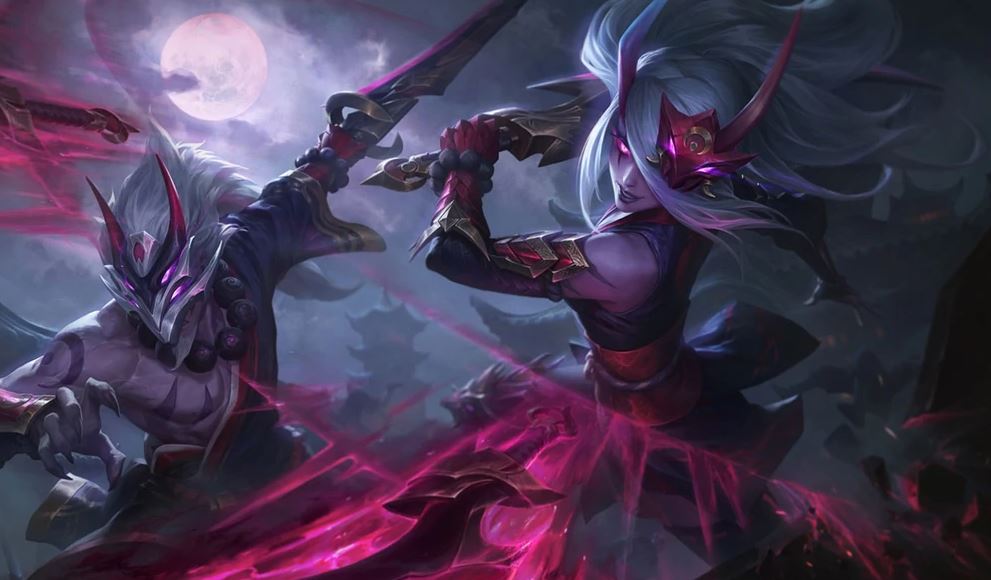 Price: 1,350
Skin Lore
As a cult member of the Blood Moon, Katarina had no problem accepting demon flesh into her own. However, as the Blood Moon starts to fall, the nature of humans and demons alike starts to morph, creating an unpredicted change in the champion.
Appearance and model
The champion shares the Blood Moon theme with characters such as Zilean, Tresh, Talon, Elise, Diana, Pyke, Master Yi, etc. The design looks like something from an anime series.
Katarina has two different outfits on her legs, with the most noticeable detail being a demon skull on her left knee. The Sinister Blade wears a short dark blue/red oriental skirt, has a red scarf around her waist, and a dark blue blouse. You can notice the demonic impact on her left hand, which is turned completely red.
Her face is rather pale, her hair is white, and her eyes purple. Katarina has a long horn protruding out of her forehead, and there is a mask on the side of her head, adding to the mysteriousness. As for the blades, they have several nuances ranging from red to pink and light blue.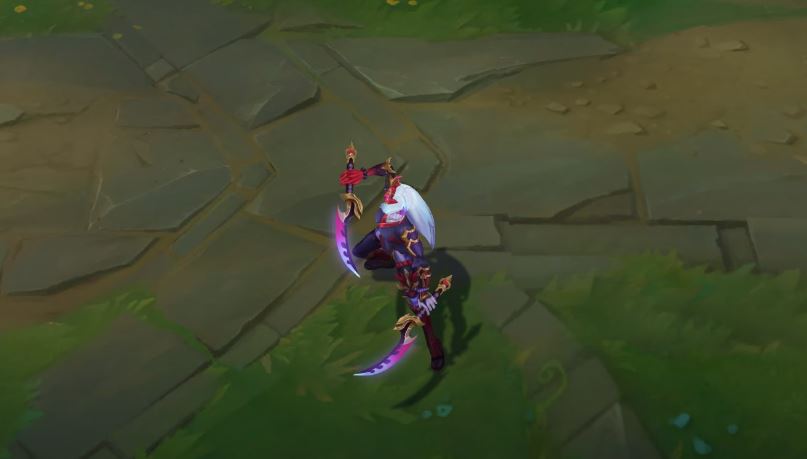 Visual Effects (VFX) and Sound Effects (SFX)
When using Bouncing Blade and Preparation, the champion's weapon will spin in the air while flying, leaving a red trail behind. Once the weapon drops, you can notice a red and light blue circle on the ground. Her passive utilizes the same light blue/red color palette for its effect.
The Shunpo effect is also pretty cool, leaving a wave trail behind the champion. Death Lotus creates a massive red/purple ring on the ground while the champion quickly spins around her axis.
Animations
When Recalling, the champion will start spinning her blade mid-air and will summon the spirit of the demon from her body. When scoring a takedown, you can see a shade being released from Katarina.
Pros
The skin is pretty menacing.
It probably has the most details out of all Katarina cosmetics.
A few effects that summon the spirit of the demon are awesome.
Cons
Battle Queen Katarina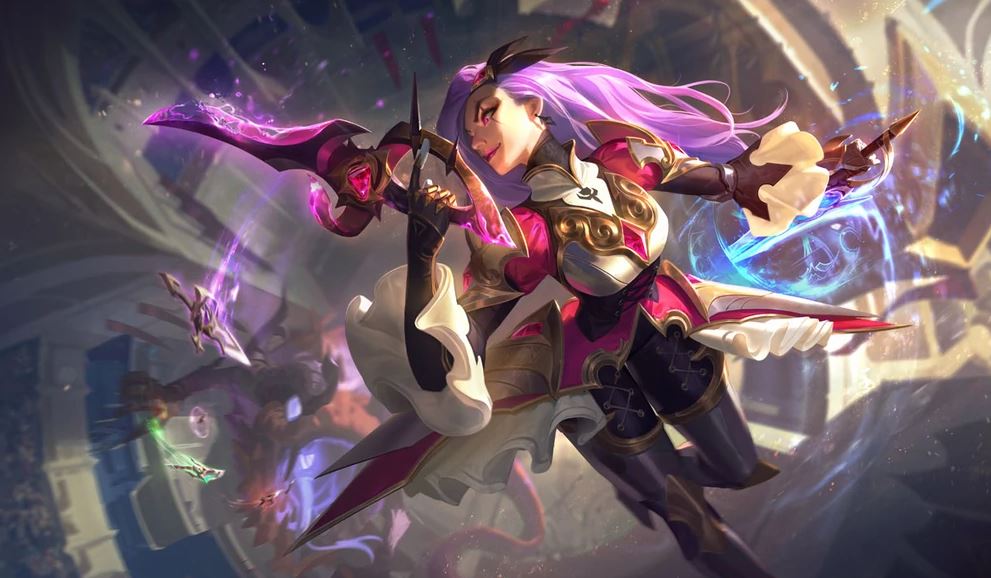 Price: 1,820
Skin Lore
After killing everyone in the battle pits, Katarina received the Schemean crest for her valor. However, to gain true power, she will have to repeat the performance during the coronation ceremony. This is the only way to cement her status as the supreme ruler.
Appearance and model
Battle Queen Katarina is a part of Battle Queens set together with Battle Queen Rell, Battle Queen Janna, Battle Queen Diana, Battle Queen Qiyana, Battle Queen Diana Prestige Edition.
As for this cosmetic, it looks pretty regal. The champion's legs are covered in silver armored plates, and she has dark blue woven trousers beneath. Katarina's bright pink dress has strong pauldrons and breast reinforcements. However, gloves serve mainly as a fashion detail.
The Sinister Blade's hair is light purple, and she has a massive hairpin that keeps it in place.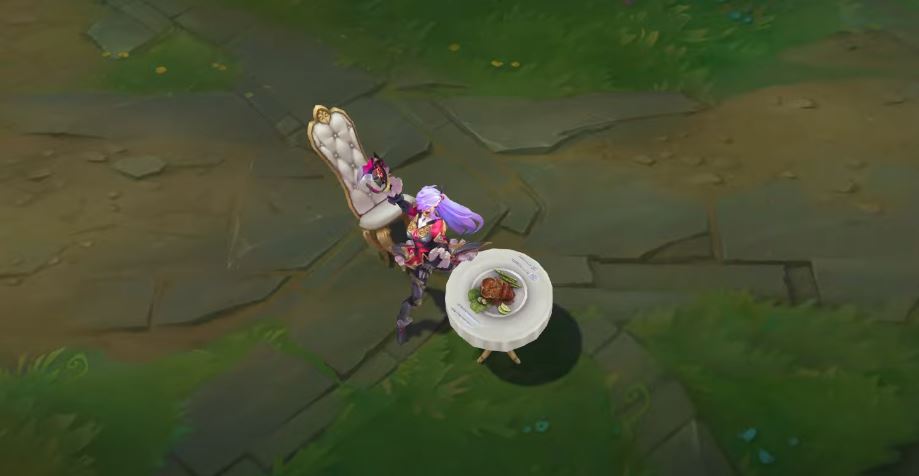 Visual Effects (VFX) and Sound Effects (SFX)
Bouncing Blade rotates during travel, and once it lands, it will create a blue/purple circle on the ground. Voracity passive creates a massive pink ring around the champion. Death Lotus creates a pink encirclement on the ground with a few additional details.
Animations
During Recall, Katarina summons a spirit dragon, which she then rides to the base. She has a few epic emotes, as well. Lastly, her weapon creates a cool-looking effect upon impact.
Pros
The effects are pretty solid.
I liked the emotes.
Cons
The skin looks solid but somehow directionless.
FAQs
Question: What is the best skin for Katarina?
Answer: It is hard to say which skin is the best. My personal favorite is PROJECT: Katarina, as it gives the champion a completely different feeling in the game.
Question: What is the rarest Katarina skin?
Answer: Kitty Cat Katarina is the hardest cosmetic to get. It was only available during Harrowing 2010, and after that, you could only get it via trading or purchasing from other players.
Question: How many skins does Katarina have?
Answer: The champion has a total of 13 skins.
Katarina Skins Guide: Conclusion
Katarina is one of the coolest assassins in the game. Unfortunately, her abilities do not give designers too much room for experimenting. Simply put, some of them work relatively the same. Nevertheless, the designers did a great job creating some cool concepts for the character.