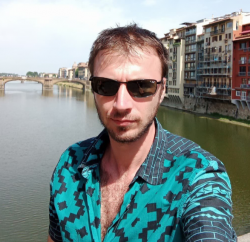 Latest posts by Stefan Stevanovic
(see all)
Riven, the Exile is a strong fighter who empowers her strikes with each ability cast. She was released back in 2011 and has been a mainstay pick ever since. The champion requires a lot of skill to maximize its potential; it is especially important to create ability rotations that would maximize her passive, Runic Blade.
Although the champion is not particularly mobile, she does have a nice shield ability. Riven can be really fun as you stack up attack damage.
Key Info Up Front
Riven has 12 skins in total. Some of them are really powerful, like Dragonblade Riven, and you also have comical variants, like Arcade Riven. I would personally give advantage to Spirit Blossom Riven and Pulsefire Riven, but a lot of these cosmetics are worth the purchase nevertheless.
Original Riven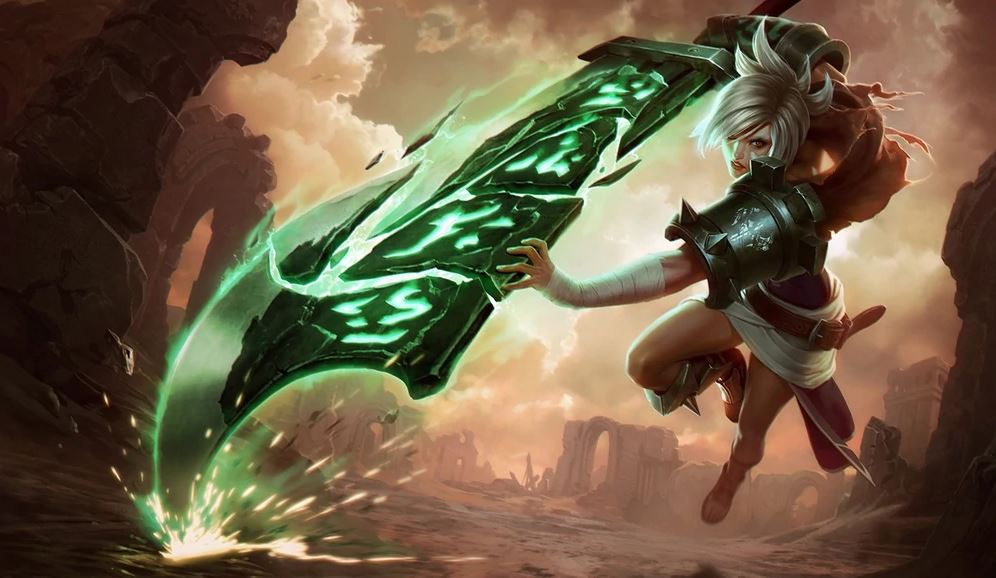 Skin Lore
Back in the day, Riven was one of the most decorated Noxian warriors. Now, she roams the very lands she once tried to subjugate.
While a part of Noxus, Riven quickly rose through the ranks due to her strength and brutality. As a reward, she received a runic weapon and a unit to command. Losing faith in the cause, she eventually turned her back to Noxus. Now, she roams the land seeking her purpose.
Appearance and model
Riven's base outfit is all over the place. She has numerous different pieces, and it is sometimes hard to tell what designers tried to do with her.
The Exile wears two leather boots with open toes. She doesn't have one piece of clothing that is the same for both sides. For example, she has a leg guard for the right leg, a massive green shoulder guard for her left shoulder, a gauntlet for her right hand, and her belt is tilted to the right. So, they made sure there was nothing synchronized about her clothing.
Otherwise, the champion is covered in bandages and wraps. The only piece of clothing that looks normal is the piece of shirt that covers her midsection. Riven has short white hair and a bulky blade that looks more like a broken meat cleaver than an actual army weapon.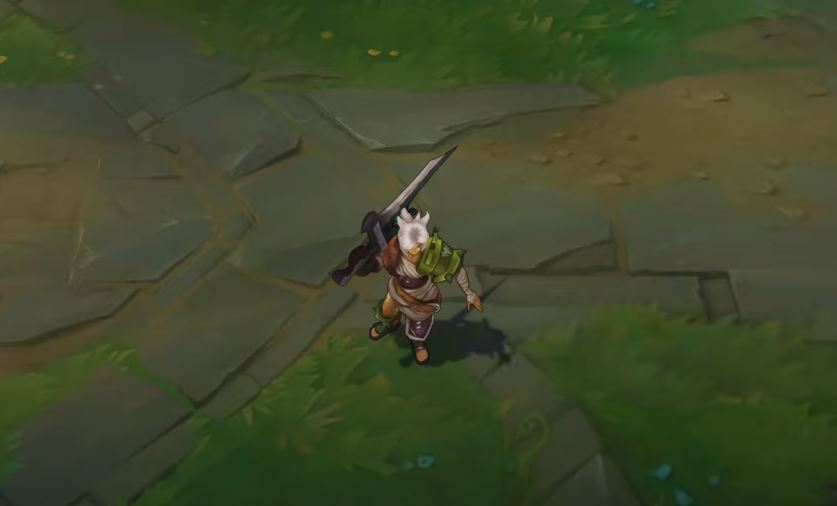 Visual Effects (VFX) and Sound Effects (SFX)
Base effects
Animations
Base animations
Pros
The blade is definitely unique, for better or worse.
Cons
Too many different pieces. It looks sloppy at times.
Redeemer Riven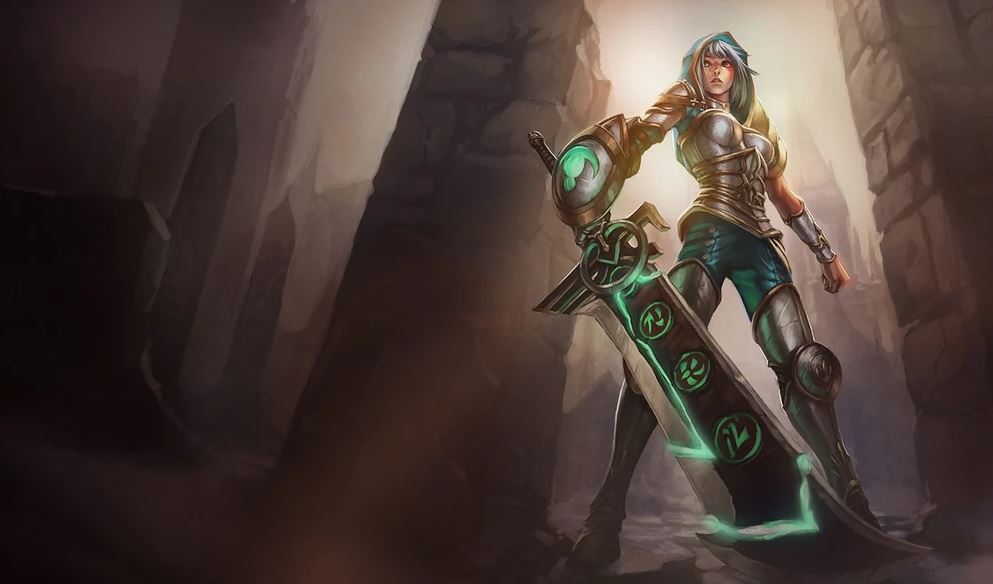 Price: 975
Skin Lore
N/A
Appearance and model
In my opinion, Redeemer Riven is a major step forward compared to the original skin. In fact, it is one of the rare battle suits in the game that manages to pull off green color so perfectly.
The champion wears long metal leggings that stretch all the way to the thighs. They have numerous golden elements, like the rest of the suit. You can see green trousers beneath the metallic plate. Her mid-section is also covered in armor, although her upper chest area only has a green t-shirt.
Similar to the base model, Riven has a large shoulder guard on the left shoulder and a big gauntlet on the right arm. Unlike default skin, all the pieces are made from the same material and have the same theme. A green hood covers her white hair.
The runic blade has a similar shape as before. It still looks broken, but the elements are much more polished. It is hard to define the weapon's color; I'd put it somewhere between brown and maroon.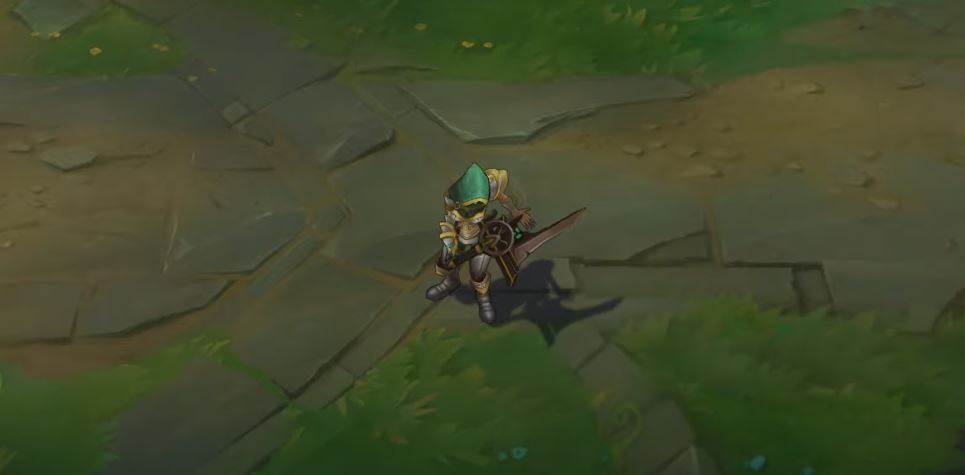 Visual Effects (VFX) and Sound Effects (SFX)
Base effects
Animations
Base animations
Pros
This looks like something Riven might've worn during the war.
Much better than the default skin.
Cons
Some people might not like the color combination, although I personally adore it.
Crimson Elite Riven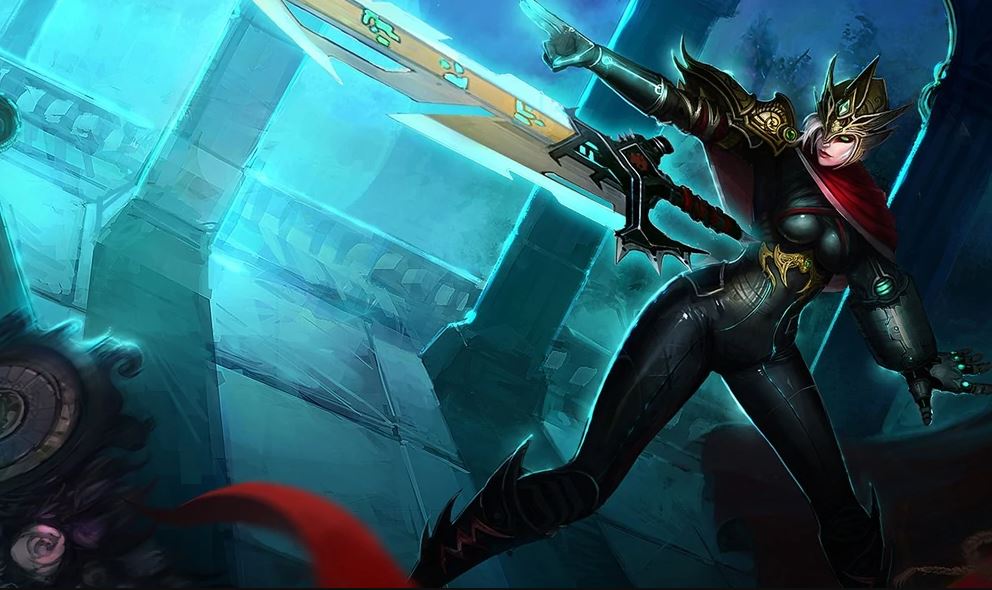 Price: 520
Skin Lore
Although most people pronounced her dead, Riven actually escaped the battle with no regard for the allied' lives. The champion now works as a mercenary, offering her blade to anyone who needs a proficient killer.
Appearance and model
Crimson Elite Riven has a very ominous presence. The cosmetic is a part of Crimson Elite alongside Crimson Elite Talon.
The champion wears a full-body suit made from black leather. The boots have red ropes woven into them, while the Exile wears a gold buckle around her waist. Riven has a red scarf covering her right shoulder and the upper back, while a golden plate protects her left one.
The right gauntlet of power is a nice detail; you can see the runic energy protruding through it. Riven's head is protected with a dark/golden helmet. Another interesting tidbit is the red makeup around her eyes. The champion's weapon somewhat retains the original shape. The main difference is that it's now black, and it looks much more intimidating.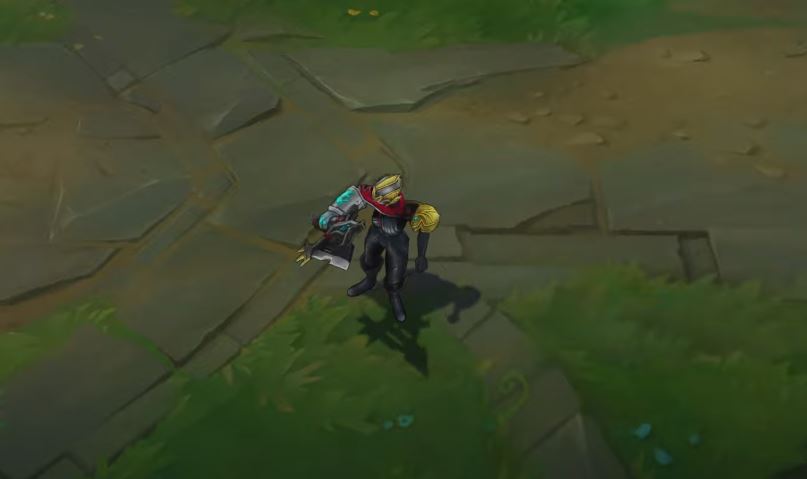 Visual Effects (VFX) and Sound Effects (SFX)
Base effects
Animations
Base animations
Pros
The cosmetic looks really scary.

 

I like how black and red are combined.
Cons
The gold color might feel out of place.
Battle Bunny Riven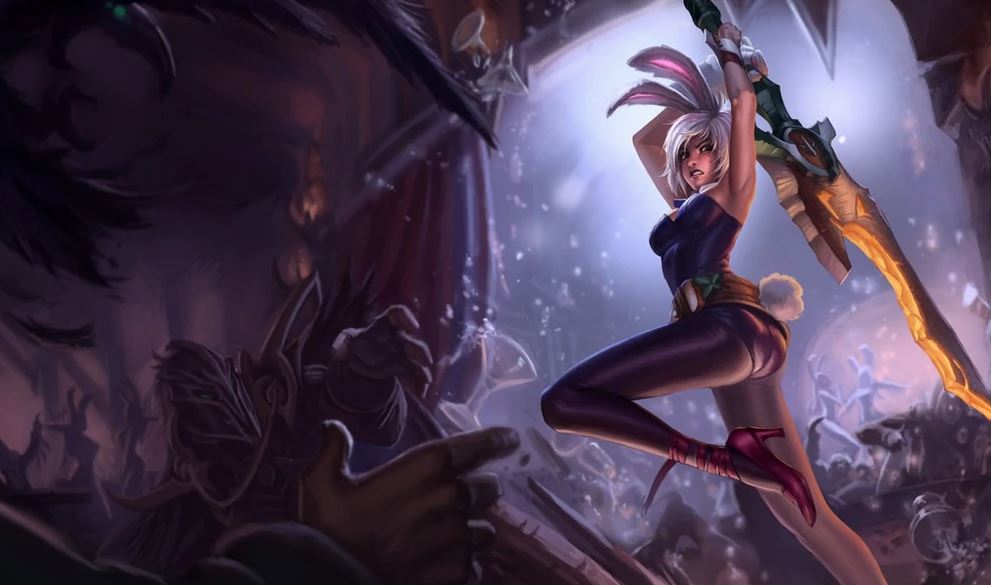 Price: 975
Skin Lore
N/A
Appearance and model
The chroma comes in 8 different colors, and it was a part of the 2012 Easter Celebration. Riven is depicted as a playful Playboy bunny.
I'm personally not a big fan of this cosmetic. It has so many different pieces that look out of place, with numerous contrasting colors. Battle Bunny Riven wears pink high heels and has long stockings. Like all Playboy bunnies, she wears a black leotard that leaves her shoulders open.
One thing I like about this cosmetic is the belt that has a carrot holster. Other elements include the bunny tail, right reinforced bunny hand, and bunny ears. The blade has a gray hilt with a yellow edge. Something else would be much more appropriate given how jovial this cosmetic is.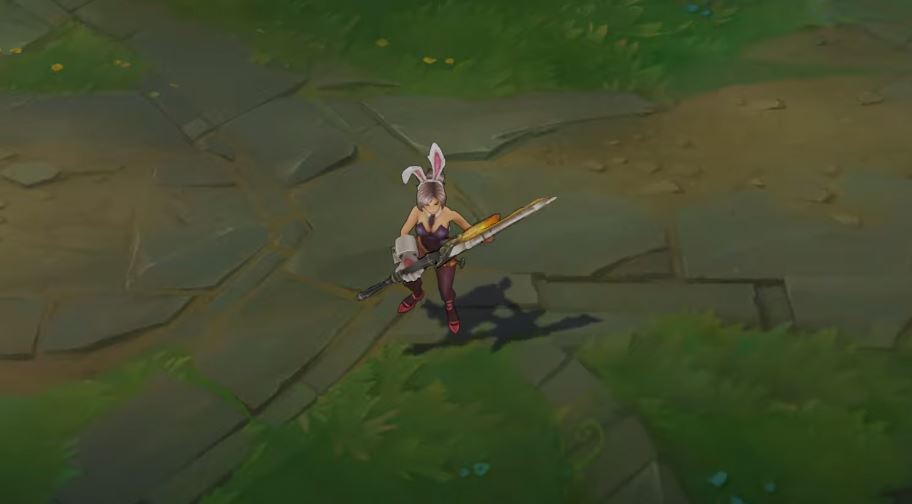 Visual Effects (VFX) and Sound Effects (SFX)
Instead of the usual green attack, the swing of the blade creates a yellow effect upon contact. Broken Wings will utilize a similar yellow color scheme. The weapon makes wider air slashes that can be seen for a bit longer.
When activating Ki Burst, a yellow circle will appear on the ground with a bunny image in the center. Instead of a green bubble, a yellow one with a different effect will appear upon using Valor. Similarly, Blade of the Exile creates a yellow blast, which looks much more polished compared to the default effect.
Animations
During Recall, Riven will summon 3 aggressive jellyfishes. After disposing of them, she will be teleported to base.
Pros
The effects are the best part of the cosmetic.
While the weapon doesn't suit the skin, it still looks nice.
Cons
I really don't like the costume and color combinations.
Championship Riven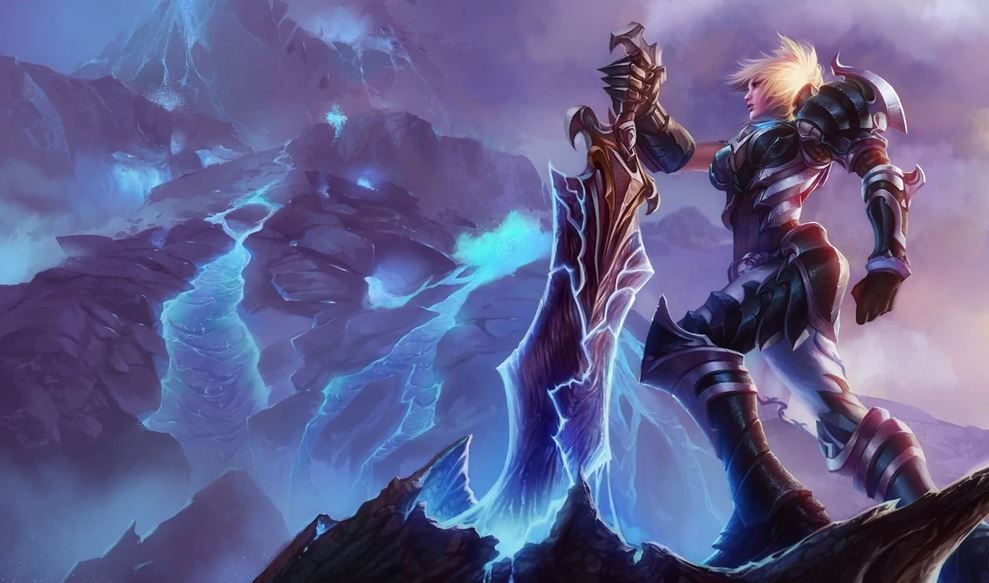 Price: 975
Skin Lore
This was the first cosmetic from the Championship collection, paying homage to World Championship 2012 in the USA.
Appearance and model
This particular cosmetic was released during the 2016 World Championship, and it shares the theme with Championship Ryze, Championship Kalista, Championship Ashe, Championship Shyvana, Championship LeBlanc, Championship Kha'Zix, Championship Zed, Championship Thresh, and Worlds 2021 Jarvan 2021.
The skin is pretty stunning. It combines all the right colors (light gray, turquoise, and golden yellow) and has a nice gimmick to it. All the outfit pieces are layered, and it seems as if they're made from several objects.
Riven's lower regions are covered in strong leg plates. She wears white/blue pants and has an emerald on her belt. The Exile's torso piece is similarly designed to the leg plates, with lots of blue and silver intertwining pieces. Her right gauntlet is the centerpiece of the skin, and it has a blade attached to it. Riven has a left shoulder plate and a well-designed crown on her head.
Speaking of the head area, the champion has blonde hair and a jeweled insignia across her chest. Instead of the usual broken blade, she now wields a real sword with numerous teeth.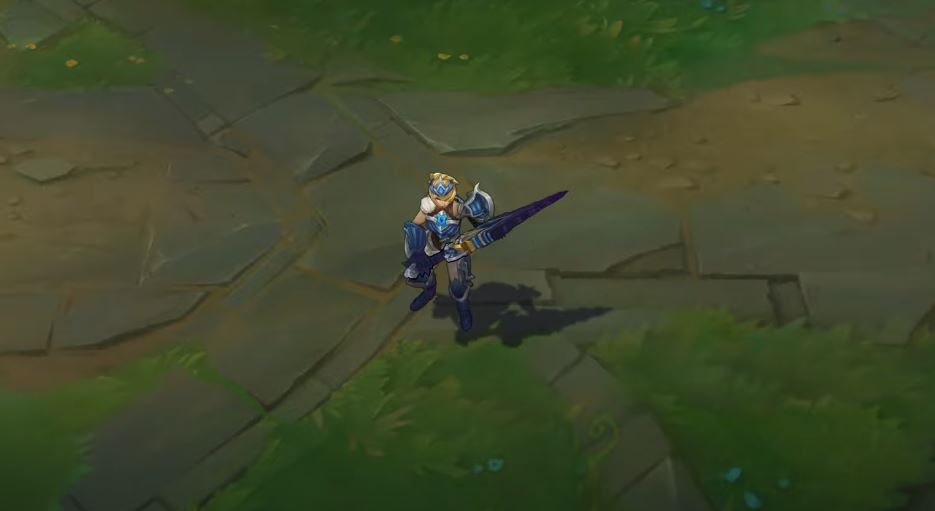 Visual Effects (VFX) and Sound Effects (SFX)
Broken Wings create bursting waves of blue energy. Ki Burst summons a large blue symbol beneath the champion's feet while Valor creates rotating shields around her. Blade of the Exile releases a wave of blue bolts, which are very polished without any excess details.
Animations
Her Recall spell is nothing special. Riven will hold the sword above her head and wait to be teleported. Champion's attacks are pretty cool, creating a blue effect on each strike.
Pros
Everything works well for this cosmetic.
The outfit's color scheme is pretty amazing, and it goes well with the abilities.
Cons
 

Perhaps the only thing I might've changed is the crown. But this is more of nitpicking.
Dragonblade Riven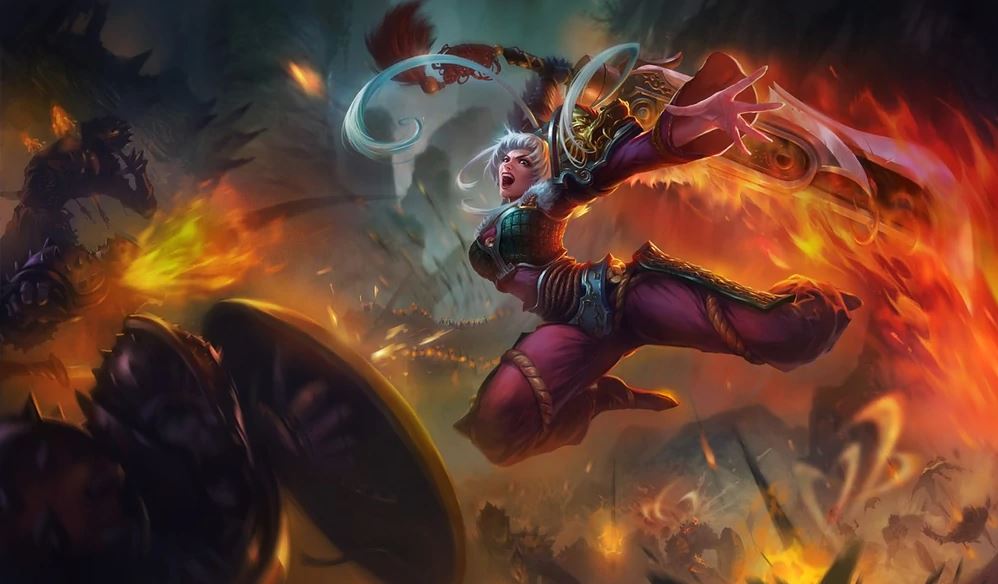 Price: 1,350
Skin Lore
Riven's sword was created in burning embers of dragon fire. She uses it to crush all the enemies in her path, freeing the country and all the poor enslaved souls.
Appearance and model
Dragonblade Riven is a part of the Lunar Revel: Warring Kingdoms theme. The other pieces of the collection include Warring Kingdoms Garen, Warring Kingdoms Azir, Warring Kingdoms Nidalee, Warring Kingdoms Katarina, Dragonblade Talon, Warring Kingdoms Vi, Warring Kingdoms Tryndamere, Warring Kingdoms Xin Zhao, and Warring Kingdoms Jarvan IV.
The champion has an oriental theme, and the first thing you'll notice is that the designers completely altered her weapon. Instead of the broken blade, she now wields a shortened halberd with a wide, long edge.
Riven has long dark boots, which transition nicely into maroon oriental pants. She has lateral reinforcements that protect her from side blows, as well as samurai armor across her chest. Her upper garments are similar to her lower, with dominant crimson red color. Like with other cosmetics, Riven has a strong but stylish guard on her right arm and a large left shoulder plate.
To complete this oriental theme, Riven wears characteristic makeup and has a traditional white haircut.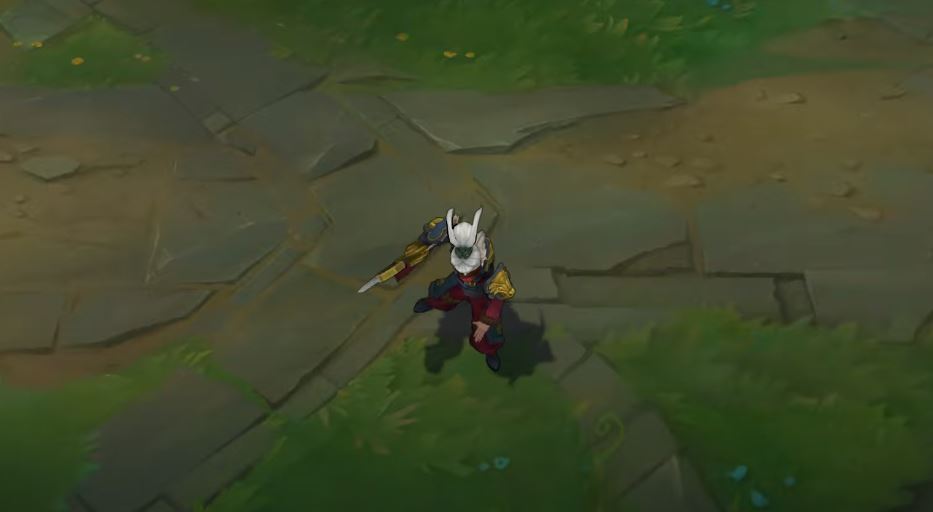 Visual Effects (VFX) and Sound Effects (SFX)
Dragonblade Riven's Broken Wings are pretty cool. Each swing leaves a red trail, while thick smoke will rise from the ground. She creates the same ring of smoke with each cast of Ki Burst. Valor creates a visual effect that resembles the champion's pauldrons. When Runic Blade is active, the size of her weapon increases exponentially and gets a nice red glow.
Lastly, the Blade of the Exile creates fireballs that leave a smokey trail behind.
Animations
Dragonblade Riven's Recall spell is really sloppy. She basically puts the blade in front of her and gets teleported. Her basic attacks leave a bloody mark with each strike.
Pros
The sword looks pretty cool.
The effects are the selling point of the cosmetic; they provide a completely different feel to the champion.
Cons
Arcade Riven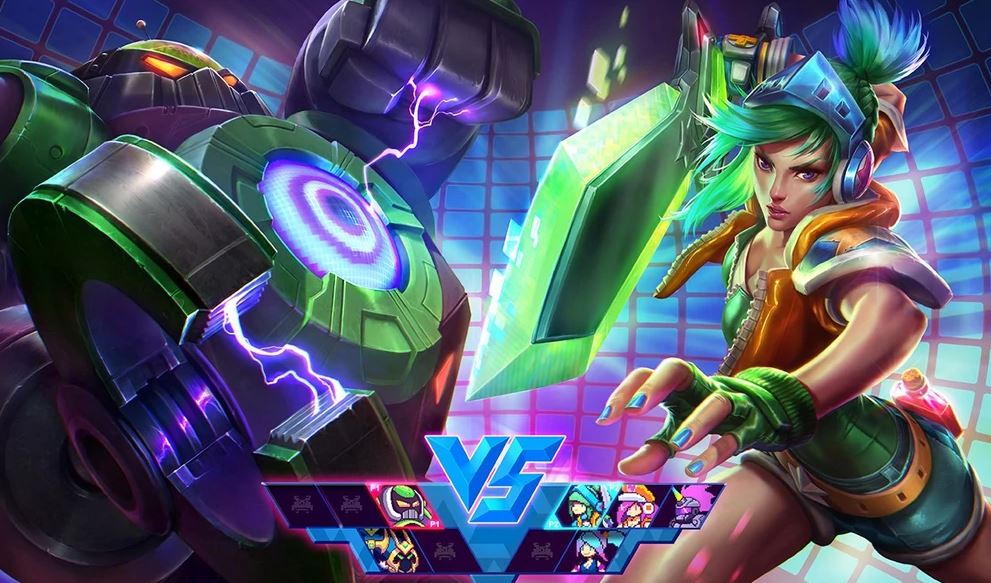 Price: 1,350
Skin Lore
As a part-timer, Riven loved playing dance simulators at the arcade. Having such a cool move set, she is now ready to venture into the Arcade world and challenge the rule of evil Veigar.
Appearance and model
Arcade Riven is a part of a cool Arcade collection. She is joined by Arcade Caitlyn, Arcade Sona, Arcade Corki, Arcade Hecarim, Arcade Ezreal, Arcade Ahri, Arcade Miss Fortune, Arcade Kai'Sa, and Arcade Caitlyn Prestige Edition. You can also add Final Boss Veigar to the list.
Although the skin is pretty solid on its own, other Arcade pieces are much better. Riven wears blue boots with white fur on the top. Her legs are uncovered, and she has a knee guard with a star. The champion wears short blue shorts as well as a green onesie. Her yellow jacket is pretty cool, and the same can be said for the yellow belt.
You will notice a white glove on her right hand that is very similar to what Veigar is wearing. The Exile wears a sturdy left shoulder guard and has a blue helmet, which reminds me of Ghosts 'N Goblins. There is also a small health potion on her left hip. The weapon is pretty cool. It has an even metallic blade with an aquamarine hilt.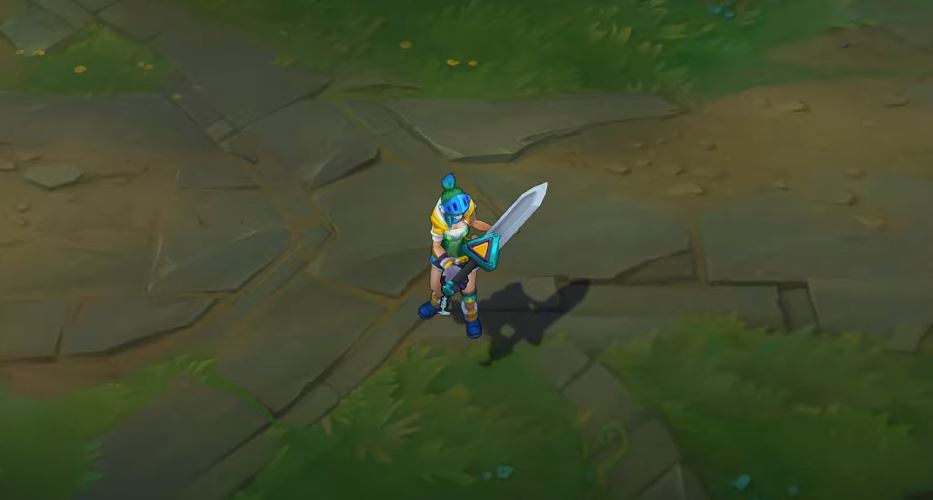 Visual Effects (VFX) and Sound Effects (SFX)
Broken Wings animation is really cool. Riven creates a pixelated green blade trail as well as a pixelated circle beneath her feet. Each time she connects with an enemy, large comic book letters "HIT!" will appear on top of an opponent. Ki Burst creates pixelated arrows on the ground.
The valor effect is especially awesome. She will summon a shield consisting of Q, W, E, R letters reefing to League of Legends commands. Blade of the Exile will launch pixelated balls onto the opponents. Runic Blade creates a green effect on her hands.
Animations
During Recall, Riven summons several 2D swords around her, and she proceeds by choosing one of them. Each strike creates a pixelated green effect across the enemy model.
Pros
Like all Arcade series cosmetics, this one is a good purchase.
Probably the coolest effects out of all Riven skins.
I simply love all the small references.
Cons
This looks like one of the worst Arcade series items.
Championship Riven 2016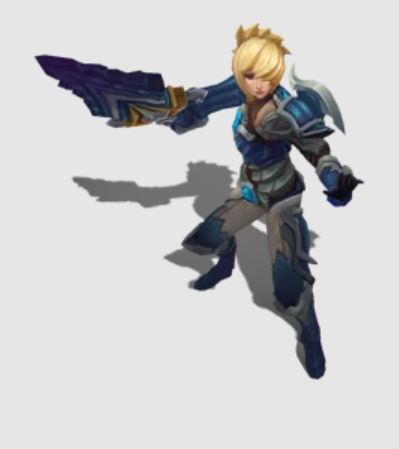 Price: 975
Skin Lore
This was the first cosmetic from the Championship collection, paying homage to World Championship 2016 in the USA.
Appearance and model
This is another item from the World Championship theme; the only difference is that this one is for 2016. As for the appearance, this is basically the same cosmetic as World Championship Riven. The only difference is that this skin doesn't have a crown.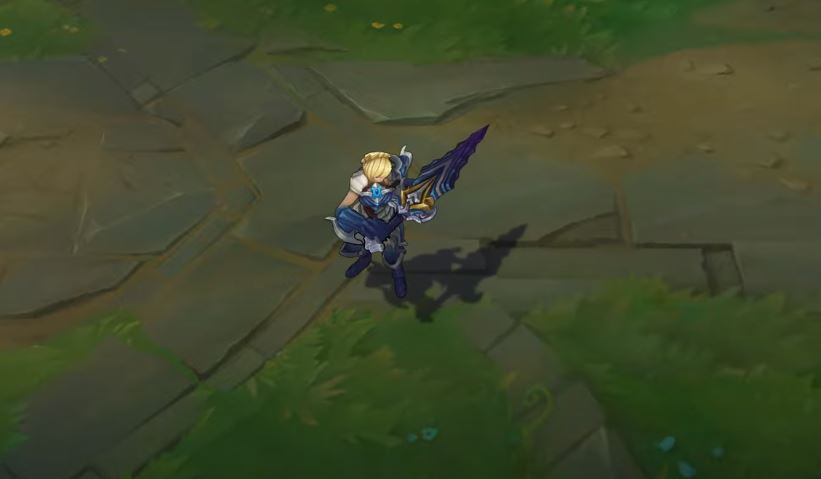 Visual Effects (VFX) and Sound Effects (SFX)
The same effects as for World Championship Riven.
Animations
The same effects as for World Championship Riven.
Pros
If you don't like the crown, like me, this would be a better alternative.
Cons
Dawnbringer Riven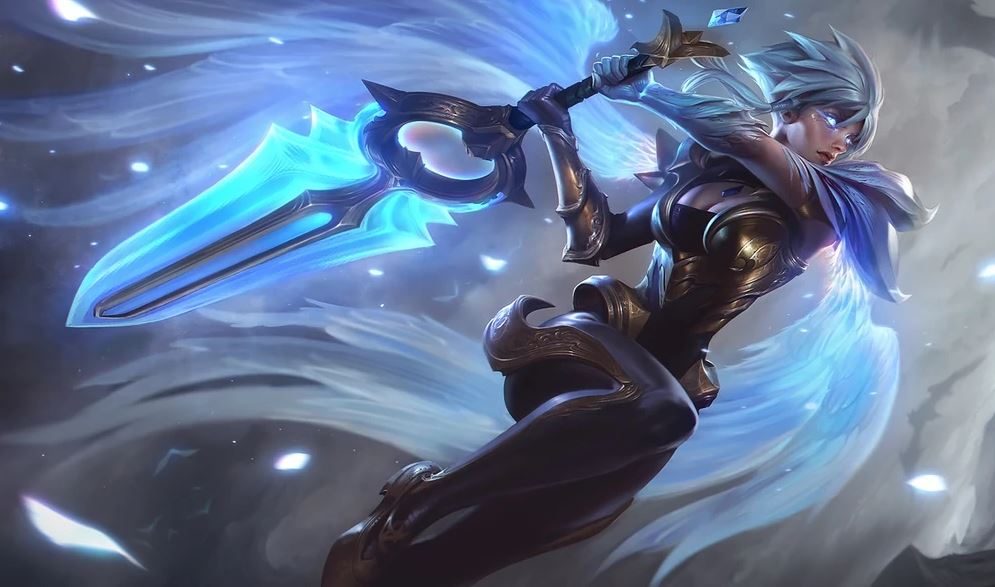 Price: 1,820
Skin Lore
Riven was sent forth by the forces of the cosmos as an entity that should restore the cosmic order. Her only task in this world is to strike at the Nightbringer and prevent the eternal night.
Appearance and model
In many ways, this cosmetic resembles Patroklos from Soulcalibur. Dawnbringer Riven is pinned against Nightbringer Yi. After their clash, Nightbringer/Dawnbringer Soraka will be born.
The color and shape combinations are pretty incredible on this one. The designers played with gold, dark blue, and light blue, creating an awesome effect. Riven wears short golden heels and has an armored dark blue one-piece that stretches from her feet to her breast. Her hips, sides, and breasts are covered in golden plates leaving only her back vulnerable.
The Exile's hands are completely different. While the left one is earthlier, with an arm and shoulder guard, the right hand is covered in, what seems to be, feathers. Riven also has long wings protruding from her shoulders. The weapon consists of a large crystal blue blade with a massive hole in it, as well as a large blue/bold hilt.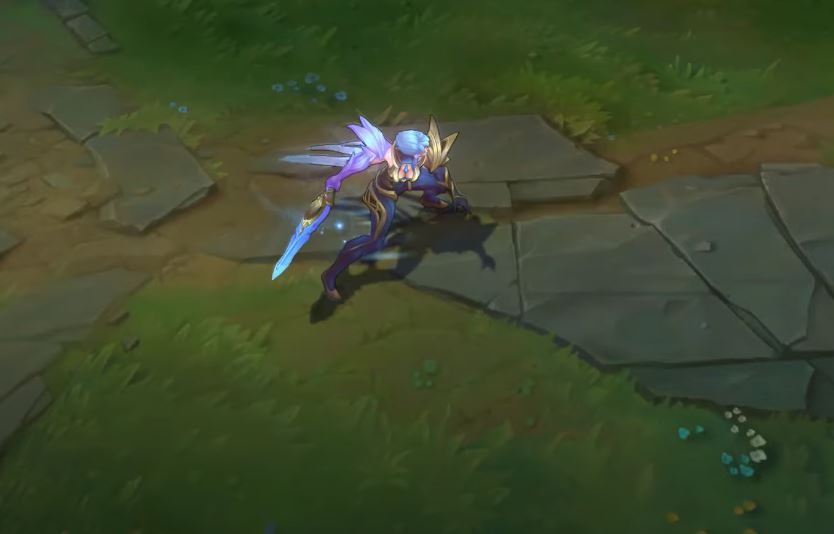 Visual Effects (VFX) and Sound Effects (SFX)
The champion's Runic Blade and Broken Wings create massive light blue slashes that look pretty cool. Ki Burst makes an emblem on the ground that resembles four arrows spread in four directions. Valor protects Riven with a light blue shield.
Blade of the Exile is probably the best thing about the cosmetic. The champion will turn completely yellow, with much more pronounced edges. Instead of the blue effects, they will now become yellow. When casting the range slash, instead of several bolts of energy, she will cast a massive wave of destruction.
Animations
During Ghost, the champion will fly around the field. When Recalling, Riven emanates yellow energy around her a la Goku. The basic attacks create a light blue slashing effect upon hit.
Pros
Blade of the Exile completely changes how the champion looks and feels.
The skin is very polished, with lots of nice details.
The dark blue and gold combination is pretty impressive.
Cons
Probably the best cosmetic for the champion; no flaws.
Pulsefire Riven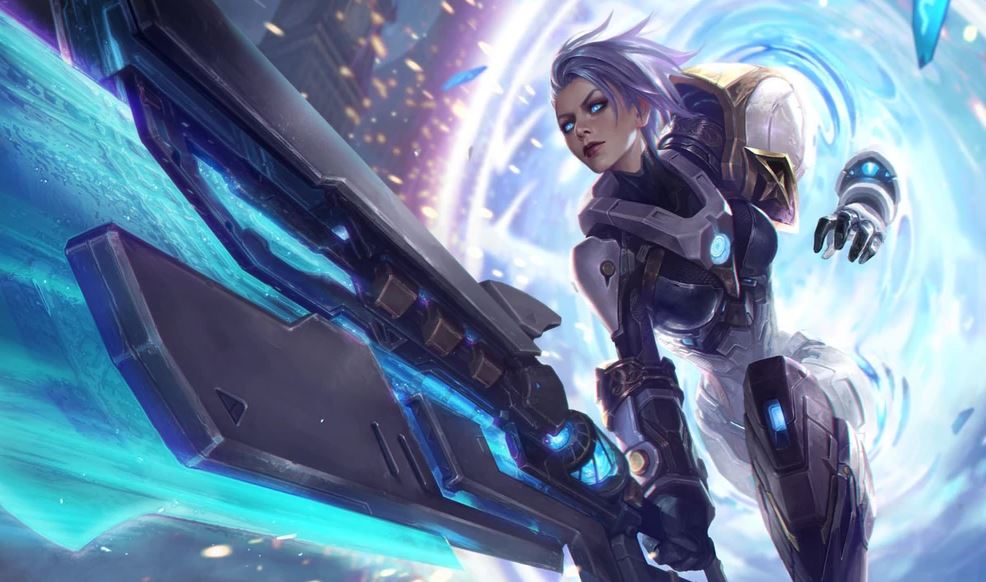 Price: 1,350
Skin Lore
Riven is an eternal protector of the space-time continuum, willing to die to protect its fragile balance. She is always at odds with heretics, who would corrupt the timeline to profit from chaos. These same people give Riven a reason to live.
Appearance and model
Pulsefire collection includes Pulsefire Lucian, Pulsefire Thresh, Pulsefire Fiora, Pulsefire Ekko, Pulsefire Caitlyn, Pulsefire Pantheon, Pulsefire Shen, Pulfesire Twisted Fate, Pulsefire Ezreal, Pulsefire Lucian Prestige Edition, and Pulsefire Thresh Prestige Edition.
The Exile wears a full-body brown/black suit with numerous platting elements. Riven has sturdy metal boots, hip guards, a metal belt, a reinforced neck guard, and the common left should plate and right gauntlet. The champion fashions a modern light blue/white haircut.
As for the sword, it looks like something from sci-fi movies. It has a very wide edge and a side hilt.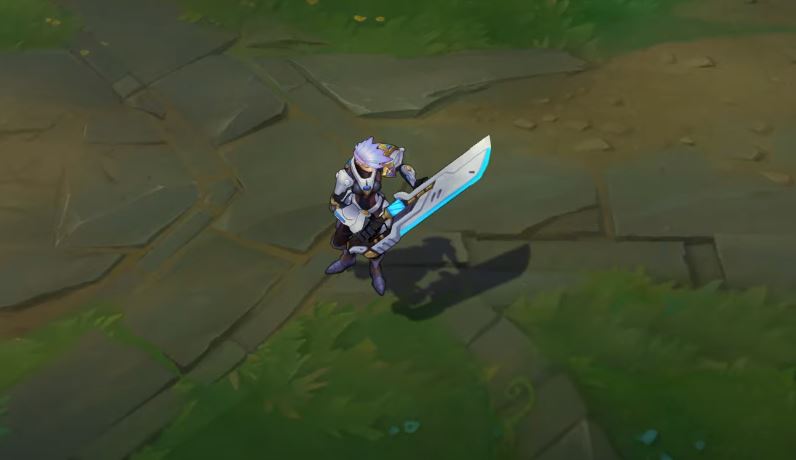 Visual Effects (VFX) and Sound Effects (SFX)
Swings during Broken Wings leave wide blue sword trails. With each hit on an enemy, you can notice a circle effect on them. After the third strike, it will shortly look as if they're affected by an orange Exhaust.
Ki Burst summons is a large blue semi-bubble that stuns and damages opponents. Valor also creates a well-polished blue bubble with small shields on top of it. Blade of the Exile throws three blue bolts at Riven's opponents. You will notice the Blade of the Exile buff on Riven's hands; they will turn orange.
Animations
When Recalling, Riven will open a hole in the space-time continuum and walk through the newly-created portal.
Pros
I really like the skin and especially the sword.
The effects are pretty solid; I have to give a special shoutout to the Recall.
Cons
 

I would like more emotes and taunts.
Valiant Sword Riven
Price: 1,350
Skin Lore
Although Riven was taught by Morgana, she ultimately chose the light side, thus shunning her former mentor thus becoming an empress. However, the Exile still has to face her past and decide whether to kill Morgana or join her.
Appearance and model
The cosmetic is part of the Immortal Journey theme together with Sacred Sword Janna, Splendid Staff Nami, God Staff Jax, Divine Sword Irelia, Soaring Sword Fiora, Majestic Empress Morgana, Eternal Sword Yi, God Fist Lee Sin, Enduring Sword Talon, and Valiant Sword Riven Prestige Edition.
The champion's outfit is neat. Riven wears long purple boots that transition into stockings. She has a robe-like outfit common for oriental countries. There is a brown belt around her waist, with a sapphire star in the center. The edges of the robe are red, and there are several golden details spreading across the fabric.
One thing that separates this from other cosmetics is the fact Riven no longer wears a bulky gauntlet on her right arm. Instead, she has a pair of purple sleeves with golden edges. However, she still has a protector on her left shoulder; a long red fabric emerges from it.
Riven has short blue hair, which she wears in a ponytail. The weapon is rather elongated and resembles Chinese swords. It has lots of golden details and ornamented hilt.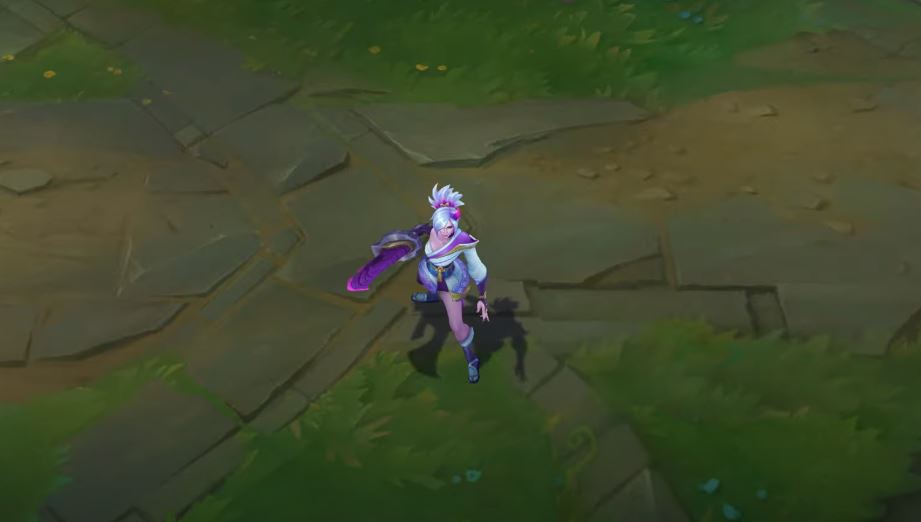 Visual Effects (VFX) and Sound Effects (SFX)
Broken Wings create purple/orange effects, and each hit creates a purple effect at the point of impact. Ki Burst draws an orange circle on the ground with intriguing ornaments. When utilizing Valor, 4 spirit swords will start circling around the character.
Blade of the Exile buff will turn Riven's sword gold. When casting the ranged attack, the champion releases 3 large, golden spirit blades in a cone.
Animations
During Recall, the Exile will perform short swordplay, after which four astral blades will strike the ground beneath her. When using the Ghost spell, Riven jumps onto her sword, which leaves a trail of golden leaves behind.
Pros
Although the cosmetic has numerous details, they are well packed together.
All the effects are awesome, and I'm especially a fan of Ghost visual.
Cons
Valiant Sword Riven Prestige Edition
Price: 2,000 words, 2019 tokens
Skin Lore
Riven is still not aware of her dormant power. One day, this energy will manifest itself, thus awakening her inner spirit.
Appearance and model
This is a part of the previously mentioned Immortal Journey edition, and you can unlock it by meeting a specific criterion.
Although called the same, these two cosmetics are completely different. Prestige Edition is dominated by white and gold, making Riven look much more majestic.
The champion has white/gold leg sleeves, gold boots, and golden armor that protects her sides, hips, back, and chest area. This time around, the Exile has shoulder guards on both shoulders, although the left one is much bigger. Her white hair is held in place with a massive golden pin.
Riven's weapon looks pretty impressive. It is a golden sword of a beautiful shape. There is a blue globe just above its hilt, potentially signifying the Earth.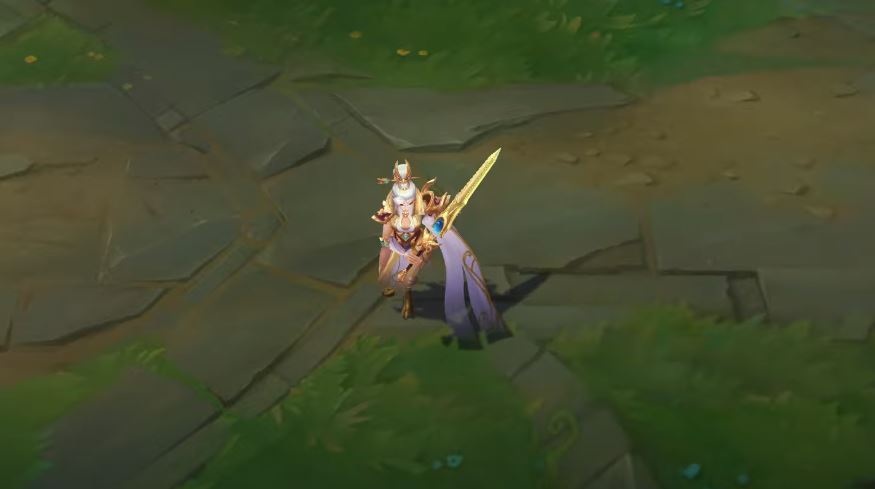 Visual Effects (VFX) and Sound Effects (SFX)
Basically, the effects are the same as for the regular version. The only difference is they are of a lighter color and release small stars.
Animations
Basically, the animations are the same as for the regular version. The only difference is they are of a lighter color and release small stars.
Pros
The color scheme is great. Although the regular version is really nice, this takes it up a notch.
It gives the champion a majestic appearance.
Cons
I would prefer if the sword and the outfit were of matching colors.
Spirit Blossom Riven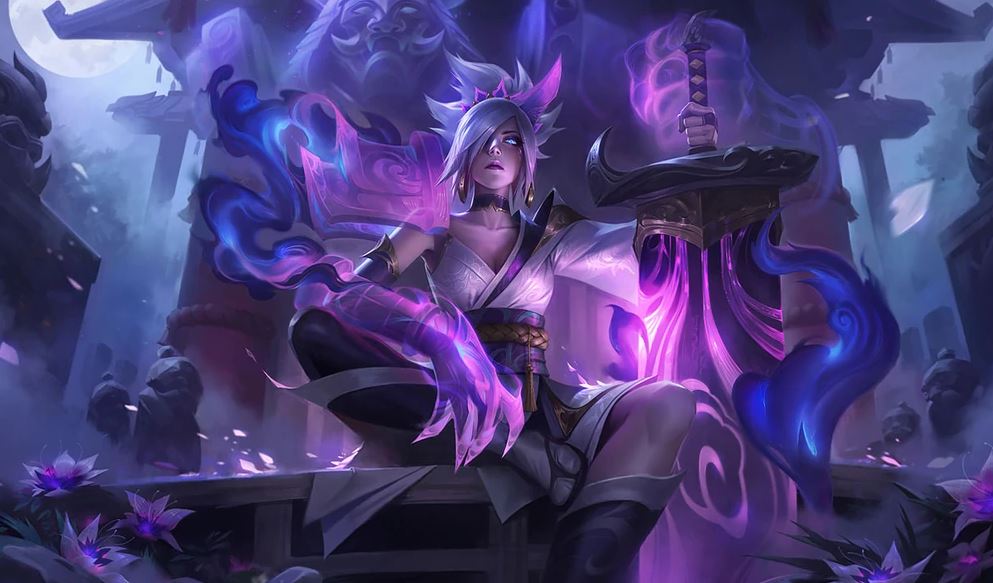 Price: 1,350
Skin Lore
Thousand years ago, this brave warrior was cut down during a fierce battle. During the same battle, her weapon shattered into pieces, and to this day, she roams the underworld in an attempt to once again assemble her blade.
Appearance and model
The skin comes in 8 different colors. It is a part of the Akana theme which features Spirit Blossom Vayne, Spirit Blossom Thresh, Spirit Blossom Lillia, Spirit Blossom Cassiopeia. The thing I like the most is the weapon. It is shaded purple, and you can clearly see the piece that is missing. The blade goes well with the champion's outfit.
Spirit Blossom Riven has boots that look like elongated tabi. She has a stocking on her right leg, while the left one is bare naked. The Exile wears a blue/white kimono with clouds on the bottom edges. The outfit only has a left sleeve, leaving the right shoulder naked.
As for the head, Riven has a demonic purple horn. Like with most other cosmetics, she has white hair held together with a purple ribbon. You might also notice large golden earrings.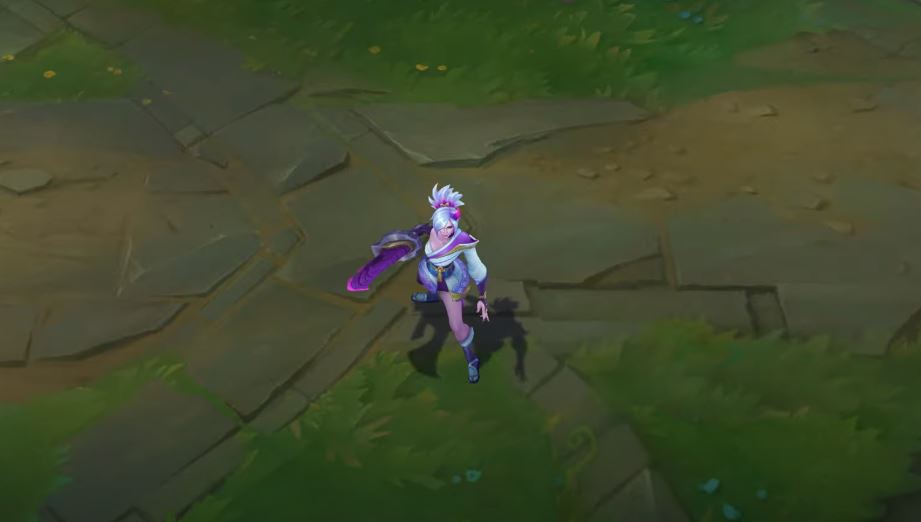 Visual Effects (VFX) and Sound Effects (SFX)
Broken Wings leaves a trail of purple mist around the sword, which is much wider after the third strike. Ki Burst creates a similar purple mist, and you can also notice a spirit of a demonic shogun just above Riven's head.
Valor creates a ghostly purple shield. When activating the ultimate, her blade will turn fluorescent purple, emanating purple mist/spirit particles. Its ranged waves are pretty massive.
Animations
Whenever she strikes an enemy, you can notice thick purple mist. Recall spell creates flowers under her feet. As she waits to get spirited away, a large demon appears above Riven.
Pros
It is quite a devilish cosmetic.
I'm especially impressed by the fog/mist effect. The spirit of a dead warrior is also a nice detail.
Cons
I would like Ghost animation, as well.
Sentinel Riven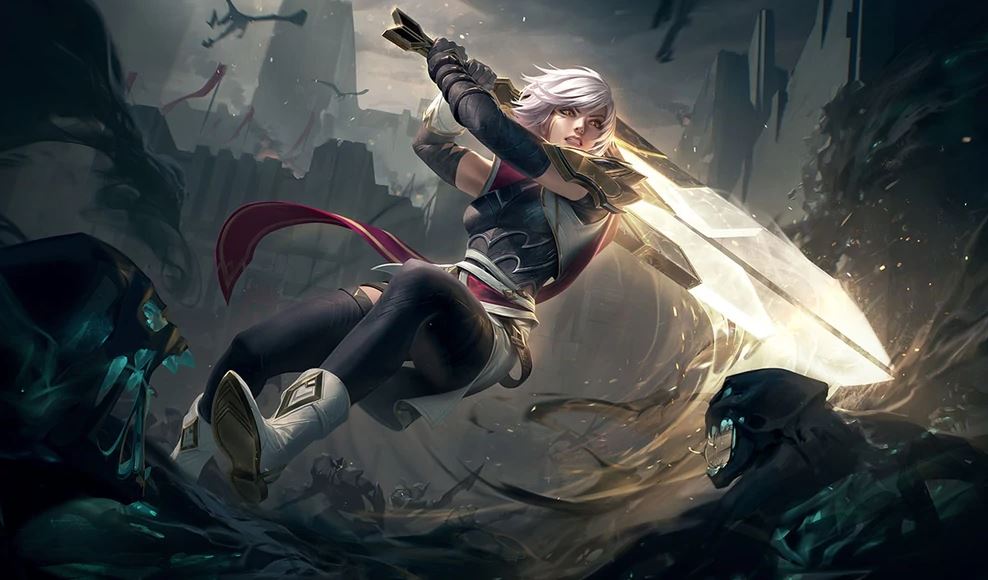 Price: 1,350
Skin Lore
Riven was always haunted by her crimes as a Noxian soldier. This is why she eventually joined the Sentinels as a way of redeeming her sins.
Appearance and model
The chroma comes in 9 shades, and it is a part of the Sentinels of Light collection. Riven's outfit is pretty dope combining white and black with hints of maroon and gold. She wears white boots, black pants, and a white/maroon apron of some sort. The champion has not one but two belts around her hip.
The Exile's suit looks quite sturdy, and she has a high neck. She wears two different sets of gloves and a wide left shoulder plate. Riven has short, white hair and a massive white/black weapon that consists of two blades positioned in an almost fork-like manner.
Visual Effects (VFX) and Sound Effects (SFX)
Broken Wings create white effects in a circle around the blade and on the ground. A similar white formation can be seen on the ground upon utilizing Ki Blast. Valor makes a perfect bubble shield around the champion, while Blade of the Exiles has a visual effect best described as static yellow lightning.
Animations
During Recall, evil green spirits appear around Riven, ultimately taking over her body. Each basic strike creates a white, flaring effect.
Pros
The effects are pretty clean yet impactful.
The weapon is especially awesome.
Cons
I don't like how the left shoulder guard looks on this skin.
FAQs
Question: What is the rarest Riven skin?
Answer: Championship Riven (from 2012) is the rarest cosmetic for the champion. It was initially given to just 8,000 people during the World Championship event.
Question: How many skins does Riven have?
Answer: She has a total of 12 skins, some of which can be regarded as spinoffs.
Question: What is the best Riven skin?
Answer: The best Riven skin is either Pulsefire Riven or Dawnbringer Riven. Generally speaking, both are awesome and you can't go wrong whichever you choose as a primary.
Riven Skins Guide: Conclusion
Riven has some really dope cosmetics. The good thing about the champion is that her abilities are quite different, so the designers could experiment with different concepts. If you wish to get some new gear for the champion, I suggest you go with Pulsefire Riven.