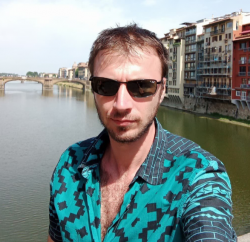 Latest posts by Stefan Stevanovic
(see all)
Battle Academia skins theme puts champions into an alternate universe where they are just kids going to school. As such, some of the characters are students, while the others are professors and headmasters. Generally speaking, the Battle Academia lore is somewhat related to each champion's original storyline with small tweaks that would allow them to feel like parts of this new world.
Key Info Up Front 
Battle Academia collection has 13 skins, including Battle Academia Ezreal, Battle Professor Graves, Battle Academia Jayce, Battle Academia Katarina, Battle Academia Lux, Prestige Battle Academia Lux, Battle Principal Yuumi, Battle Academia Caitlyn, Battle Academia Garen, Battle Academia Leona, Prestige Battle Academia Leona, Battle Academia Wukong, and Battle Academia Yone.
Battle Academia Ezreal
Price: 1,820
Skin lore
Most people thought that Ezreal was nothing more than a regular orphan without any combat or magical potential. However, after he finished middle school, a great peril awoke his latent powers. He was quickly admitted to Durandal God-Weapon Academy, becoming a part of their renowned Battle Club.
Appearance and Model
Ezreal wears a fancy school uniform with long black/red pants, pointy brown shoes, a red shirt, and a dark blue vest. The champion has reinforced metallic pauldrons and elbow guards. You can also notice the school's logo on the back of the jacket and the front. He also has a nice white tie around his neck.
The character has two black gloves and a red system around his left arm. His usual projectile weapon is white with a red outer layer. Ezreal fashions a blonde hair with a ponytail.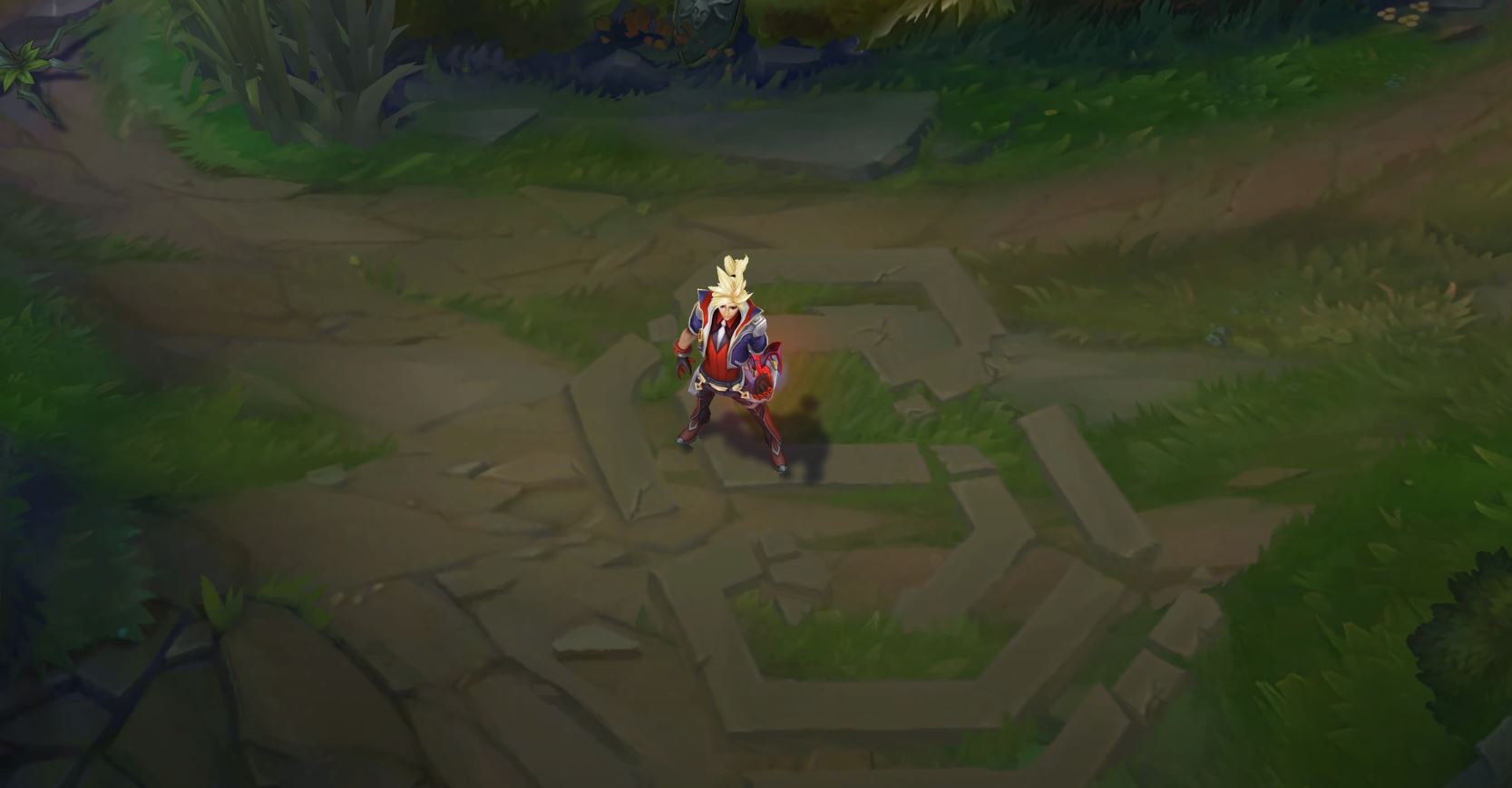 Visual Effects (VFX) and Sound Effects (SFX)
Mystic Shot sends forth a blue sword projectile. Rising Spell Force creates a red glowing effect beneath his feet while electricity surges around his body. Essence Flux ball is blue, and it leaves blue rings around an affected enemy.
Arcane Shift teleporting effect is pretty awesome and represents a major upgrade compared to the base visual. Trueshot Barrage releases a massive blue wave. Ezreal also received a bit different wound-up effect.
Animations
The champion has a few interesting emotes and dances. Among others, Ezreal receives a few funny calls. After activating Homeguard, the champion starts running around in a rather whacky manner. During Recall, numerous targets appear around Ezreal, and he disposes of them in just a few seconds.
Pros
The visual effects are awesome. I especially like the teleporting effect during Arcane Shift.
The emotes are really goofy, which makes them awesome in my book.
Cons
Somewhat dull skin compared to other Ezreal's cosmetics.
Battle Professor Graves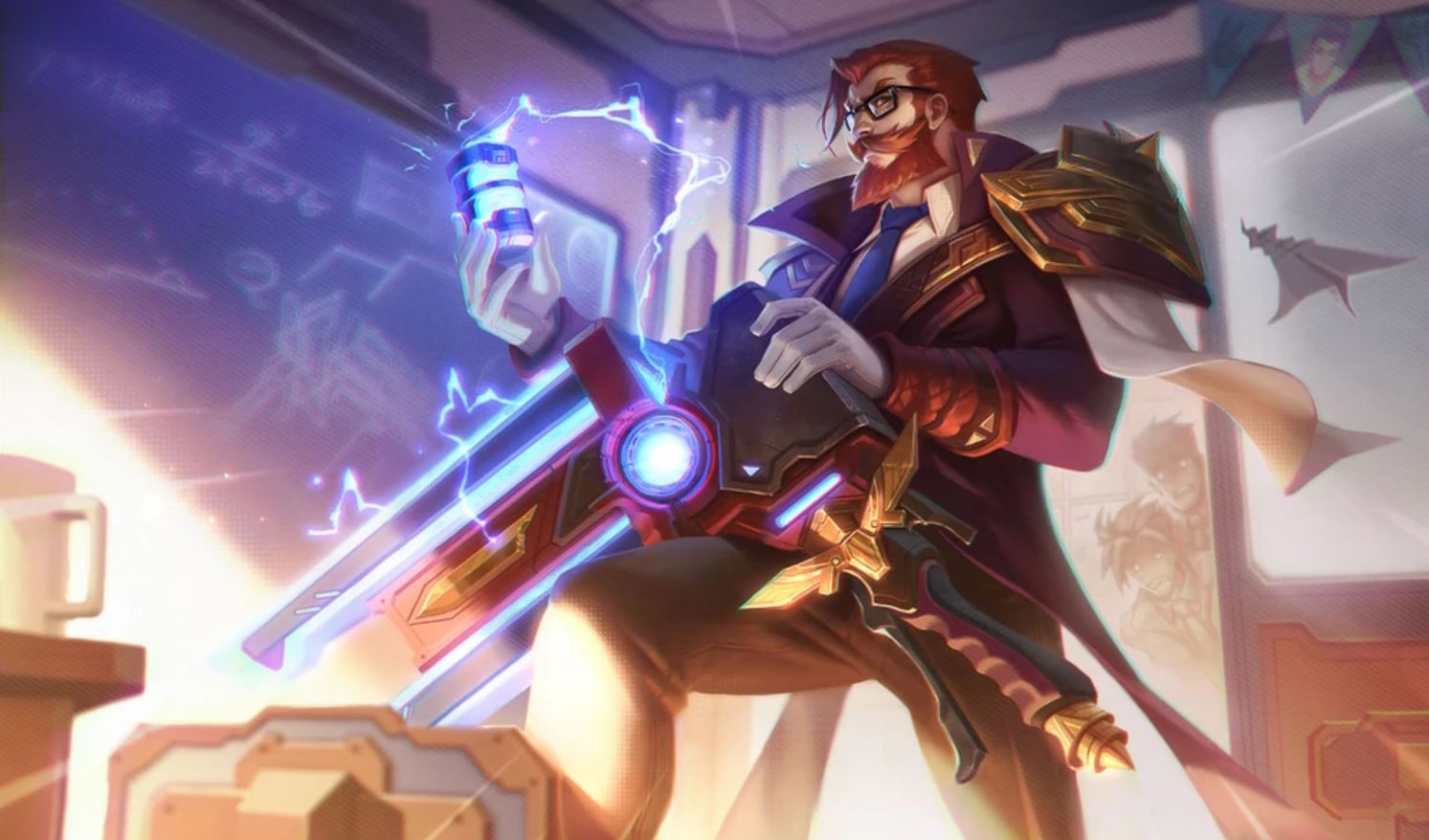 Price: 1,350
Skin Lore
Graves never wanted to become a professor. However, his battle exploits didn't go unnoticed, and he caught the attention of the God-Weapon. Although a reluctant teacher, his knowledge and experience are invaluable for young minds attending the Academy.
Appearance and Model
The chroma item comes in tanzanite, pearl, formal, obsidian, rose quartz, sapphire, ruby, and turquoise. He wears gray shoes and black pants, a dark red vest, and a pink jacket. Graves has a belt with a golden buckle and additional straps around his thighs.
Like other members of the Academia, he has the school's logo on the back of his jacket. Graves also has a small book that he wears around his hip. The champion's shoulders are protected by two differently sized guards. Lastly, he wears a fashionable blue tie over a white shirt and has glasses that are becoming of a school professor.
He wields a massive energy rifle with a maroon/brown center and blue edges.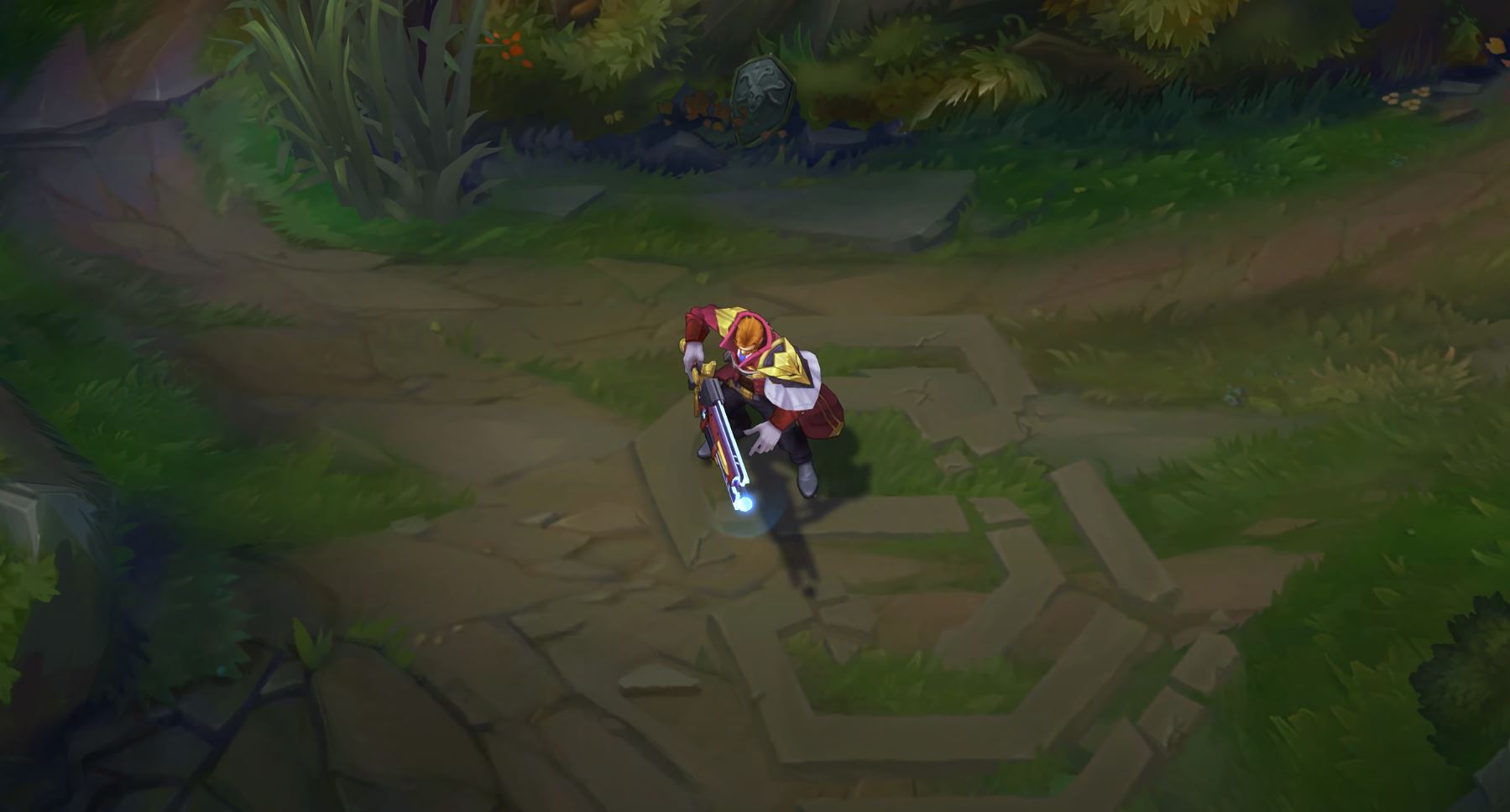 Visual Effects (VFX) and Sound Effects (SFX)
New Destiny has a blue energy effect. End of the Line summons a blue projectile. Once it reaches the target, it releases an energy sword into the ground instead of the usual grenade. Smoke Screen utilized black/blue projectile. Once it reaches the target, it creates a small black hole in the middle, with large blue/white circle around it.
Quickdraw is slightly altered, utilizing blue effects instead of the yellow ones. These visuals are much more polished compared to the default variant. Collateral Damage releases a massive blue energy blast at the target.
Animations
During Recall spell, Graves solves an equation on a digital blackboard while surrounded by paper airplanes. After activating Homeguard, he runs around with a sandwich in his mouth and numerous stacked books in his arms.
Pros
Great visual effects. I like the switch from traditional weaponry to energy weapons.
The Recall is pretty cool; it goes well with the theme.
Cons
Battle Academia Jayce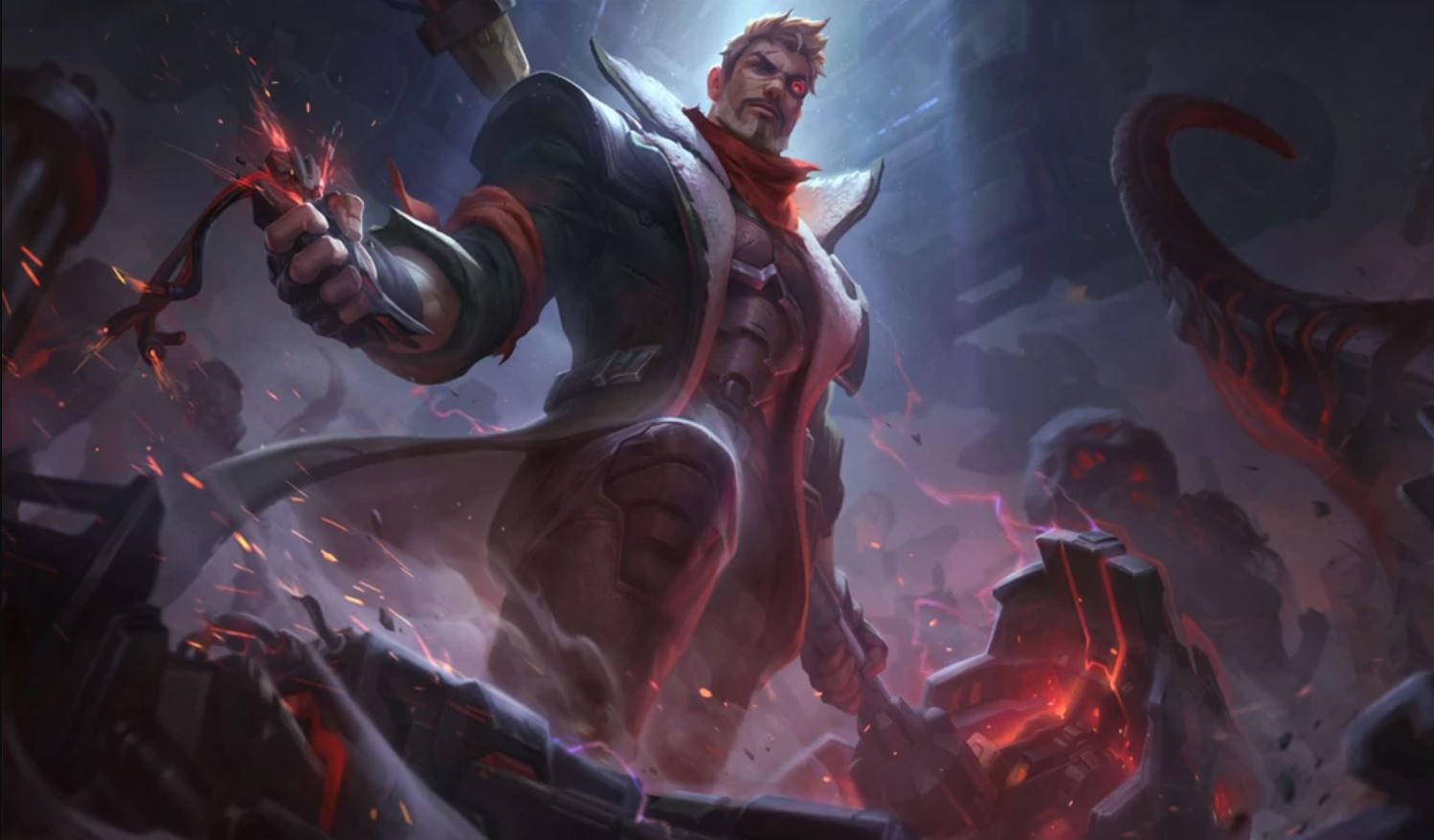 Price: 1,350
Skin Lore
Jayce leads the Luminary Club on top of the fact that he is the class president. Known all over Durandal, the champion is well-known among scientists for his genius and all the gadgets that he has created. Jayce works meticulously on developing new technology to prevent disasters similar to that which occurred during his youth.
Appearance and Model
Jayce comes in ruby, turquoise, tanzanite, formal, emerald, pearl, obsidian, sapphire, and rose quartz colors. His weapon looks rather devastating; it has a metallic silver shaft with a four-part top that has yellow blades.
The Defender of Tomorrow wears gray shoes, dark blue pants with a few medium blue details, a white shirt, a blue tie, and a dark blue jacket. Just to show how cool he is, Jayce removed the jacket from his left shoulder and rolled up his left shirt sleeve. Like all clothing pieces from this set, the jacket bears the insignia of the Academy.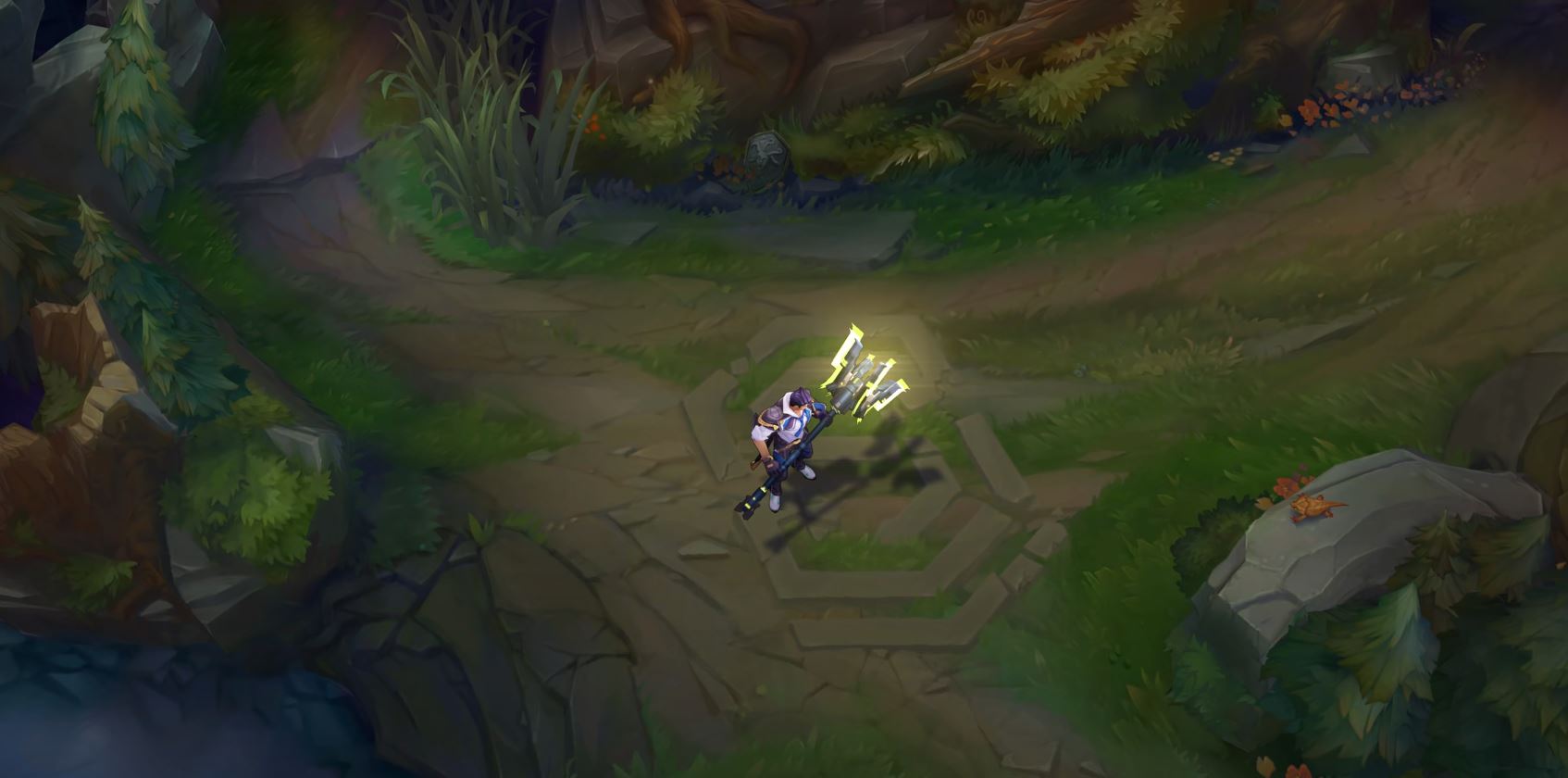 Visual Effects (VFX) and Sound Effects (SFX)
To the Skies! leaves a yellow trail behind the hammer and creates a yellow splash at the point of impact. Lightning Field creates a similar yellow dome as the default effect. Thundering Blow leaves a similar yellow effect as other hammer abilities.
Shock Blast releases a well-polished blue orb that creates a massive blast upon impact. Hyper Charge changes the appearance of the cannon, creating two hologram screens to the weapon's left and right. Acceleration Gate visual effect represents a major improvement compared to the base effect.
Mercury Hammer and Mercury Cannon create a smoke effect above the opponent's head.
Animations
When using Recall, mechanical dummy targets appear around the champion. He eliminates them first with the hammer and then with the cannon. During Homeguard, Jayce rides his weapon. Hammer's basic strikes create a yellow splash, while cannon strikes create blue projectiles and blasts.
Pros
A major improvement to the effects.
Cons
I don't like the lack of details on his skin.
Battle Academia Katarina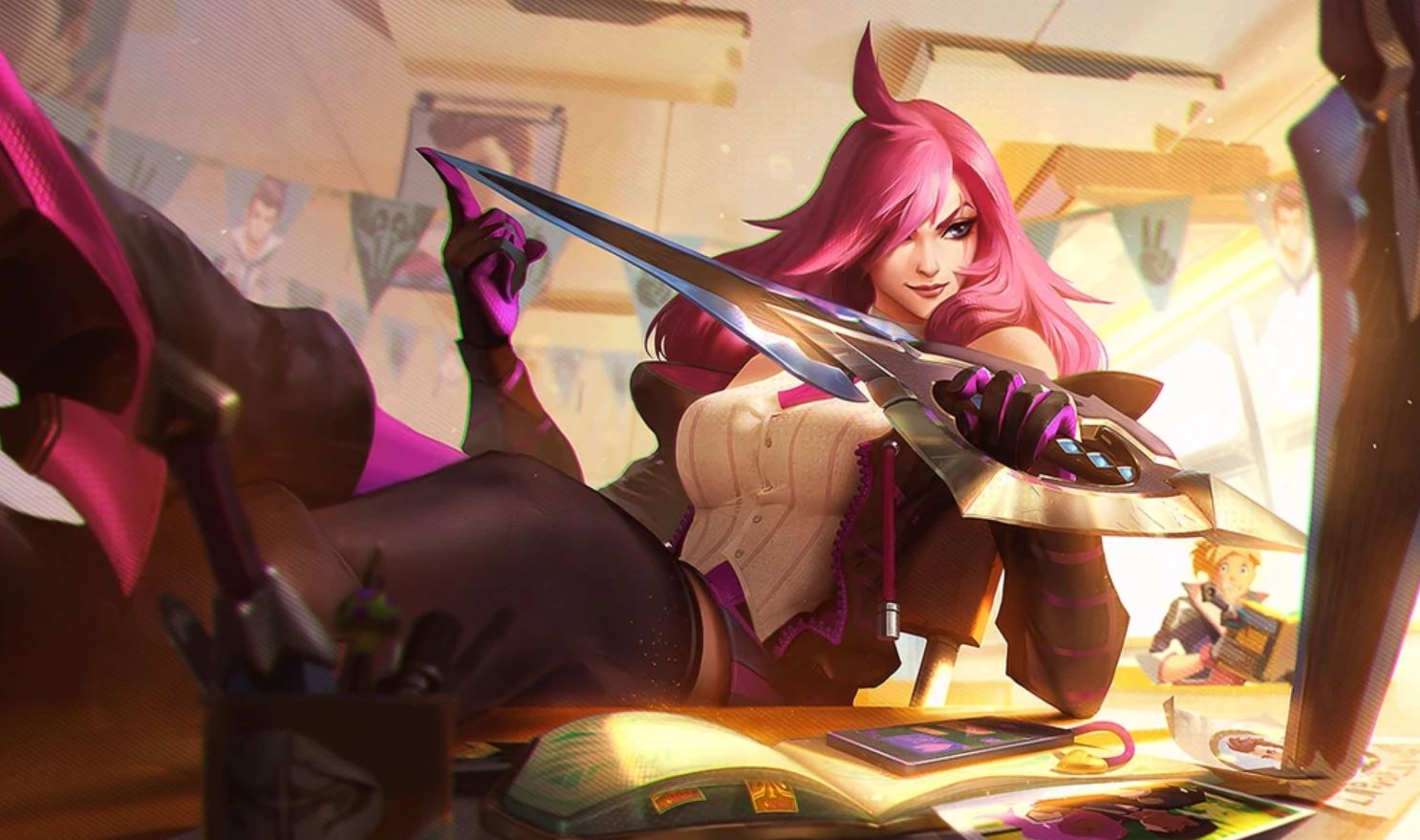 Price: 1,350
Skin Lore
Katarina does her best not to be involved with any of the school's politics and squabbles. Katarina is one of the deadliest members of the Assassins Club, the Academy's only society that permits killing. Fearing her lethal skills, other students choose to stay away from Katarina whenever possible.
Appearance and Model
Battle Academia Katarina comes in formal, ruby, turquoise, citrine, pearl, tanzanite, sapphire, and obsidian. The champion wields two sci-fi blades that almost look like oversized scissors. She has black boots, mismatched stockings, a black skirt with a small flounce, black/purple jacket with Academia's emblem, and a white sleeveless shirt with a red tie.
For the most part, the cosmetic is pretty simplistic, like all other skins from the Battle Academia set.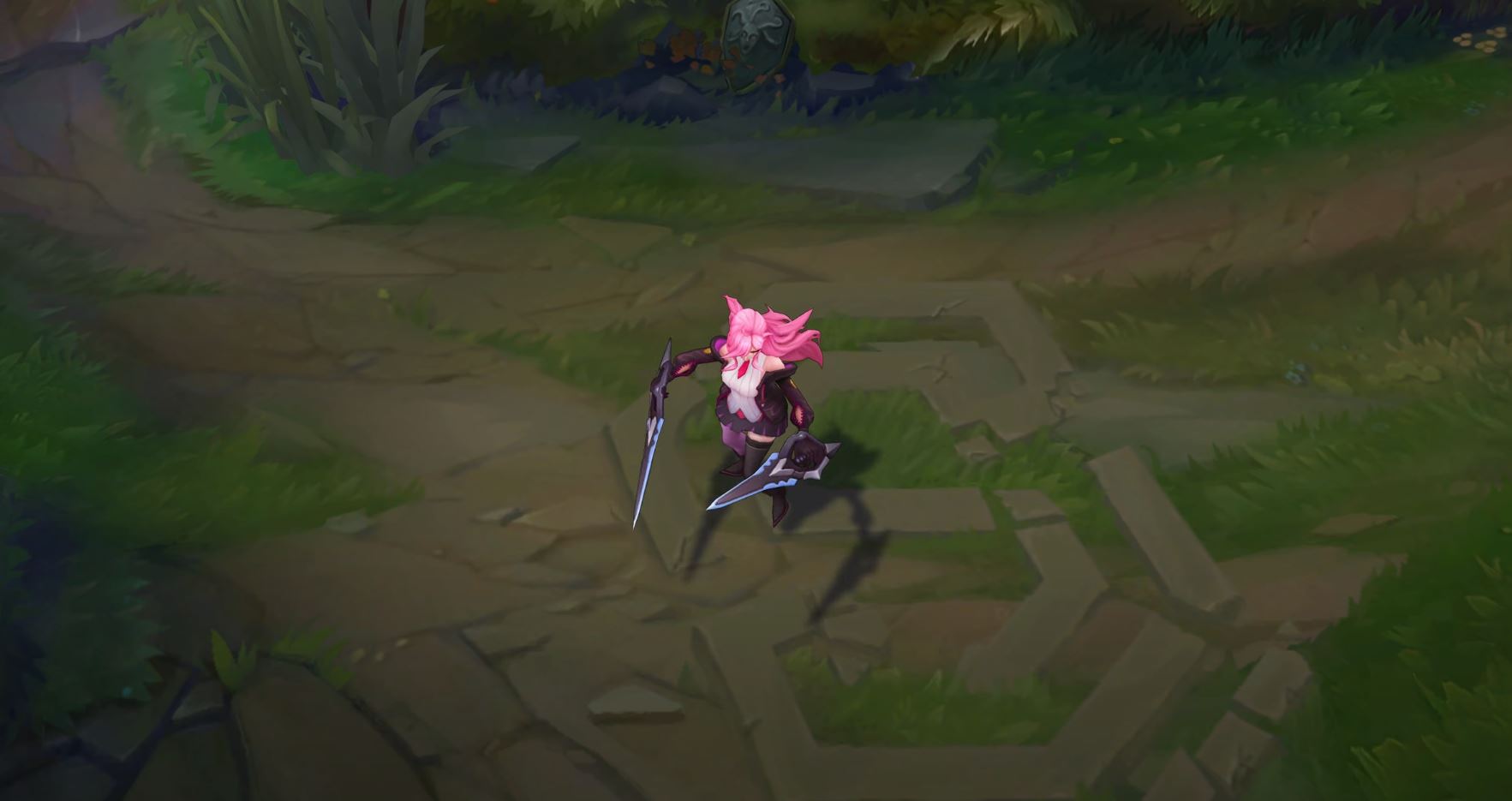 Visual Effects (VFX) and Sound Effects (SFX)
Bouncing Blades leave a purple trail behind them. A purple circle with Academia's logo appears on the ground when a dagger falls down. Upon collecting a dagger, Katarina does a purple whirlwind strike around her axis.
Shunpo leaves a straight pink trail behind the champion while Death Lotus summons a massive purple storm around her. A blue slashing effect appears around the champion struck by the ability.
Animations
During Recall, a few artificial dummies are summoned around Katarina. She slashes them one by one, teleporting around while doing so. While using Homeguard, the champion runs around, holding a book in one hand and a dagger in the other. During basic strikes, the champion leaves a purple mark at the point of impact.
Pros
Having a new set of effects isn't bad.
Cons
Very simplistic skin design. Nice if you're trying to collect the whole set.
Doesn't offer much for the price.
Battle Academia Lux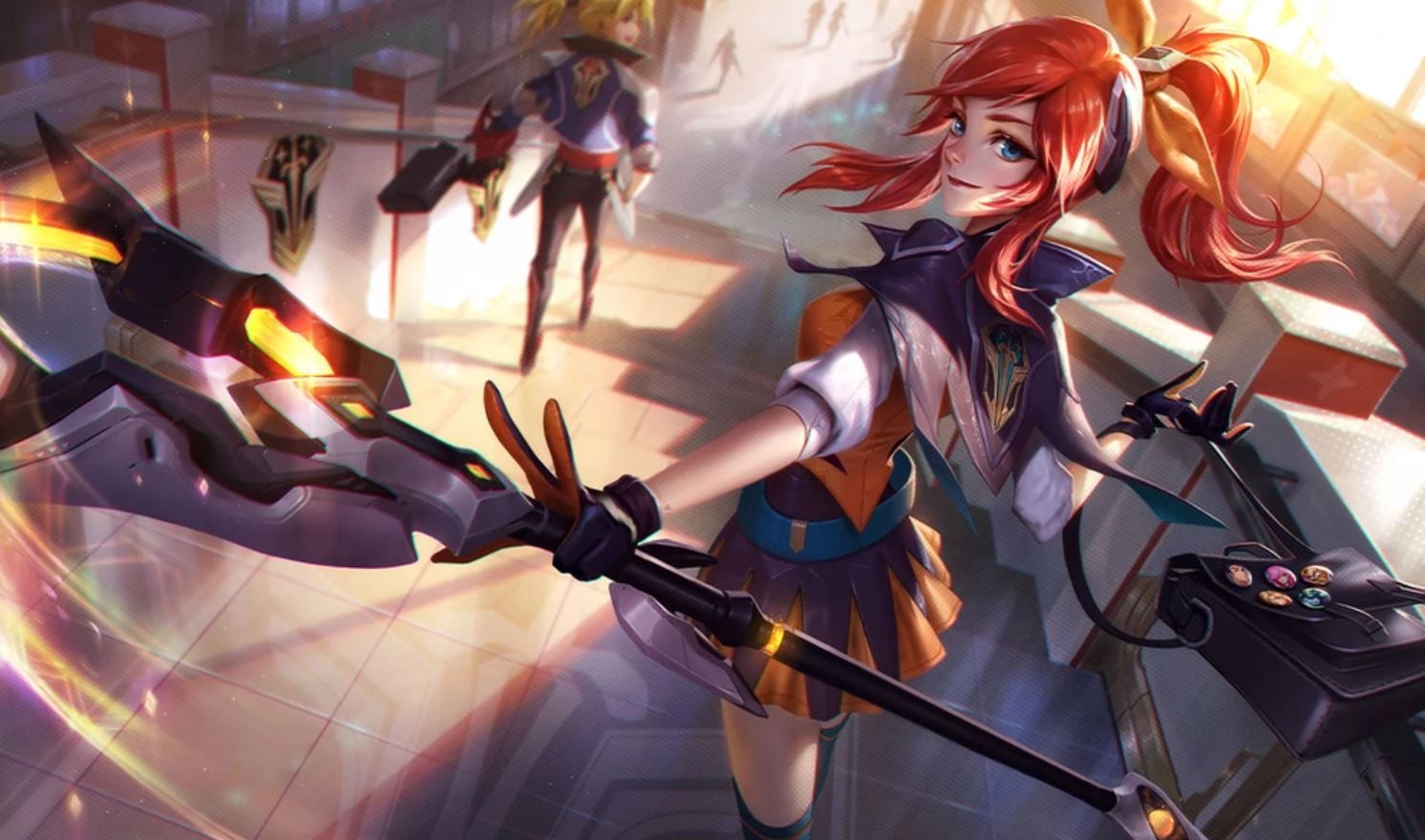 Price: 1,350
Skin Lore
Lux has a very positive outlook on the world. Despite being a brand new student at the Academy, she wields an enormous power that her peers cannot wrap their heads around.
Appearance and Model
A massive black staff with orange inner edges is the centerpiece of the skin. It has a few intricate details making it a massive improvement compared to the base model.
Lux wears an outfit that is very similar to what other Battle Academia females wear. She has a short skirt with orange flounce, an orange top with a tie, a white shirt, and a very short jacket with the school's insignia.
The champion also has half-opened black boots with an orange interior and turquoise socks. You might also notice fashionable gloves on her hands and a bandana-like hair item.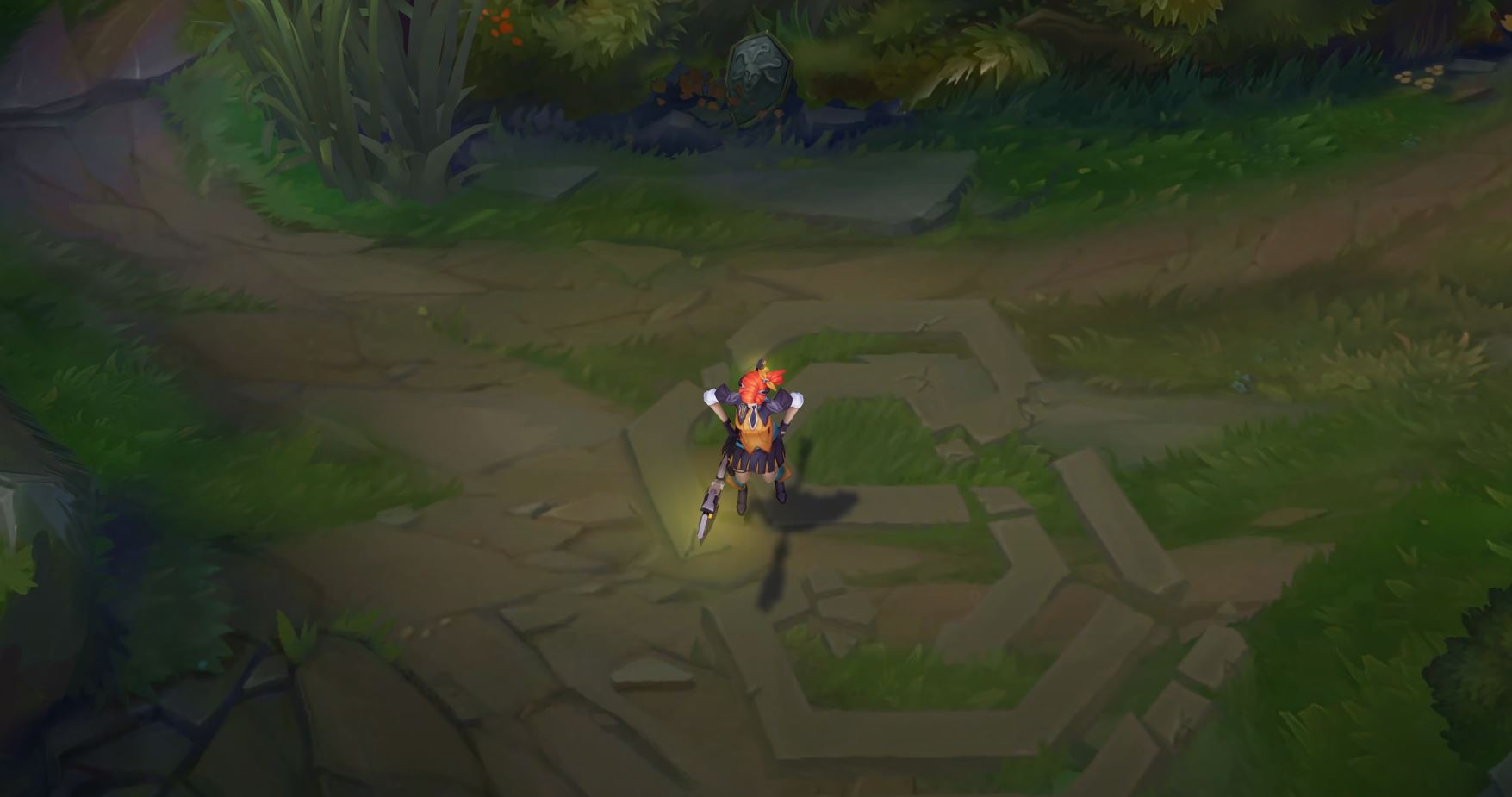 Visual Effects (VFX) and Sound Effects (SFX)
Light Binding sends forth a yellow glowing projectile which, once it hits an enemy, leaves a yellow cylindrical effect around their body. Illumination leaves the school's insignia visual floating around the opponent's head. Prismatic Barrier has a yellow effect instead of a rainbow-colored one, and it creates a yellow shield around a target.
Lucent Singularity field synergizes yellow whirlwind on the ground. A yellow sphere appears in the center, which slowly charges until it bursts, leaving behind a massive dome. Final Spark creates a beam of massive yellow light.
Animations
When using Recall, a metallic podium appears beneath the champion's feet. After trying to kill the surrounding dummies with her weapon, Lux decides it's better to simply blast them with energy. When using Homeguard, Lux runs while holding a script in her mouth and books in her arms. The champion's basic strikes release a yellow projectile towards a target.
Pros
Her weapon is pretty nice.
The skin and effect colors go well with each other.
Cons
Some of the base effects are better.
Prestige Battle Academia Lux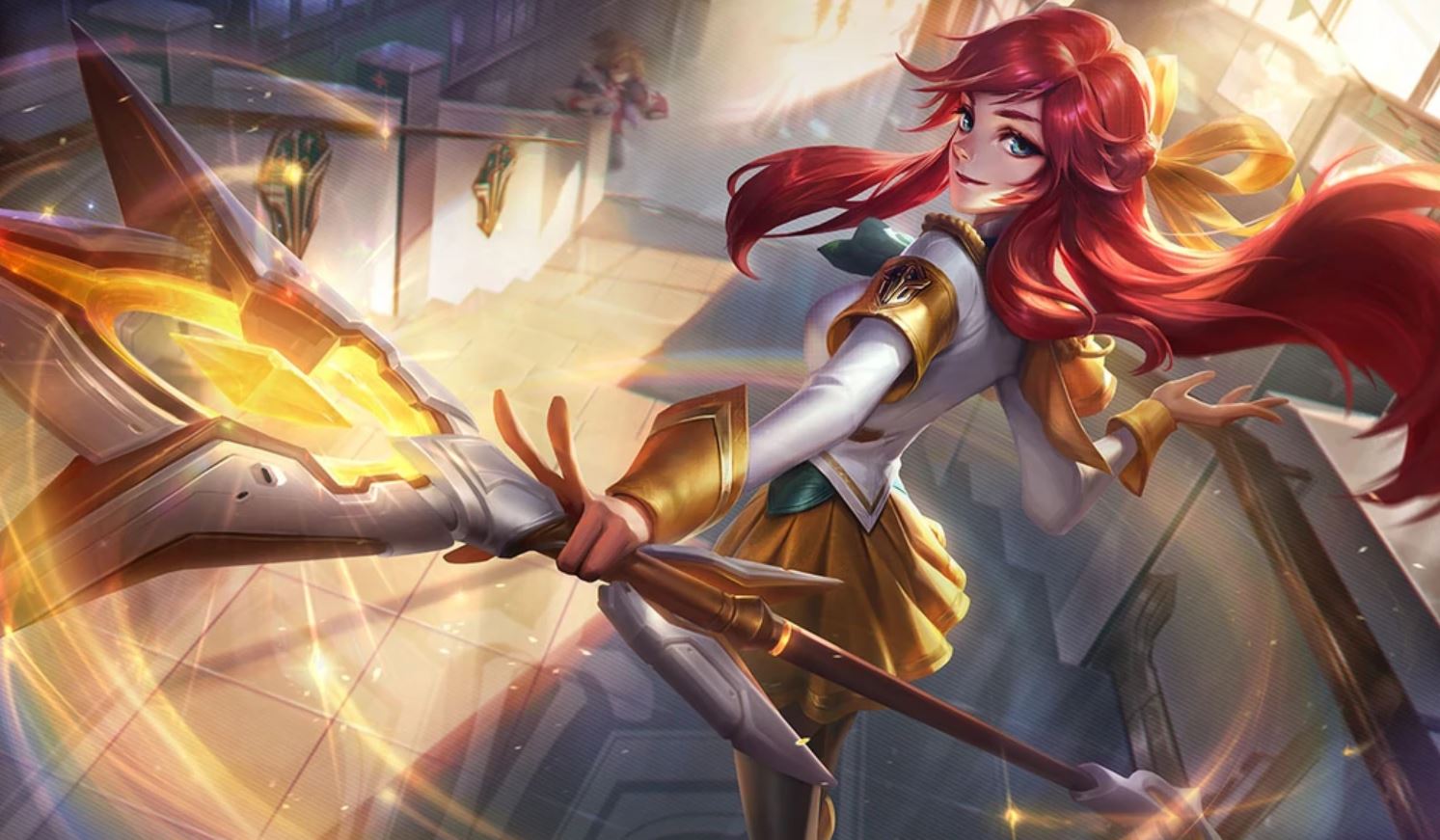 Price: 150 Mythic essences.
Skin Lore
After a turbulent first year, which brought many challenges and betrayals, Lux is ready for whatever awaits her during the second year of school. After testing her mettle in battle, she is ready to take charge of the Sorceress club.
Appearance and Model
Although her basic Battle Academia weapon was pretty cool, I think this one is even better. Lux wields a massive staff with white/orange ornament on the top and the bottom. They are similar to one another, with the main difference being that the one on the bottom is smaller.
The champion wears black stockings and black boots with an orange interior. She has an orange skirt with flounce and a white shirt with long sleeves that remind me a bit of the school band's uniform. The shirt has several neat golden details and a green bolo tie. Lux wears a ceremonial orange pauldron on her left shoulder, as well as a winged ornament and a ribbon in her red hair.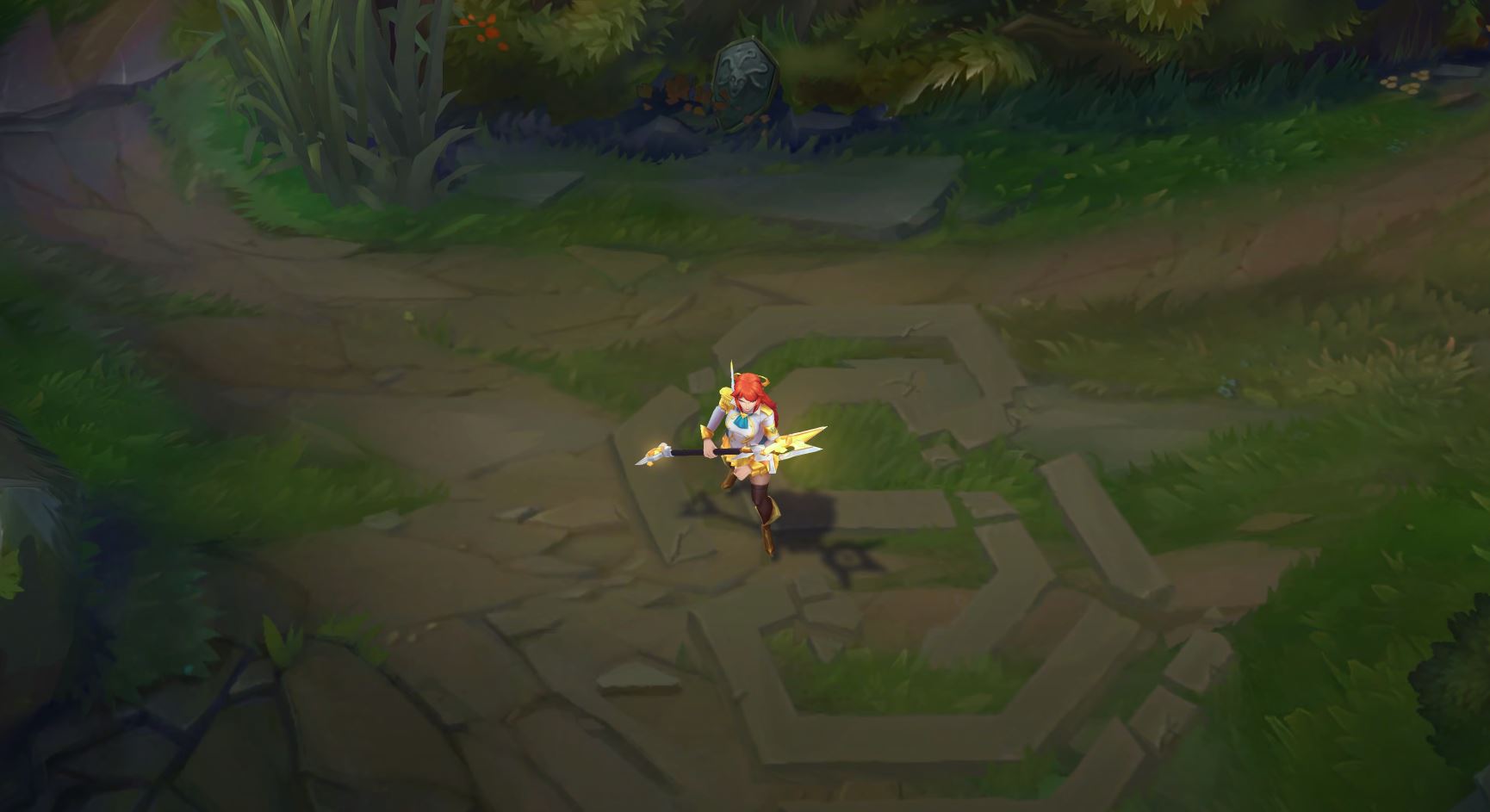 Visual Effects (VFX) and Sound Effects (SFX)
Light Binding looks like a flying doughnut, and upon hitting an enemy, it leaves two intricate rings around the target. Illumination creates a pink school logo around the enemy. Prestige Battle Academia Lux and Battle Academia Lux have similar Prismatic Barriers. The one used by Prestige Academia Lux has rainbow colors instead of just yellow.
Lucent Singularity creates a rainbow field within a radius which eventually bursts. The champion's ultimate sends a rainbow-colored beam that mainly utilizes yellow and pink colors.
Animations
Her Recall spell is very similar to the one that Battle Academia Lux has. The main difference is that the dummies have blonde hair and that she uses a more powerful version of the attack to get rid of them. Lux's basic strike is yellow with hints of pink.
Pros
This outfit is much better.
Light Binding looks pretty good.
Cons
Although different, it doesn't feel special.
Battle Principal Yuumi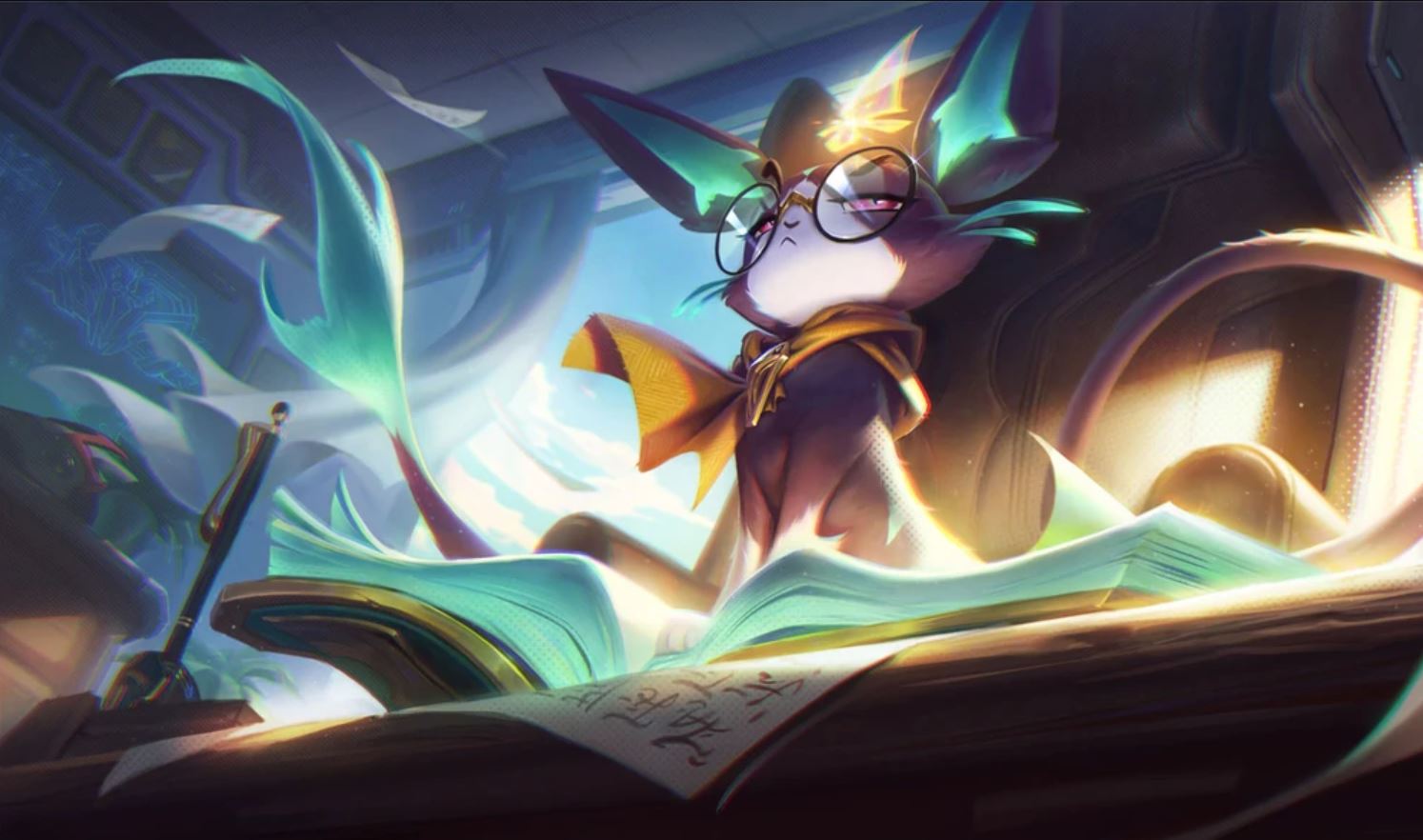 Price: 1,350
Skin Lore
After the two previous principals vanished without a trace, Yuumi took charge of the Academy until authorities find one of them. Principal Yuumi utilizes the school's magic tomes to increase her power. During the breaks, she likes to stand above students' heads, bringing some healthy fear into their lives.
Appearance and Model
The champion's skin comes in tanzanite, citrine, obsidian, formal, rose quartz, granite, sapphire, pearls, and ruby color. This is just one of a few cosmetics published for Yuumi so far.
She has dark blue fur with several turquoise patches, including her ears, tail, whiskers, back of her body, and the top of her head. The face and feet are the only white parts of the cat's body. Yuumi wears large round glasses, a yellow scarf with Academia's emblem, and a peculiar floating dagger above her head.
The champion relies on her magical tome to summon devastating spells. The book is blue/black, with golden edges and green pages. Although rather small, it has a very intricate and beautiful design.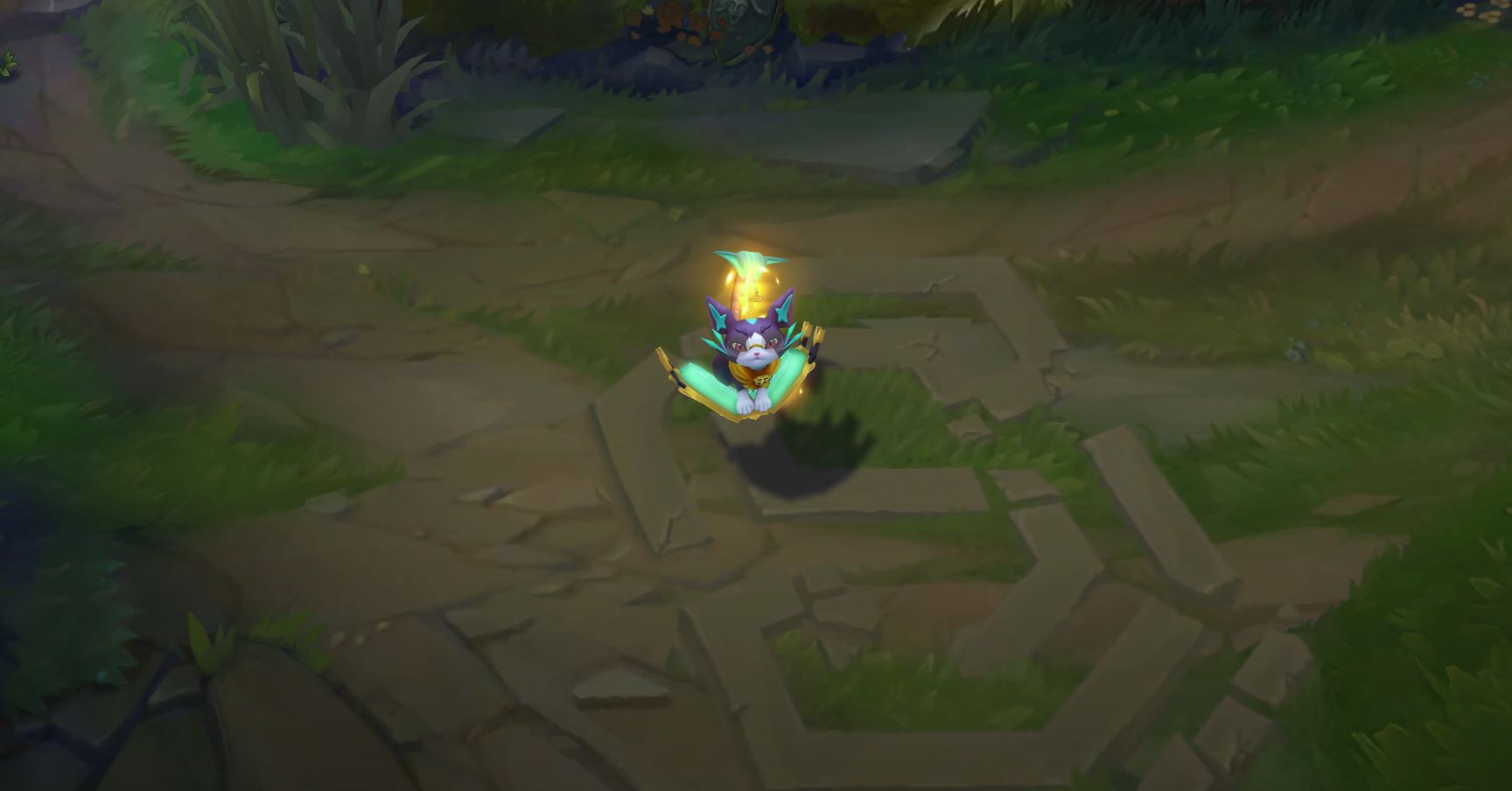 Visual Effects (VFX) and Sound Effects (SFX)
Bop 'N' Block creates a blue grid shield with yellow edges. You and Me leaves a blue spiraling trail behind the champion. Prowling Projectile is blue with sharp edges. Zoomies leave a green visual effect on the target, slightly different from the default effect.
Final Chapter sends a massive blue wave in the target direction. With each wave, a symbol on the ground changes. An Enemy hit by the ability has blue circles below their feet.
Animations
The champion has a few very colorful emotes. When using Recall, a principal's desk with various objects appears on the circle. After knocking down just about everything on the table, Yuumi is teleported to base. When using Homeguard, she flies around while reading an open tome placed just before her. The Magical Cat's basic strikes look like blue arrows.
Pros
One of the best cosmetics in the series.
Great visual effects.
Cons
No complaints. If you want to buy anything from the Battle Academia collection, buy this one.
Battle Academia Caitlyn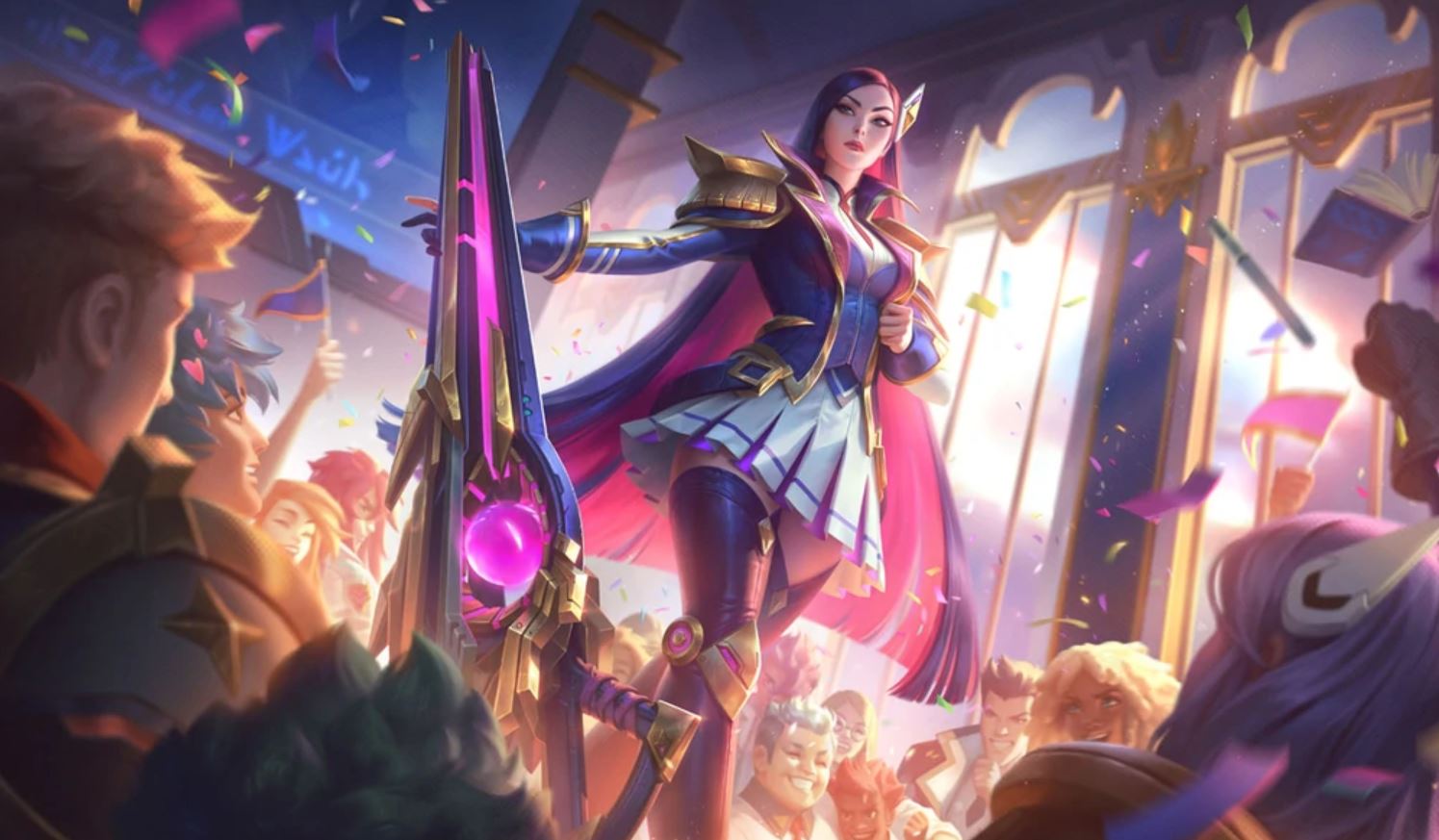 Price: 1,820
Skin Lore
Caitlyn is one of the most notorious members of the Academy. She quickly became the head of the Luminary Club, and her main purpose is to whip other students into shape. Caitlyn wants to become one of the greatest generals in history, and given her performance, there is a good chance she will accomplish this goal.
Appearance and Model
The cosmetic comes in sapphire, pearl, obsidian, ruby, and rose quartz.
The champion wields an extremely cool weapon. The rifle looks like a crane beak with purple/pink tip, a large pink energy source, and a dark blue/gold handle. She wears black shoes with golden bottom and long black socks. Her right knee is protected by a golden kneecap.
As for her torso, the champion wears a white skirt with blue and pink bits. She has a blue vest, white shirt, dark blue school tie, and white/blue sleeves. Caitlyn also has a black glove on her right hand. At the first glimpse, you can tell that she is a natural general wearing golden ceremonial cauldrons on her shoulders. The champion wears the school's insignia proudly on her left shoulder.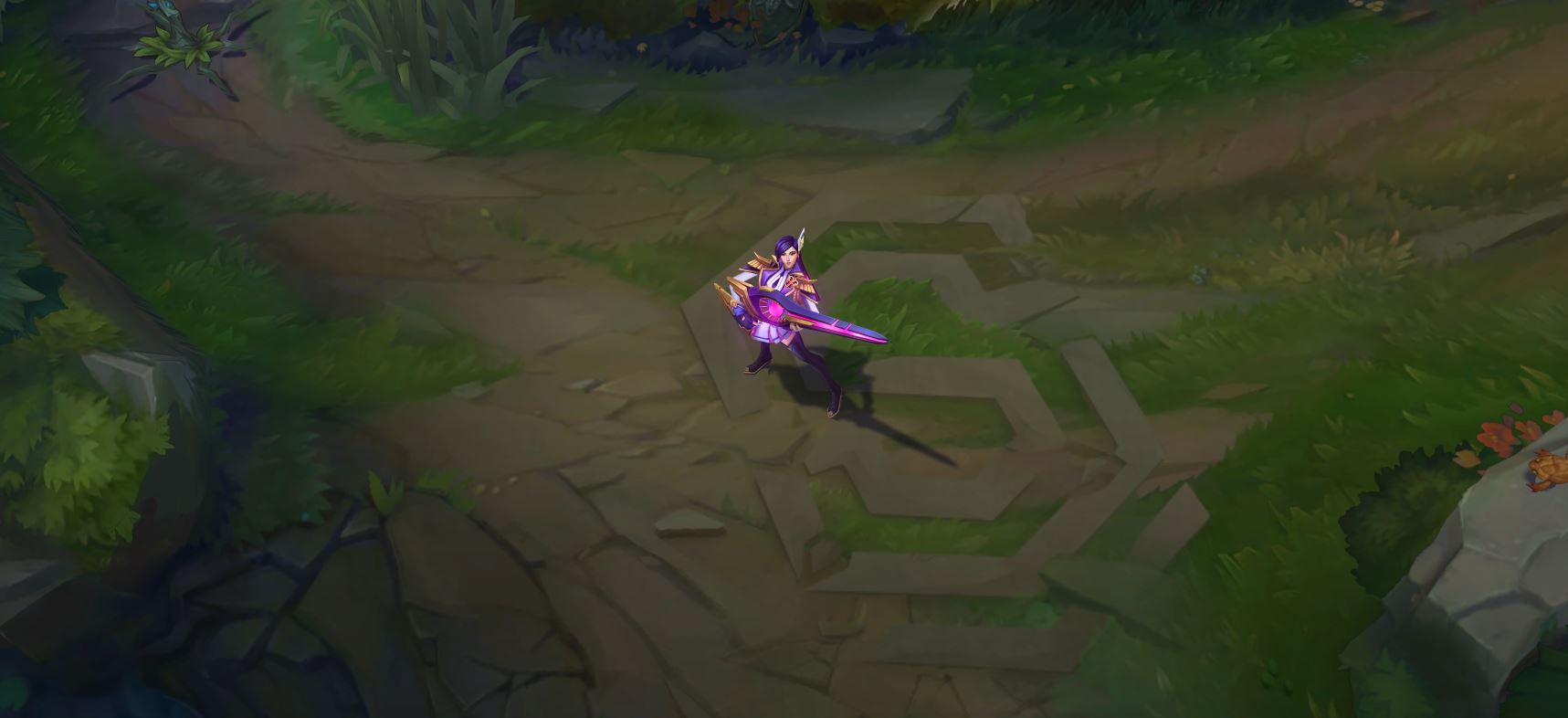 Visual Effects (VFX) and Sound Effects (SFX)
Headshot is an oversized various of the basic attack. The champion sends a massive purple projectile that creates a large circular visual upon impact. Piltover Peacemaker sends forth a massive purple/pink wave with a sword in the middle.
Yordle Snap Trap is pink with a white center. Upon trapping an enemy, you can notice a pink debuff circle around them. 90 Caliber Net is deep purple and doesn't resemble a net whatsoever.
Ace in the Hole has a unique effect. When charging the shot, you can notice a comic book-like panel in the upper right corner. A purple circular mark will appear beneath target's feet after which Caitlyn sends a massive shot towards it.
The champion also has a gun transformation where her gun becomes golden/light purple.
Animations
Caitlyn has a few really cool emotes. She performs a pink haze dance and eats a pudding. Like all Academia members, her Recall spell involves shooting mechanical targets. The champion's basic strikes send a purple projectile at a target. Upon hit, they leave a brief cross mark at the point of impact.
Pros
The Ace in the Hole effect is spectacular.
Really cool weapon.
Cons
Like with most other Battle Academia skins, Caitlyn's outfit is far from inspirational.
Battle Academia Garen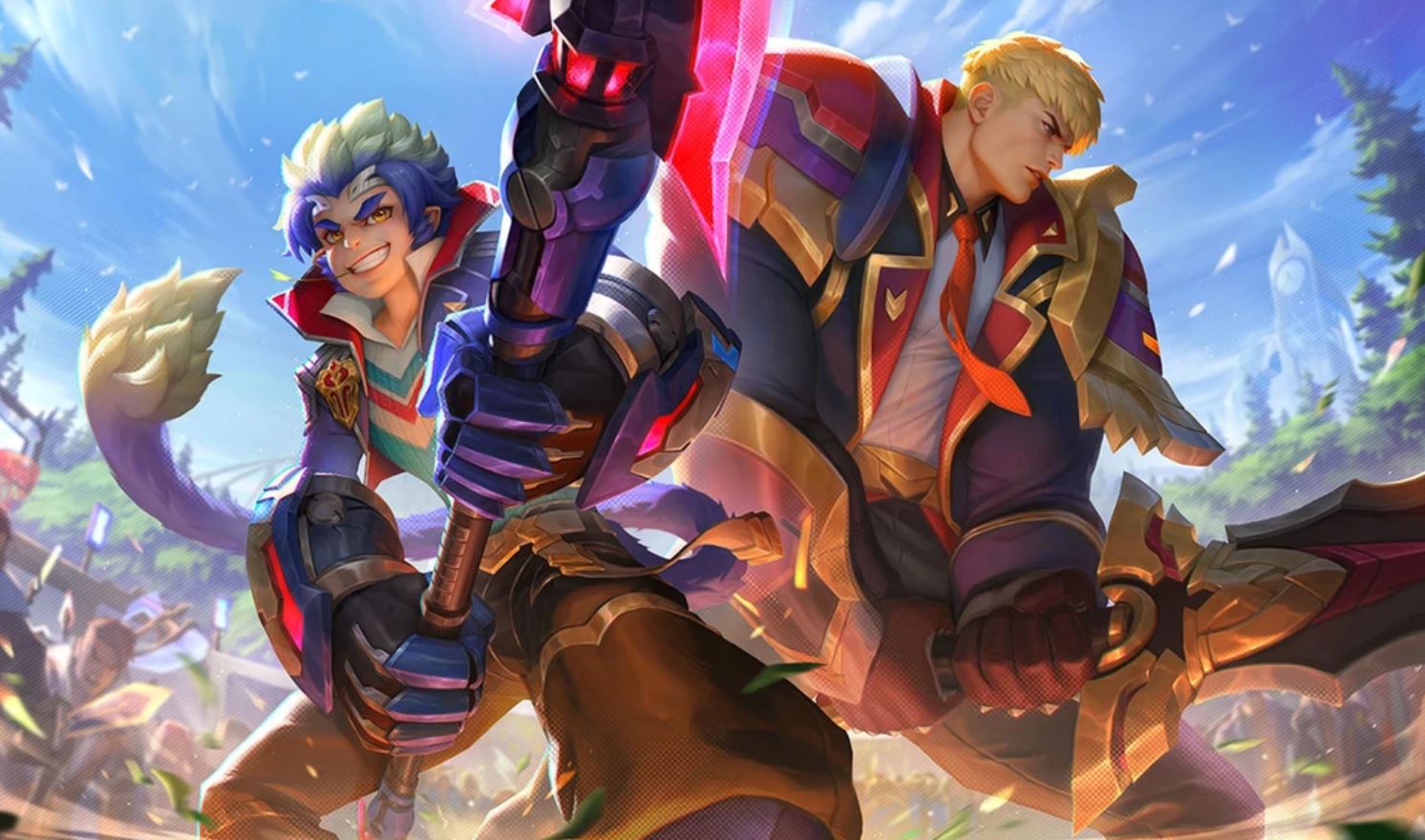 Price: 1,350
Skin Lore
Garen's parents invested their lives developing Lux, a God-level weapon that they later on adopted into the family. As a result, Garen spent his childhood making various mischiefs, eventually enrolling in the Academy and becoming the head of its prestigious Battle Club.
Appearance and Model
The champion comes in turquoise, emerald, citrine, ruby, sapphire, rose quartz, pearl, and sandstone color. Garen has a very bulky appearance. He wields a massive sword with a black centerpiece and silver/yellow edges. The weapon also has a golden hilt. He wears black shoes with red bottoms, black pants, and a white shirt.
Overall, the champion's color scheme is very balanced and well-done. He has a dark blue coat with yellow edges and the school emblem, while his shoulders are protected by massive golden and red pauldrons. Lastly, Garen has scruffy blonde hair.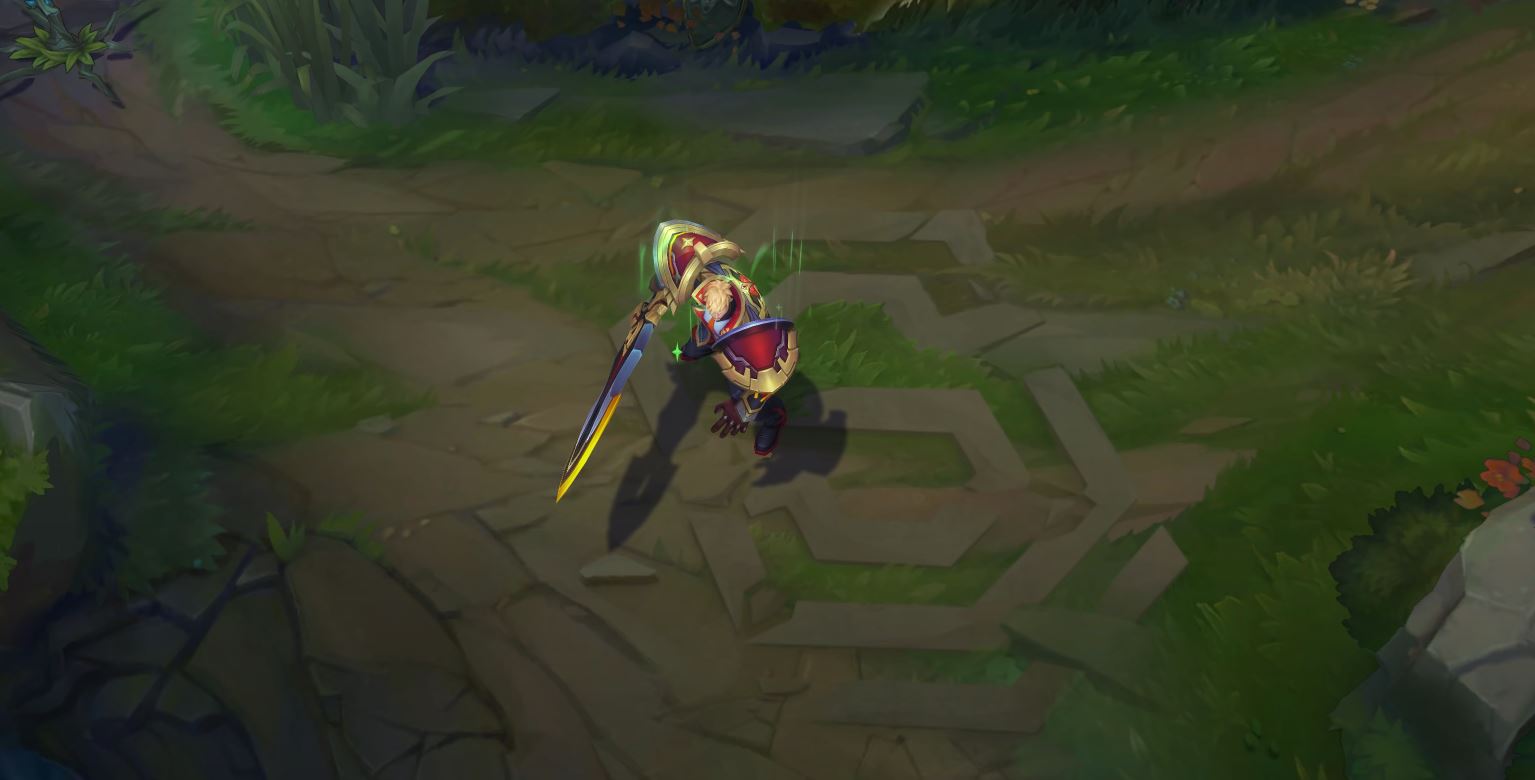 Visual Effects (VFX) and Sound Effects (SFX)
Preservance visual effect is slightly better than the basic one adding more detail to it. After using Decisive Strike, Garen's sword turns bright yellow with yellow electricity surrounding it. The improved strike leaves an orange/yellow mark coupled with a smoke effect.
Courage creates 4 large shields around the champion. While the buff persists, there is a purple visual on the ground with school insignia. During Judgement, Garen creates very polished orange/yellow circles around his axis with a bit of red. Upon striking a target, there is a sword visual hovering above their head, indicating that they're debuffed.
Demacian Justice summons a massive yellow/red sword to strike the opponent. At the moment of the impact, a massive dust cloud surrounds the target.
Animations
Garen has a few great emotes, doing pushups on one hand and performing this whacky dance. During Recall, the champion grabs a football, after which he destroys all the surrounding mechanical targets. His basic attacks leave a large orange/yellow splash and a metallic clang upon impact.
Pros
The sword looks awesome.
The designer didn't overdo it with intricate effects, which makes it great, in my opinion.
Finally, a Battle Academia skin where the outfit adds to the item.
Cons
Battle Academia Leona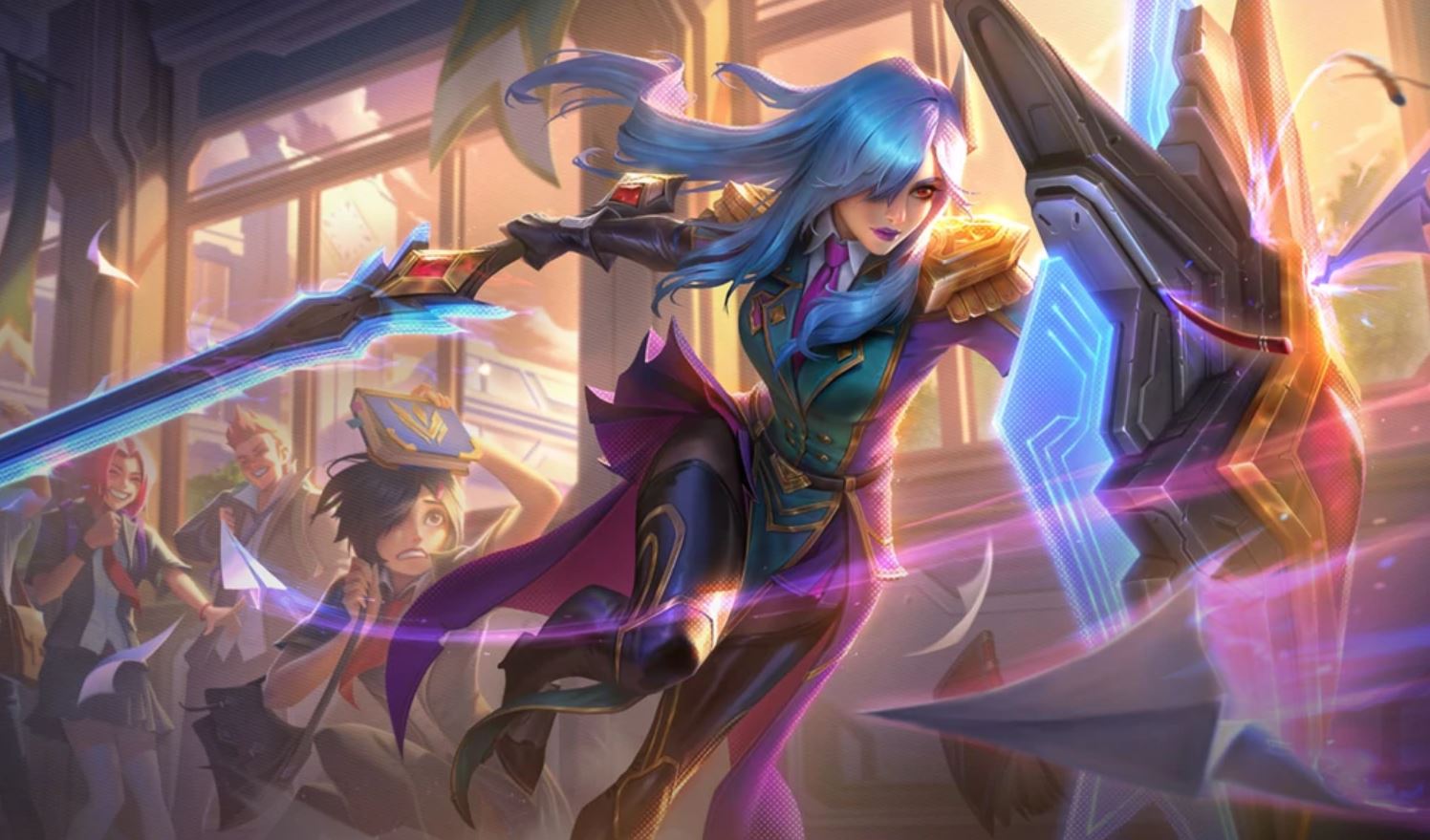 Price: 1,350
Skin Lore
Although very jovial by nature, Leona has a very dark side to her. She can quickly switch from a protective guardian to a bloodthirsty maniac. As a result, even the unruliest of students try to avoid her when she's mad.
Appearance and Model
Leona comes in turquoise, pearl, emerald, sapphire, ruby, rose quartz, citrine, and obsidian.
She wields a massive shield and a broadsword. Both of them have a dark metallic interior with blue glass edges. Furthermore, each one of these has a pink gem in the center with gold around it.
Leona wears black shoes with silver heels. She also has midnight blue leggings with knee protectors. Like most ladies of the Battle Academia collection, Leona has a skirt with a flounce. Her long coat goes from the shoulders all the way to the bottom; the combination of its blue exterior and red interior is simply amazing.
The frontal part of the garment is green, with numerous golden buttons. It falls down her waist almost like an apron. Below the coat, Leona wears a white shirt and has a red tie. Black arm sleeves, black gloves, and golden pauldrons complete this look. She has light blue hair with a futuristic pin.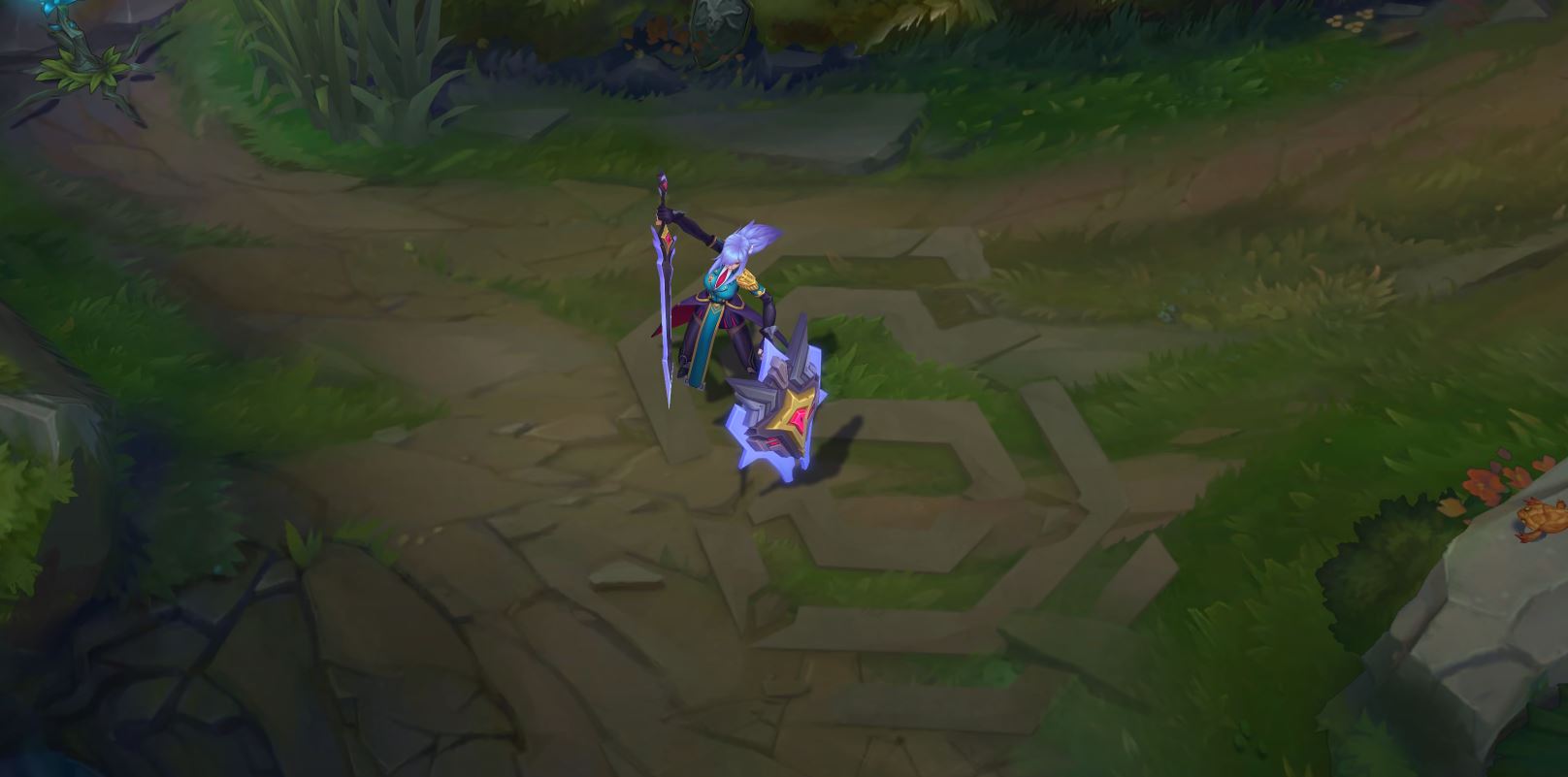 Visual Effects (VFX) and Sound Effects (SFX)
When using Shield of Daybreak you can notice a multi-colored light on her shield. When she hits an opponent, it creates a complex visual effect at the point of impact. You can also notice the Academia's insignia on top of an enemy's head.
As Leona charges Eclipse, you can see a blue outline around her. Once it reaches its maximum potential, the shield releases a charge around the character. There is also the school's insignia on the ground when casting this ability.
During Zenith Blade, an energy spear is cast towards a target leaving blue lightning behind it. Solar Flare ability creates a blue ring at the target spot. You can also notice purple/black orb in the center of the flare.
Animations
Like with other champions, Leona is surrounded by practice dummies while casting Recall. She easily disposes of them while reading a textbook. Auto-attacks create a blue effect at the point of impact. Her emotes are pretty boring and forgettable.
Pros
The sword and shield are simply incredible.
The outfit's color combinations are neat.
Cons
They could've done something better with the emotes.
Prestige Battle Academia Leona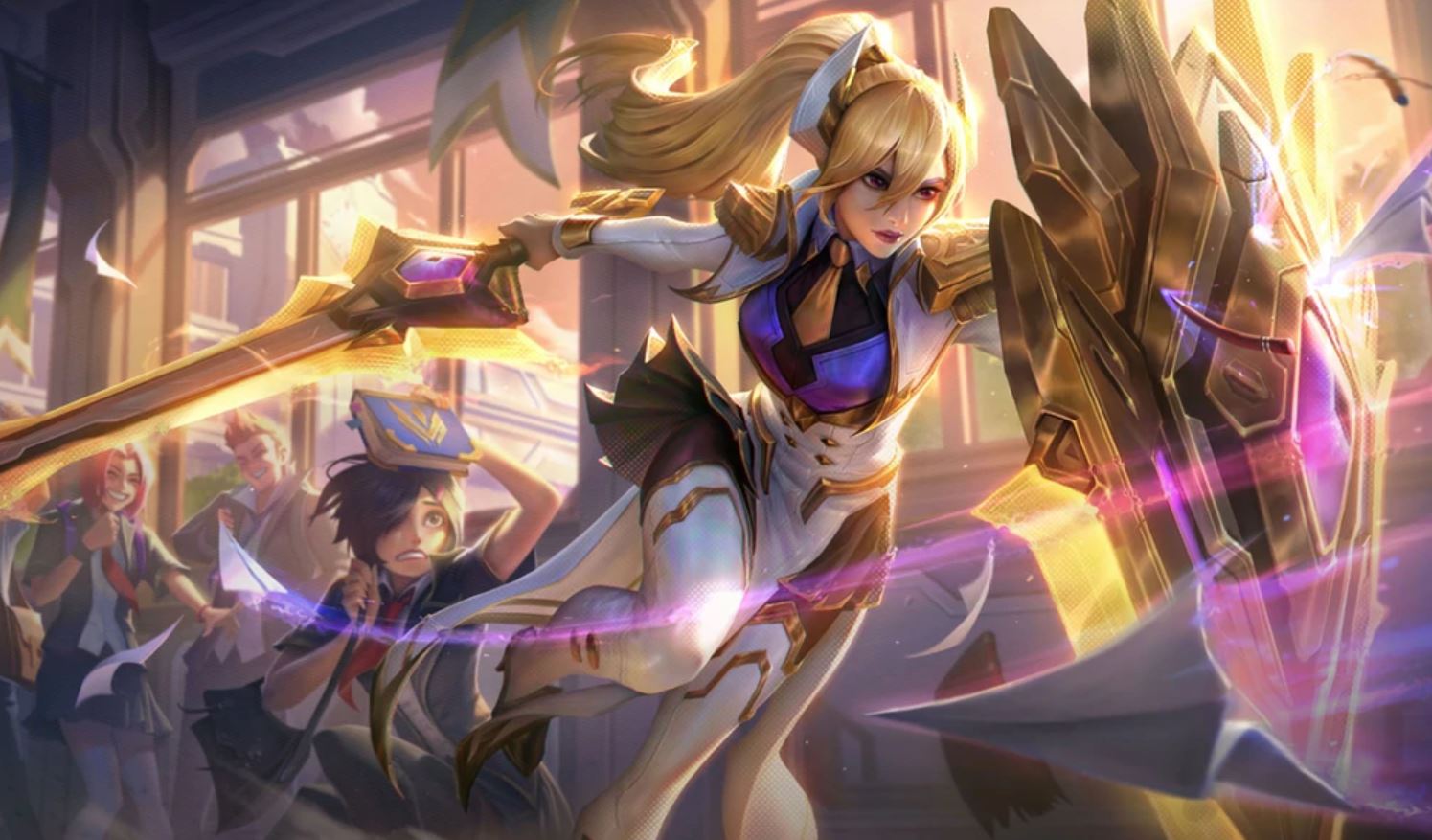 Price: 125 Mythic Essence.
Skin Lore
Leona was chosen as a representative for the inter-school battle tournament. Wanting to represent her team in the best way possible, Leona intensified her training preparing for all the challenges that such a competition brings. With bloodlust coming out of her every pore, she is ready to decimate all those who stand in her way.
Appearance and Model
Even though the regular Battle Academia Leona is a great skin, they somehow managed to make it even better.
Prestige Battle Academia Leona relies on white, gold, and purple color combination. Her shield and sword have white metal in the center with golden edges that gradually become light pink toward the bottom. Both weapons have similar pink eye emblems like the Battle Academia Leona skin.
For the most part, her outfit is white, with a bit of purple. Leona wears golden shoes, white leggings, a massive white robe with golden outer lines, a purple shirt, a yellow tie, ceremonial yellow pauldrons, and white horn pins in her hair.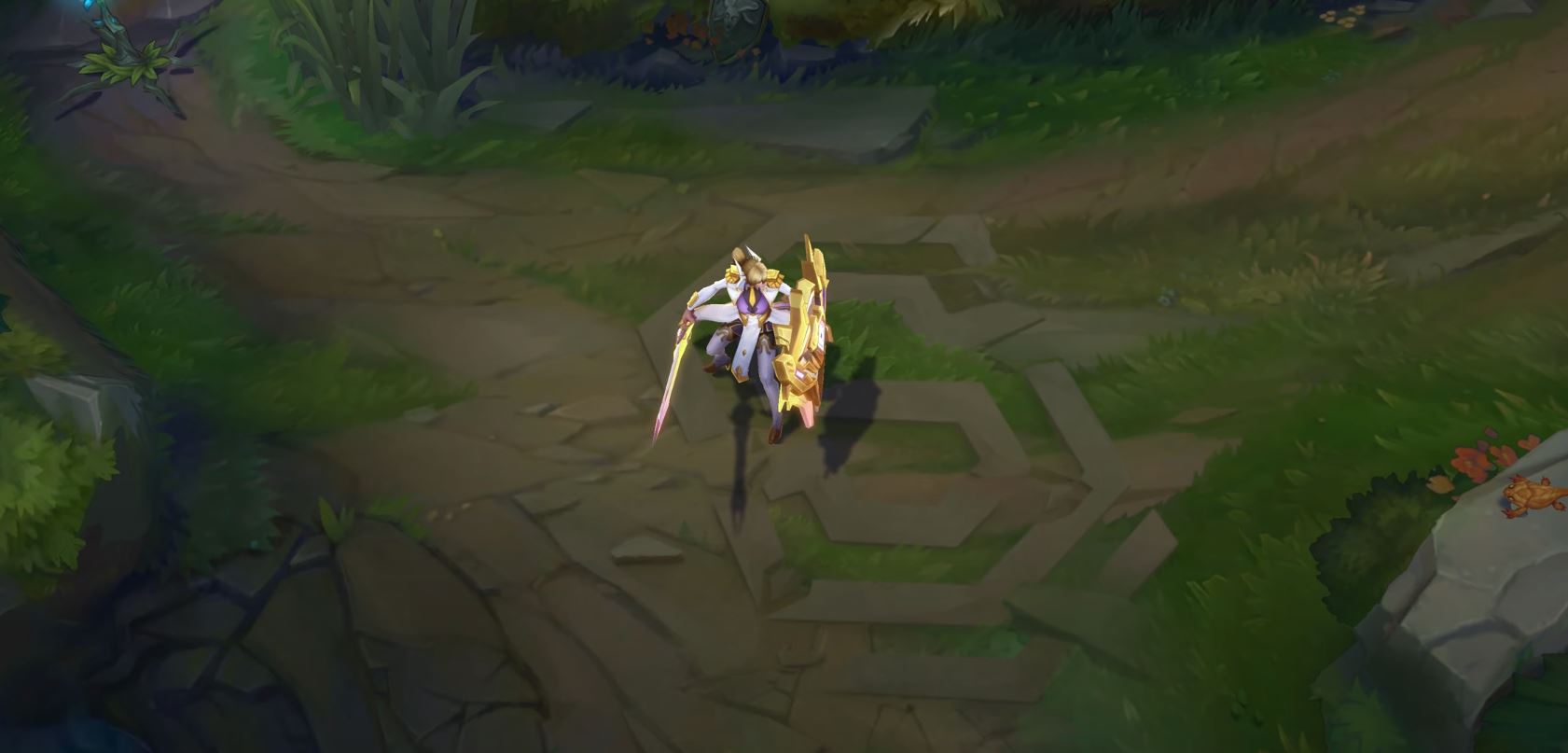 Visual Effects (VFX) and Sound Effects (SFX)
There are minor differences between Battle Academia Leona's visual effects and Prestige Battle Academia Leona's visuals. Basically, the main difference is that Prestige Battle Academia Leona utilizes pink and yellow colors instead of the blue/purple color scheme.
Animations
Similarly, her animations are the same as the ones for Battle Academia Leona. She is just using light pink and gold instead of purple and blue.
Pros
A major improvement compared to Battle Academia Leona.
Cons
Battle Academia Wukong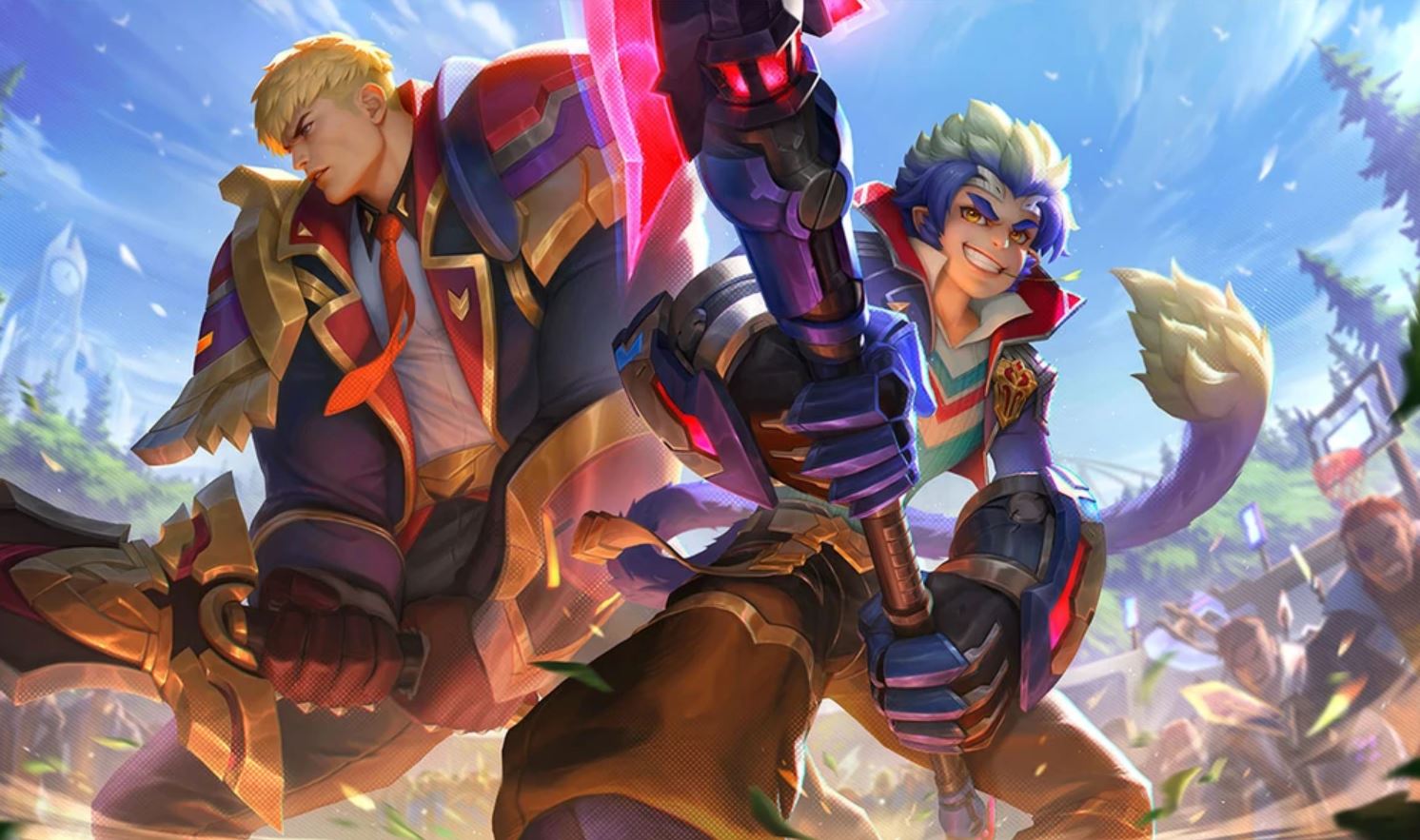 Price: 1,350
Skin Lore
Wukong always manages to get himself into trouble. This is why he was expelled from every school he ever attended. The champion finally ended in Labrys, not having any other choice. He is now a member of the renowned battle club and would probably cause mischief if there wasn't for Caitlyn monitoring his every move.
Appearance and Model
The skin comes in ruby, obsidian, meteorite, Catseye, emerald, sapphire, rose quartz, and pearl.
Wukong wields a long two-edged staff with red tips and a black shaft. The weapon has several nice details, looking sturdy and mechanical. He wears dark blue shoes that look like something from Disney's cartoon. The champion has long black pants that are baggie around the ankles. His tail and hair are blue with white tips.
Unlike most other champions from this collection, Wukong doesn't have a tie. He only has a turquoise shirt with white and red stripes around the collar. The champion has a belt with a golden buckle and gray straps. He wears a blue jacket and has massive blue mechanical arms with red and silver bits, a color combination that reminds of his weapon. The jacket has the school emblem on its left collarbone and back.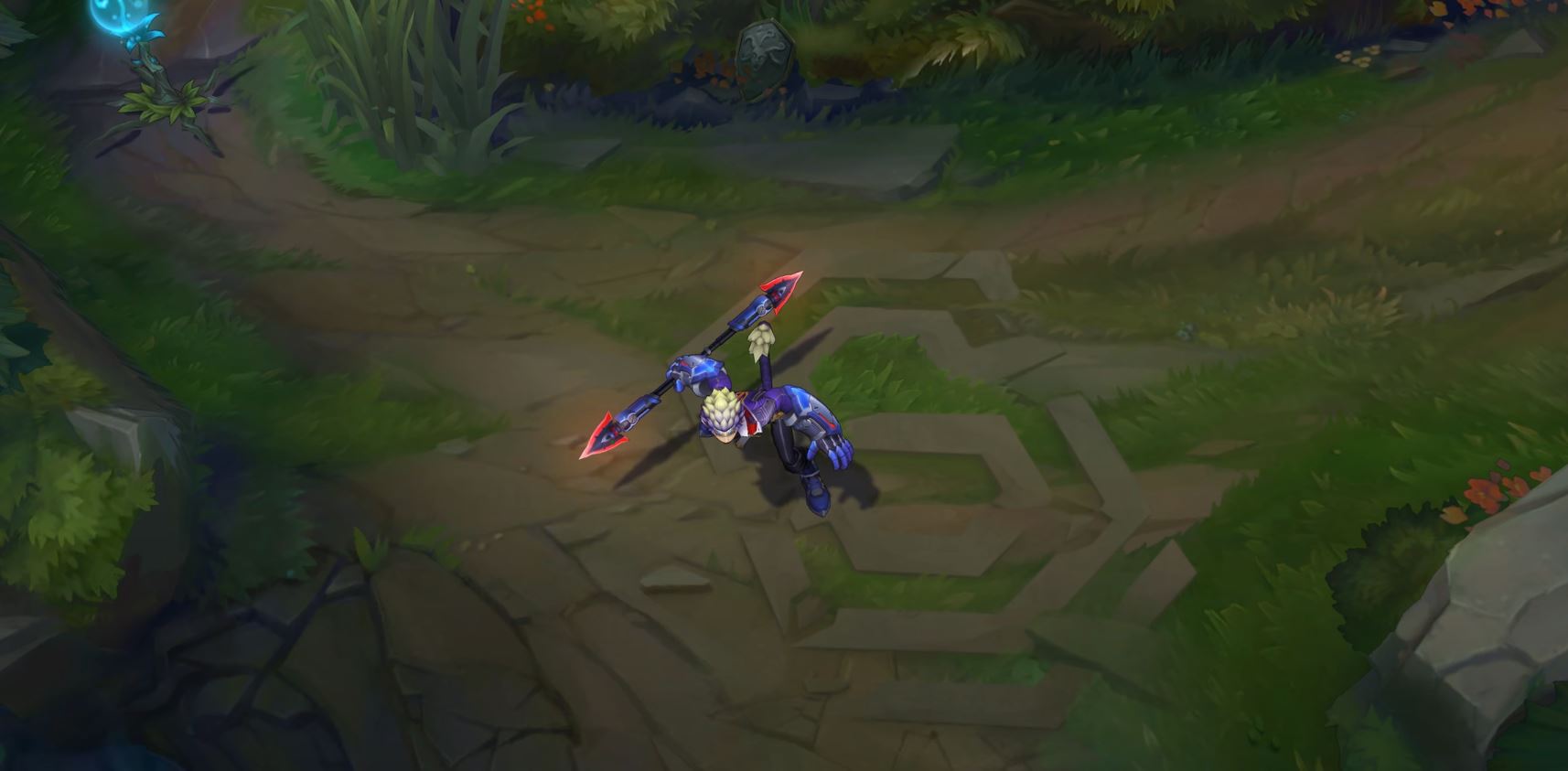 Visual Effects (VFX) and Sound Effects (SFX)
Crushing Blow charges his staff with orange lightning power. When he strikes an enemy, there is a large purple effect coupled with a smoke effect. While an enemy is debuffed, there is a red armor icon close to them. Warrior Trickster has the same visual appearance and basic strikes as Battle Academia Wukong. Upon expiring, the clone leaves a funky Wukong icon.
Unlike the default Nimbus Strike, where you can clearly see a cloud beneath the champion, this visual effect looks more like a dash leaving a purple/orange trail behind the champion. The Cyclone effect is dark blue and red.
Animations
The champion has a few funky emotes. In one of them, he extends the staff to heaven, while during the other one, he dances around it. When casting the Recall spell, Wukong plays a handheld console. During that time, he is attacked by numerous dummies, which he easily eliminates without stopping the game.
The character's basic strikes leave a purple trail and a yellow splash at the point of impact. During the Homeguard effect, Wukong flies around on a hoverboard.
Pros
Pretty cool skin with nice color combinations.
I especially like the hair and the tail.
Cons
I would like a bit flashier effect for ultimate.
Battle Academia Yone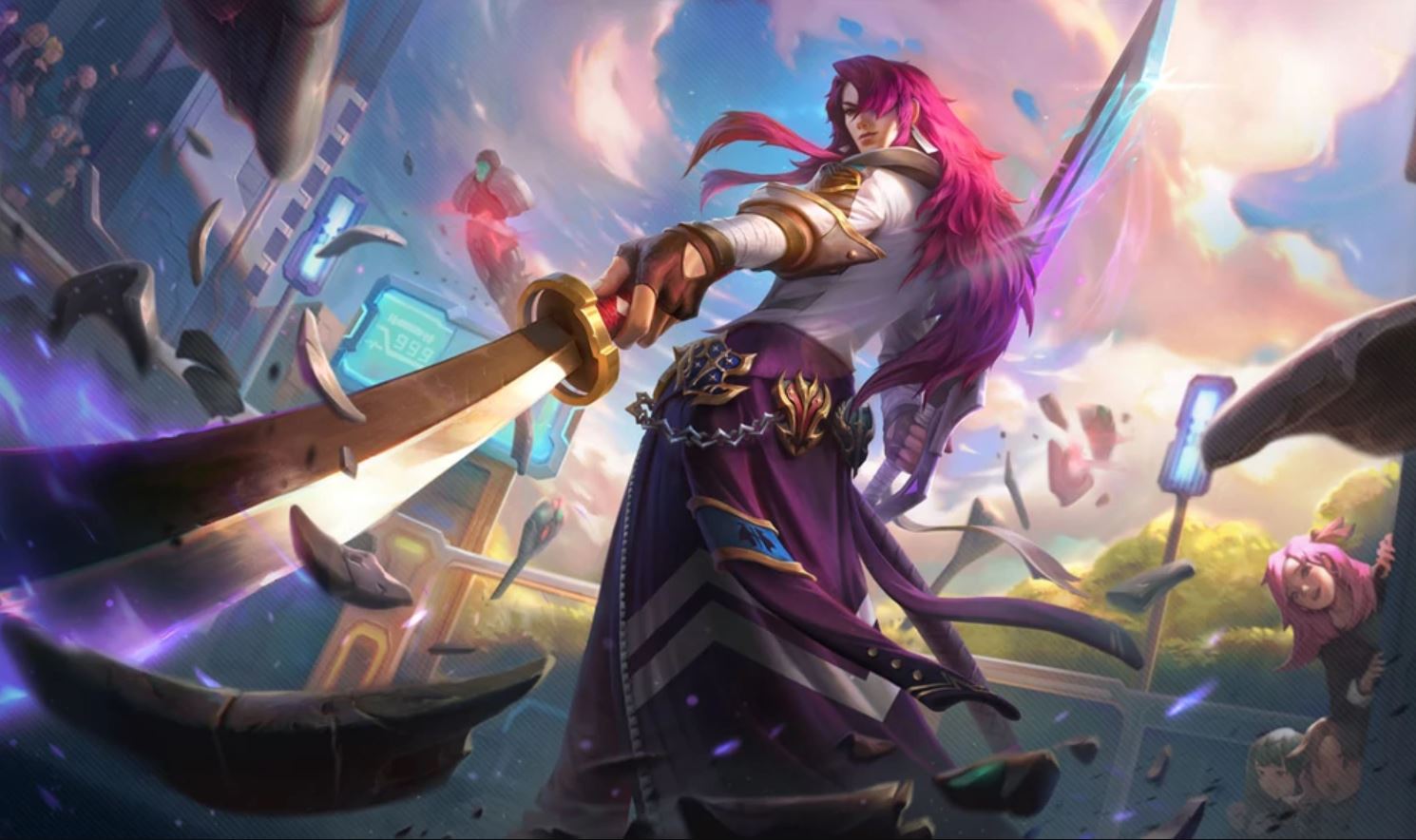 Price: 1,350
Skin Lore
Yone is a moody champion whose demeanor indicates that he wants to prove himself. All Academia members are well acquainted with the grudge that exists between Yone and his brother. Even if you just mention their relationship, it would cause Yone to burst into rage.
Appearance and Model
Yone comes in sapphire, amethyst, emerald, aquamarine, pearl, citrine, ruby, and obsidian color schemes. He wields a massive black blade with a turquoise tip and a few purple bits, and a second, common-looking katana. His outfit is somewhat different from other members of the Academia, but you can still notice the traditional white shirt and a school tie.
The champion has a purple shirt and black pants below that. Yone has an intricate chain belt with small emblems hanging off of it. He also has black gloves and long purplish hair.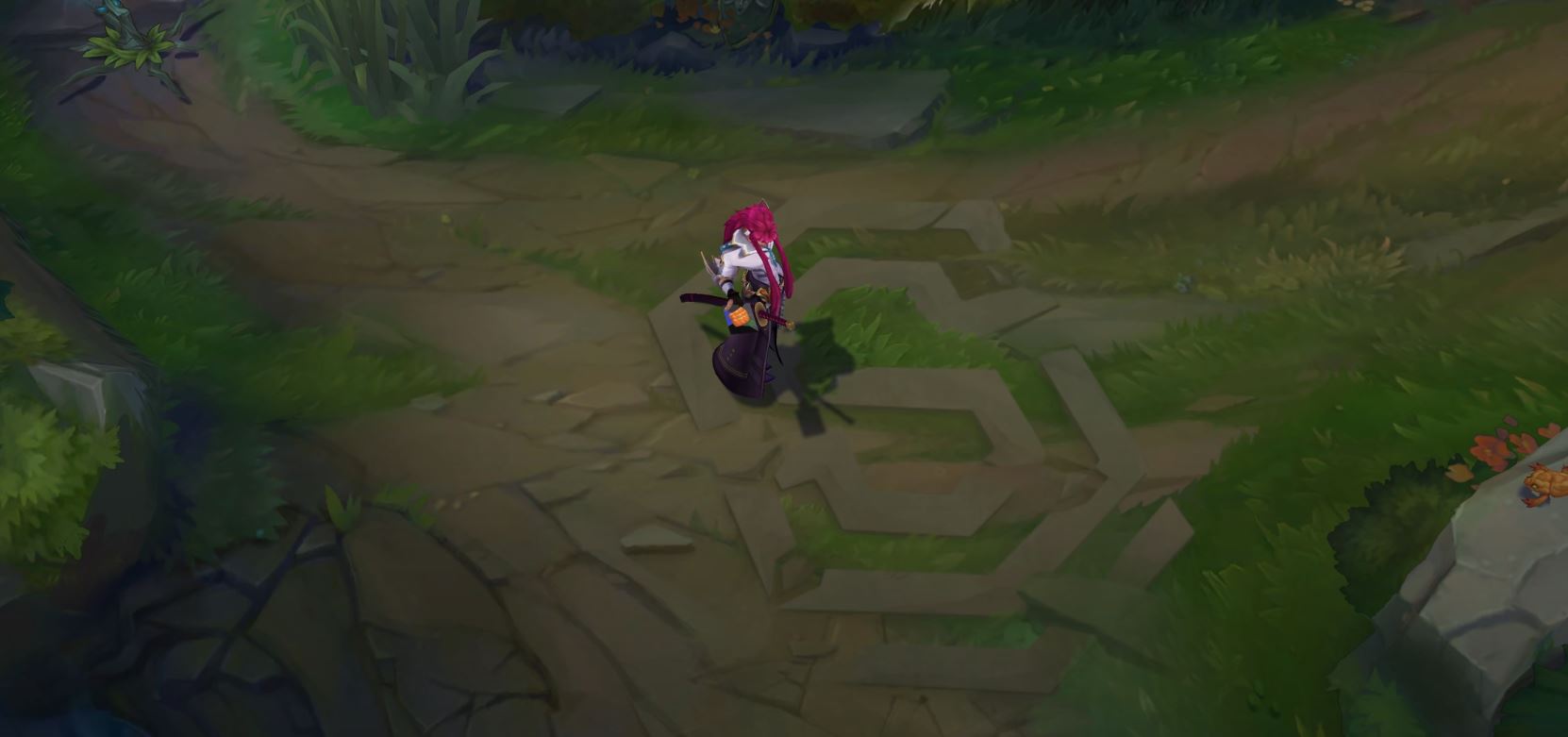 Visual Effects (VFX) and Sound Effects (SFX)
Way of the Hunter leaves a beautiful turquoise trail. Mortal Steel thrusts leave a turquoise trail. When the champion gathers enough stacks, there is a small turquoise cyclone beneath his feet. Upon triggering the charge, a turquoise wave appears in front of the champion, followed by a smaller purple trail behind him.
The Spirit Cleave effect is purple/turquoise with a light blue storm effect within the sword arc. After the strike, a blue shell appears around the champion. Yone's Soul Unbound relies on a similar color pattern. The champion turns turquoise/purple during the effects, the same color as his spirit. While striking an enemy, a yellow/purple ring with stars appears beneath both of their feet.
Fate Sealed created a purple/turquoise visual on the ground. After charging the attack, Yone surges forward, leaving dust in his wake and large, cross-shaped stars.
Animations
During the Recall spell, the champion dances around and destroys metallic dummies around him.
Pros
Great effects; I love the combination of turquoise and purple.
The outfit is a bit different compared to other skins from the set.
Cons
Once again, it feels as if the designers could've done more with the champion's clothes.
FAQs
Question: What are Battle Academia skins based on?
Answer: Battle Academia theme is inspired by various shounen anime shows. The best examples are Kill la Kill, My Hero Academia, but also any other series that features a school environment and a bunch of unruly kids with superpowers.
Question: How much do Battle Academia skins cost?
Answer: An average Battle Academia cosmetic costs 1,350 RP. This excludes a few cosmetics, such as Leona's Prestige skin, that comes at 100 Prestige Points, and Caitlyn's cosmetic, which costs 1,820 Riot Points. If you decide to purchase the whole set, that would total 9970 Riot Points.
Question: How old is Lux in Battle Academia world?
Answer: The champion was a 19-year-old during For Demacia storyline. She is a bit older in Battle Academia world, having 20 years.
Conclusion
Battle Academia might not be the best League of Legends collection, but it has a few gems. Overall, it is a nice purchase for all those who like the anime school theme. The collection has 13 skins, all in all, and most of them are priced at 1,350 Riot Points. However, you can also buy them as a bundle for 9970 RP.
Keep in mind that this set is far from revolutionary. A lot of effects resemble each other, especially when we're talking about basic strikes. Emotes have a somewhat underlying theme, and clothing pieces are, for the most part, dull. However, there are those who think that the collection is cool. In the end, it all comes down to personal preferences.