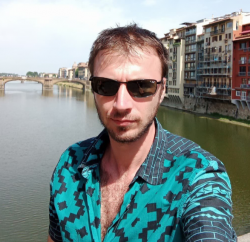 Latest posts by Stefan Stevanovic
(see all)
Veigar, the Tiny Master of Evil, is one of the oldest champions in League of Legends. He is a very potent mage who can decimate opponents within mere seconds.
Veigar can amass lots of ability power over the course of a game. He commands cosmic entities of unprecedented force, raining them down onto opponents' heads. While his offense is quite strong, the Tiny Master of Evil doesn't have an escape mechanism or anything else that would protect him from focused fire.
This character draws inspiration from World of Warcraft and, in particular, is meant to pay homage to one of the more influential guilds. The group was made of Gnome Warlocks and was called The Tiny Masters of Evil.
Key Info Up Front
Given how long the champion has been in the game, it makes sense he has a lot of skins. If we also consider the base skin, there is a total of 13 Veigar cosmetics. Despite his small stature, some of these items completely change the champion giving him a more intimidating look.
Like all skins in League of Legends, a lot of them are themed. You have seasonal ones such as Bad Santa Veigar or Veigar Greybeard (Lord of the Rings reference). However, if I had to pick my favorite, it would probably be Superb Villain Veigar. I simply love how naughty he looks with this one!
I will now review all of his skins based on the order of release.
Default Veigar Skin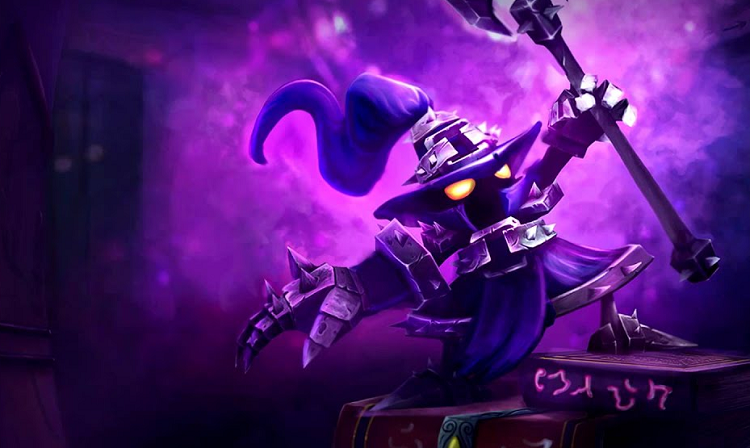 Skin Lore
Veigar was willing to make a sacrifice that only a handful of mortals would ever consider. Embracing the dark arts, this proud citizen of Bundle City always wanted to exceed the limits of Yordle magic. He found the desired knowledge in ancient texts that were hidden for millennia.
Now wielding the power of the universe, Veigar is always in conflict with himself. While perceiving himself as an evil entity, there is a deep-rooted morality in his heart.
Appearance and Model
Veigar was meant to resemble the black mage from the Final Fantasy series. The model was later on reused for white mage skin and also had an impact on curling cosmetics.
The champion has a purplish dress that stretches from his neck to his knees. Spikey pauldrons, gloves, and shoes provide a more sinister look. He has a blue/purple wizard hat to match his dress, and you can barely see his glowing yellow eyes beneath it.
As for the weapon, Veigar wields an enormous axe. Although it looks like a two-hander, the champion can easily carry it in one.
Visual Effects (VFX) and Sound Effects (SFX)
Base effects
Animations
Base animations
Pros
The classic Veiger skin is really nice. It goes well with the color of his spells, and the whole theme synergizes well.
If you're a Final Fantasy fan, this one will definitely bring flashbacks.
Cons
Compared to purchasable items, this one looks really edgy and unpolished.
White Mage Veigar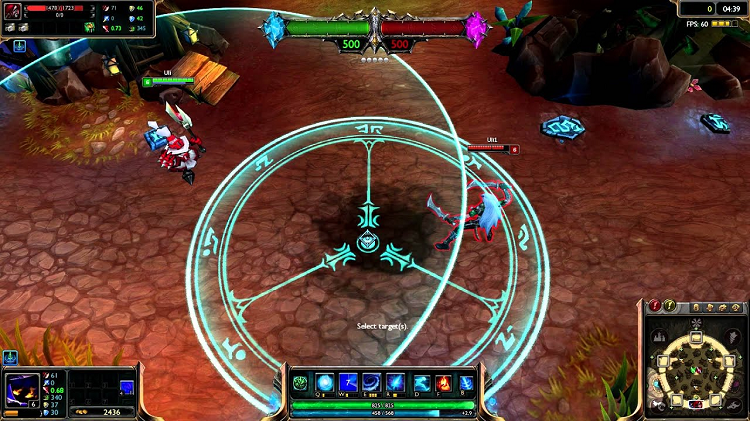 Price: 390
Skin Lore
Trained in a holy cathedral, Veigar perceives himself as a dastardly villain who will one day take over the world. However, his soul is dedicated to healing and protecting the weak. Despite saving so many lives, he still believes himself a bad guy.
Appearance and Model
This is a rehash of the base skin. Veigar wears the same spikey gloves, shoes, hat, and axe. The only difference is that instead of gray and blue/purple, he now has white and red.
It is worth mentioning that this cosmetic looks slightly better than the original one. Red details are especially noticeable and make a nice contrast against white. The white/red tip of the axe also helps liven Veigar. Keep in mind that while this isn't the same design as that of White Mages from Final Fantasy, it utilizes the same color combinations.
Visual Effects (VFX) and Sound Effects (SFX)
Base effects
Animations
Base animations
Pros
This is one of the cheapest cosmetics in the store. In that sense, it is a good way to refresh your Veigar without having to spend too much.
The color combination looks a bit better than that of base skin. However, it doesn't follow the overall champion theme as the original design.
Cons
It doesn't offer much compared to the original cosmetics.
White color takes from the edgy design.
Curling Veigar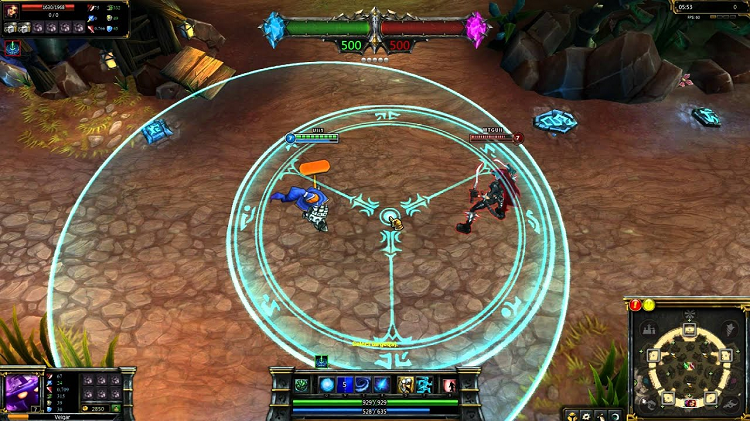 Price: 520
Skin Lore
Curling is a straightforward winter activity where players slide objects on the ice, trying to push them towards the goal. Although it doesn't make much sense for Veigar to like this sport, he still does it.
Appearance and Model
Although there aren't many curling fans in the world, we can't deny that this design looks really cool. The only things that Veigar retained from the base model were his spiked gloves and shoes. Instead of the blue mage dress, he has a blue/yellow/white curling outfit. His evil eyes are still protruding beneath the hat. However, this hat is much less menacing than the original one.
The best thing about the model is his new weapon. Yellowish broom replaces the old axe. While this might seem a bit wonky, it makes for a great playing experience. In the end, would you rather be hit with a projectile from an axe or from a broom?
Visual Effects (VFX) and Sound Effects (SFX)
Base effects
Animations
Base animations
Pros
Using a broom to shoot magic is simply incredible.
The uniform is also very cool, making the character look a bit thinner.
Cons
For some people, this will be too much of a ludicrous concept.
Although Veigar's base skin isn't necessary "tough," this is even less intimidating.
Veigar Graybeard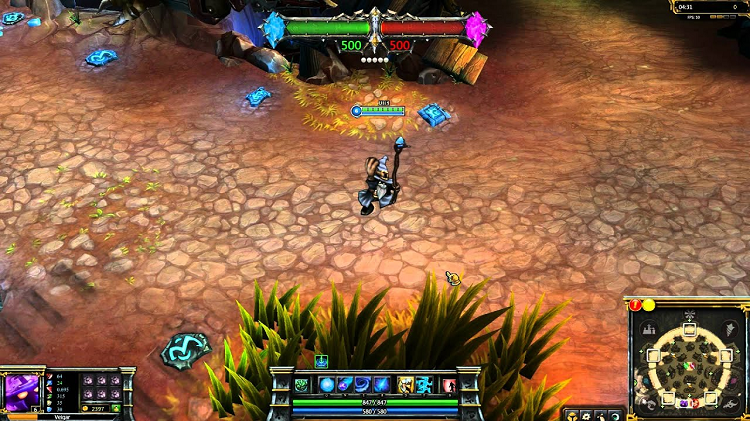 Price: 750
Skin Lore
You will encounter this mage during the earliest phases of Riftquest. And while Veigar Graybeard does seem helpful, you will quickly realize that he's the story's main antagonist. However, this is something that will be obvious to most players.
Appearance and Model
If you were to create a mage, pointy shoes up, this is what he would look like. In my opinion, this is what the basic skin should've looked like. Aside from the gray dress stretching from his collar to his toes, Veigar has a hat to match. Instead of the spikey gloves, he now wears brown leather wizard gloves, which probably protect his hands from casting accidents.
Finally, the character receives a more mage-like weapon instead of the previous axe. While there is something cute about the big pointy axe, most people expect a wizard with a staff. This casting artifact is gnarly as if made from real wood and has a blue crystal on top.
Visual Effects (VFX) and Sound Effects (SFX)
Base effects
Animations
Base animations
Pros
What you would expect Veigar to look like.
He has a Doran Ring in his left hand, which is a nice reference to Lord of the Rings.
Much more polished, without pointy ends.
Cons
Some people might still prefer the evil look. The same goes for his axe.
Leprechaun Veigar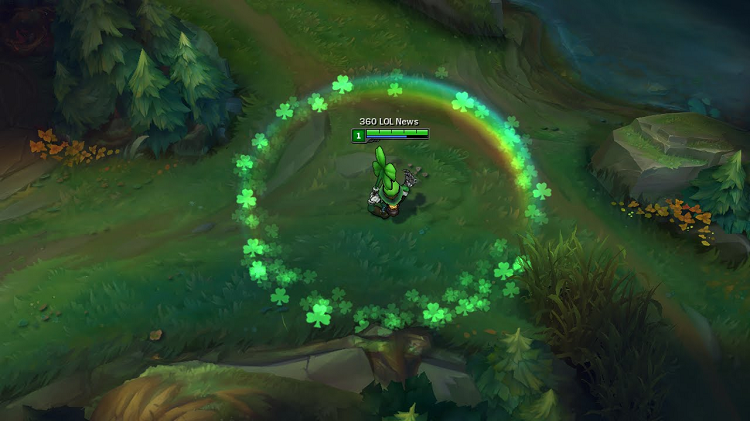 Price: 520
Skin Lore
Despite old wife's tales, Veigar doesn't bring luck, nor will he give you gold. Instead, he will grant you a swift, painful death without accompanying the rainbow. Then again, Veigar is not a Leprechaun but an evil magician.
Appearance and Model
Let's start with a critique. The designer left the old, gray, spikey gloves, which look so bad with this model. Although they are a good reminder that Veigar is evil and shouldn't be trifled with, the glove choice speaks volumes of his poor fashion style.
Despite everything, this is a really fun, entertaining model. Axe is replaced by a massive four-leaf clover. The champion wears a bag of gold on his back and has long blue and white socks.
The skin was released during the celebration of Saint Patrick's Day in 2011. It is a part of the Fables theme (other champions include Dark Valkyrie Diana, Muse Sona, Ghost Bride Morgana, Sasquatch Nunu & Willump, Loch Ness Cho'Gath, River Spirit Nami, Siren Cassiopeia, and Valkyrie Leona)
Visual Effects (VFX) and Sound Effects (SFX)
There are a few new animations that add flavor to this skin. Instead of the standard Baleful Strike, the champion shootst clovers. Dark Matter has a rainbow tail, while Event Horizon has clover particles.
Animations
Base animations
Pros
Great for those who like to drink when playing League of Legends.
Due to animation, the magic hits might seem weak. This creates almost an illusion that can provide in-game benefits. Keep in mind that spells are as strong as ever, and the visuals can lull enemies into a false sense of security.
Cons
Spiked gloves are completely out of place.
Somehow, it doesn't feel good when you cast spells from a four-leaf clover.
Baron Von Veigar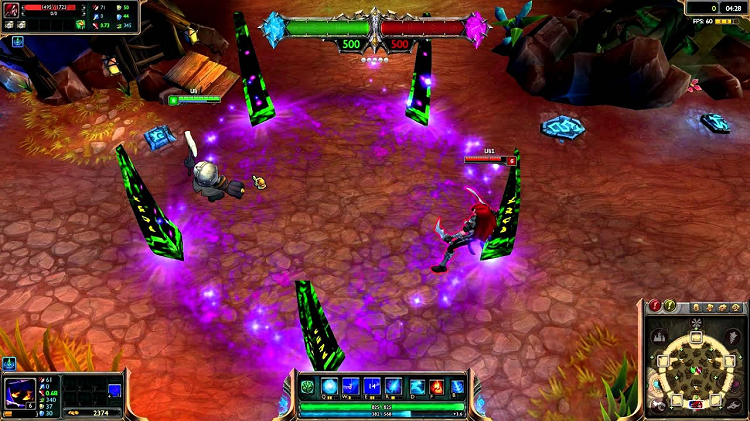 Price: 975
Skin Lore
Veigar is recognized by everyone as the greatest power in the New Bandle Republic. Despite his evilness, he still gives back to the community. The tyrant created a water purifier for his citizens, as well as an electric grid that is insidiously evil like Veigar himself.
Appearance and Model
As you can presume, Veigar has an appearance of an old German soldier. The outfit is a reference to the old German war outfits, with a big pointy helmet and sturdy gray trench coat.
The champion has a cane-line weapon and aviation scarf, looking as if he's going to board a fighter airplane any time now. On top of that, he also has a classy monocle and a ring to signify his power and status within the New Bandle Republic.
The cosmetic is part of the Road Warrior series (Hyena Warwick, Junkyard Trundle, Blast Zone Heimerdinger, Apocalyptic Brand, Badlands Baron Rumble, Ruthless Parthenon, Road Warrior Miss Fortune). Veigar has the same theme as Corki.
Visual Effects (VFX) and Sound Effects (SFX)
Base effects
Animations
Base animations
Pros
A throwback to Friedrich Barbarossa and old German military uniforms.
It makes Veigar look really authoritative.
Cons
It is quite expensive for a cosmetic that doesn't bring anything new.
Despite the elegance, it makes Veigar look weak. The weapon is especially troublesome as it doesn't provide any intimidation factor.
Superb Villain Veigar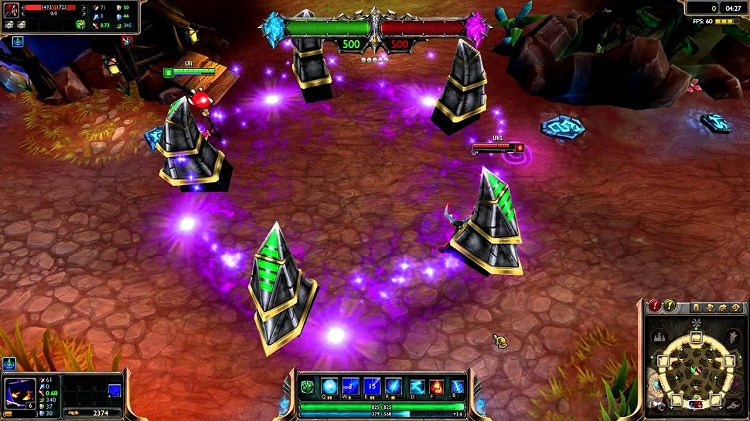 Price: 975
Skin Lore
This time, Veigar is a financial villain, not necessarily a military one. Like all comic antagonists, he is constantly plotting against the local populace, and as soon one of his plans falters, he creates a new one to take its place.
Appearance and Model
As mentioned, this is my favorite skin. Superb Villain Veigar works on several levels.
First, instead of his old, crummy gloves, he has one sturdy metal gauntlet that feels much stronger, much more authoritative. He wears a purple velvet glove, on the other hand, showing both sophistication and brutality.
Veigar's whole outfit is amazing. Purple coat, red shirt, tie, red/purple cape, and red-purple cylinder are everything that a true villain could ever need. He also has macho, industrial mustaches that look nice with his intimidating yellow eyes and monocle.
Many people believe that this skin is a reference to Total Biscuit, a famous YouTuber, but this isn't actually the case. Superb Villain Veigar's scepter is another highlight of the cosmetic. It is meant to look like an item from World of Warcraft called Runed Arcanite Rod.
The cosmetic is a part of the Silver Age collection (Phoenix Quinn, Super Teemo, Super Kennen, Augmented Singed, Bioforge Darius, Toxic Dr. Mundo, Feral Warwick, Chemtech Tryndamere, Infiltrator Irelia, Cryocore Brand).
Visual Effects (VFX) and Sound Effects (SFX)
When casting Event Horizon, the regular animation will change into a pyramid-like object that is very similar to the claw on his hand.
Animations
Base animations
Pros
Coolest skin you can buy.
So many things going on; almost everything on this skin is different from the base model.
The gauntlet/glove combo is pretty awesome, and the same goes for mustache and monocle.
Cons
I would personally love some animations to go with it.
Bad Santa Veigar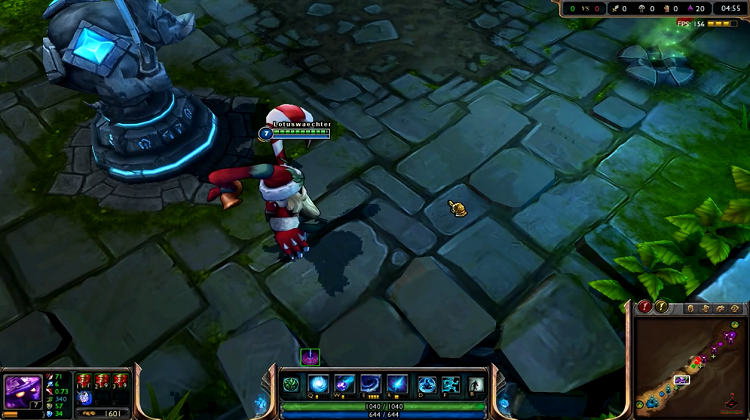 Price: 975
Skin Lore
There is a reason why Santa Veigar is referred to as "the Evil One." Unlike other jovial Santas, this one is hellbent on destroying Christmas and, after that, all other holidays.
Appearance and Model
Bad Santa Veigar probably pays homage to Grinch. The cosmetic was released in 2012, during Snowdown Showdown, together with Snow Day Ziggs, Slay Belle Katarina, Dark Candy Fiddlesticks.
One of the things that struck me was Veigar's new red glove. It has metal claws that remind me of Freddy Kruger. As for the other clothing items, Bad Santa Veigar resembles the traditional Christmas Santa, having a red coat, red trousers, and green, elvish pointy shoes.
The champion has mistletoe on his hat, serving as a centerpiece of his red Santa hat. Two bells at the tail-end of the hat are a nice detail and add to the jovial feeling. Instead of the axe, he has a sharp candy cane that somewhat resembles a scythe.
Visual Effects (VFX) and Sound Effects (SFX)
Instead of the regular Baleful Strike, you cast cookies in the form of a Christmas tree. Primordial Burst looks like a cool holiday present, Event Horizon landing area has lights and trees, while Dark Matter changes its colors and appearance.
Animations
When you cast Recall spell, Veigar will hop into a chimney and appear on the other side.
Pros
If you like holidays and everything that comes with them, this will be the perfect cosmetic for you.
The candy cane looks normal at first glance, but if you have a closer look, you might notice how sinister it actually is.
Cons
Hard to say anything bad about the skin.
Final Boss Veigar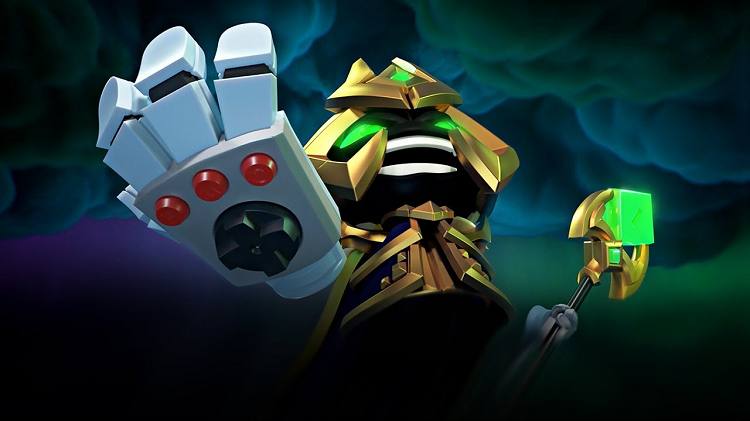 Price: 1,820
Skin Lore
Back in the day, Veigar was nothing more than a minor boss within Arcade World. After changing the world's code, he managed to accrue an army by summoning all other bosses to his side. Together, they try to eliminate enemy champions and bring forth the real Game Over.
Appearance and Model
In many ways, Final Boss Veigar looks like something from Minecraft. His staff resembles a cubical eye of Sauron, and the champion has a gaming glove to boot (a reference to NES Power Glove accessory). The color scheme is also nice, combining green/blue and gold. In a way, Veigar looks like a minor deity with this outfit.
Instead of the regular headwear, he has something that looks like a combination of a helm and a pointy mage hat. There is a golden reinforcement around his face extending into a long, pointy hat with a gold end.
There are a few other references/tidbits worth mentioning. Veigar's hands and legs are floating, thus resembling Rayman's limbs. As for the new voice, it is very similar to Perona 4 Shadow Selves.
The cosmetic is part of Arcade: Battle Bosses series (Battle Boss Qivana, Battle Boss Yasuo, Battle Boss Malzahar, Battle Boss Brand, Battle Boss Blitzcrank, Battle Boss Ziggs)
Visual Effects (VFX) and Sound Effects (SFX)
Dark Matter spell will spread different pieces from Tetris. Primordial Burst is replaced with a binary code box, and Baleful Strike is used to refer to Zelda's Wizards Aghanim.
Animations
When casting recall, Veigar will use a code that is very similar to Konami code pressing buttons Up, Up, Down, Down, Left, Right, Left, Right, B, and A.
Pros
Very luxurious and unique, Final Boss Veigar skin references various games from the past.
Despite the fact that the designers focused on small game references, the outfit also looks really nice.
Cons
You might argue that this skin doesn't have as many details as some other Veigar cosmetics. Furthermore, his dress and hat look somewhat plain.
Omega Squad Veigar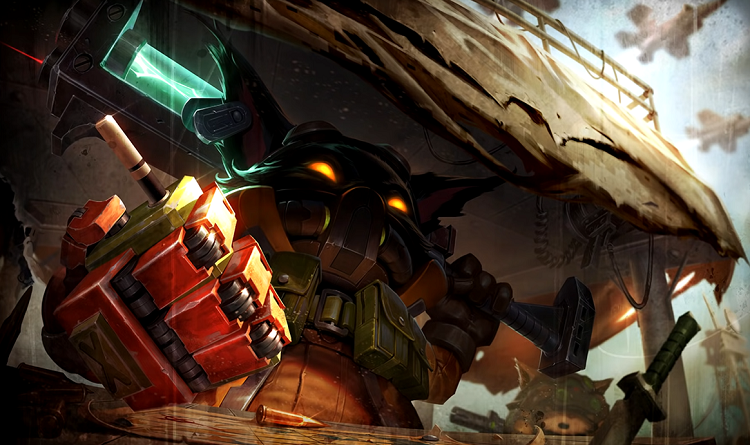 Price: 1,350
Skin Lore
Omega Squad Veigar is used to calling pinpoint strikes whenever he suffers a minor injustice. Even when there is no good reason, he will cause major detonations just for the hell of it.
Appearance and Model
If you're looking for something really badass, it doesn't get much better than Omega Squad Veigar. Completely changing his original appearance, the new skin puts a gun into Veigar's left hand and a detonator in his right. The champion can alternate between tanzanite, sapphire, and catseye. Like with many Veigar skins that I like, the character doesn't have two same gloves, but instead, a heavier right glove and a lighter left one.
Veigar has dope binoculars, and you can even see his ears. There is also an ammo belt, a breathing mask, and a bunch of cords going into the back of his head. The other Omega Squad members are Omega Squad Fizz, Omega Squad Tristana, Omega Squad Twitch, and Omega Squad Teemo.
Visual Effects (VFX) and Sound Effects (SFX)
Given that Veigar no longer has the standard weaponry, he relies on his trusty pulse rifle for burst damage. Baleful Strike and Primordial Burst have similar pulse animations, with the main difference being that Primordial Burst is slightly thicker.
Instead of Dark Matter comet, the champion will call for an airstrike dropping a bomb on the position. Event Horizon borders are swapped with a big, thick electric grid to complete this set of effects.
Animation
Instead of the standard recall, Veigar will call for a helicopter extraction. Instead of the standard wards, Veigar will place movement detection sensors.
Pros
Similar to Bad Santa Veigar, this cosmetic completely changes how the champion feels and plays.
Great for all gamers who love action heroes.
Recall animation is especially awesome.
Cons
It might seem goofy at times (then again, most skins are meant to be goofy).
Elderwood Veigar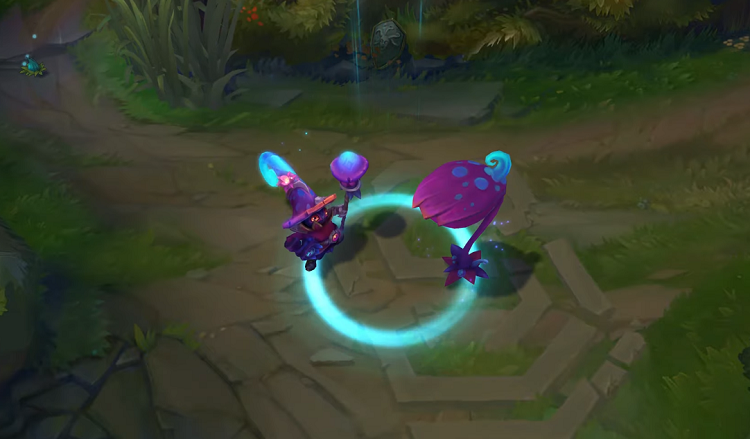 Price: 1,350
Skin Lore
Despite the increasing impact of the Coven, there are still those who haven't succumbed to its influence. Unfortunately, the individuals who are still intact are regarded as some of the most dangerous.
Goblin Veigar is perhaps the best example, relying on his hallucinogenic substances to bring forth chaos and disruption of natural processes.
Appearance and Model
For the most part, this design is inspired by some of the models from Zelda, including Skull Kid and Majora. Elderwood Veigar is just one of numerous cosmetics from the Elderwood series (Elderwood Rakan, Elderwood Hecarim, Elderwood Bard, Elderwood Soraka, Elderwood Gnar, Elderwood Ahri, Elderwood Azir, Elderwood LeBlanc, Elderwood Xavah, Elderwood Ornn, Elderwood Rek'Sai, Old God Malphtite, Old God Nocturne, Old God Ivern, Emerald Taric, Old God Warwick).
The best way to describe Elderwood Veigar is to compare him with an overgrown mushroom. His right blue hand looks like a spiritual entity with a blue gem on top of it. His weapon is a long staff decorated with a big oval mushroom on top.
If I were to choose a centerpiece of this skin, it would have to be Veigar's hat. Mixing blue, purple, and orange, the piece has small blue spots and a smooth transition from orange to light purple. The hat is curving backward and has a beautiful flower on top, showing us that Veigar knows how to match colors.
Even his face has changed. Instead of big, yellow eyes, the champion now has round orange eyes with purple outlines. To round it up, the skin features a mushroom pouch that Veigar wears proudly on his back. As for chromas, there are nine colors to choose from.
Visual Effects (VFX) and Sound Effects (SFX)
Event Horizon summons a ring of flower-trees surrounding an enemy champion caught within. Dark Matter is turned into a flowering bomb, while Baleful Strike and Primordial Burst become purple projectile of different sizes.
Animation
Before recalling, Veigar will summon a massive flesh-eating plant that will start tossing the champion around, ultimately teleporting the poor mushroom lord back to base.
Pros
Fresh, jovial, and light cosmetic.
The color schemes are much more relaxing compared to the champion's original outfit/effects.
Cons
Furyhorn Cosplay Veigar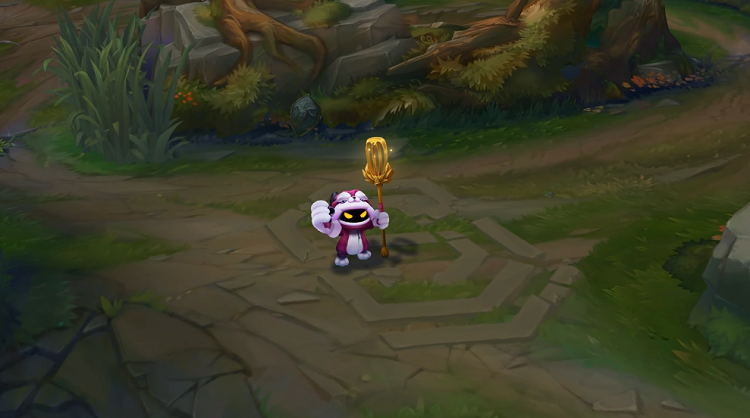 Price: 1,350
Skin Lore
N/A
Appearance and Model
This is a part of one of the largest skin series in League of Legends. Furyhorn Cosplay Veigar is categorized as the Disguise theme. The designers also used it to commemorate 2020 April Fool's Day alongside Pajama Guardian Cosplay Urgot and Pengu Cosplay Tristana.
The item drew inspiration from Teamfight Tactics, to be precise, Furyhorn. If you're looking for a unique cosmetic that is completely different from base skin, it doesn't get better than this. Furyhorn Cosplay Veigar has barely any similarities with the base skin.
Instead of his mage outfit, the champion wears a big cat onesie with an enormous right claw. With his menacing yellow eyes flashing from inside the cat's head, it is clear that Veigar has some evildoery in mind. The feline suit combines pink and white colors. As you can presume, the animal's feet, belly, and tummy are white, while the rest of the body is pink. The suit also has dark horns to boot.
Instead of the traditional axe, Veigar wields something that is best described as an oversized spatula (or perhaps oversized fly swatter). This is crazy on so many levels, yet, it gives the champion a completely distinct feeling. You can choose between 8 chromas, including citrine, emerald, rose quartz, aquamarine, obsidian, tanzanite, pearl, and ruby.
Visual Effects (VFX) and Sound Effects (SFX)
Event Horizon summons a ring of spatulas (similar to Veigar's weapon). Dark Matter drops a plush cat toy on top of enemy heads while Baleful Strike calls forth a blast of yellow energy. Primordial Burst is probably the most intimidating of all effects sending forth an enormous energy-infused spirit cat.
Animation
Before recalling, Veigar calls forth a ginormous feline that ultimately drops on his head before carrying him back to the fountain.
Pros
Perhaps the most fun of all Veigar skins.
You should probably get this one if you have a car.
Cons
Spatula barrier looks lackluster, especially if we compare it to some other Event Horizon effects on other skins.
Astronaut Veigar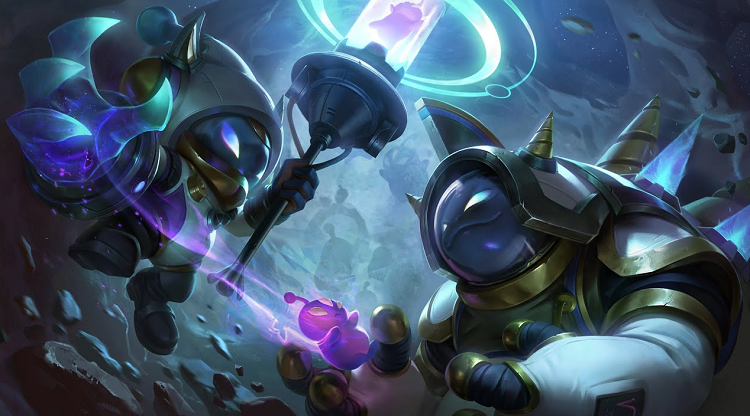 Price: 1,350
Skin Lore
Once proud scientist, Veigar had no fear of venturing forth into the dark unknown. But upon his return, this champion was somehow altered.
Appearance and Model
Astronaut Veigar is a part of the astronaut series together with Astronaut Poppy, Astronaut Rammus, Astronaut Corki, Astronaut Bard, Astronaut Gnar, Astronaut Teemo, Astronaut Maokai, and AstroNautilus.
The champion has an impregnable white/light blue suit meant for space travel. He has sturdy space boots and gloves, with right his right hand being noticeably puffy and purple, indicating space contamination. Instead of axe, staff, or rifle, he has a completely new weapon that is best described as a space stick.
At the top of his helmet, Veigar has an antenna. There are also a few other notable details, among others, a pouch on his back, which shelters a small purple, three-eyed alien. When the champion recalls, you can notice that he's turning regular meeps into their corrupted variant. When the champion dies, his energy gauntlet will also perish with him.
Visual Effects (VFX) and Sound Effects (SFX)
Baleful Strike is now an energy globe that passes through enemies. Dark Matter animation summons a corrupted meep onto a target area (you can even see a meep icon before the spell strikes).
Event Horizon got the coolest effect, replacing the regular pillar with aliens flying their tiny spaceships. Primordial Burst effect is also incredible. Veigar will send forth a spaceship with one of his newfound friends.
Animation
Veigar staff has a nice circular effect around it. The same can be said for his gauntlet. Recall animation is altered, and the champion will mutate meeps while also surrounding himself with space rock. His base projectile becomes a sharp purple/green energy arrow.
Pros
Perhaps the most unique ability animations. They added small spaceships to everything, making spells really funky.
The color schemes are light, relaxing, but also engaging.
Cons
Abilities are so colorful that they might affect your focus.
FAQs
Question: What's the Best Veigar Skin?
Answer: Prior to season 12, there was a small poll ranking all Veigar skins. According to it, Omega Squad Leader received the most positive votes, followed by Final Boss Veigar and Bad Santa Veigar.
However, you should check all of them and see which ones suit you the best. Given that these are esthetics, it comes down to your personal flavor.
Question: How to Get Free Veigar Skin?
Answer: In order to get one of these bad boys, you have to buy Premium Event Pass. However, that's not all. You also have to level it up to 30 and challenge Final Bos Veigar.
Question: What Color is Veigar?
Answer: Veigar's default skin features gray spikey gauntlets and shoes, with a blue/purple hat and outfit and a large, oversized axe.
Conclusion
If you love playing Veigar, you should definitely consider purchasing one of his skins. There are a lot of good choices. My personal favorite is Superb Villain Veigar, but each one of us has its own preference. You also can't go wrong with Astronaut Veigar, Bad Santa, or most of these other skins.
Some of the most underwhelming cosmetics are Curling Veigar, and White Mage Veigar.