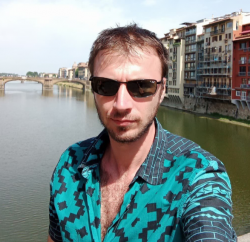 Latest posts by Stefan Stevanovic
(see all)
Lulu, the Fae Sorceress, is a powerful support character that provides a plethora of buffs to her allies. She works as an enchanter who boosts teammates' movement speed, attack speed, health and provides other improvements. Lulu also has a limited damage potential and two spells that can slow enemies.
Key Info Up Front
The champion has been around since 2012, and over time, Riot has made quite a few skins for her. Some of them are ridiculous, such as Pajama Guardian Lulu and Space Groove Lulu. But you also have a few menacing ones like Bittersweet Lulu. There is a total of 11 skins for Fae Sorceress.
Original Lulu
Skin Lore
Most people recognize Lulu for her powerful enchantments. She and her companion Pix are well-known across Runterra, spreading illusion and deception wherever they go.
Her powers allow her to bend the very shape of reality. Other mages often criticize Lulu considering her magic potentially dangerous. However, that doesn't change her approach to life as she goes around enchanting various creatures she comes across.
Appearance and Model
There is a good chance that Lulu's base model is a reference to mage Schierke from Berserk manga.
Like all Fae folks, Lulu is rather short in stature. Her skin is light blue with dark blue hair that goes almost all the way to the ground. She has a rather long cone-shaped outfit that gets wider on the bottom. The majority of it is maroon with yellow edges.
Her hat is rather cool. It is sawn in front with a long curved top that combines two shades of purple with red. There are two openings for Lulu's small pointy ears. Like all wizards, she has pointy brown boots and a curved wooden staff for casting spells. The Fae Sorceress wears a bound green tome on her right hip.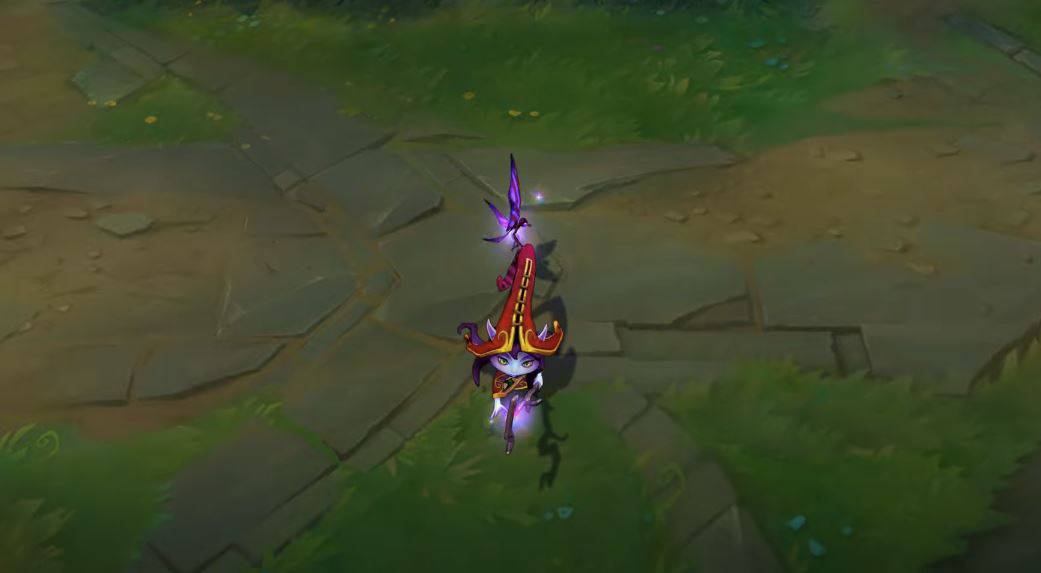 Visual Effects (VFX) and Sound Effects (SFX)
Base effects
Animations
Base animations
Pros
A standard wizard/sorceress outfit.
The colors are pretty solid.
Cons
I would like some additional objects that are common for wizards (potions and such).
Bittersweet Lulu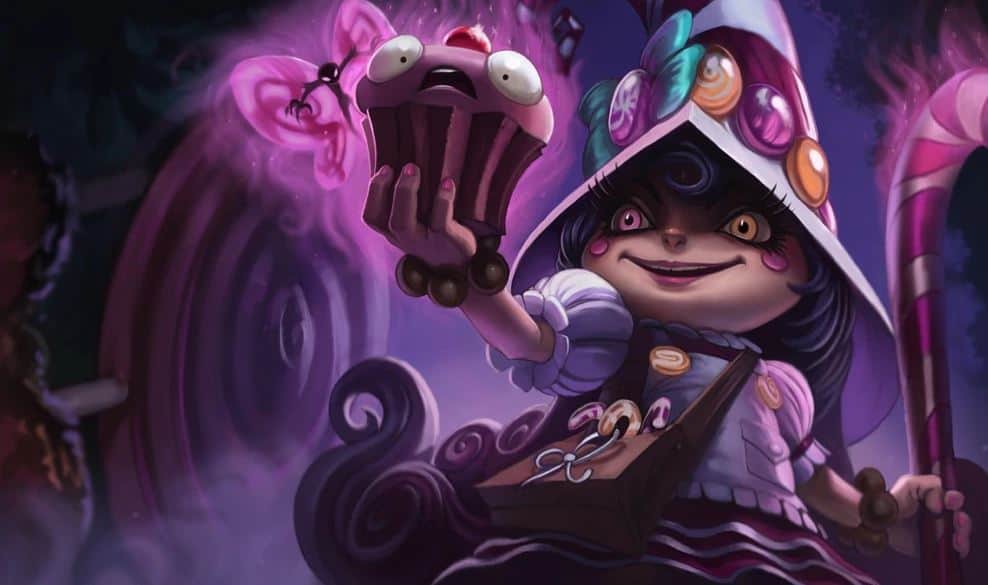 Price: 975
Skin Lore
This sweet tooth witch lives at the very edges of Peppermint Pine Barrens. She relies on sugar to cast her enchantment, empowering all those who seek her assistance. However, these enhancements come at a dire cost.
Appearance and Model
The cosmetic is a part of the Sugar Rush series that also features Sugar Rush Zilean, Sugar Rush Ziggs, Lollopoppy, Candy King Ivern, Sugar Rush Evelynn, Dark Candy Fiddlesticks, and Sugar Rush Braum. Her backstory is probably connected to Hansel and Gretel.
Bittersweet Lulu is a massive upgrade compared to the default skin. The designers utilized various shades of purple and some red to bring to life this sugary theme. Instead of her usual wooden weapon, Lulu has a purple/white sugar cane. Her magical tome is replaced by a bag full of candies. Her hat combines two shades of purple, and it is adorned with numerous sugary treats.
Lulu has a much more menacing appearance compared to the base cosmetic. The champion's eyes are almost hypnotic yellow, and there is a heavy shade around them. The Fae Sorceress has a light blue/purple dress with an apron, large red beds around her wrists, and a long dark blue curly hair.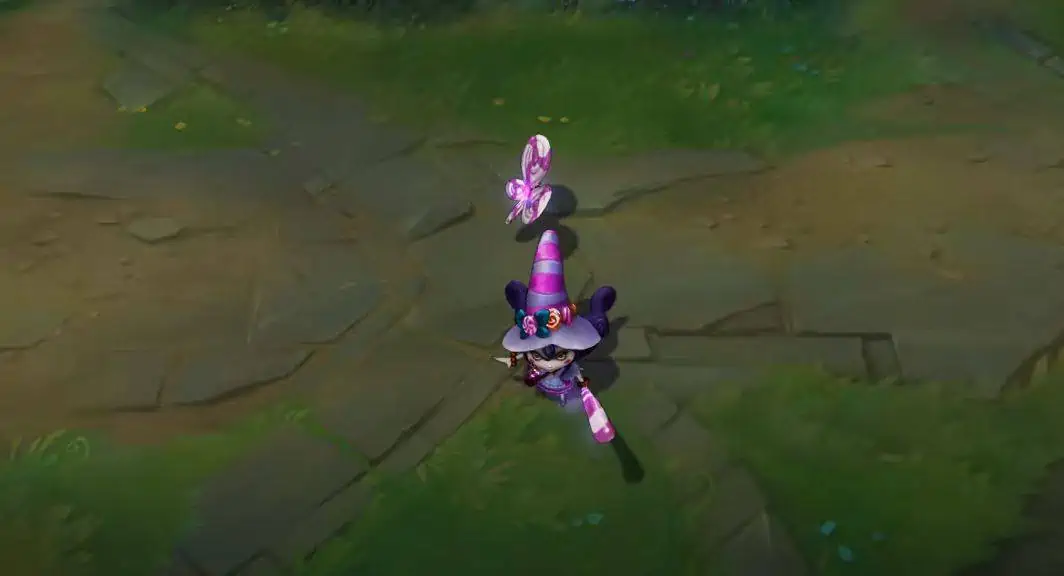 Visual Effects (VFX) and Sound Effects (SFX)
When using Whimsy on herself, the champion starts flying around on her broom. If the spell is utilized on an enemy, it turns them into cupcakes. Pix companion looks a bit larger, with white/purple wings.
Animations
Base animations
Pros
Colors are in tune with each other.
I like all the candy references.
Solid skin for that price.
Cons
Wicked Lulu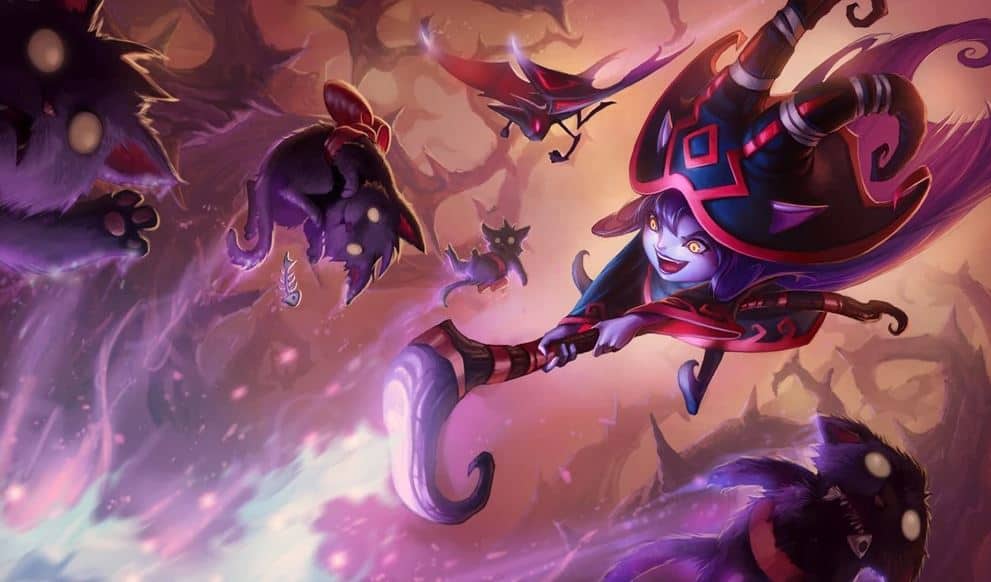 Price: 975
Skin Lore
N/A
Appearance and Model
The first thing you notice with this model is Lulu's long, goat-like hat. The piece is, for the most part, black with white bands and red edges. It looks very wicked due to its red details that almost look like evil eyes. The rest of her outfit is also black with red edges, and it resembles a kimono.
Her staff is very similar to the base staff, although this one is dark blue with red bands.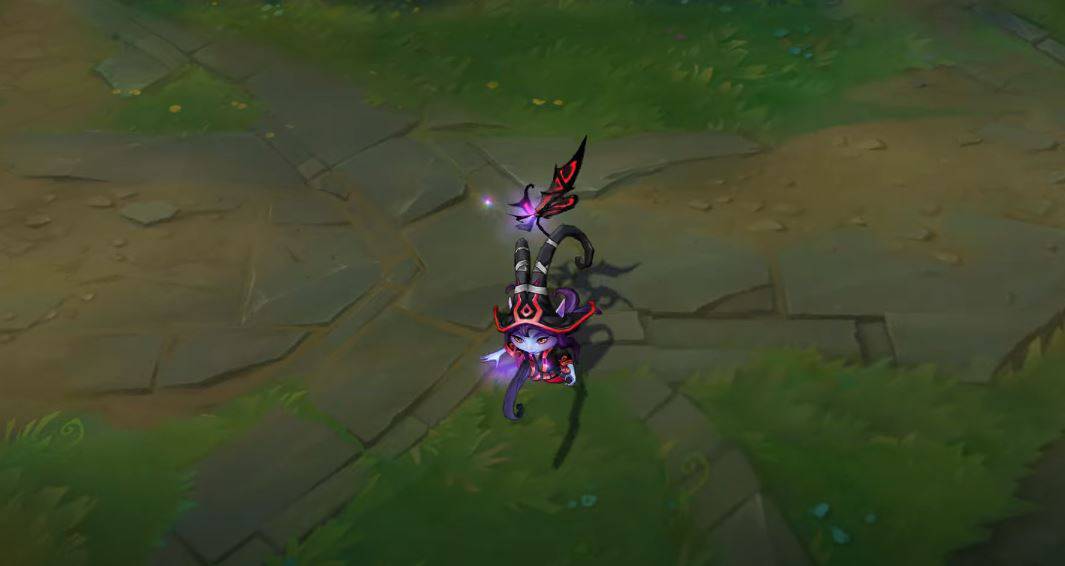 Visual Effects (VFX) and Sound Effects (SFX)
Pix has massive black wings and is one of the best things about this cosmetic. Whimsy turns opponents into black cats.
Animations
Base animations
Pros
Cons
No reason to purchase this skin. It doesn't provide any major improvement compared to the base cosmetic.
Perhaps the worst skin for the champion.
Dragon Trainer Lulu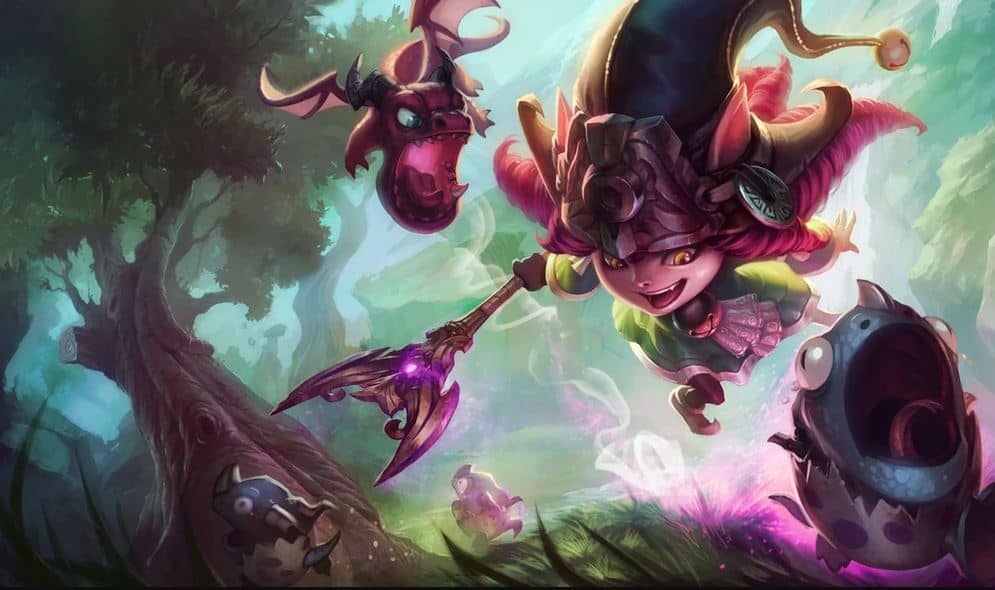 Price: 1,350
Skin Lore
Despite the fact that dragons have such an intimidating presence, that doesn't mean that the right person cannot turn them into friends. Lulu is one such individual who managed to turn a small dragon into her ally by relying on her powerful enchantments.
Appearance and Model
This particular cosmetic is a part of the Dragon World set that also features Dragonslayer Twitch, Dragonslayer Pantheon, Dragon Knight Mordekaiser, Dragon Guardian Galio, Dragonslayer Jarvan IV, Dragon Oracle Udyr, Dragon Trainer Tristana, Dragon Master Swain, Dragon Sorceress Zyra, Dragonslayer Trundle, Dragon Trainer Heimerdinger, Dragonslayer Diana, Dragonslayer Braum, Dragonslayer Olaf, Dragonslayer Kayle, Dragonslayer Xin Zhao, and Dragonslayer Vayne.
The item comes in ruby, pearl, obsidian, turquoise, and rose quartz. It is probably a reference to the How to Train Your Dragon cartoon, while Pix might be a reference to Spiro the Dragon video game.
Despite being rather expensive, the skin doesn't feature too many details. The new staff represents the biggest improvement. Lulu's weapon has a gold ornamental top with a maroon, straight shaft. There is also a small amethyst gem on the top.
The Fae Sorceress wears a green garment with white edges and several flounces. This makes her rather elegant. Lulu wears brown leather gloves and a brown hat with a gold bell on the top and a golden ornament in the front. She has another golden bell around her neck and a coin piece attached to her wizard hat. Lulu's maroon hair is rather stylish as well, with lots of curls.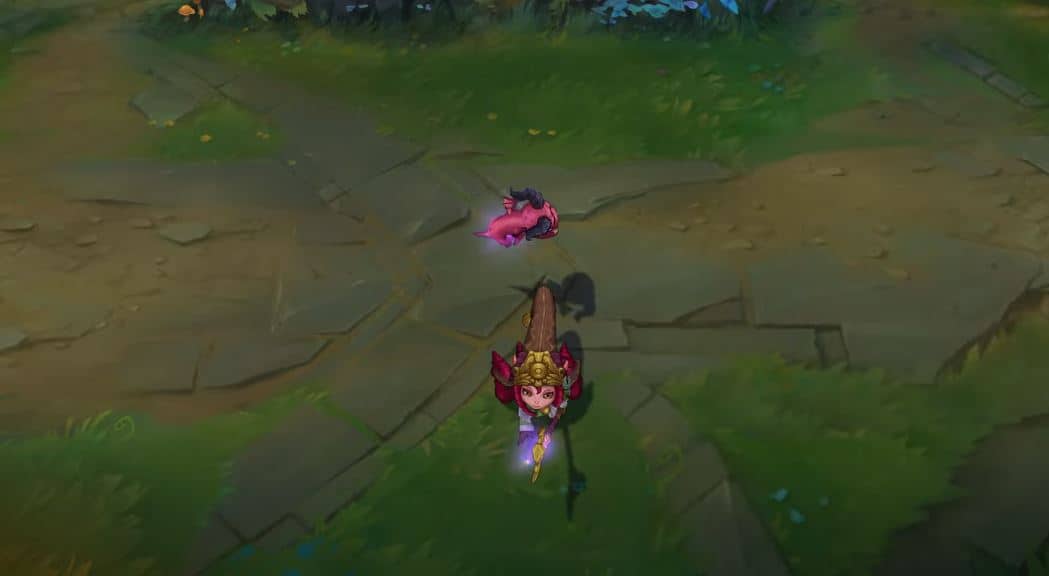 Visual Effects (VFX) and Sound Effects (SFX)
Lulu's Glitterlance has much fewer particles. It feels sharper with a focus on pink color instead of the default rainbow shades. The champion's Whimsy spell is also much more simplistic. When hexing an opponent with Whimsy, they turn into a hatchling dragon. The Fae Sorceress casts a blue circle around a target. While buffed, the champion releases pink dust in her/his wake.
Help, Pix! creates a pink barrier with D runes around a target. A similar type of pattern can be seen around an ally when affected by Wild Growth.
Animations
Instead of the usual spirit, a companion dragon flies around Lulu. The great thing about this effect is that the dragon will change its color based on the chroma that is being used.
Pros
Dragon is awesome and the skin's main selling point.
The staff looks much more impactful compared to the wooden stick she had before.
Cons
I don't like the effects. They actually look inferior compared to the basic ones.
She doesn't look spectacular.
Winter Wonder Lulu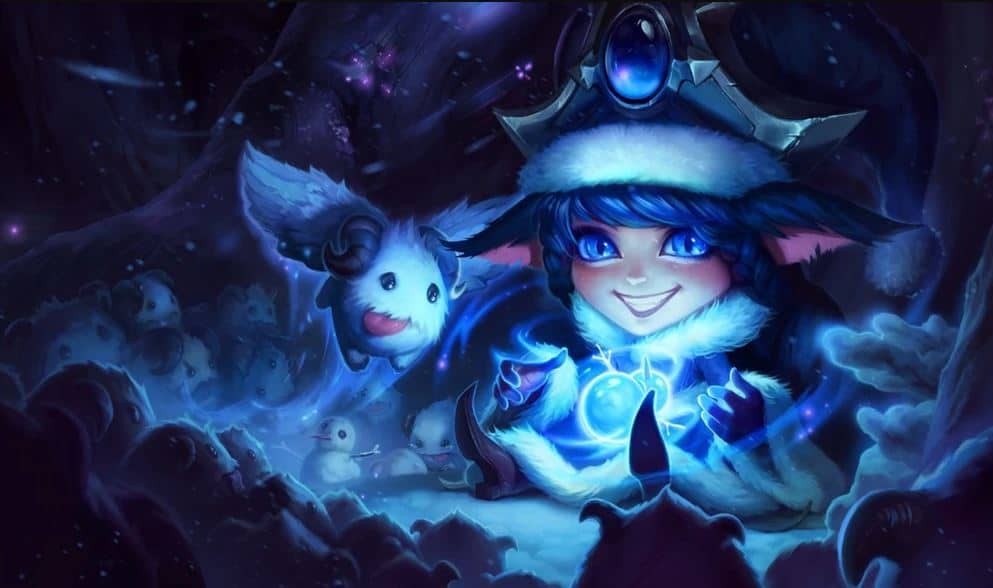 Price: 1,350
Skin Lore
Everyone in Snowdown is enamored with Lulu's magic. She roams the land with her poro companion ravaging anyone who would take her lightly.
Appearance and Model
Winter Wonder Lulu is a part of the Winter Wonder collection. This set features Snow Man Yi, Winter Wonder Karma, Dark Candy Fiddlesticks, Ice King Twitch, Frostblade Irelia, Winter Wonder Neeko, Winter Wonder Soraka, Frozen Prince Mundo, Frostfire Annie, Snow Fawn Poppy, Winter Wonder Orianna, Snowstorm Sivir, and Poro Rider Sejuani.
The cosmetic mainly focuses on blue shades. The Fae Sorceress wields a large crystal staff with a blue orb in the center. Like most other skins, she has brown leather boots. She has a blue winter robe with large buttons in front and furry edges. The lower parts of the garment and the ends of the sleeves are extra wide.
Lulu also has brown gloves and a blue winter hat with a massive crystal crown in front. The champion has numerous braids, blue eyes, and blue ears.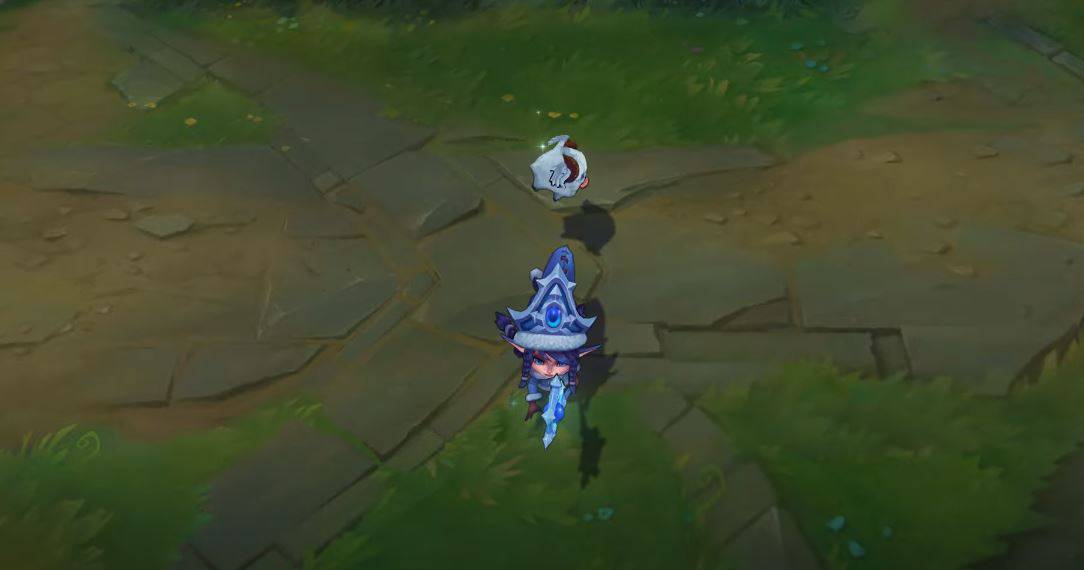 Visual Effects (VFX) and Sound Effects (SFX)
Glitterlance releases two crystal projectiles that meet in the middle. When using Whimsy on herself or an ally, the target is briefly enveloped in blue light. As long as the buff persists, the unit will leave blue crystals behind it. If you cast Whimsy on an enemy, they are turned into a snowman.
Help, Pix! creates a blue barrier around a target. You can also notice snowflake symbols on this shield. Using Wild Growth on an ally leaves a large hexagonal visual effect on the ground resembling a snowflake.
Animations
The standard pet is replaced by a poro spirit.
Pros
All colors and effects are well synergized.
Staff fits the overall theme, spells, and it looks dangerous.
Cons
Some of the effects could've been a bit better.
Pool Party Lulu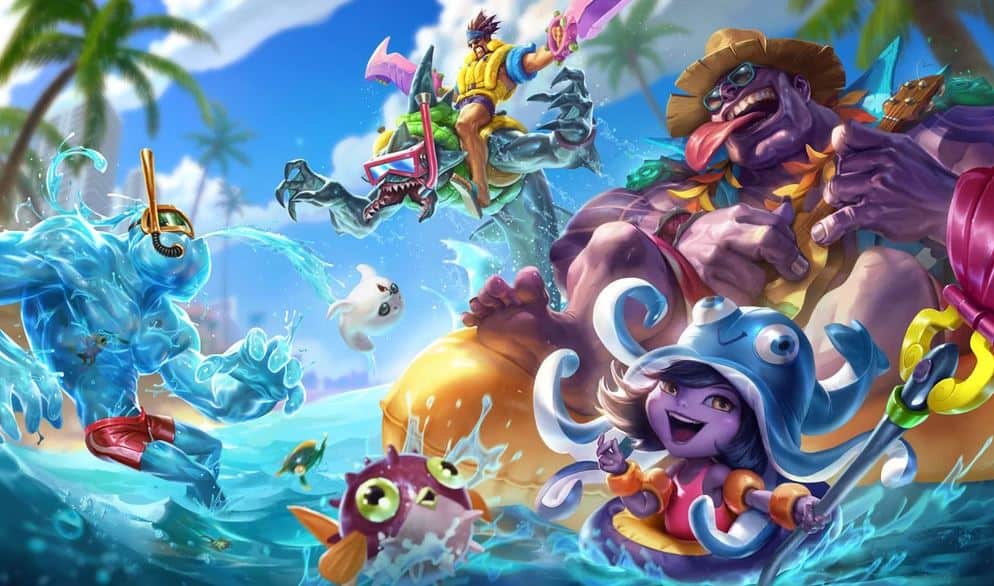 Price: 1,350
Skin Lore
Lulu loves visiting the beach with her pufferfish pet. However, be careful not to splash her as she can be very vindictive, turning wrongdoers into harmless seals.
Appearance and Model
This cosmetic is a part of a massive Pool Party collection that features Pool Party Taric, Pool Party Lee Sin, Pool Party Draven, Pool Party Braum, Pool Party Renekton, Pool Party Mundo, Pool Party Leona, Pool Party Orianna, Pool Party Heimerdinger, and many more.
The thing that makes this item stand out is the chroma. The skin comes in 7 different colors, but, what's even more important, for each one of them, Lulu wears a specific hat, and most of them are a reference to something. For example, her rose quartz hat resembles that of Peach from Super Mario, and citrine chroma might refer to Finding Nemo.
The champion wields a staff with a metal shaft and pink shell top. Finally, you can see Lulu's feet. She has leggings, a brown shirt, and two brown bands. A purple inflatable circle keeps her above water. The champion also has a massive squid hat that covers not only her head but most of Lulu's back as well.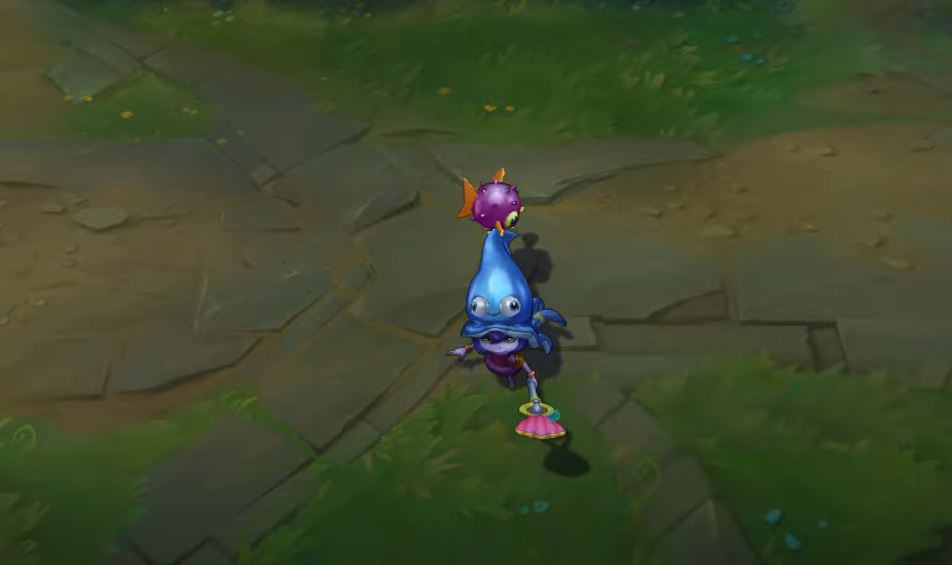 Visual Effects (VFX) and Sound Effects (SFX)
Glitterlance releases two streams of water instead of the usual spell. Whimsy can be utilized to change enemies into baby seals, while Wild Growth creates sandcastles on the ground.
Animations
Her companion pet is pufferfish.
Pros
Her hat is simply adorable.
Cons
Too many conflicting colors.
No synergy between different elements besides the fact all these items are used on the beach.
Star Guardian Lulu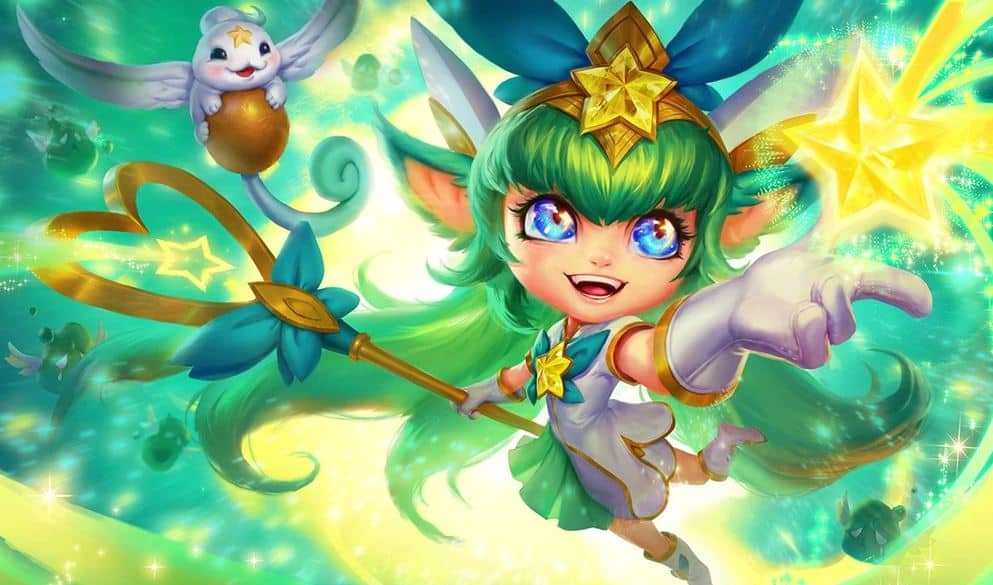 Price: 1,350
Skin Lore
Although a very strange of Lux's Star Guardian team, no one can deny Lulu's power and magic proficiency. The champion has quite an interesting relationship with other team members. Nevertheless, she is always there in time of need.
Appearance and Model
The skin is a part of the Star Guardian Season One set. This collection also features Star Guardian Poppy, Star Guardian Janna, Star Guardian Lux, Star Guardian Jinx, Pajama Guardian Lux, and Pajama Guardian Lulu. Like all other items from this set, it is a reference to magical girl anime shows.
Unlike other cosmetics, Lulu has white skin and light blue eyes. In that sense, she resembles more of a human than a Fae. The character has a long gold staff with a star and heart on top. The outfit's color combinations are pretty cool. The Fae Sorceress wears a white robe, white gloves, and white boots. All of these pieces have golden outlines. Boots and robe also have green ribbons.
The champion wears a green skirt and has a star medallion around her neck. Lulu's head is adorned with a golden tiara that has white cat ears and green ribbon. Her hair is almost fluorescent green.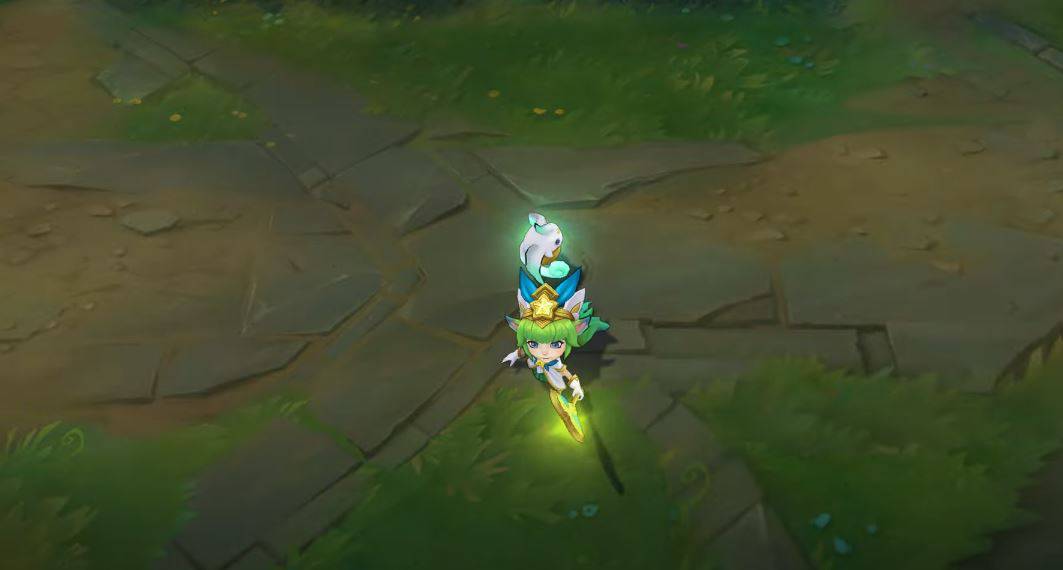 Visual Effects (VFX) and Sound Effects (SFX)
Glitterlance sends a spiraling yellow star towards an opponent. The slowed enemy has yellow circles beneath his/her feet instead of the usual slow visual effect.
Whimsy casts a different pink projectile towards an enemy. Upon impact, the target is transformed into green-winged slime. Using Whimsy on Lulu or ally envelops the target in rainbow circles while leaving yellow stars behind.
When you cast Help, Pix! on an opponent, you can notice pink hearts and yellow stars around them for a brief moment. When Pix and Lulu attack together, they create an effect similar to that of Glitterlance.  Casting Help, Pix! defensively protects a target with a yellow star shield. Wild Growth relies on yellow/green circular effect that features hearts and stars.
Animations
The skin features a new familiar, which resembles Kyubey, a creature featured in Puella Magi Madoka Magica. During the Recall spell, Lulu wields her staff around, leaving a trail of golden dust behind. When she activates the Ghost spell, Lulu starts flying. You can notice a green effect with stars and circles behind her.
Lulu's basic attack releases a large blue star with minor green stars following it. Pix simultaneously attacks with pink stars.
Pros
A lot of amazing effects.
Everything works well together.
Like all Star Guardian skins, this one is more geared towards teen girls.
Cons
Pajama Guardian Lulu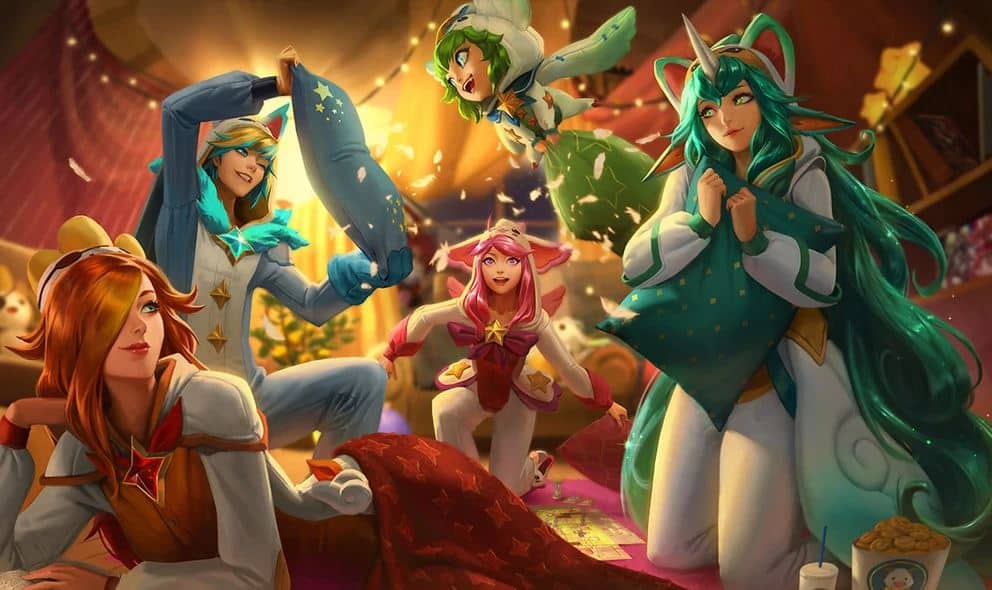 Price: 1,350
Skin Lore
Both Pix and Lulu are excited for one of the best slumber parties of the year. Although Star Guardians have such a crucial role in safeguarding the universe, that doesn't mean they should shy away from their friends and have occasional fun.
Appearance and Model
Besides being a part of the Star Guardian Season 1 theme, the cosmetic also belongs to the Disguise series alongside Pengu Cosplay Tristana, Meowkai, Urf Kench, Birdio, Dino Gnar, Urfwick, Pajama Guardian Miss Fortune, Pretty Kitty Rengar, Moo Cow Alistar, and many others.
Interestingly enough, she wears pix companion's skin. Lulu wields the same type of staff as for the Star Guardian theme. She is tucked safely in her big Pix onesie. The outfit combines light green and dark green colors. Lulu also has a short cape on her back held together with a gold star broch. Instead of the usual buttons, she has star buttons and a star ornament on top of her Pix head.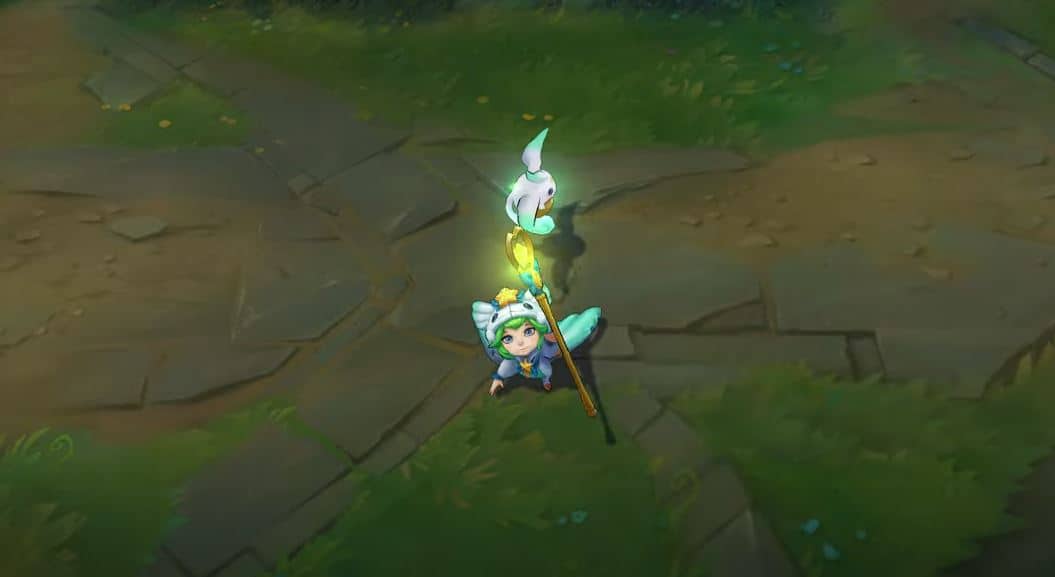 Visual Effects (VFX) and Sound Effects (SFX)
The same visual and sound effects as for Star Guardian Lulu.
Animations
The same animations as for Star Guardian Lulu.
Pros
The onesie looks pretty cool.
Cons
Overall, I think that Star Guardian Lulu is a better choice.
Cosmic Enchantress Lulu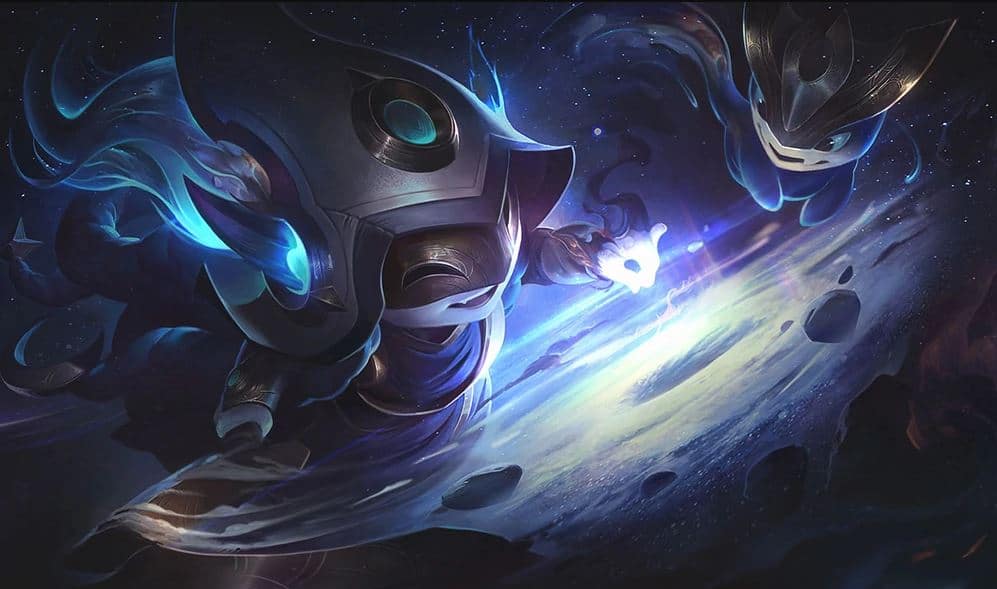 Price: 1,350
Skin Lore
Lulu has the special task of creating a cosmic chart. Whenever she notices a new star, she splashes her magic to mark the area. Cosmic Enchantress remembers all the cosmic entities and sheds tears when they ultimately perish.
Appearance and Model
Lulu is a part of the Cosmic theme that features Cosmic Queen Ashe, Cosmic Flight Anivia, Cosmic Lux, Cosmic Dawn Rakan, Cosmic Blade Master Yi, Cosmic Defender Xin Zhao, Cosmic Hunter Varus, Cosmic Stinger Skarner, Cosmic Charger Hecarim, Cosmic Destiny Nami, Cosmic Huntress Nidalee, Cosmic Devourer Vladimir, Cosmic Invoker Illaoi, Cosmic Reaver Kassadin, Cosmic Dusk Xayah, and Dark Star Rhaast.
The chroma item comes in ruby, obsidian, Catseye, rose quartz, and turquoise. Cosmic Enchantress Lulu looks amazing. The skin is very different from other cosmetics for the champion. The Fae Sorceress wields an interesting staff that has disconnected pieces. She wears a blue outfit with a blue apron with golden edges. In many ways, Lulu looks like an intergalactic diplomat.
She has blue socks, golden sandals, and golden arm guards. One of the most interesting details is the braids with sun, star, and moon ornaments. Lulu wears a golden mask that covers the upper part of her face. The champion has an elongated white hat with golden and purple edges.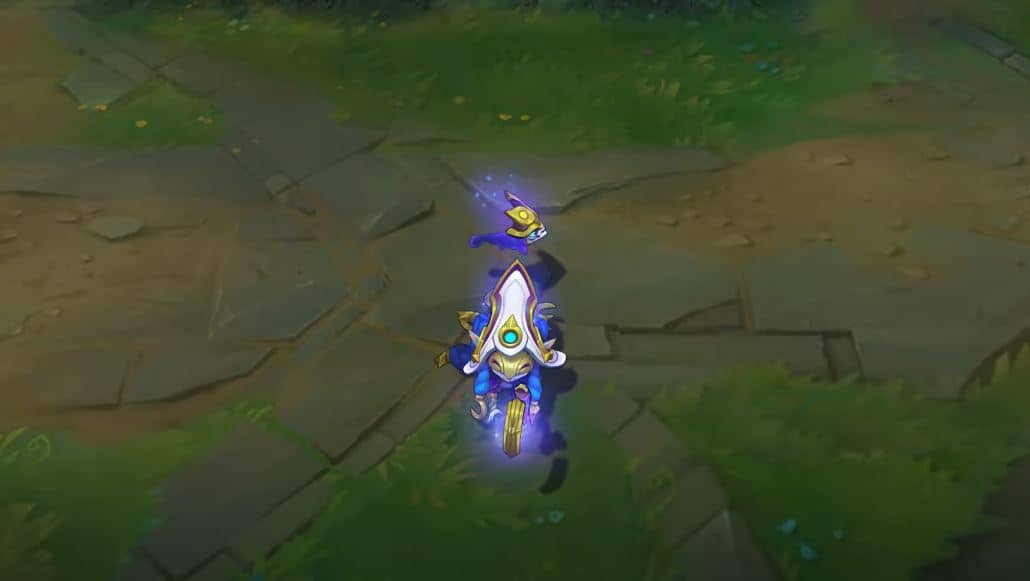 Visual Effects (VFX) and Sound Effects (SFX)
The Fae Sorceress has a deep, echoing voice. Glitterlance casts two blue spiraling projectiles towards a target. The slow visual effect creates purple rings below the enemy's feet.
Whimsy creates a surge of blue light around the champion. While buffed, the target will generate a purple effect in front of their body while moving. When you use Whimsy on an enemy, it turns them into blue space squid.
Help, Pix! creates a blue shield around a target. Using the ability on an enemy leaves a yellow mark under their feet. The reveal effect is a bit different compared to the default one. Lulu's ultimate creates a massive space whirlpool under ally's feet.
Animations
During the Recall spell, Lulu summons two constellations which are subsequently merged into a star kitty. Her Pix companion is meant to resemble Aurelion Sol (it is called Aurelion Smol). When auto-attacking, Lulu casts small blue stars while Pix casts the same-shaped purple stars.
Pros
The effects are really incredible.
I like the Whimsy transformation effect, as well as Pix's visual appearance.
Her braids are a dope detail.
Cons
Space Groove Lulu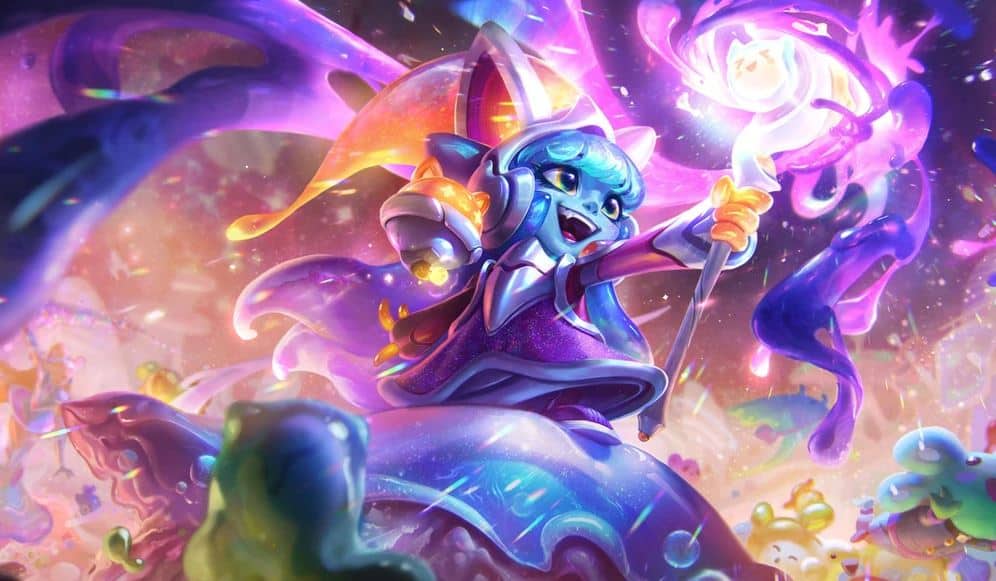 Price: 1,350
Skin Lore
Space Groove Lulu comes from Boogie Wonderland and is one with groovy space energies. With her staff, she is able to create powerful illusions making the rhythmless people groove to her music.
Appearance and Model
Space Groove Lulu has a very funky skin, as you would expect, given the theme. It comes in 9 chroma colors.
She wields a metallic gray staff with a blue/orange top. The Fae Sorceress has maroon shoes, a metallic purple dress, and a metallic pink coat with gray edges. She also has orange fingers protectors and pauldrons.
The champion has nicely combed hair with, what's best described, blue appendages in the back that look like octopi's hands. Lulu wears a futuristic white helmet with white metallic ears and an orange/pink top.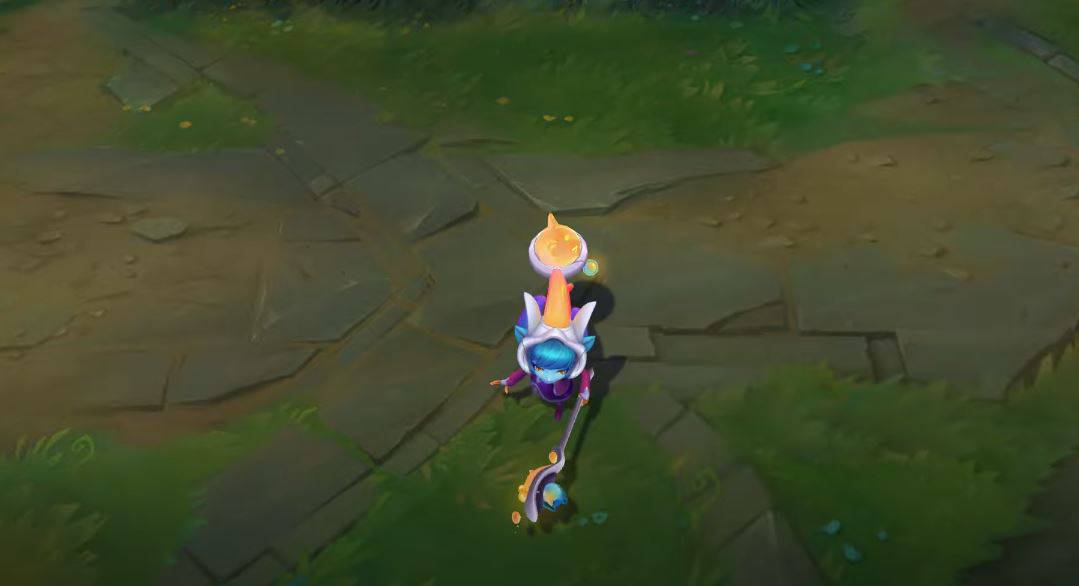 Visual Effects (VFX) and Sound Effects (SFX)
The Fae Sorceress has an interesting, altered voice. Glitterlance creates an orange comet with a purple tail. When an enemy is hit with this projectile, they are briefly slowed, which can be noticed by the orange marking on the ground.
Whimsy turns enemies into plush toys. When cast on an ally, the spell creates an orange/purple shell around them for the duration of the boost. Help, Pix! creates a disco ball barrier that has pink cats on its outer edges. The same spell, when used on an opponent, creates an orange bubbly effect.
Wild Growth creates a disco floor under the affected ally. You can also notice small sparkles in the vicinity while the buff lasts.
Animations
When using Recall, the champion summons a disco ball and starts grooving to the music. Her Pix companion has the shape of an orange animal floating around in its small space saucer. Lulu's basic strike releases an orange projectile, while Pix attacks with purple ones.
Pros
Dancing effects are unique and funny. I especially like the bubbly visual on some of the spells.
The Pix companion is hilarious.
Cons
Certain elements of the skin look out of place.
Prestige Space Groove Lulu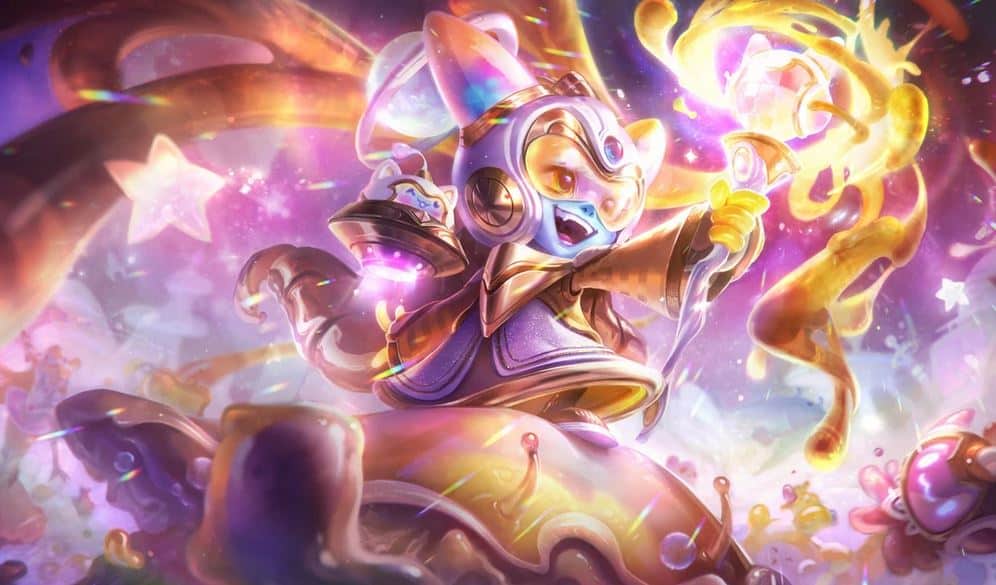 Price: 125 Mythic essence.
Skin Lore
After visiting the Three Party Goddesses, Lulu has a better understanding of space music than ever. She dances like a storm, can predict the future, and no one knows where this funky rider is going to appear next.
Appearance and Model
In my opinion, this is a major step forward compared to the Space Groove Lulu skin. The cosmetic looks more polished, with intricate details and all colors in tune.
Lulu has a long, twisted staff with a glowing white orb surrounded by orange lights. She has orange hands, as well, and two long twirling braids. Her torso is protected by a metallic dress combining white and golden shades. The Fae Sorceress wears a large white space helmet with orange ears, an orange globe on the top, and a funky rainbow-colored visor.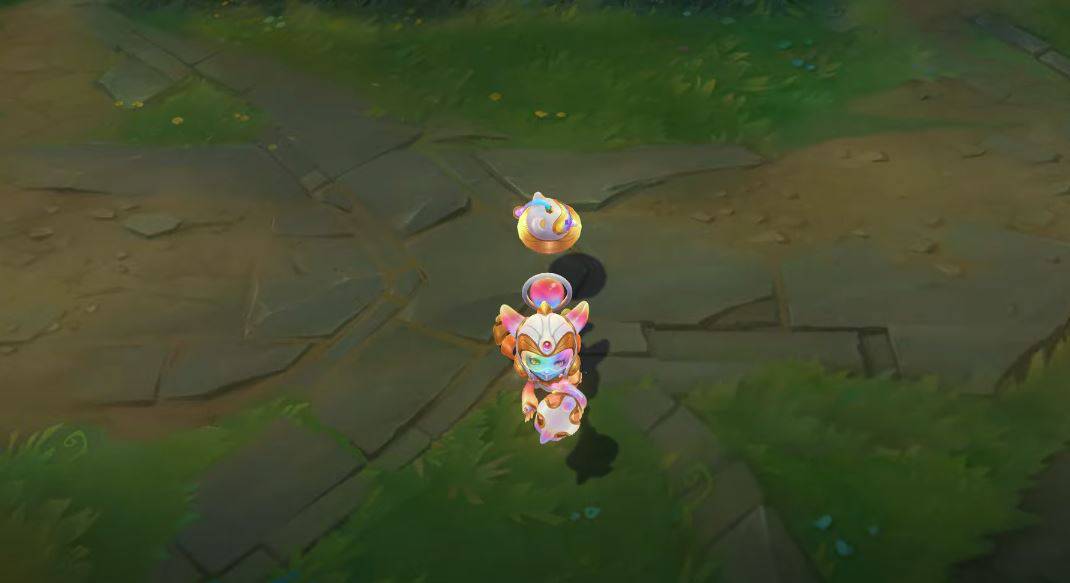 Visual Effects (VFX) and Sound Effects (SFX)
Generally speaking, Space Groove Lulu and Prestige Space Groove Lulu have very similar effects. It seems that Prestige Space Groove Lulu relies on a bit more orange than purple, though.
Animations
All the animations are practically the same as for Space Groove Lulu. However, it is worth mentioning that the Pix companion looks much better with this cosmetic.
Pros
A massive improvement compared to Space Groove Lulu without losing the effects.
All the pieces work well together.
Cons
FAQs
Question: What is the best Lulu skin?
Answer: The champion has several really nice skins. I personally love the latest one, Prestige Space Groove Lulu. However, I also wouldn't mind having Bittersweet Lulu.
Question: How many Lulu skins are there?
Answer: There is a total of 11 skins for the champion if we consider Space Groove Lulu and its Prestige version.
Question: Is Bittersweet Lulu a rare skin?
Answer: Bittersweet Lulu is a rather common cosmetic, and you can get it for 975 points. It is one of the best items if we consider cost-return.
Lulu Skins Guide:Conclusion
Lulu is one of the funkiest champions in the game. When talking about her purchasable cosmetics, the great thing is that every skin has a different Whimsy effect turning enemies into different creatures. On top of that, both Whimsy and Help, Pix! have offensive and defensive versions, which makes it for a much better visual experience.
There is a total of 11 cosmetics for the champion. My personal preference is Prestige Space Groove Lulu, but you purchase other cool items for the character.