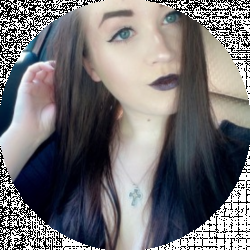 Latest posts by Karrina-Bella Yaeger
(see all)
League of Legends plush collectibles are incredibly popular and can get to be, unfortunately, expensive. Riot is constantly making new adorable plush toys that they will promptly retire after a few months.
The resale market for League of Legends plush toys is enormous. Fortunately, if you missed out on purchasing the plush of your favorite champion, or the coveted Urf manatee, you can still buy it for a hefty price.
Bottom Line Up Front
Riot products have excellent quality and fantastic design. Riot has made collectible plush for many champions, minions, Tibbers, and poros. Recently, Riot has begun making plush versions of the most popular TFT little legends.
League of Legends plush toys come in various sizes with various design styles; some are more cutesy, while others are more true to the in-game champion design.
This guide will go through the plush currently featured on Riot's store and some of the most popular retired plush. Unfortunately, there are far too many plush toys to list; however, this will be a great place to get an idea of your options when looking to purchase a League of Legends plush.
Ranked League of Legends Plush At A Glance
League of Legends Plush: A Complete Guide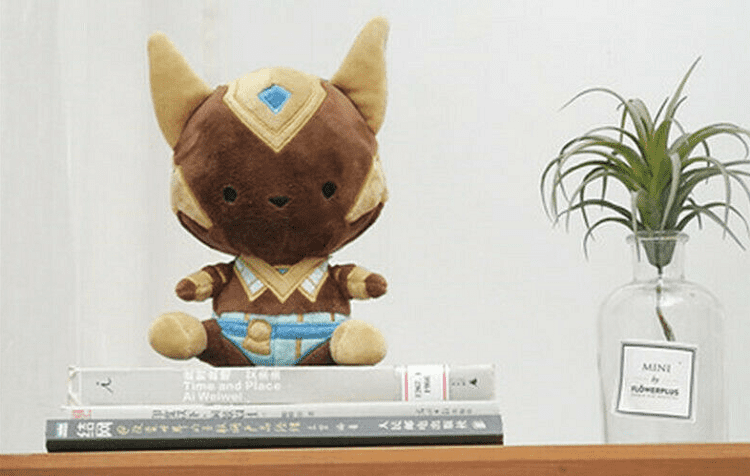 The League of Legends collectibles world can be confusing; prices can be insane, Riot is constantly changing which collectibles they feature on their site, and finding retired plush toys can feel impossible.
This guide will give you everything you need to know about all of the plush that Riot has released, where to find retired plush, and how much you should expect to spend on a collectible League of Legend plush.
League of Legends Plush Tips for Avid Gamers
If you are like me and love all things League and all things cute, it can be tough to decide which plush is worth investing in. Any League collectible does feel like an investment due to the high price tag that comes with most League merch.
It can also be difficult to know if you should purchase plush from Riot directly or if it would be worth seeking out a third-party seller to get the retired plush of your favorite champion. Riot has not made plush collectibles for every champion, but they are consistently releasing new content, so it is worth checking the site now and then.
The plush that Riot has released varies from champions to minions and monsters. The quality of the plush will also vary; some of the plush toys are very well made and look fantastic, while others don't resemble anything from League at all.
How Do I Choose Which Plush to Buy?
The list I have put together in this guide is relatively comprehensive; I have found all of the plush toys that Riot has made. Of course, there are artisans that make League-inspired plush toys; however, it is almost impossible to know whether or not you can trust the quality of a third-party artisan.
When purchasing League merch, it is in your best interest to stick with merch that has been released by Riot themselves. There are a lot of artists who make adorable poro plush, or you may find your favorite champion for sale on Etsy; this guide will only cover plush that has been officially released by Riot.
Plushes Currently Featured on Riot's Store Website
Some of the plush figures on the site are currently marked as "be back soon." Riot has not wholly retired the plush yet, but it is now out of stock. The best option for purchasing one of these plush toys would be to set a notification or alert reminding you to check in periodically to see if the plush has come available.
Sweetheart Tibbers XL Plush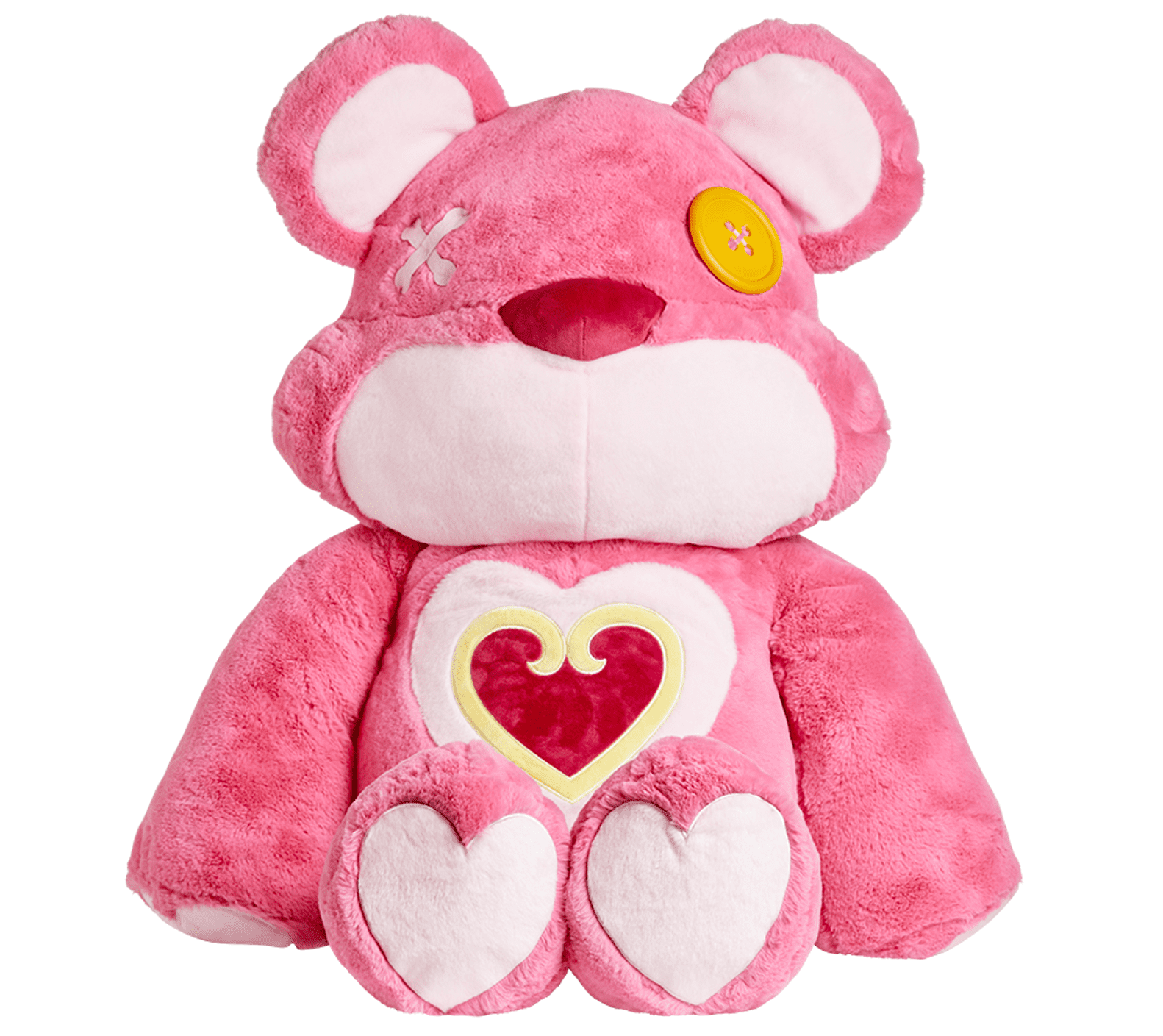 The Sweetheart Tibbers XL Plush has been on my wishlist since I started playing League in 2016. It is the largest League of Legends plush released so far, standing at 40 inches tall and 38 inches wide. The Sweetheart Tibbers plush has light pink fur with one yellow button eye.
He has the signature Sweetheart Tibbers heart on his chest with white hearts on his hands and feet. This plush makes a perfect Valentine's gift for the special League player in your life.
It is most popular during Valentine's Day and occasionally sells out in February. Sweetheart Tibbers is sold year-round, so you can purchase it whenever is most convenient. On the Riot shop website, you can also find the Tibbers plush ($30) and the Frostfire Tibbers XL plus ($90).
Pros
Largest League of Legends plush available

Available year-round on Riot's website

Perfect for Valentine's Day gifts!
Cons
One of the most expensive League of Legends plush

Often sells out around February

Not immediately recognizable to someone who doesn't play Annie
Gnar Plush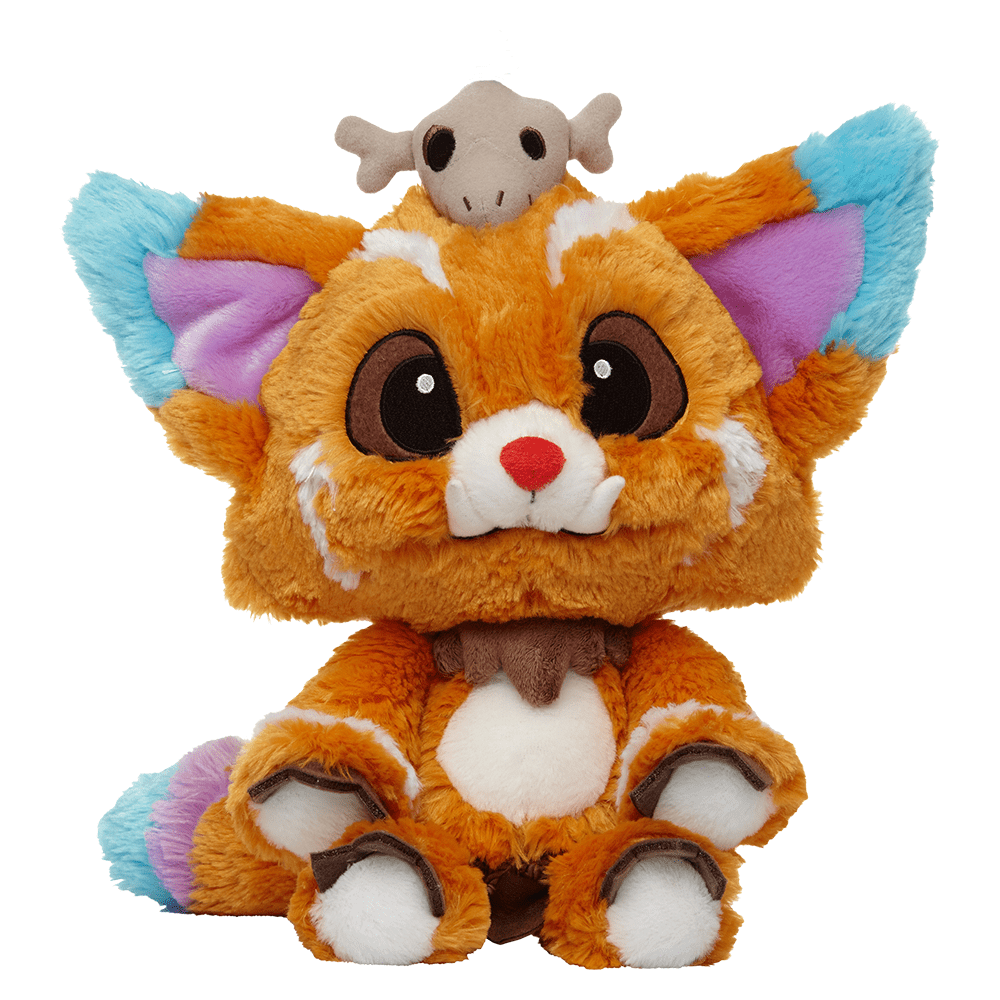 The Gnar plush is currently one of the most popular plush League listed on their site. The plush is small, 12.5 inches tall and 7.5 inches wide. The Gnar plush has orange fur with blue-tipped ears and tail. The insides of Gnar's ears are purple, and he has a purple band of fur on his tail. He has brown embroidered eyes and a bright red nose.
Gnar also has his tiny baby fangs and the skull on top of his head. The Gnar plush recently went on sale for 20 dollars and sold out quickly. It is currently listed as unavailable on the website and does not have the "be back soon" marker, so it may be the case that Riot is retiring this long-time popular plush.
Fortunately, because the Gnar plush was sold for a while and at a relatively low price, purchasing him from a third-party seller isn't as expensive as some of the other plush are.
Pros
Available on Riot's website

High-quality design

Bright, pretty fur colors

Low price
Cons
Currently sold out, no "be back soon" indicator

On the smaller side of League plush

Price will be significantly higher through third party resellers
Renekton Plush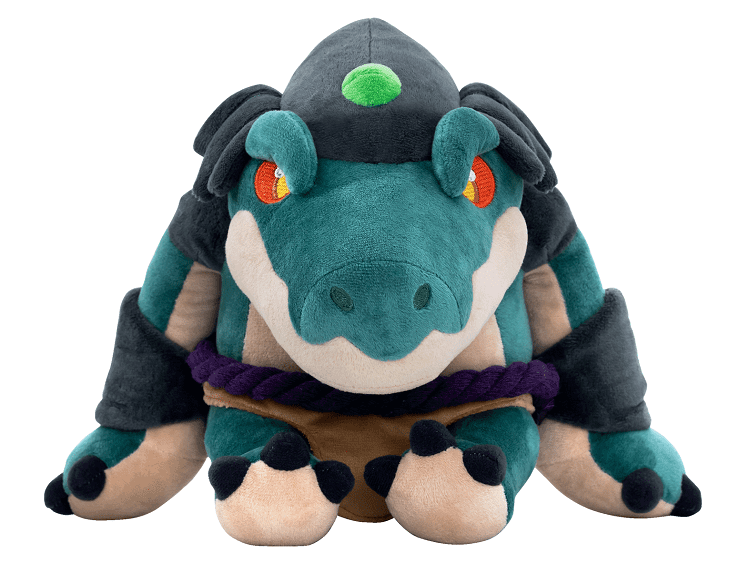 The Renekton plush is, unfortunately, a little bit ugly. However, this means that it is one of the few League plush that are currently available for purchase! This small, 9.9 inches high and 7.9 inches wide plush featured a slumped-over Renekton with bright orange embroidered eyes and forest green skin.
He has beige accents on his belly, arms, and feet. He has a black hood on which covers the top of his head as well as part of his arms. He wears a brown loincloth with a purple rope tied around his midsection.
I'm not sure why League chose to put the Renekton plush in a slumped-over position; it takes away from the powerful, Egyptian God nature of the champion. The Renekton plush looks a little derpy. It is 30$, and it is available in the Riot shop right now.
Pros
Great plush for Renekton fans

Solid quality

Available on Riot's website
Cons
Regarded by collectors as one of the uglier plush

Expensive for his size

Poor design
Willump Plush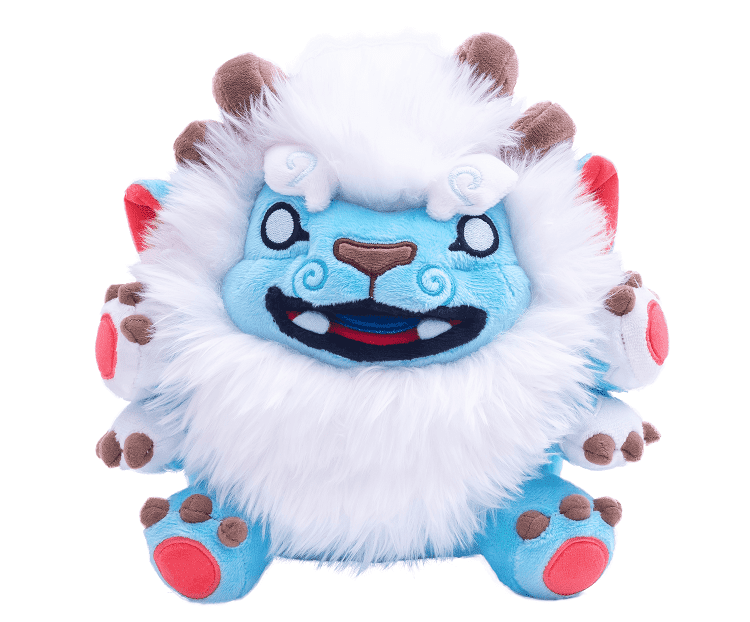 The Willump plush is fuzzy, fluffy, and adorable! Willump has light blue fur with a fluffy white mane and tail. In this plush, Willump reminds me a lot of Appa from Avatar.
Stylistically, he looks almost like an east Asian-inspired dragon or beast. I'm not entirely sure that I would guess this plush is of Willump or any other League character at first glance, but it certainly is a cute plush. Willump is 8.3 inches tall and 7.5 inches wide, making him the standard size for League plush.
The Willump plush costs $27.50. Willump is currently marked as "be back soon"; if you want to get a Willump plush for yourself, make sure to put yourself on the email waitlist so Riot will send you a notification as soon as he is back in stock!
Pros
Super fluffy!

Good price

Unique design
Cons
Currently out of stock

Not immediately recognizable as a League of Legends character

Pastel colors may make him seem a little more boring than some of the other, brighter plush
Gwen Plush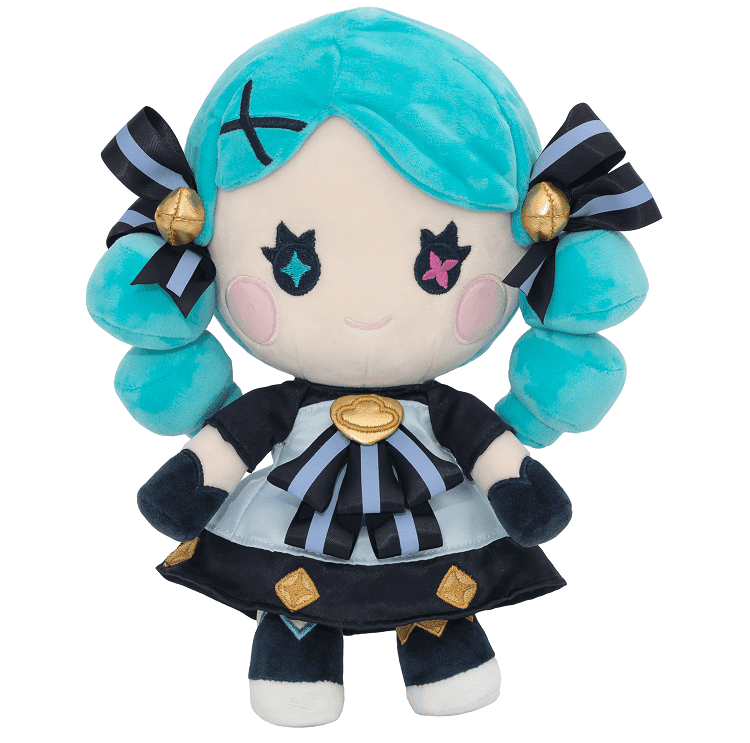 Gwen works well as a plush figure since the champion is based around being a living doll. The Gwen plush features her base skin with neon blue hair, dark blue ribbons with golden bells, a dark blue dress, and black embroidered eyes with blue and pink sparkles. Gwen has embroidered rosy cheeks, with a very light pink mouth curved into a smile.
Gwen is 9.9 inches tall and 7.9 inches wide. This doll version of Gwen is perfect for any player who loves the living doll! It is currently out of stock and marked as "be back soon." You can sign up to receive an email when Gwen comes back to Riot's shop. The Gwen plush is $32.50.
Pros
Good champion for plush figure

The cute doll version of Gwen

Beautiful colors
Cons
More expensive than some other League plush

Currently out of stock

The design could be better; plush looks a bit sloppy
Corki Corgi Plush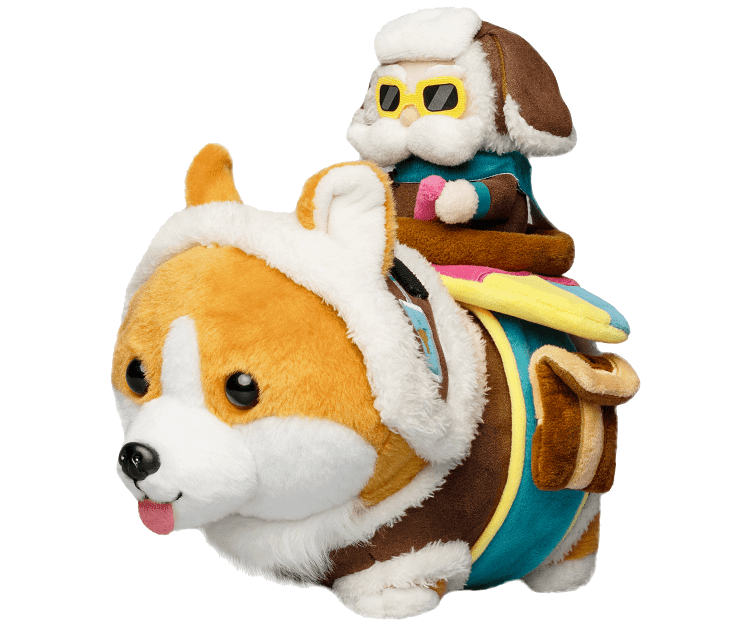 The Corki Corgi plush is one of the best League plush ever made. Riot did a fantastic job making this adorable skin come to life. The corgi is the largest part of the plush, and this little dog is super cute! It has tan fur with white accents on its face and feet, black plastic eyes, and a black plastic nose.
Its pink tongue hangs out of its mouth, and it has the signature band-aid on its butt. The corgi wears a brown and white jacket with a blue saddle that Corki sits on top of. The champion for this plush, Corki, is relatively small. The plush itself is 8.3 inches tall and 7.1 inches wide. You can purchase Corki Corgi for $35 when he is back in stock.
Pros
Adorable corgi plush

Good price for the size

One of the more popular plush for collectors
Cons
Corki, the champion, is really small

The saddle design is a bit odd

Usually out of stock
Sugarcone Furyhorn Plush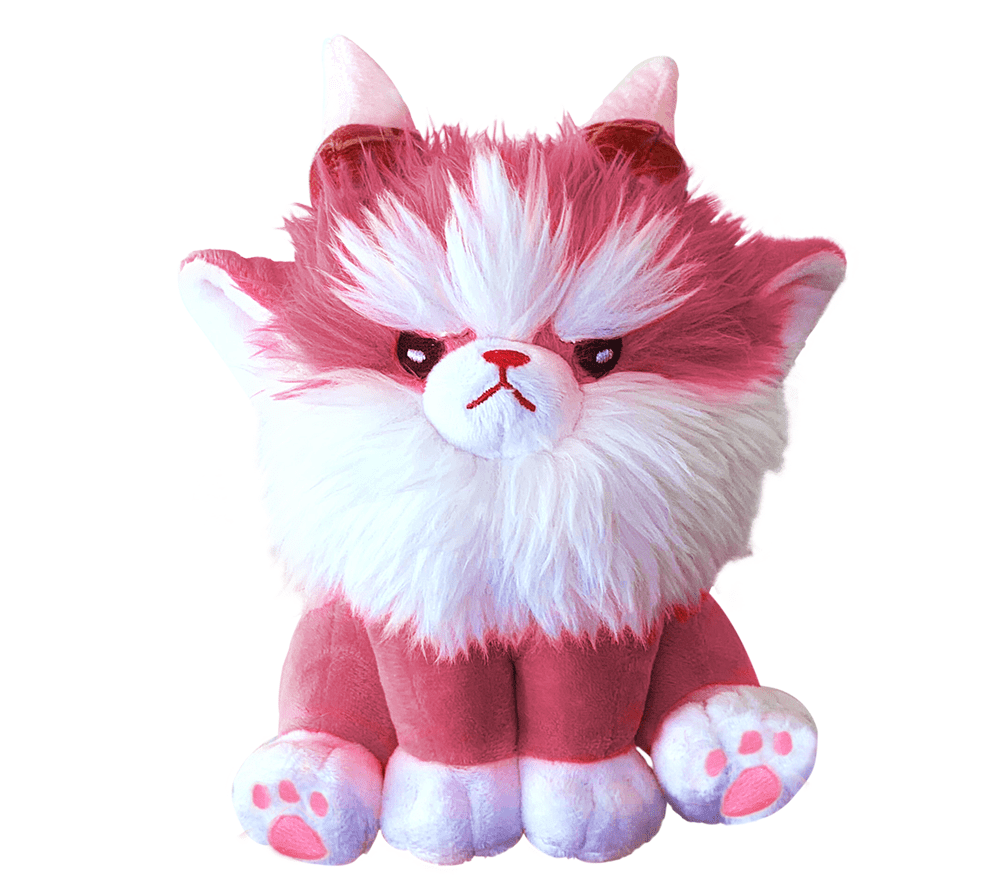 All of the TFT plush are amazing, but my favorite is the Sugarcone Furyhorn because it is one of my favorite little legends to use when I play TFT! The Furyhorns have been my preferred little legend since TFT was released, and the Sugarcone Furyhorn, in particular, is so cute!
The plush is pink and white with black embroidered eyes and a red embroidered nose. It has a little white heart on its butt and pink accents on its white paws. Its tail is a big poofy white fluffball. It is 7.8 inches tall and 4.8 inches wide, making it a bit smaller than some of the other plush.
When it comes back in stock, you can purchase the Sugarcone Furyhorn for $27.50. The other TFT plush currently featured in Riot's shop is the Feathernight plush ($27.50) and the Little Legend Keychain plush set ($35 for all 4).
Pros
Best TFT plush by far

Brilliantly fluffy mane

Cheaper than other plush
Cons
On the smaller side

Not technically a traditional "League" plush
Elder Dragon Plush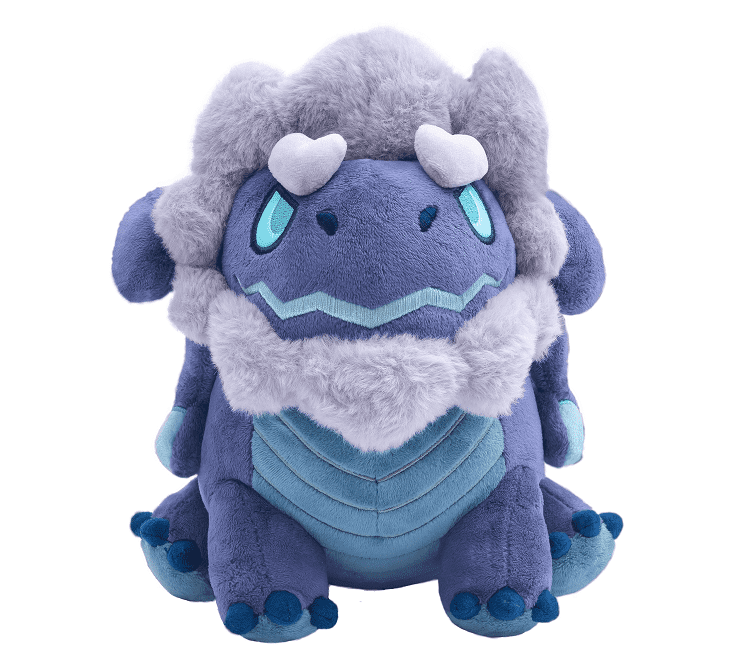 The two monster plush listed on the Riot site right now are the Elder Dragon and the Scuttle Crab. The Elder Dragon plush is nice, but I'm not sure that it exactly resembles the Elder Dragon that players see on the rift. It is dark blue with a light blue belly and footpads.
The Elder's eyes are an embroidered light blue, and his mouth is a snaggly embroidered light blue line. The Elder Dragon plush has wings, a grey mane, and thick grey eyebrows.
The Elder Dragon and the Scuttle Crab plush are currently out of stock, but they are expected to be back soon. The Elder Dragon is $27.50, and the Scuttle Crab is $30. I think that the Elder Dragon plush does look better than the Scuttle Crab, and for the price, it is a better deal!
Pros
A unique Elder Dragon design

Colors are bold
Cons
Doesn't resemble the dragon on the rift

Not one of the more popular collectibles

Awkward design
Moo Cow Alistar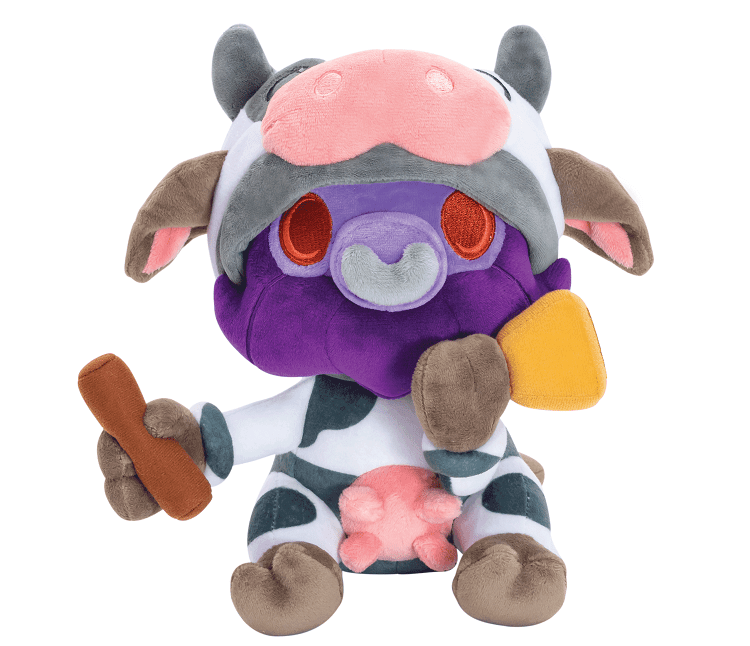 Moo Cow Alistar is one of the most popular skins for this tanky support champion. It is not uncommon to find players repeatedly hitting the cowbell to annoy the enemy team (and occasionally their own).
The plush version doesn't look as good as the skin does in-game, and Alistar's arms in the plush are far too skinny to make him look like the strong bull that he is. Alistar himself is purple, but you can only see his face as the rest of his body is covered by the cow costume. He holds the cowbell in his left hand with a brown stick in his right.
He has red embroidered eyes, and his nose ring is a thick grey plush that protrudes out of his nose. He is 7.1 inches tall and 6.7 inches wide. Alistar fans can pick up this plush for 30$ when it comes back in stock soon!
Pros
Based on one of Alistar's most popular skins

Cute cow hood
Cons
Awkward design, limbs too skinny

Expensive for the quality

The regular Alistar plush is better
Yuumi Plush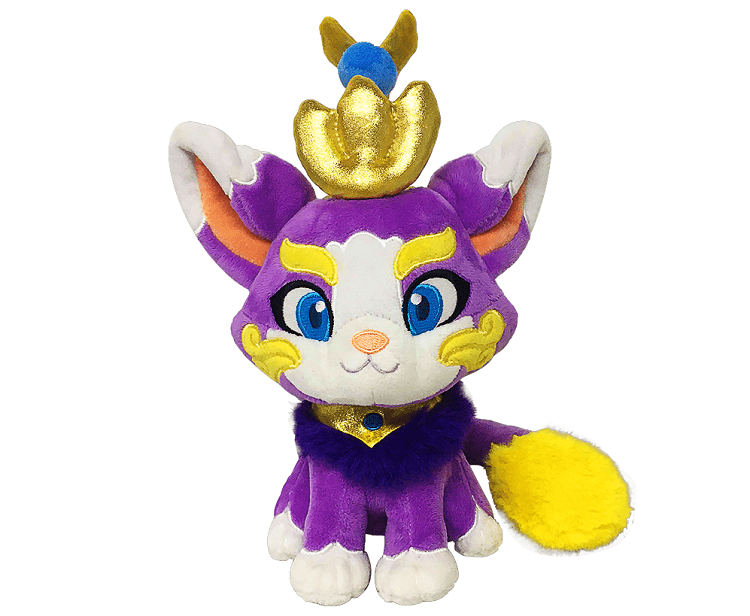 The Yuumi plush is the last champion plush listed on the Riot website right now. The Yuumi plush is one of the best-designed plush, looking relatively similar to the magical cat that flies around the rift healing her team. The plush is mostly purple, with some yellow and white accents.
She has blue embroidered eyes and a pink embroidered nose. The Yuumi plush is one of the smallest plush (that isn't a keychain), standing at 5.1 inches tall and 2.8 inches wide. She costs $27.50, and Riot claims that she will be back in stock soon.
Pros
Looks exactly like Yuumi

Bright colors

Big pretty eyes
Cons
Very small

Expensive for her size
Retired Plushes
Urf Manatee Collectable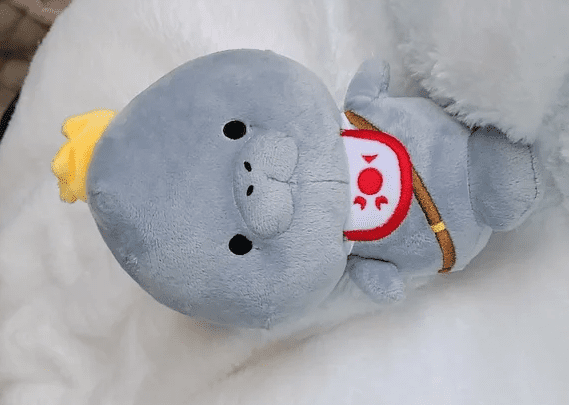 The Urf Manatee was incredibly popular when it was released, and it sold out very quickly. Unfortunately, League only made this plush for one season and hasn't re-released it again. There are a few different sellers that offer the Urf Manatee, but they are typically quite expensive.
The lowest price I was able to find for this plush is $70, but it is slightly used. The plush itself looks to be in good condition, with no stains or wear on its grey skin. The yellow crown is fully intact, and the bib looks perfect.
Pros
One of (if not THE most) popular plush collectibles

Rare, exclusive

Very cute design
Cons
Incredibly expensive

Hard to find

Sometimes can only get it used
Red and Blue Minion Plush Set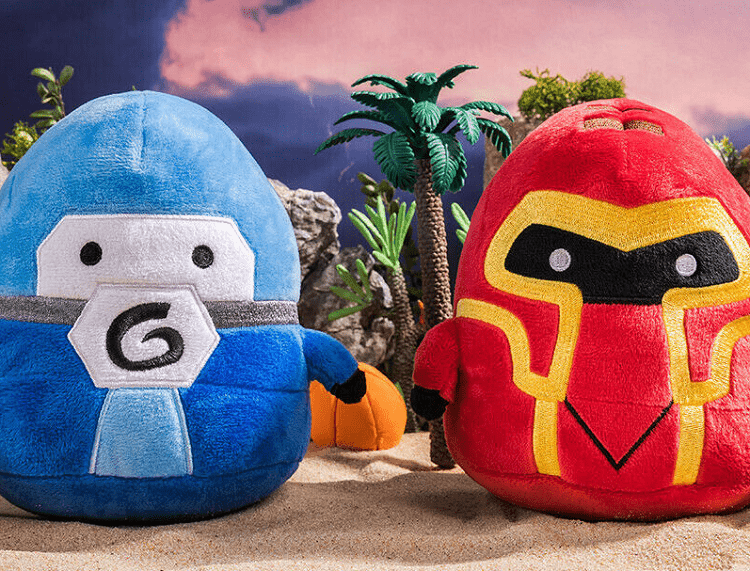 The Red and Blue Minion plush set is relatively rare, and I only found two listings online for this pair. The price runs from around $80 to $100. The particular seller I located is selling them as separates for $44 each, or $85 total.
I have a personal preference for the blue minion; I like the coloring better and the little swirl on his chest plate. The red minion has his helmet on, with his dark black body peeking through underneath. He has white embroidered eyes and stubby arms.
Pros
Best minions/monsters plush design

Riot didn't make a lot of them; relatively rare

A great set!
Cons
Expensive for the pair

Hard to find
Rengar Plush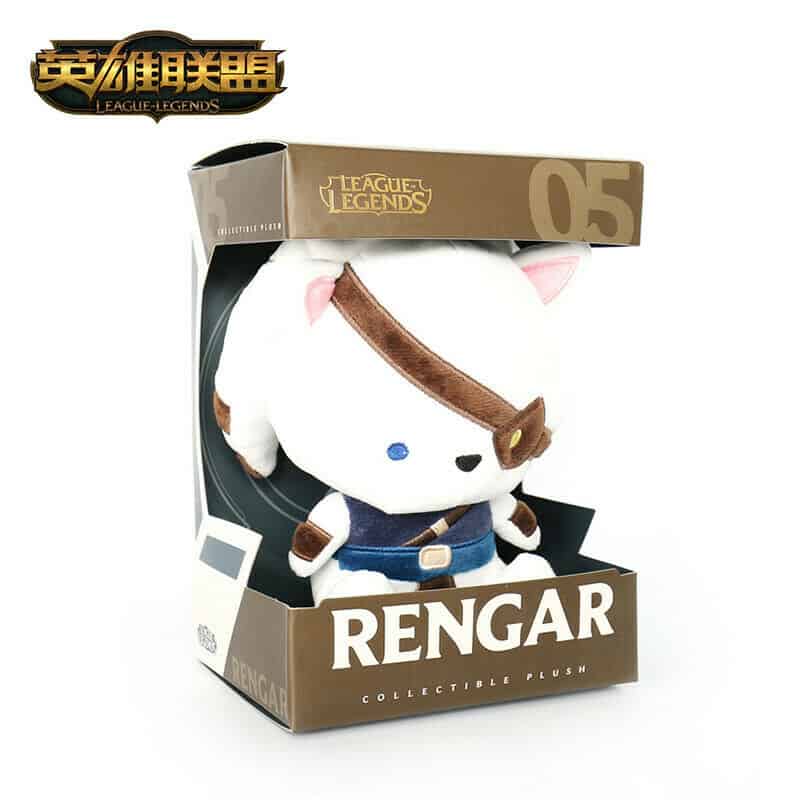 The Rengar plush is surprisingly cheap for a retired League collectible. I found a listing for only $48 (not including shipping). The Rengar plush doesn't look like Rengar, though, which might explain why it is cheaper than some of the other plush toys.
Rengar is fully white with one blue embroidered eye and a brown eyepatch over the other one. He wears a blue shirt and has pink inside of his ears. This listing is for a brand new Rengar, still in the box.
Pros
Easy to find

Inexpensive for a retired plush

Can often find in the box
Cons
Doesn't look like the champion

Weird design

Cute, but doesn't look like a Riot champ
Teemo Plush
The Teemo Plush was wildly popular when it came out; Teemo is one of the most played top laners. The Teemo plush is very well designed; Riot captured the essence of this boyscout yordle quite well. Teemo has his green hat on, with the blue feathered top. His body and face are a pale beige color, with a slightly lighter pink hue surrounding his squinted embroidered eyes.
He wears a belt above his brown pants, and he has green boots as well as green gloves. This listing is selling Teemo for $70, but they will occasionally offer sales for up to 50% off, so it might be a good idea to watch the listing to see if you can get a better deal. Unfortunately, they only have six brand new, in-the-box Teemo plush left, so he may sell out quickly.
Pros
Looks just like the champion

Very popular

Nice coloring
Cons
Extremely hard to find

Expensive

Relatively small
Nasus Plush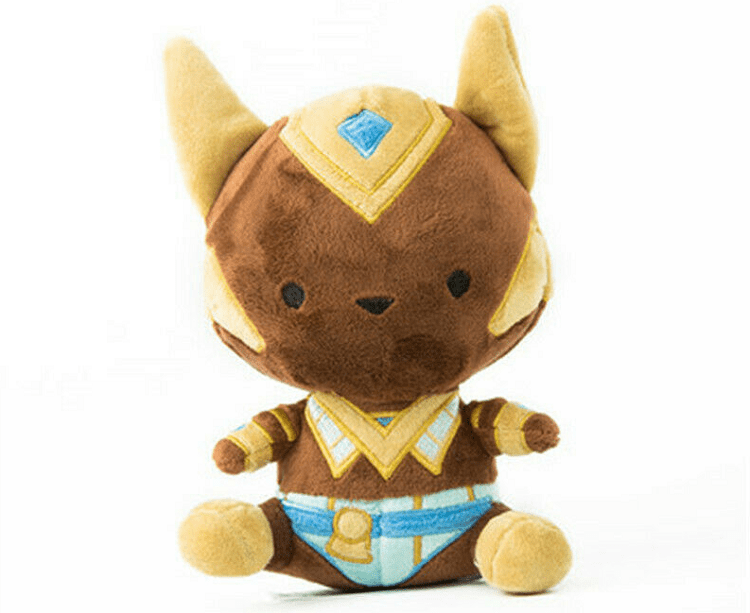 The Nasus Plush is one of the worst plush Riot has made. The plush looks nothing like Nasus; even the coloring is off. He is a dark brown in this plush. His gold accessories are the only decent part of this plush. He has a gold necklace, gold boots, gold armbands, golden headwear, as well as a blue loincloth.
He has black embroidered eyes and a black nose. The Nasus plush is pretty cute, but it doesn't look like the champion. Because the Nasus plush didn't sell very well, Riot retired it pretty quickly after it was released. Fortunately, for fans of this adorable plush, it is relatively inexpensive. This listing is selling it for $33, not including shipping.
Pros
Extremely cheap

Nice accessories
Cons
Unpopular with collectors

Doesn't look like the champion

Poor coloring
Wukong Plush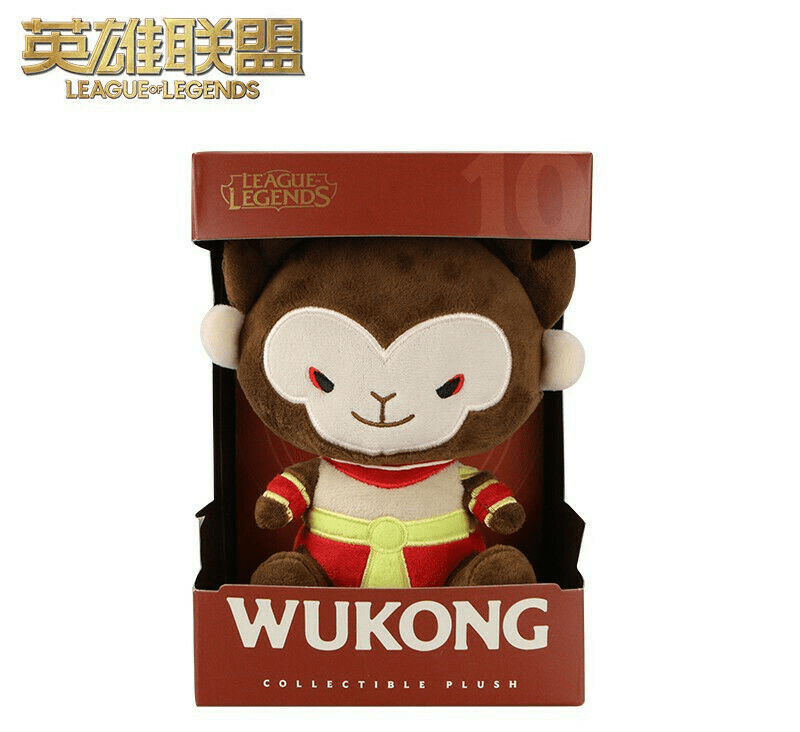 The Wukong plush is one of the more well-designed champion plush. The only fault I have with can't think of a skin where Wukong has eyes like that, let alone the base skin that this plush is designed after. His eyes in-game are green, and there is no hint of green in the plush. Wukong has brown fur with pale beige skin on his face and his ears.
His outfit is red and gold, and he has red and gold armbands. His hair in the plush is a little odd; it is just spiked plush sitting awkwardly on top of his head. This listing is selling Wukong brand new, in the box for $50, not including shipping.
Pros
Good rendition of the champion

Adorable face

Popular with collectors
Cons
Odd eye coloring

Hair design is bad

Relatively expensive
Alistar Plush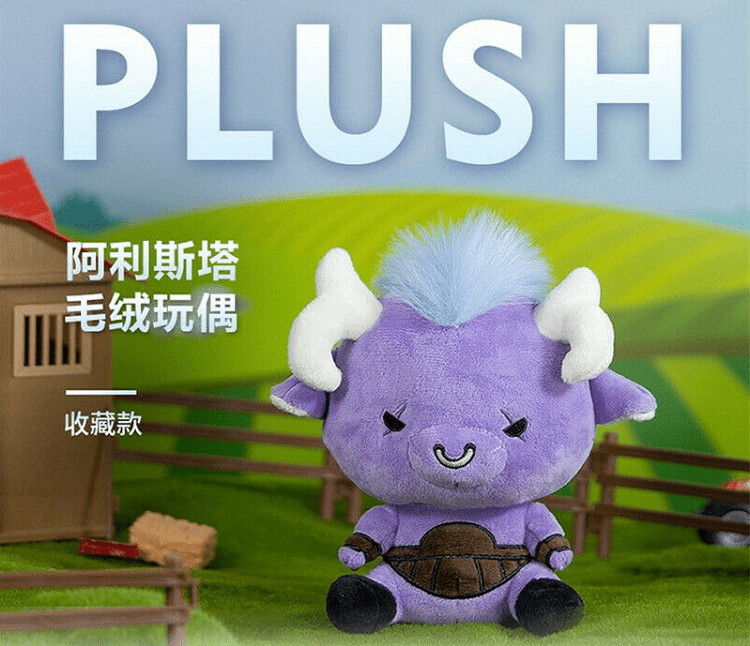 The retired Alistar plush featuring him in his base skin is much better than the Moo Cow Alistar plush that is currently being sold on Riot's website. The Alistar plush is a nice lilac purple color with big white horns and a plume of fluffy blue hair atop his head. He has black embroidered eyes with scars running through both.
He has a brown loincloth design around his mid-section, as well as brown armbands. He has black hooves on his hands and feet. His nose ring in this version is embroidered on, rather than a plush version protruding from his nose.
I think that this embroidered version is significantly better than the plush version. This listing is selling Alistar for $50, brand new, in the box.
Pros
Much better than the Moo Cow Alistar

Fantastic coloring

Cute, fluffy blue hair
Cons
It can be hard to find due to its popularity

More expensive than some other plush options
FAQs
Question: Which League Plush is the Hardest to Find?
Answer: While all of the retired League plush figures can be difficult to find, especially for a reasonable price, the rarest plush has been the Urf Manatee. It was only released for a short time, and it was ridiculously expensive for its small size.
I was only able to find two for sale; both were used and no longer in the box. The champion plush are easier to find; typically, these collectibles will be listed brand new and in the box. 
Question: Which is the Best League of Legends Plush?
Answer: There isn't necessarily a hands-down best plush that Riot has made. My personal favorites are the Sweetheart Tibbers and the Sugarcone Furyhorn, but I am biased towards the color pink.
The Corki Corgi plush has a fantastic design and is priced well for its size. I also think that the Gnar plush could be a contender for the top spot in League of Legends plush toy designs. 
Question: What is the Largest League of Legends Plush?
Answer: The two plush that League offers in the XL size (40 inches tall, 38 inches wide) are Sweetheart Tibbers and Frostfire Tibbers. The Tibbers plush are similar to the large teddy bears that you see in grocery and toy stores around Valentine's day. They look similar to an oversized teddy bear as well; they make the perfect gift for a cuddly League of Legends fan! 
League of Legends Plush Guide: Conclusion
The quality of League of Legends plush toys varies wildly from terrible designs to adorable plush pals that I would be happy to look at every day. League collectibles, regardless of their quality, are highly desirable and the retired items even more so.
In the Riot shop, regular-sized plush are around 30 dollars, and the extra-large plush figures run from $90 to $125. Retired toys can have price ranges from 30 dollars up to 100 dollars or more, depending on where you are buying the plush from and which plush you are looking to acquire.
League has released countless plush over the years, but this guide has listed the most popular ones.
Read More: