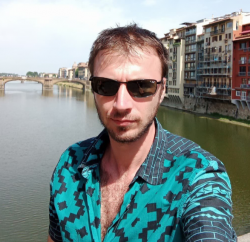 Latest posts by Stefan Stevanovic
(see all)
When it comes to game collectibles, accessories, and apparel, there are only a handful of titles that come close to League of Legends. This makes sense given its enormous popularity in the last 10 to 15 years. Some of these products are quite incredible, and even if you're not a fan of the MOBA, you should consider buying them.
In this particular article, I will focus on the best League of Legends backpacks. These are ideal for all high school and college students, but you can wear them on just about any occasion. Whether you're looking for a favorite champion, pet, or even minions, there is something for everyone!
Key Info Up Front
League of Legends backpacks are a great purchase for anyone who likes the game. Whether you're buying it for yourself or for a friend, you can find lots of amazing themes and designs on Amazon, AliExpress, and in other online shops.
Best League of Legends Backpacks
League of Legends Outdoor Hiking Backpack
If you're looking for a product that depicts the volatility of a League of Legends, it doesn't get better than this one. League of Legends outdoor hiking backpack showcases all your favorite champions, including Ezreal, Akali, Miss Fortune, and many others.
The front side of the item shows all these champions engaged in a never-ending battle. The print is very chaotic, with lots of different colors and patterns. However, if you're looking for something that pays homage to the game as a whole, this is the best product you can purchase.
The backpack comes in black, blue, and pink. It is 16.5 inches high, 5.5 in-depth, and 12.6 inches wide. It has a solid capacity for such an item, with a large front pocket for additional school accessories and extra elasticized pockets on the sides for things such as water bottles.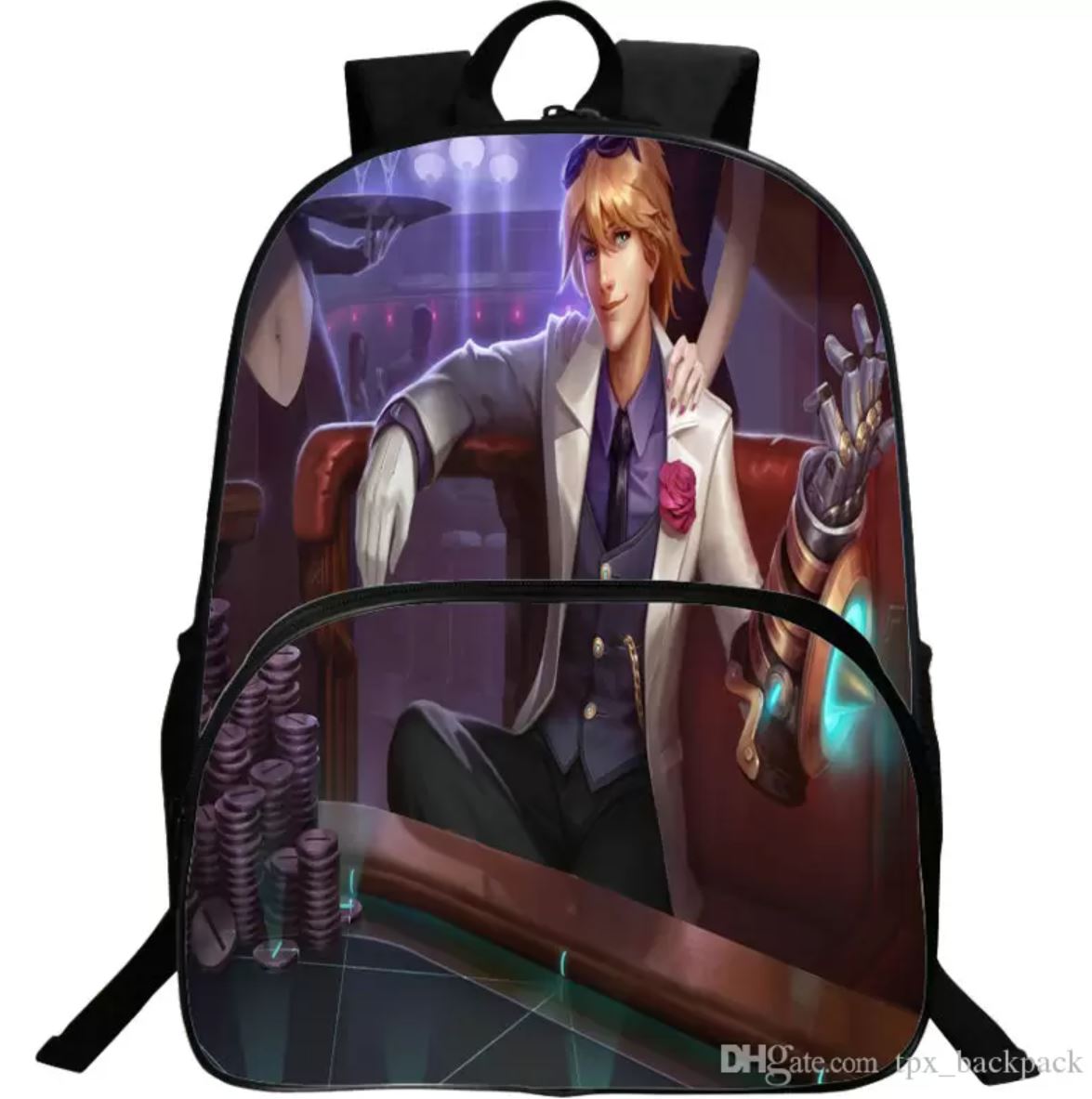 Ezreal is one of the oldest champions in the game, so it isn't really surprising there are so many products for this character.
I really like this backpack because of its color combinations. For the most part, the item is white, with red and pink splashes that start at the front and transition to the backpack's sides. Its backside is completely black, the same color as the zippers.
On the front, there are large black letters "Ezreal, the Prodigal Explorer." There is also "EZ" on the side that refers to both Ezreal and Easy Game. However, the print of Ezreal is the product's selling point. He wears an outfit featured in the "TPA Ezreal" theme. In other words, he has a red jacket, white TPA shirt, massive headphones, and a large glove.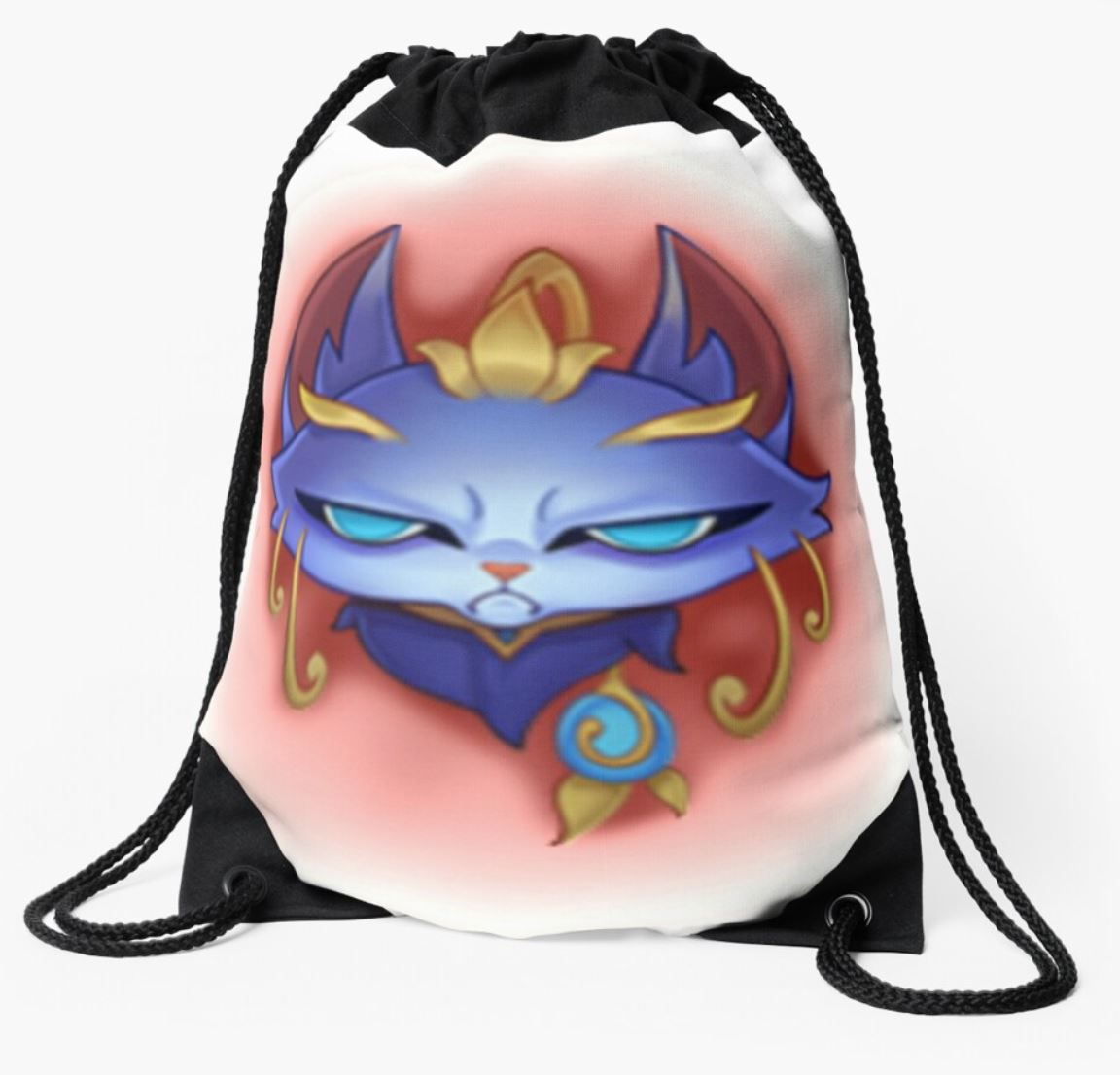 In my opinion, Yuumi has one of the best designs in the game. Although some people will say that this is just a cat, the designers used various colors and details to bring the character to life. Yuumi drawstring backpack utilizes the same images featured in the game.
This print looks so great on the backpack. It practically covers its whole surface, and it even looks good while wearing it. Keep in mind that this is a drawstring backpack, so the image will change a bit when you wear it. However, most League of Legends fans will still be able to tell that this is Yuumi.
The backpack's strings are black, and so is its backside. It is 16.5 inches high and 14.2 wide with minimal depth. It is ideal for books, but also some other lighter items. While the product is not as sturdy as some other types of backpacks, it has an incredible design that makes up for it.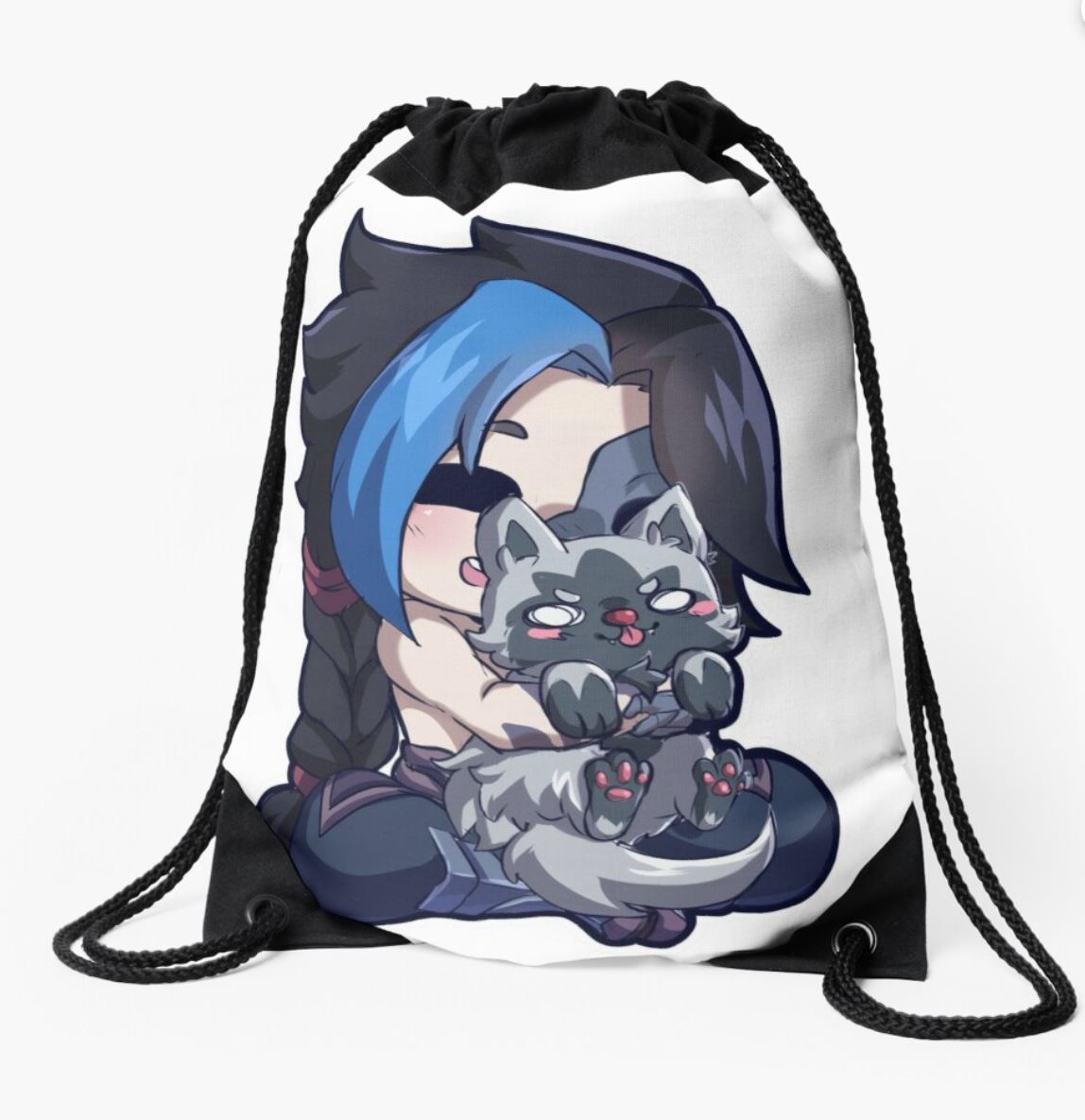 We can all agree that Kayn is one of the most badass characters in the game. So, how cool would it look if you were to wear a backpack with his image?
This particular drawstring product is 14 inches wide and 16 inches high. Despite its flimsy appearance, it is made from rather resilient materials. Like all drawstring backpacks, this one has a drawstring closure. The product is also water repellent, and it feels great on the touch.
But let's be honest. If you were to buy the product, you would do so for its amazing Kayn picture. The image used was the same for Odyssey Kayn cosmetic. Here, you can see the champion hovering over its defeated enemy and draining his soul. As per usual, he holds the massive scythe in his left hand.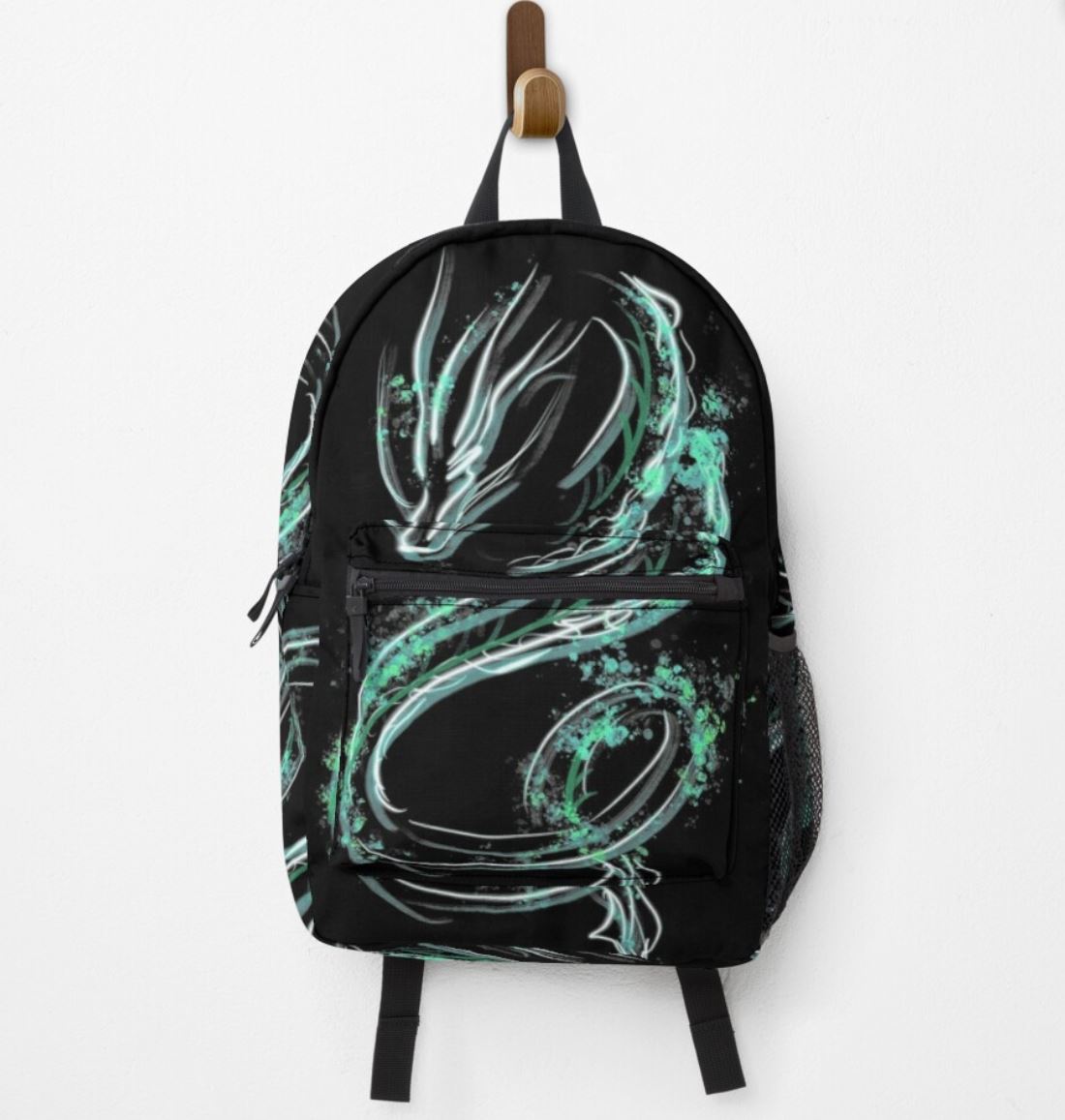 This sturdy backpack featured Akali's Green Dragon symbol. The print is very well done; the dragon is made from white color and a few different green shades. It makes it even better that the image is placed against a black background. Although you can't see Akali on this one, most League of Legends will understand the reference.
The bag is 17 inches high, 12.5 inches wide, and 5 inches deep. It even has a frontal laptop pocket that can hold some smaller laptop computers. It is 13.5 inches high and 10.5 inches wide. This makes it ideal for college students but also freelancers who move around a lot carrying their laptops and handheld devices.
This amazing backpack is made from 100% polyester. Besides the large laptop pocket, it also has adjustable straps and an external mesh pocket.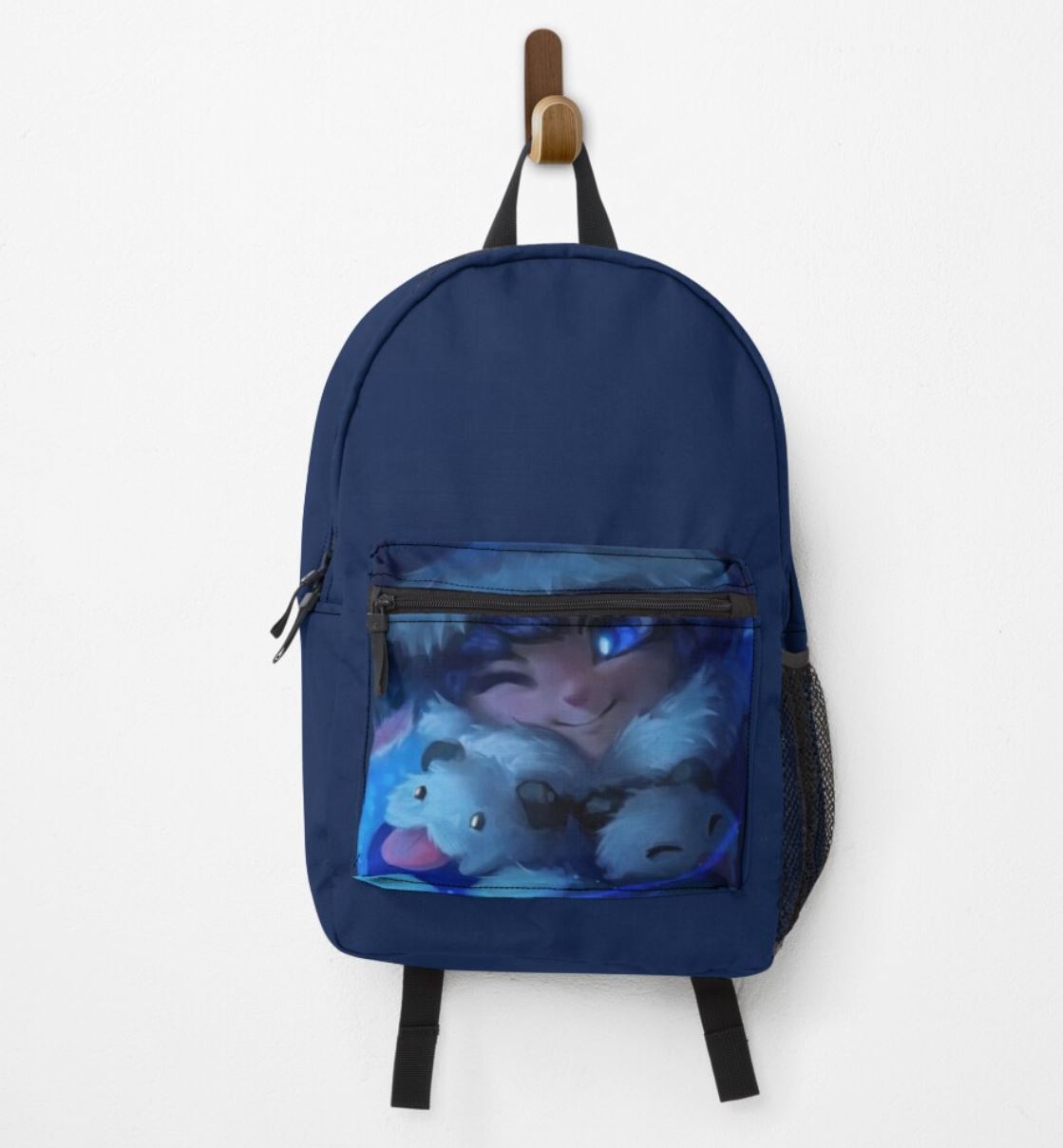 Lulu is one of the most adorable champions in the game. The only thing that can make her even cuter is a bunch of poros flocking to her side. This is precisely what you get when you purchase the Winter Lulu backpack. The image is placed on its frontal pocket, and it shows smiling Lulu surrounded by two poros: one of them looks like he's ready to play, while the other one is taking a power nap.
Overall, the product utilizes great colors. Although the base dark blue color might look a bit dull, it goes well with the pic that adds liveliness to it. The product is very sturdy, and you can use it to wear several books and a laptop at the same time.
Its measurements read 17 inches, 12.5 inches, and 5 inches. It also has a frontal pocket of the same size as the one for Green Akali Dragon. It's completely made from polyester and, if needed, you can wash it in a washing machine.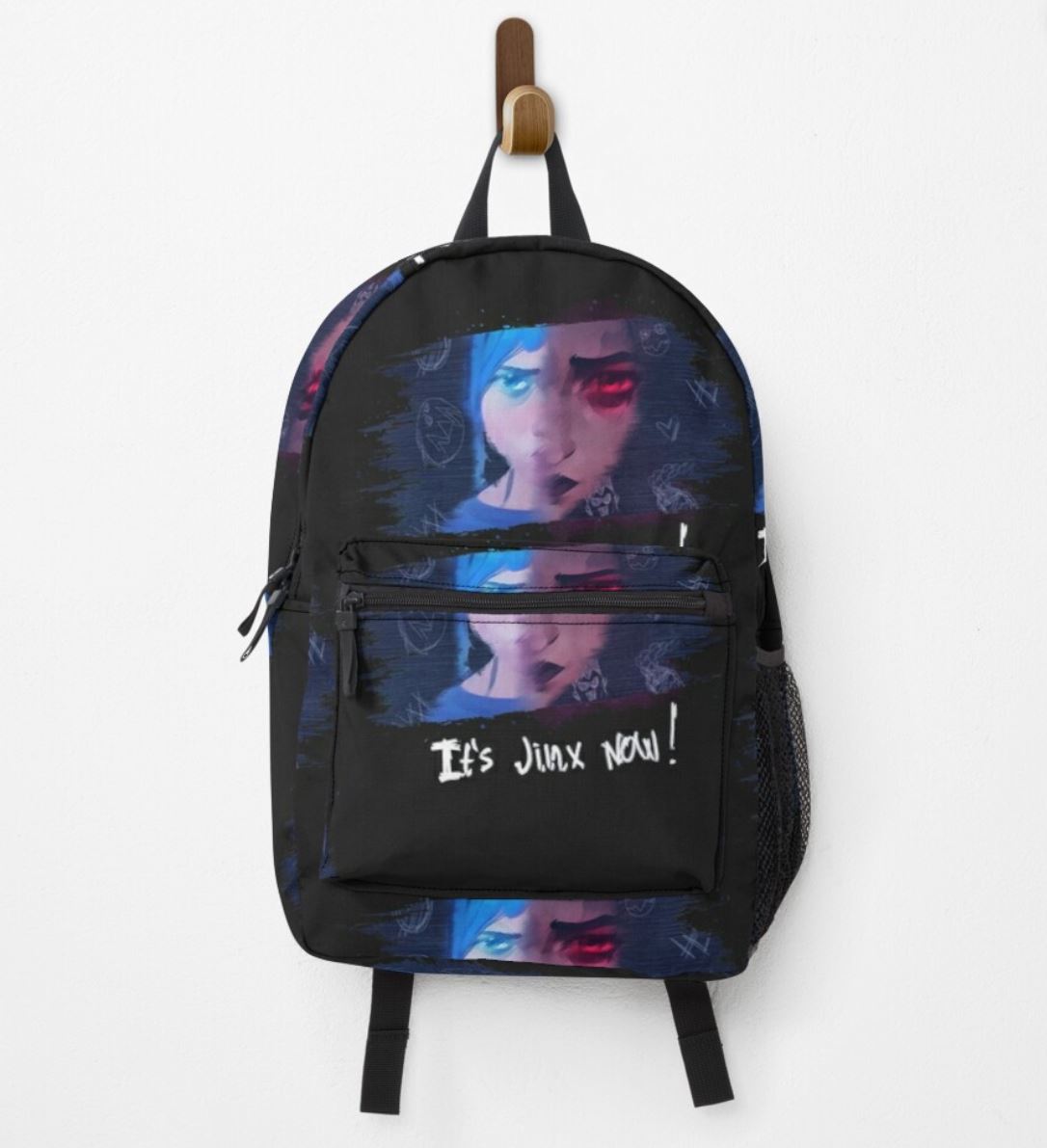 Speaking of cute characters, we cannot forget Jinx. Although she was always a fan favorite, she attained even greater fame with the release of Arcane.
This particular item is purple and is 17 inches high, 5 inches deep, and 12.5 inches wide. It has a side pocket which is ideal for water bottles and other smaller trinkets. It also has a rather wide frontal pocket. Its shell is made from polyester.
The item is very durable, and you can use it for just about anything. Aside from school accessories and laptops, it can be great for hiking and various other sports activities.
But, let's get back to the design. As mentioned, it has a purple exterior with black zippers. On the front pocket, you can see an image of Jinx caressing a poro. The animal is very happy, and you will notice that the champion is also in love based on the heart icons surrounding her.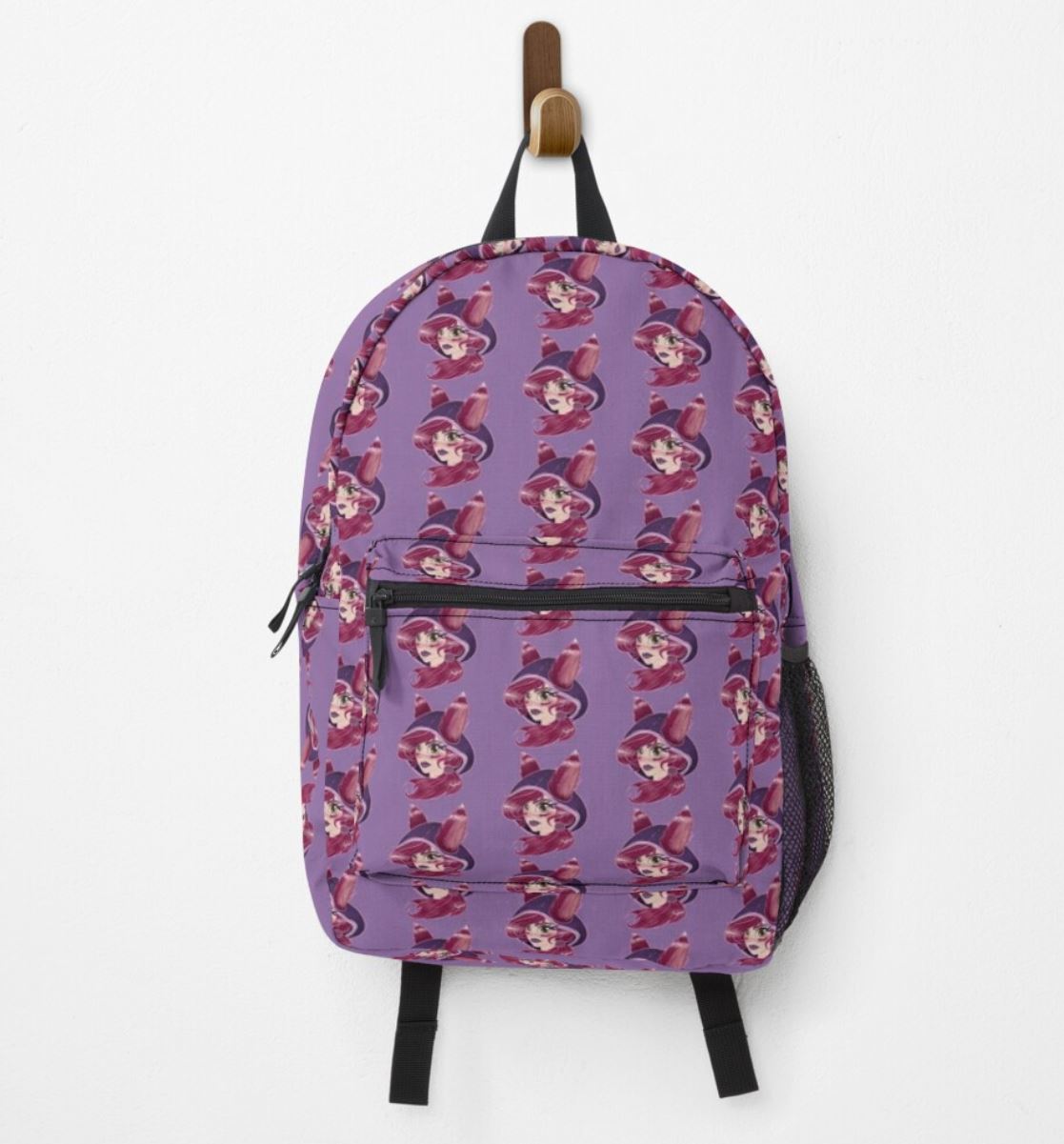 Elderwood collection is among the top cosmetic sets in the game. Almost every champion using this skin looks amazing, and the same can be said for Xayah.
Elderwood Xayah backpack uses white color for background with black zippers. Like a few other backpacks that I've just mentioned, it is made from polyester, and it is 17 inches high. The product is rather sturdy, and even if you throw it around, you can't damage it that easily.
Although I love the white color, the Xayah print is a bit confusing. It is interrupted, and it is really hard to tell who is in the pic. However, given that there aren't many Xayax backpacks out there (especially Elderwood Xayah backpacks), I had to add this one to the list. Even though it is a bit hard to see the champion's face, the overall design is rather cool.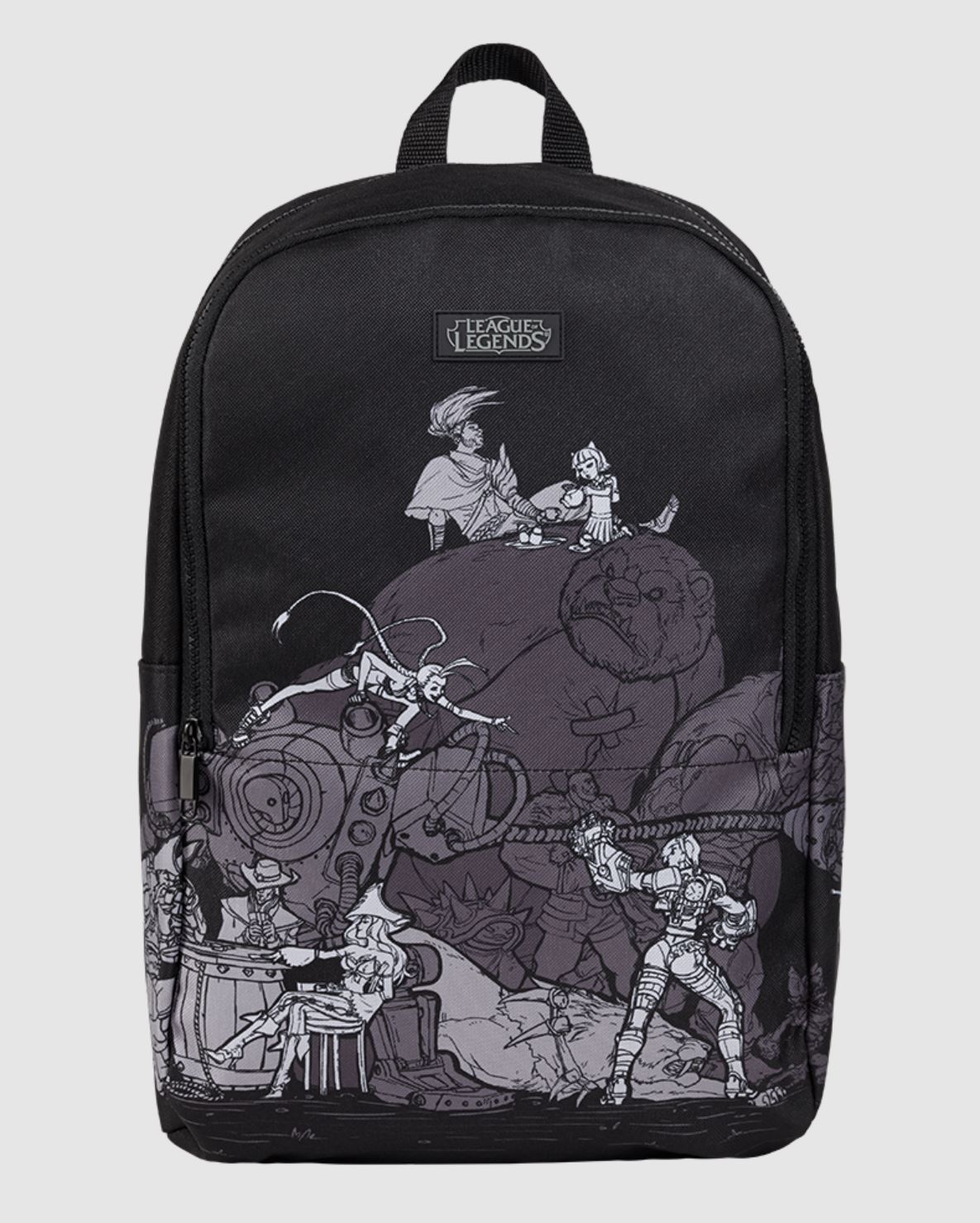 This particular product can be found in the Riot store. It is another one of those items that feature several champions at once. You can notice Annie, Yasuo, Miss Fortune, Jinx, and a few other characters. Although it looks like they're moving, the design isn't overbearing.
The backpack utilizes black color for the background and zippers. Images of the champions, as well as the surrounding items, are made in white, gray, and dark gray, just enough to distinguish them from the background.
As for the dimensions, the product is 12 inches wide, 18.5 inches high, and 5.5 inches deep. If you have a 15-inch laptop, it should fit comfortably inside it. There is also a frontal pocket that can be used for smaller trinkets. The product is made from polyester, and you can wash it at any time.
K/DA POP/STARS Backpack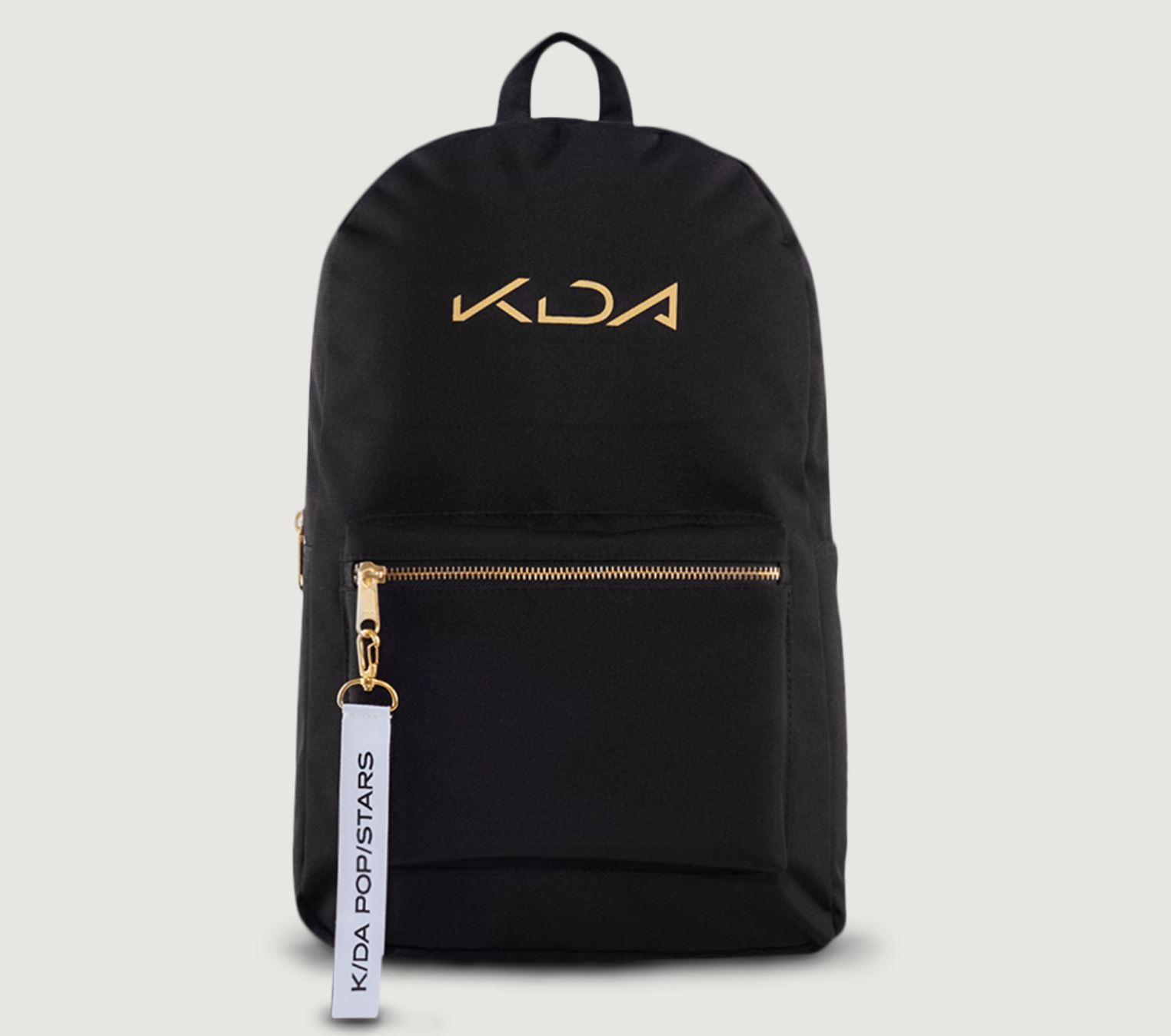 Although this backpack might look rather simplistic at first glance, it has numerous cool details worth your attention.
First off, the product is full black on the outside with the exception of the golden zippers and golden "KDA" logo. Another thing that indicates the "KDA" collection is the tag hanging from the frontal pocket zipper.
However, the magic starts when you open the backpack. The thing that makes this item really unique, not only among League of Legends backpacks but backpacks, in general, is the purple and gold interior. This lavishing, flashy style is characteristic of the "KDA" collection. So, when you use the backpack, you will also feel like a real pop star! There is also a name tag on the interior where you can put personal information just in case the backpack gets lost.
The product is 17 inches high, 11 inches wide, and 4.5 inches deep, and you can buy it in the Riot store.
Yasuo, the Unforgiven, Backpack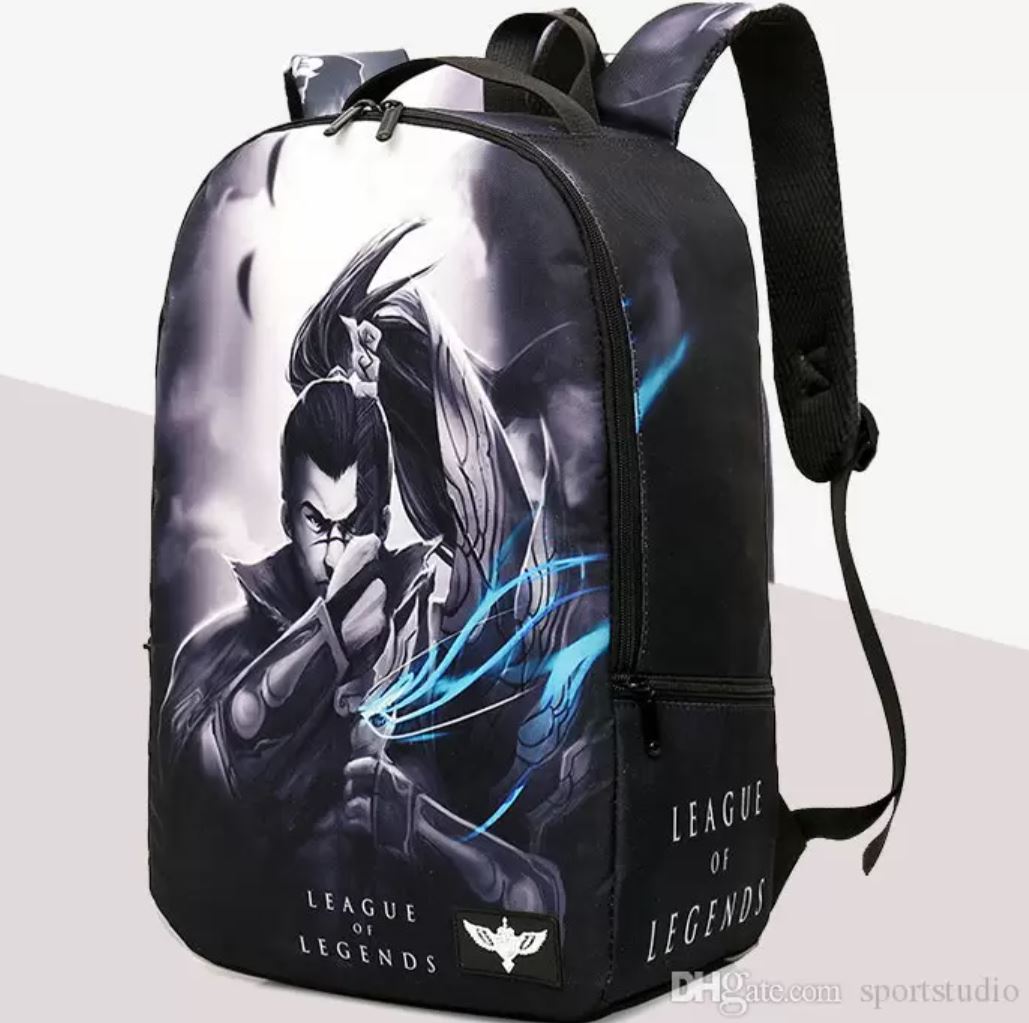 Yasuo is another one of those strong manly characters that can be placed on just about any product. Here, you can see the character holding his trusty katana. As he draws the weapon from the scabbard, you can see the elemental wind power oozing from it.
For the most part, the product utilizes black, white, and gray colors. You can also notice the light blue color signifying the wind, which makes for a stark contrast. Yasuo looks powerful as always, one eye covered behind the unsheathed sword while his hair flies in the wind.
At the bottom center, you can notice "League of Legends" words, the same design which can be seen on the side of the backpack. The product can be bought via DHGate, and it is a great pickup for all those who like this mysterious swordmaster.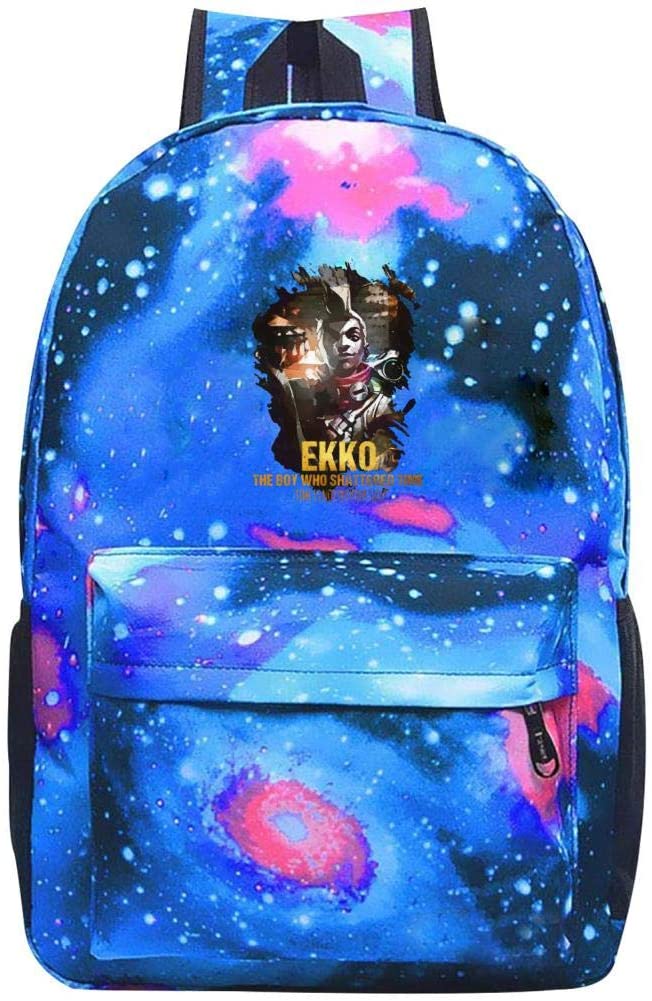 Ekko is everyone's favorite rascal, and this product shows him in the best light. His default picture is placed on the front, covering the majority of the central and right sides. The rest of the backpack is black with circle/triangle images. There are also a few gray sections that provide great contrast.
Although the product is great as it is, the designers somehow made it better by adding a cool "Ekko" sign in the lower-left corner. You can also notice outlines of Ekko's face within the letter O. Lastly, there is a League of Legends logo in the upper left corner.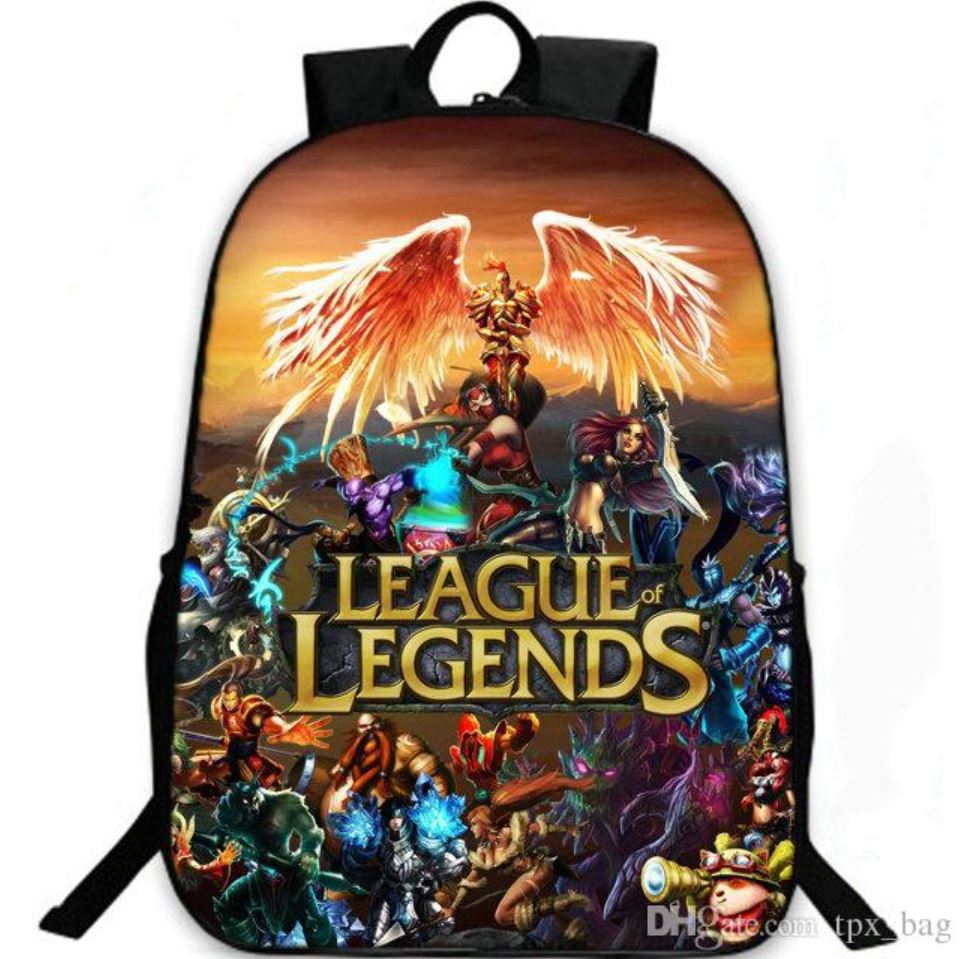 Even though Alistar is one of the oldest champions in the League of Legends world, he was rarely featured. Yes, he definitely had his shiny moments, but it feels that the champion never attained the same glory as some other characters. Because of that, it is very refreshing when I see him on items such as this.
The image on the backpack is rather powerful. It looks as if the champion is on top of a rune circle that is somehow inhibiting his powers. This might refer to his lore, where he was chained in an arena. The Minotaur is yelling his lungs out and has a very powerful posture. You can see numerous war scars on his body as he clenches his fists. It is also worth noting that the champion's skin is gray instead of the usual purple.
The backpack is 16 inches high and 12 inches wide. It has side pockets, and it can be adjusted according to the wearer's height.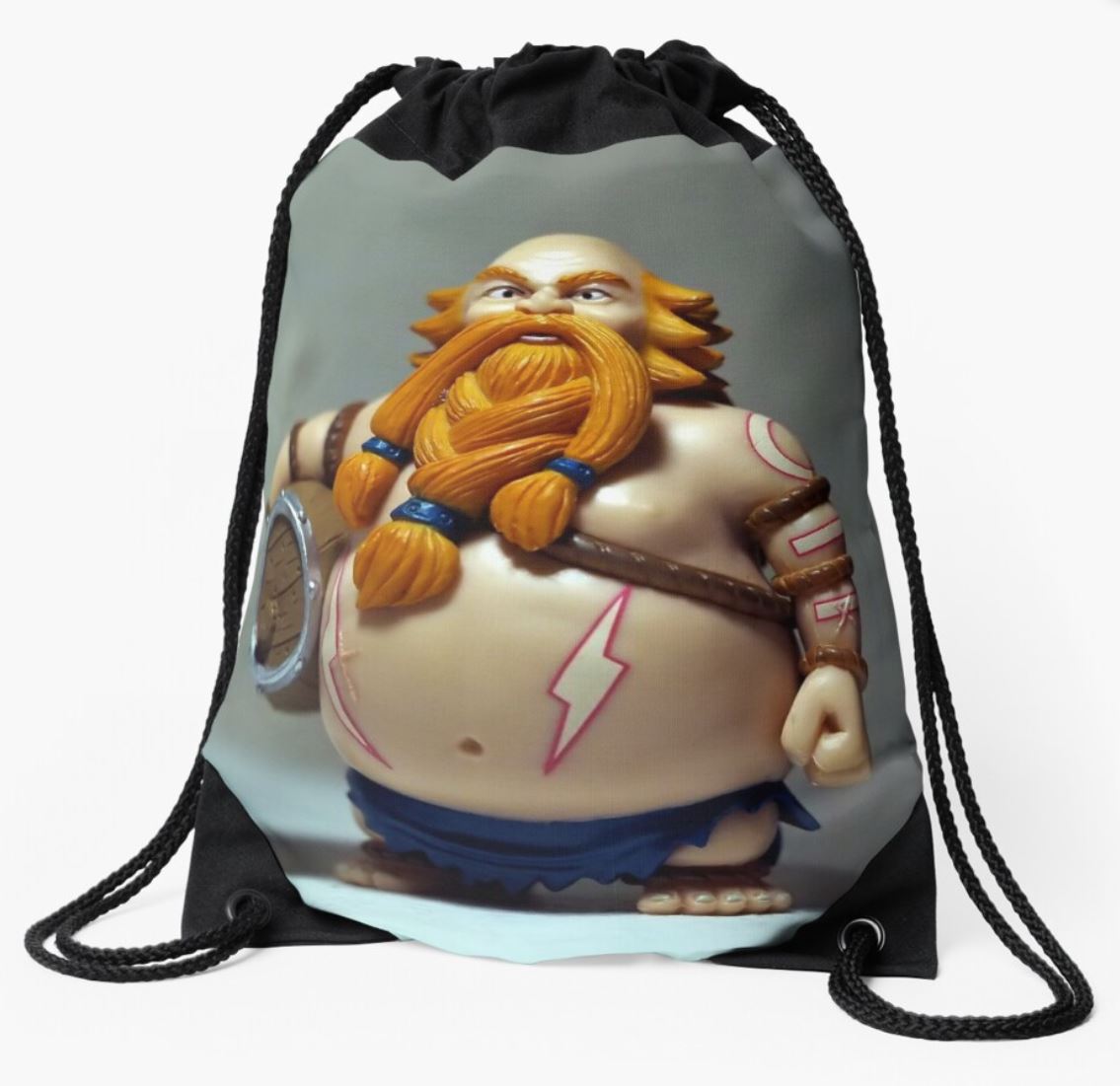 If you're looking for something lighter and a little bit inconspicuous, perhaps you should consider getting a Gragas drawstring bag. The product is 15 inches wide and 19.5 inches high, making it much more spacious than some traditional backpacks. So much so that you can place a laptop inside of it.
The champion looks a bit more polished compared to his model in League of Legends. In that sense, Gragas looks like his own anime version. The pic covers the whole frontal area, but closing the bag doesn't interrupt the model. That is, you can still see a clear image of the jovial character.
Panda Annie Backpack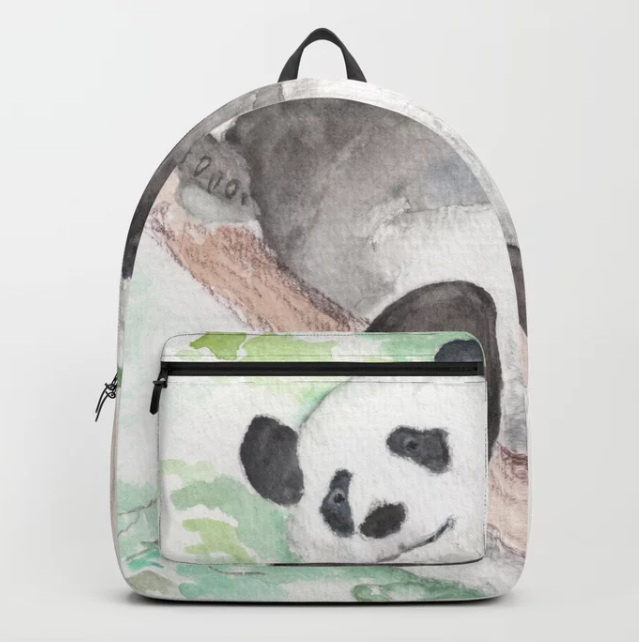 The Panda Annie theme is pretty dope. Instead of his usual appearance, Tibbers looks like a giant smiling panda carrying fireworks on his back. Annie's clothing is also very different; she has an oriental theme combining purple and red clothing with external golden lines. Like her friend, she also carries massive fireworks in a pouch.
This image covers the whole frontal area of the backpack. Aside from that, this is a very sturdy, quality product. It has strong zippers and is made from 100% polyester. As for its dimensions, the item is 16.5 inches high, 11.4 inches wide, and 7.1 inches deep.
Panda Annie backpack is mainly for kids. Although very light, the item is extremely durable, and you can carry a bunch of books in it. There is also a side pocket that is great for water bottles or umbrellas.
Ashe Backpack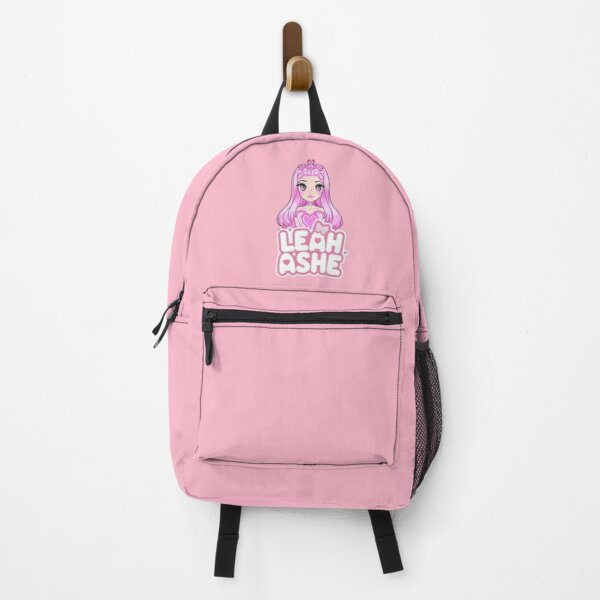 Another very cool product features Ashe. The champion is shown preparing two frozen arrows as she's looking for the next target. The print covers the whole frontal side of the backpack. She has a massive ice bow and default clothing with a hood covering her hair.
The product is 16 inches high, 12 inches wide, and 5.5 inches deep. It is very resilient, and like most similar backpacks, it is 100% made from polyester. You can adjust its straps, and there are also two side pockets that can hold smaller items such as pencils, folded notepads, but also umbrellas, and water bottles.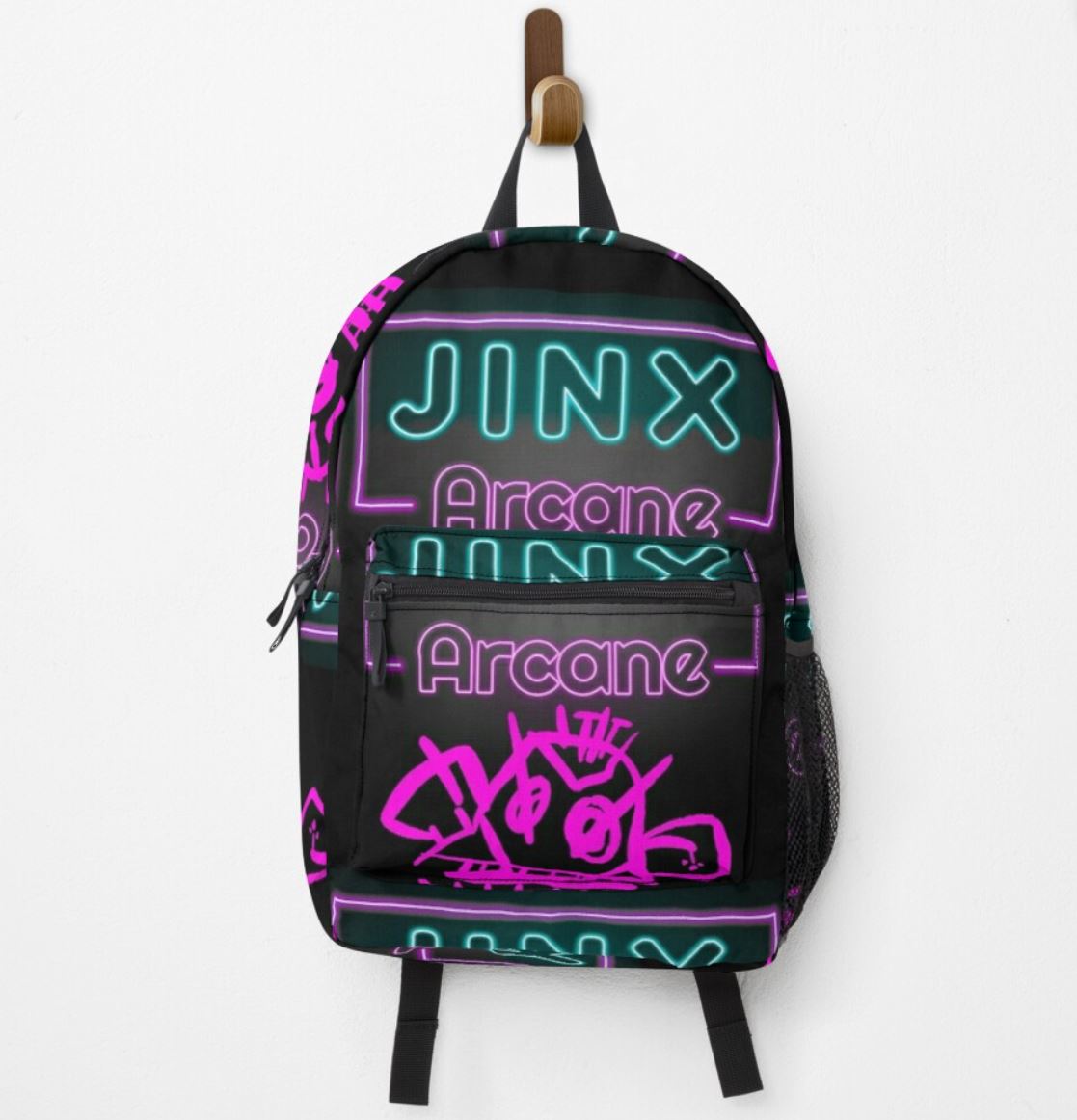 Although a part of the Arcane storyline, this is still regarded as a League of Legends-themed product.
This is among the goofiest backpacks on the market, which makes sense given that Jinx is involved. The product has a white background, black zippers, and a bunch of monkey graffiti all over the place. Graffiti utilize a combination of orange and purple, and they are pretty awesome. Furthermore, these vivid colors work well against a white background.
The backpack is extremely durable and is made from polyester. You can find it in the Red Bubble online shop, but it is probably available in some other stores. Monkey Graffiti backpack is 17 inches high, 12.5 inches wide, and 5 inches deep. There is also a side pocket suitable for various minor accessories.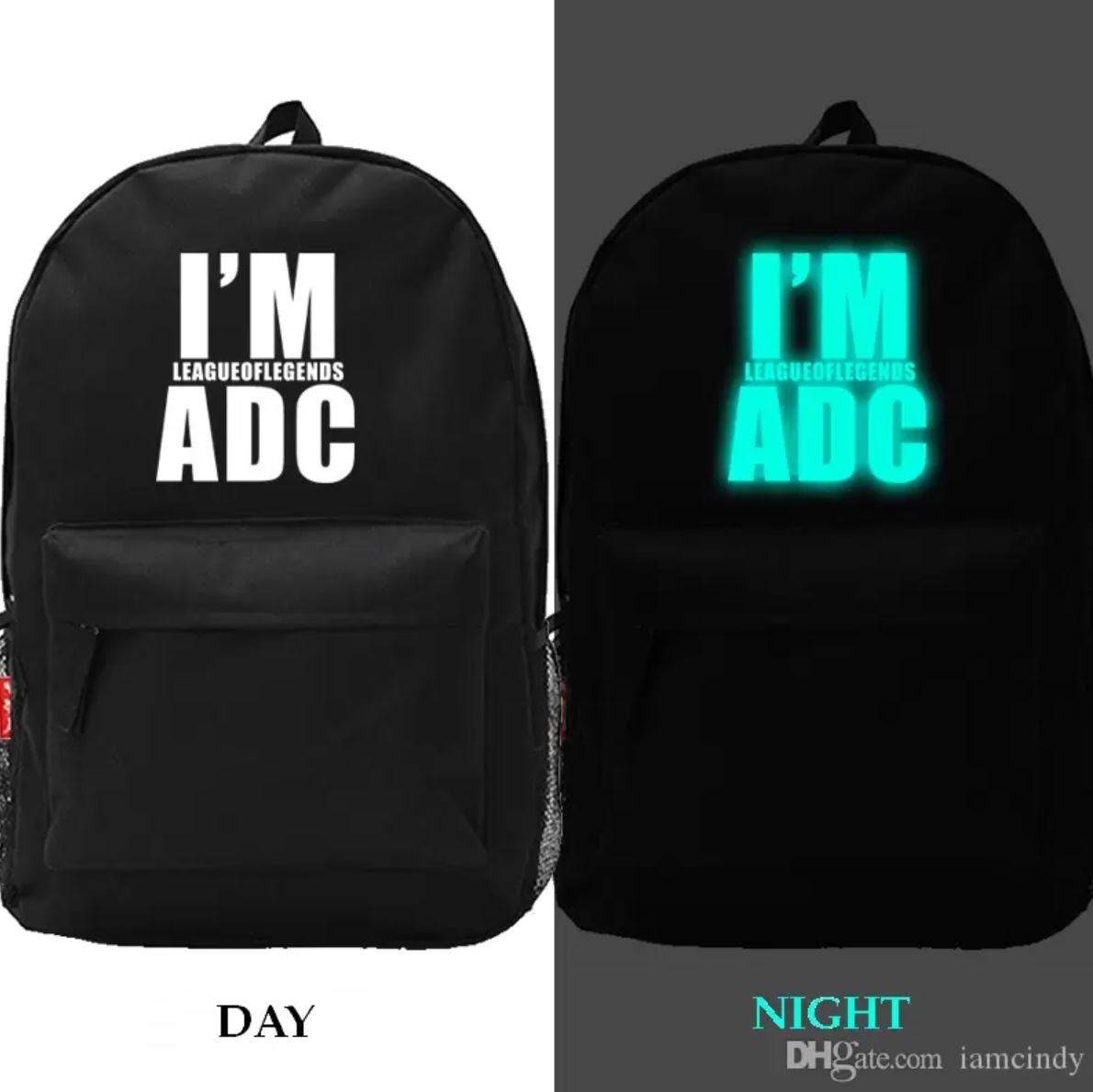 If you heard that this backpack has "I'm League of Legends ADC" written on a simple black background and no other details, you probably wouldn't be intrigued by it. So, what's the catch, and why is it on this list?
Basically, these are white letters during the day that turns luminous during the night. They turn fluorescent green, giving them a completely different look. While this is a minor detail, I simply can't get over it. You can find the product on the DHGate site.
Despite being somewhat gimmicky, there are some other reasons to purchase this backpack besides its external appearance. The item is made from nylon, which is very rare for backpacks. Nevertheless, this is still a very sturdy material.
The luminous backpack has lateral pockets, which are ideal for your phone but also other small school accessories. You can also use its mesh bag for a bottle, and there is an interior pocket for extra stuff.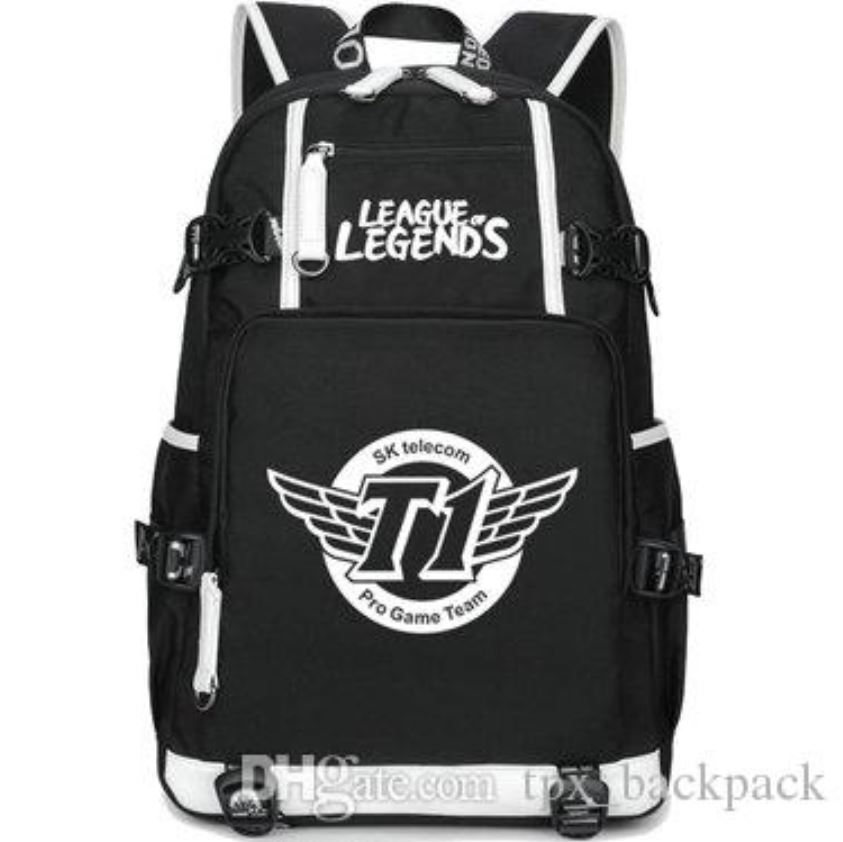 Unfortunately, there aren't many backpacks featuring popular League of Legends teams. This really sucks as fans would definitely like to support their favorite squad by wearing such an item.
The T1 Team backpack is amazing not only for T1 fans but everyone else that likes to wear something different. What separates this product from others is the fact that it's red. There are only a handful of such League of Legends items on the market, which makes this one somewhat of a novelty. Of course, having a red backpack is also awesome if you have some matching clothes.
Despite the cool color, the backpack's design is somewhat plain. There is a large T1 logo on the front and large white League of Legends letters on the bottom. Of course, you can adjust its straps, and there is a side mesh bag for some extra space.
Rammus Canvas Backpack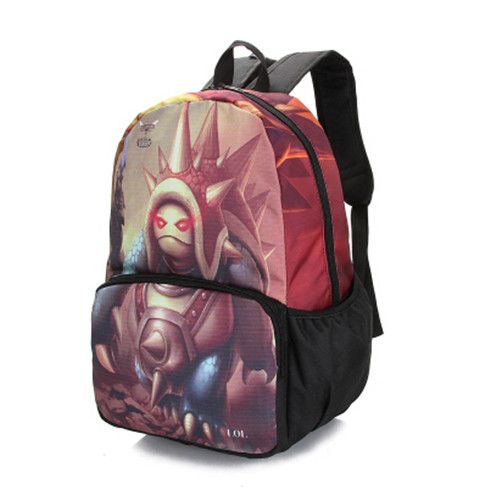 Rammus is another champion that was unrightfully disregarded over the years. You can barely find any items, figurines, or collectibles with this old-school character. This is why I was so excited when I saw this neat Rammus backpack.
The product features a massive Rammus print on the front. It covers not only the frontal area but also the sides. The backpack utilizes cool, light colors for the background, including light orange and light pink. You can see Rammus marching forward, on a mission to defeat some bad guys.
Akali and Kennen Backpack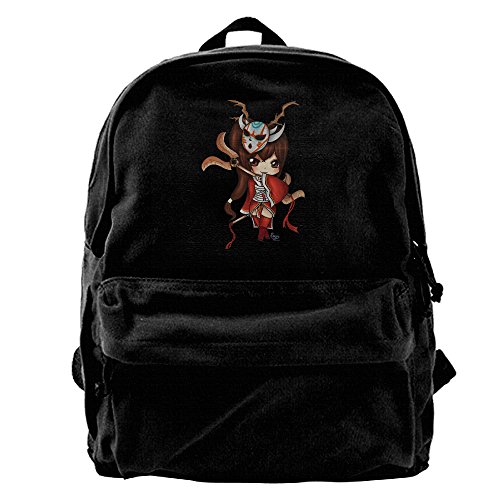 I have to admit that I'm somewhat biased towards Akali, which is why I have to add another backpack featuring the champion.
What makes this product so cool are the colors and the fact it features both Kennen and Akali. The designers utilized light blue and green colors with some dark and black details. Akali is placed in front, while Kennen is slightly to the right side.
Another thing I really like are Akali's kamas. They are massive, and the green color gives them a menacing appearance. While the champion is the centerpiece of the backpack design, Kennen also has an important role. He looks more intimidating than usual because you can't see his eyes but just the green mist protruding from them. If you look closely, you will also notice a large spirit skull in the back.
The backpack is ideal for school kids but can also be worn by teenagers. It is 16 inches high, approximately 12 inches wide, and 6 inches deep. You can use it for laptops, books, and clothes.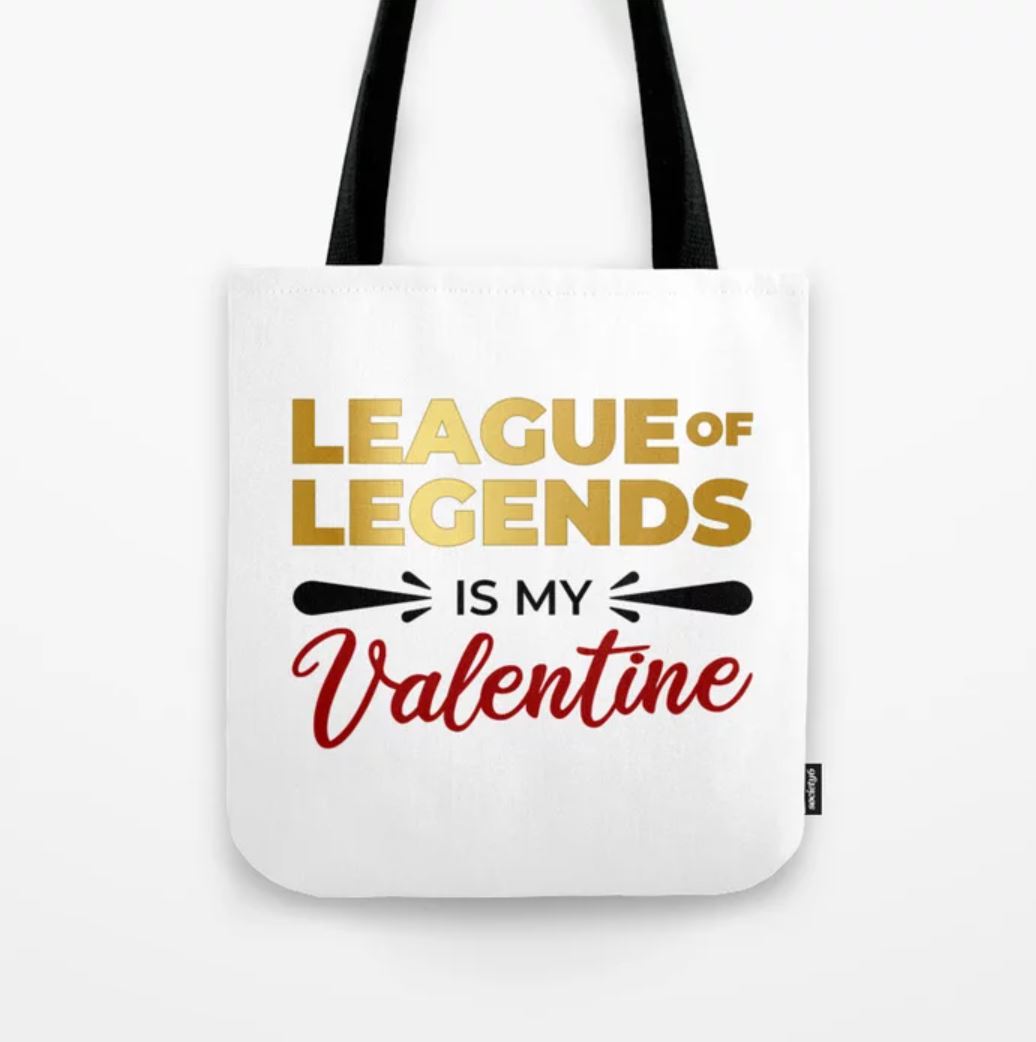 Lastly, I want to mention a backpack that could be a great present for your boyfriend or girlfriend. This product can be found on the Society6 website, and what makes it really unique is how clean it looks.
LoL is My Valentine backpack is white, for the most part, and as you can presume, it has "League of Legends is My Valentine" written on the front. The designers used gold, red, and black for the letters, and they look pretty great together.
This is a unisex product, although it is a bit better for girls. The backpack is 18 inches high, 12.2 inches wide, and almost 6 inches deep. This is somewhat standard for these products, although this particular product is a bit sturdier. It has padded nylon on the bottom and an internal 15-inch pocket.
FAQs
Question: What are the best League of Legends backpacks?
Answer: If you're looking for the best League of Legends backpack, you should consider products such as the Yuumi drawstring backpack, Ezreal, the Prodigal Explorer, and Yasuo, the Unforgiven, backpack. Of course, it all comes to personal preferences, as there are so many cool items you can purchase online.
Question: What is the most commonly featured champion on backpacks
Answer: Based on everything I've seen, I have to say that Jinx is probably the most featured champion on League of Legends backpacks, but also other game items. Her popularity has especially skyrocketed after the release of Arcane, and you can now see her on so many different products.
Question: Who makes the best LoL backpacks?
Answer: Nowadays, there are so many companies that make these products. However, the backpacks I like the most are those made by Riot.
Best League of Legends Backpacks: Conclusion
If you're a big League of Legends fan, you should definitely consider getting one of these items. Some people are rather reluctant to purchase them, as they might feel a bit childish. Keep in mind that LoL player base has lots of players in their late 20s, 30s, and even 40s. However, in my opinion, you are never too old to wear a badass Yasuo on your back!
Read More: