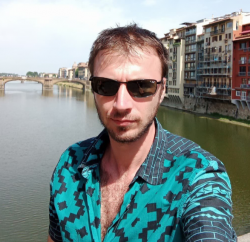 Latest posts by Stefan Stevanovic
(see all)
Like many other products from gaming and anime universes, the best League of Legends shirts are characterized by a plethora of colors and shapes. These items are made to stand out, attracting looks from other people on the street.
Although some fans don't like such flashiness, it is hard to deny the style. In the end, what better way to honor your favorite champion than wearing them proudly on your chest? In this article, I will go through some of the best League of Legends shirts and why you should consider buying them.
Key Info Up Front
You can buy League of Legends t-shirts in various online shops that ship across the globe. These apparel products feature your favorite champions but also pets and minions. My personal favorites are Minion Join Red t-shirt, True Damage official t-shirt, and Yordles Abbey Road t-shirt. Of course, you can always go with something general, such as a product with a large "League of Legends" logo plastered on the front.
Selection Criteria
There are a few things that I focused on when making the list:
The best product from a certain group of t-shirts.
The uniqueness of a product (both as a t-shirt and League of Legends product).
The reputation of a reseller.
Whether you would actually wear it on the street.
If there are several t-shirts within a collection, I recommended the best one or the best two. In that regard, you can even buy several t-shirts from the list, and it wouldn't feel like they're made by the same manufacturer (even if they were).
Basically, each one of these items is unique in its own regard. There are lots of different styles and designs, and each one can provide something different. So, I made sure that the uniqueness is high on my list. Of course, each one of these products is sold by some of the best online shops in the world such as Riot, Amazon, Etsy, etc. This ensures that the material quality, shipping policies, and privacy protection are a-OK.
Lastly, it was important for me to consider if you would actually wear this t-shirt on the street.
Best League of Legends Shirts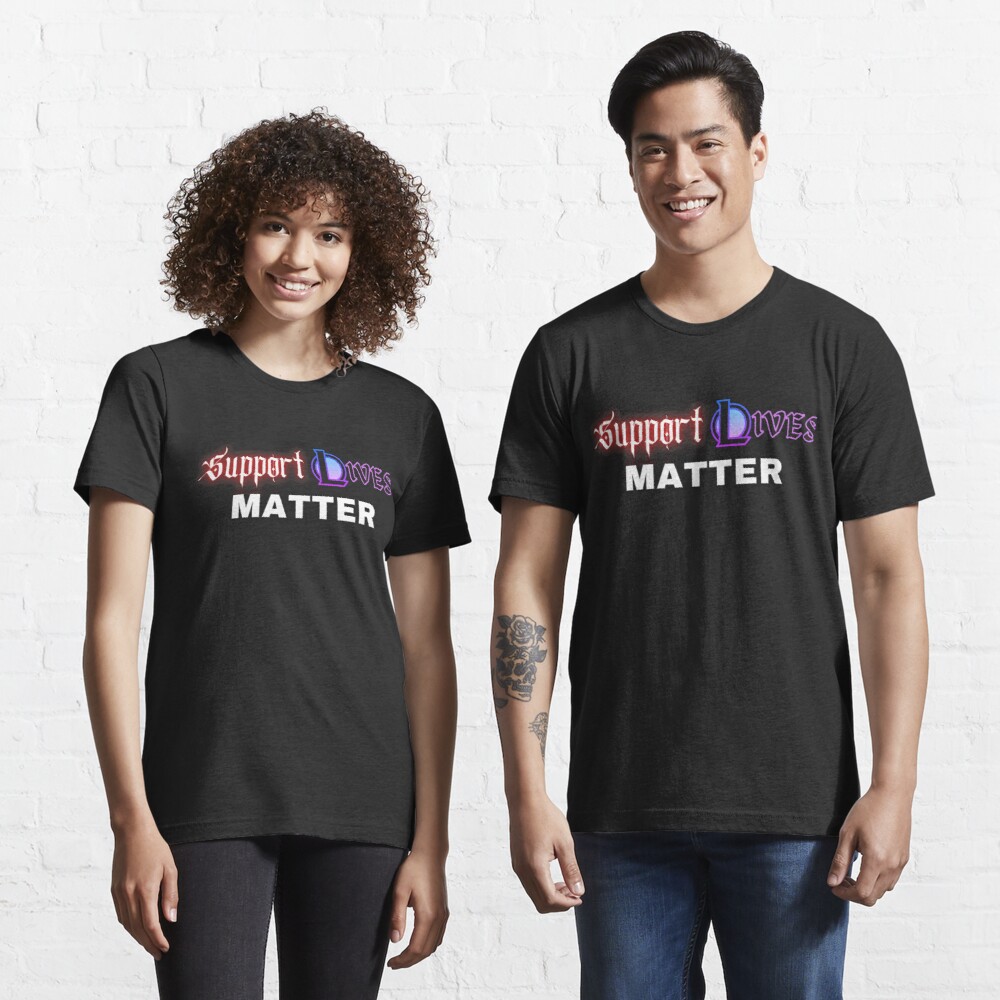 As a long-lasting support player, I have to start with this one. Simply put, selfish carries often forget about us, small guys. They tend to mistreat their supports no matter how hard they work. So, I'm glad that someone finally decided to pay homage to all the Sorakas of the world.
This is a simplistic black t-shirt with a strong message on the front. As the name of the product implies, it says, "Support Lives Matter." The designers used nice color patterns and the League of Legends logo for the letter L. You can choose between 10 basic colors (the letters remain the same).
Support Lives Matter is a unisex t-shirt made from soft cotton. It has a ribbed knit collar and taping on the shoulders. Despite being rather strong, the cotton is very durable, and you can buy it in small, medium, large, extra-large, 2 extra-large, and 3 extra-large.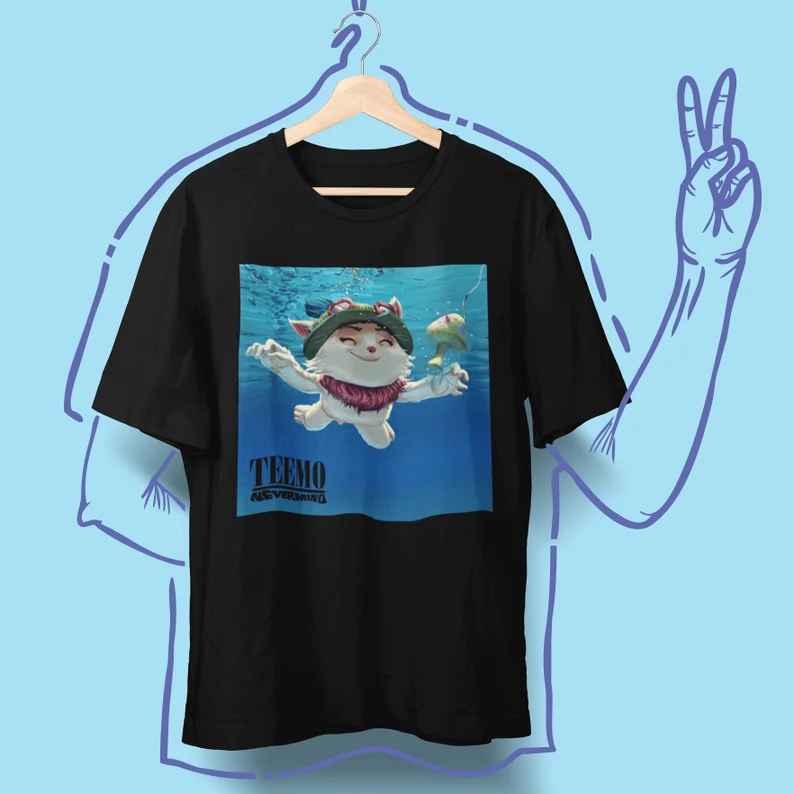 There are a few shirts on the market that pay homage to both League of Legends champions and some of the greatest bands ever. Nirvana Teemo shirt is one such product.
The item uses the cover from Nirvana's Nevermind album, where a baby dives into the pool trying to get a dollar bill connected to a hook. Instead of a baby, you can see Teemo, and instead of a dollar bill, there is a mushroom. In the bottom left corner, it says "Teemo Nevermind."
No matter which genre you're listening to, you will probably appreciate the notion. In the end, this is one of the most famous covers in the history of music. Teemo fits just perfectly, making it an ideal purchase for rockers and metalheads who play this champion.
The product is currently sold on Etsy, and it utilizes ring-spun cotton as the basic material. The image is a digital print, and it won't fade away that easily. In fact, the manufacturer checks all its products for quality before shipping them to consumers.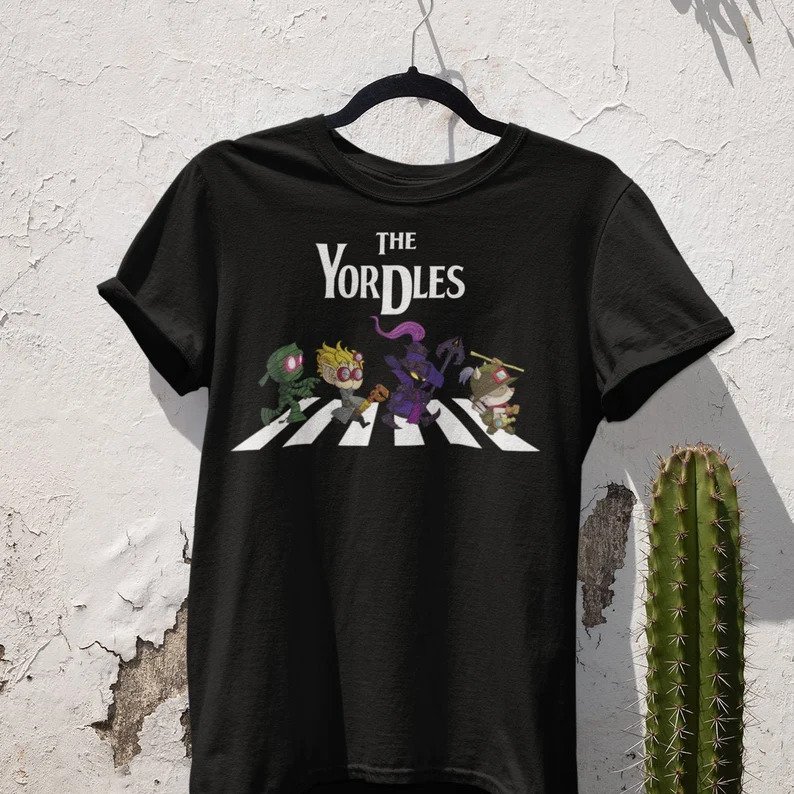 Speaking of legendary, here is another shirt that pays homage to one of the best, if not the best, music bands in history. The premise is so basic and yet, so funny. Instead of Beatles, you have Yordles crossing Abbey Road. Instead of the original image, where you see cars, buildings, and trees, there is only a white zebra crossing, four Yordles on it, and large "Yordles" word above their heads.
The image features Amumu, Heimerdinger, Veigar, and Teemo. All four of them are simply adorable, and they look even better than in the game. Despite the fact that the t-shirt is black, while letters and zebra are white, the Yordles add enough colors so that it doesn't feel monotonous.
Given the theme, almost anyone can wear this product regardless of their age. It was made from 90% cotton and 10% polyester, and you can easily wash it without damaging the print. According to the manufacturer, this is a handmade product.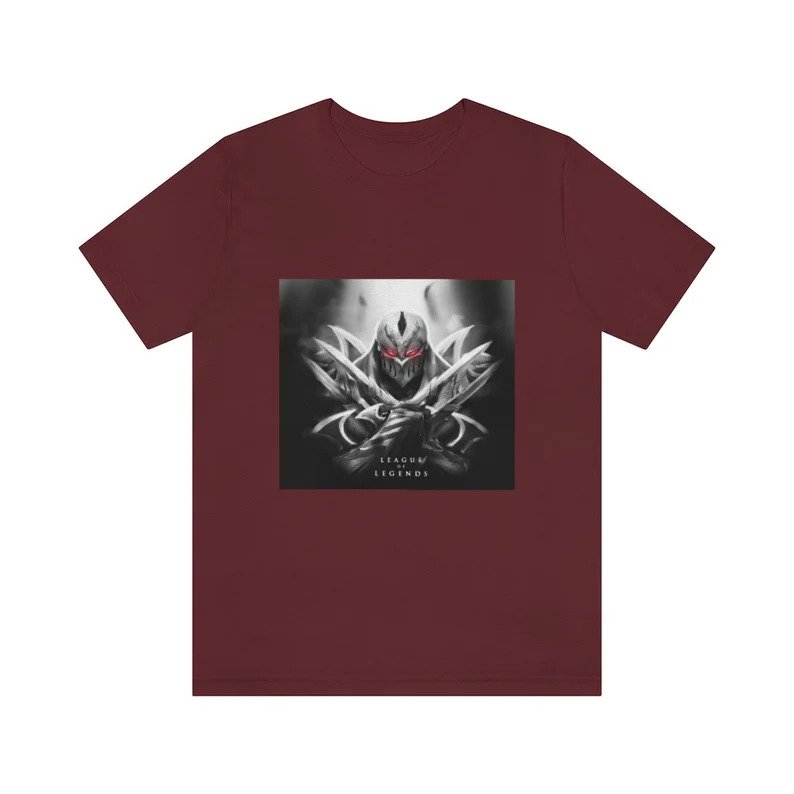 The reason I like this one is just because of how ominous Zed looks. The shirt comes in 10 different colors, including rare shades such as team purple, true royal, kelly, and dark gray heather. Although the shirt is pretty basic, the thing that makes it stand out is the Zed print on the front.
You can see the champion holding his two katars, which are crossed over his chest. Zed looks directly into the camera, looking as if he's ready to attack prey.
The designers utilized some pretty basic colors, which makes it feel unique and different. Zed's body combines different shades of gray and some white, while the background is white and black. The only non-monochrome color is red, which is the color of Zed's eyes.
Zed tee is handmade by using the most quality cotton. It comes in small, medium, large, extra-large, 2 extra-large, and 3 extra-large sizes.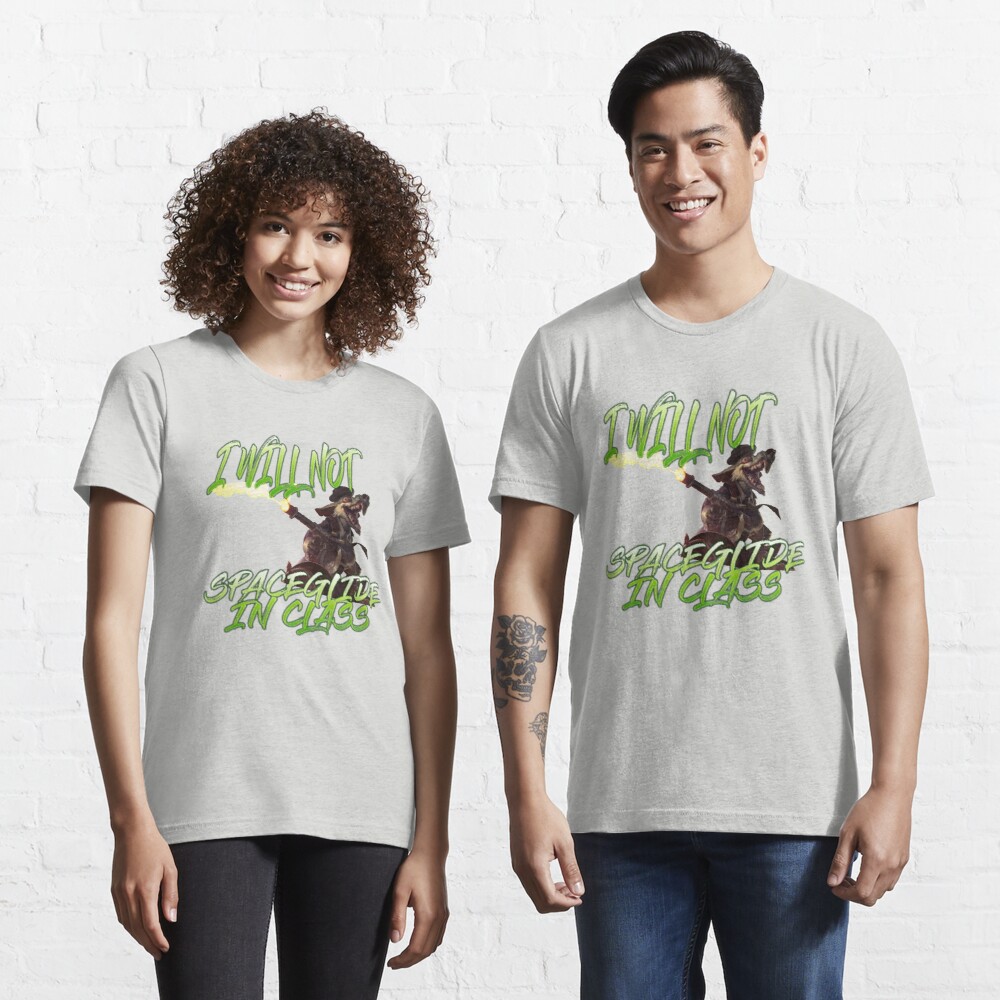 If you're a Twitch fan, you will definitely love this design. The shirt shows Crime City Twitch on a simple t-shirt background with large green letters "I will not spaceglide in class."
If you don't remember the Crime City theme, it is pretty hilarious. You can see the champion in an outfit from the 20s, with a nice gentleman's hat and a tommy gun in his hands. Twitch frantically shoots from his weapon, laughing all the way. It is an image of full craziness, something we can easily associate with this character.
The shirt stands out from the competition due to the fact that the designers didn't use square print. Instead, Twitch and the words are "floating" on the front. This makes it a bit harder for maintenance, and there is a good chance that the print will quickly start crumbling. Nevertheless, this is still an amazing product if you want to have some fun with friends during the classes.
I will not spaceglide in class Twitch t-shirt comes in 18 different colors, and you can choose between several t-shirt types. There is also an option of selecting where to put the print. You can place it both on the back and on the front.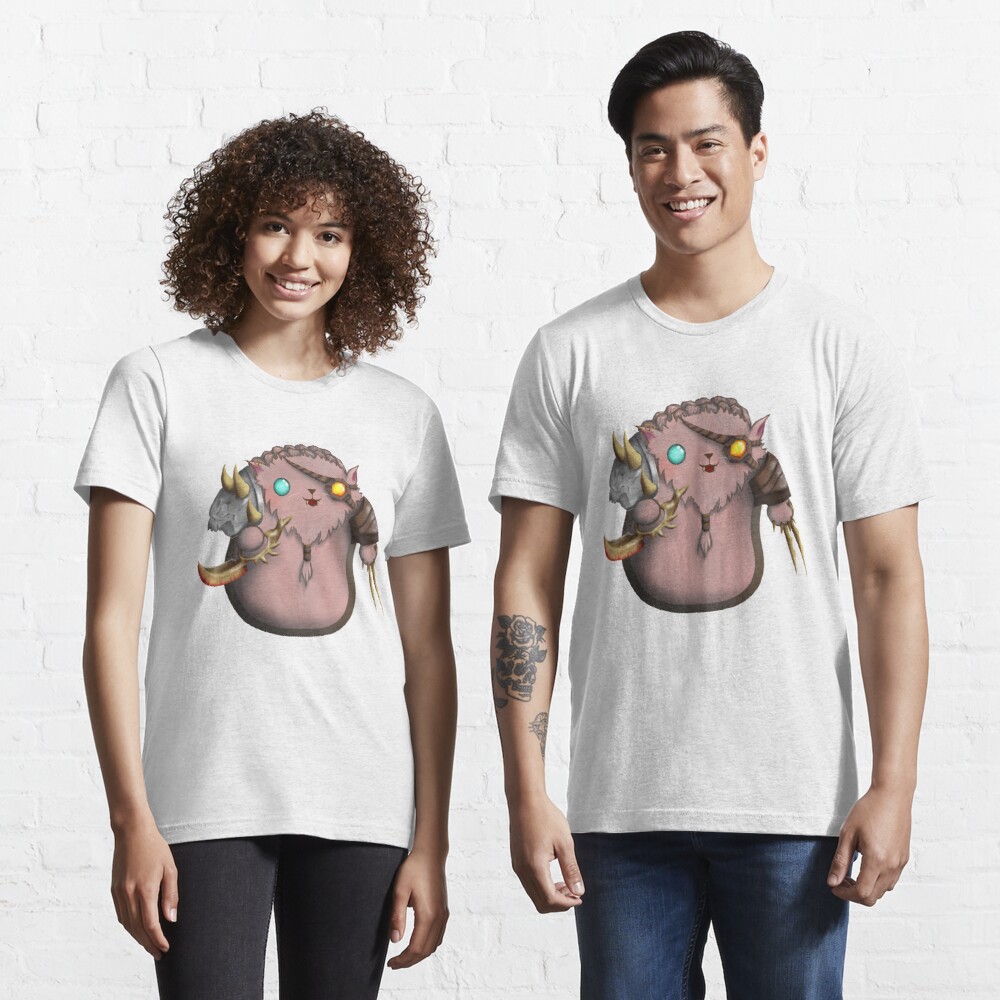 In the lore, Rengar is depicted as this vicious trophy hunter who is willing to do just about anything to score an elite kill. This is why any champion's caricature is so fun to me.
As the name implies, this t-shirt shows Rengar in his milder form. Instead of a strong muscular body, he has a round potato physique. And when I say round, I really mean round! You can't even see his legs, and everything below his beard looks oval, with a thick outline.
Still, the designers decided to add arms to the model. Rengar is holding a suwayyah in one hand and a curved knife in the second one. There are also a few other details, such as a metallic shoulder guard on his right shoulder and padding on his left one. Rengar has an orange patch on his left eye and a great smile.
Keep in mind there is some difference between the male and the female version. The basic male version is 6 inches long and is classified as medium, while the basic female product is 5.8 inches long and classified as small. Different parts of the product are made from cotton and polyester.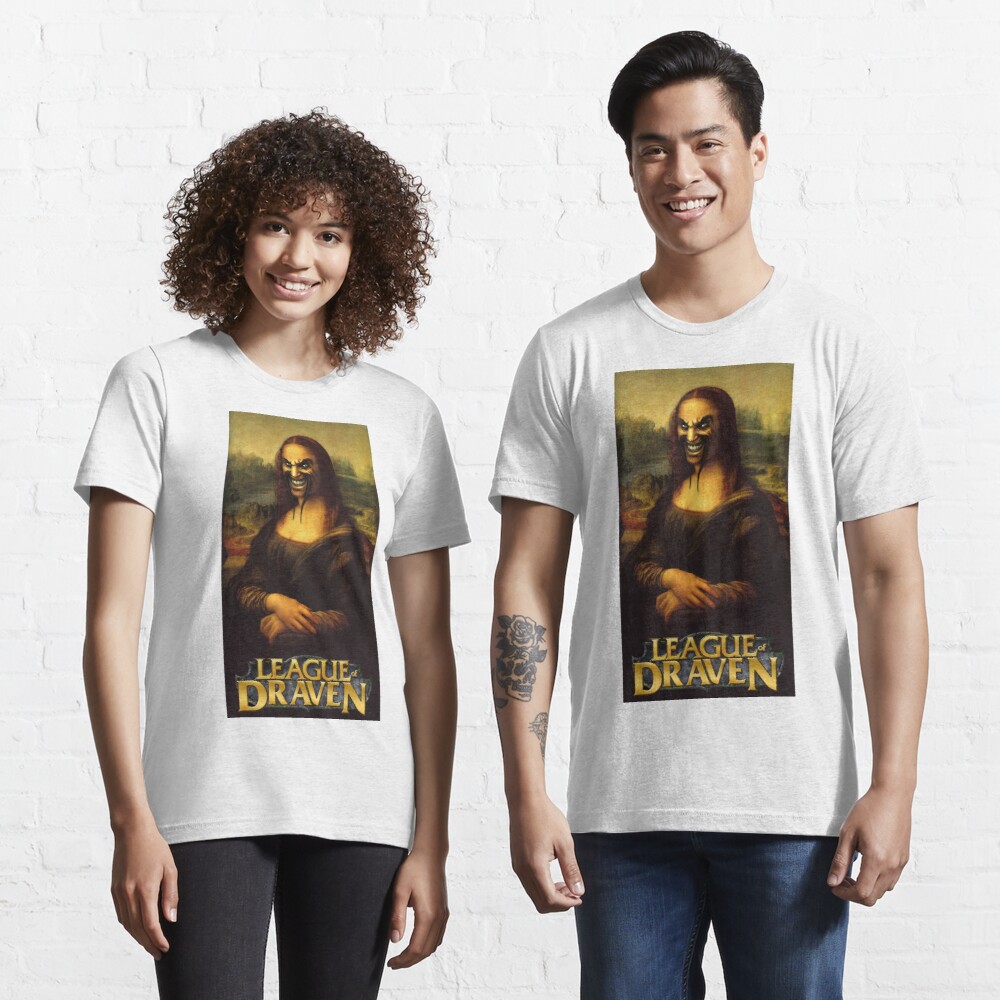 Draven has become notorious within the League of Legends community for several reasons. Among others, it is hard to disregard his hilarious-looking passive ability called League of Draven, which uses his face as an icon. In a way, this exact ability icon was used as an inspiration for the t-shirt.
These products have an image of Mona Lisa printed on them (you can choose whether it's in the back or in the front). However, instead of Mona Lisa's face, you can see Draven viciously smiling back at you. There are also large "League of Draven" words beneath the painting, made with the League of Legends logo.
At times, it is hard to tell whether the print is scary or funny. It's probably both. The color comes in 17 colors, including heather gray, black, white, green, purple, red, and so on. Every t-shirt is body fit and has neck bands as well as double-needle hems for increased durability.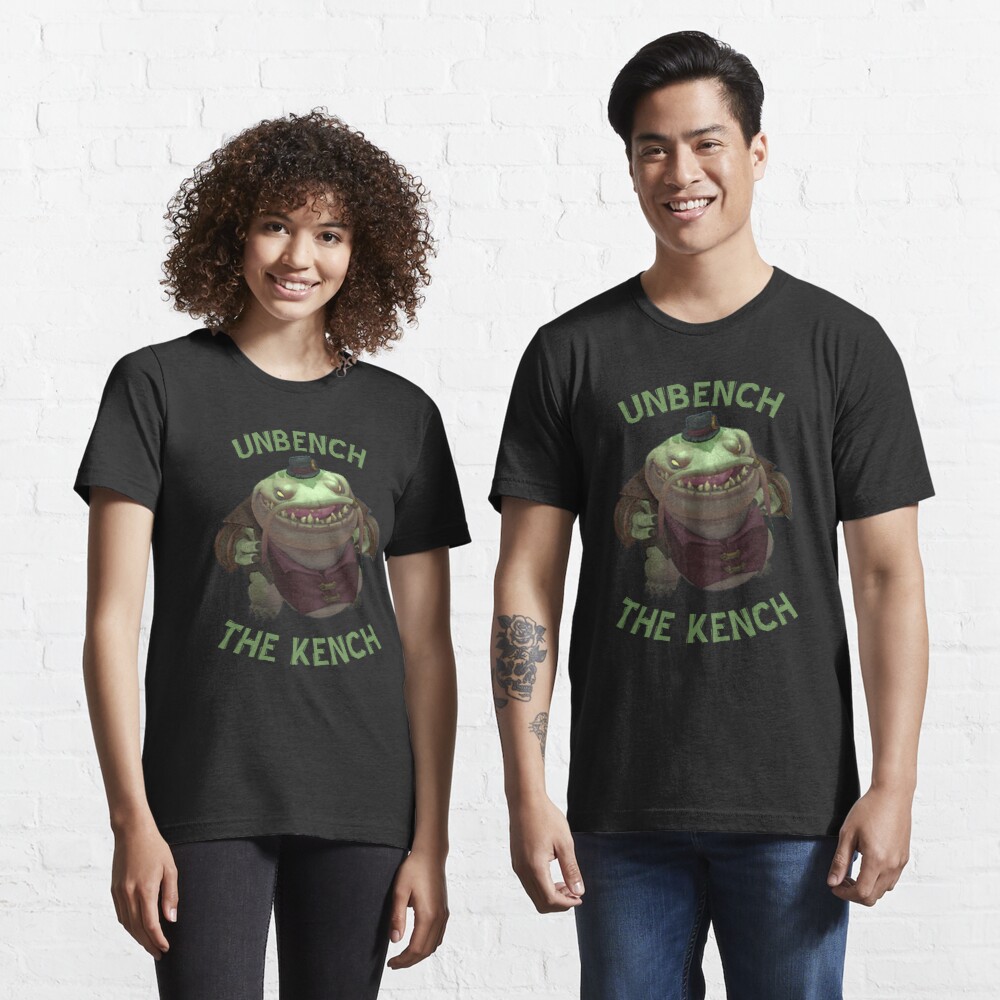 Unbench the Kench is based on another meme circling within the League of Legends community. It refers to a move where Tahm Kench swallows an opposing carry and goes back to his team so that the allies can mob him. However, it can also be used for situations where a player behaves stupidly.
The print shows Tahm Kench in his usual posture. He has the traditional brown vest and dark green hat, and he's holding the sides of the vest. The champion's mouth is wide open as if getting ready to swallow an enemy. Above and below the champion, there is a simple green phrase, "Unbench the Kench."
This is one of these tops that only works for League of Legends players. If people around you get the reference, you will become popular overnight. Otherwise, it is just apparel with a big, ugly frogman. The t-shirt comes in 17 colors, and the majority of it is made from cotton with some polyester used for denim heather and heather gray-colored t-shirts.
Chibi Koi Nami T-shirt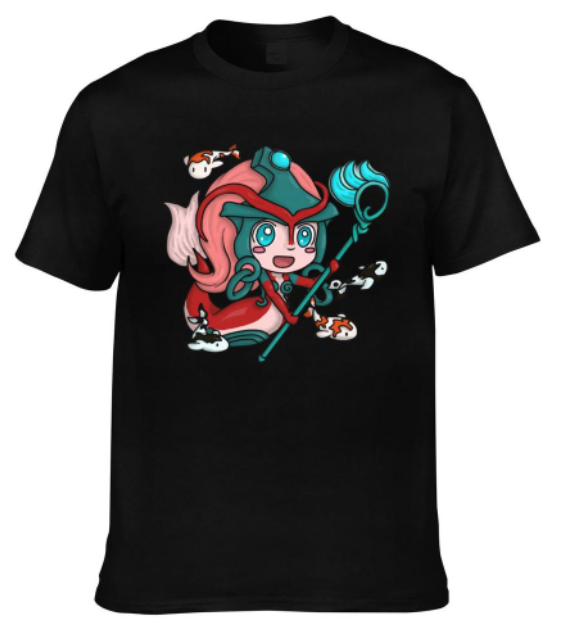 Another product I simply adore is Chibi Koi Nami. Just when you thought that Riot outdid itself with Koi Nami skin, the community had to go one step forward and make her a chibi.
The design is fully done in chibi style, and Nami has massive blue eyes common for these characters. She also has pronounced cheeks and a toothless mouth. The color combinations are the same as for the cosmetic, but they are a bit gentler, giving it an anime/comic feel. I also like the turquoise staff, the orange hair, and the fact they've shown several koi fishes swimming around her.
Although this design is pretty awesome in its own regard, it is actually just one piece from a larger Leagues of Legends chibi series. You can also purchase Chibi Queen Ashe, Chibi Warlord Shen, and a few other items. The design is pretty jovial, and you can wear it on just about any occasion.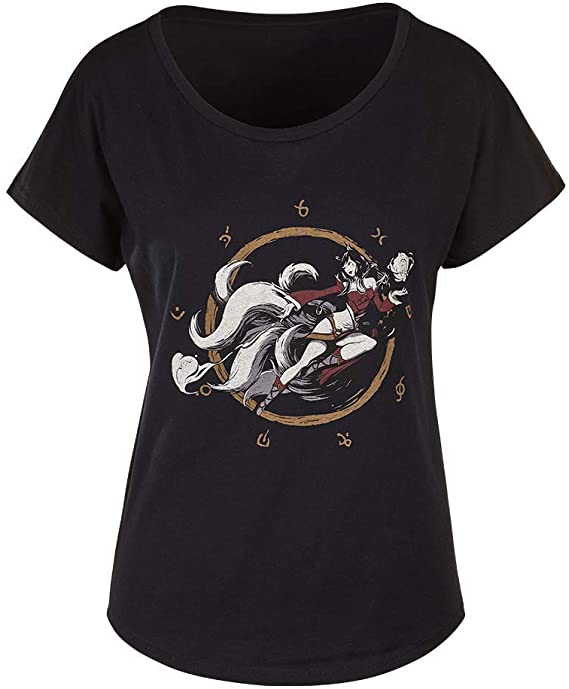 This is probably the best Ahri shirt I've seen. What's so good about it is the fact that the designers didn't use just some image and printed it on the front of the t-shirt. Instead, they've used several elements for the design, making it very unique.
First off, Ahri is placed within a large brown circle surrounded by 9 runes, likely referencing her 9 tails. The champion is swaying towards one side while blowing a kiss towards the left (the same visual used for Charm ability). As she's doing that, she is also holding a large rose in her other hand.
The Ahri model doesn't rely on too many colors. She has a red dress and a small red detail on her boots. The rest of her clothes and body are done in white, black, and a smidgeon of gray. As a result, she looks really nice against a black background.
The shirt comes in small, medium, large, extra-large, and extra-extra-large. It is made from 60% cotton and 40% polyester, and like many other print designs, it is recommended that you wash it with cold water. Ahri t-shirt is currently available in the Amazon store.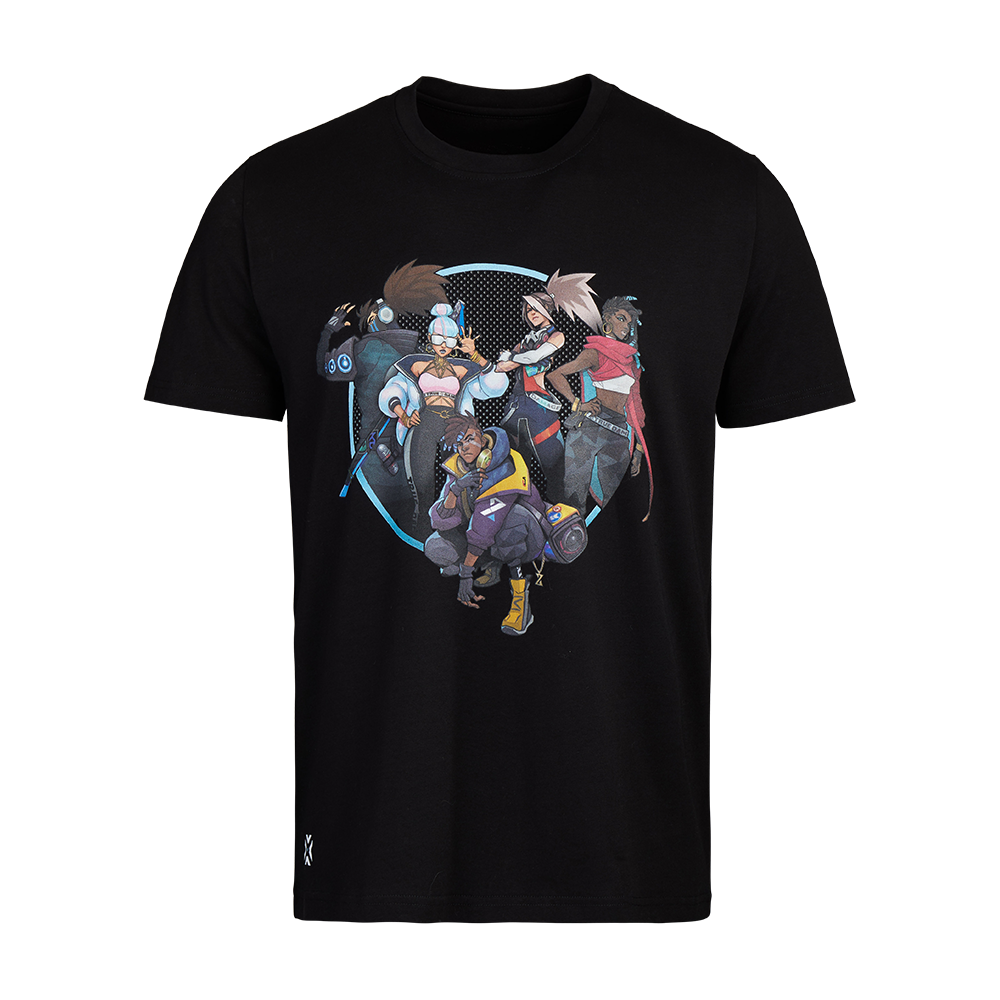 "True Damage" is one of the most popular skin collections within the League of Legends universe. It refers to the True Damage music group consisting of Yasuo, Akali, Qiyana, Ekko, and Senna. Each one of them has a corresponding outfit color that goes well with a particular alter ego and is meant to reference modern pop music bands.
On the t-shirt, you can see the quintet striking a pose. Ekko is squatting down, showing off his outfit. Qiyana is holding her sunglasses while Senna and Akali are broodingly looking ahead. Yasuo is the only one who doesn't want to be a part of the picture, keeping to himself on the left side.
There is also a large circular shape behind them, which is probably meant to resemble a disco ball or something of that sort. If you check the backside, you can also see the True Damage logo and words. There is also a tour date for the True Damage virtual band, referring to their performance in Paris, France.
The tee is 100% cotton, and it is very durable. The most commonly purchased medium-sized t-shirt is 19.5 inches wide and 29 inches long, while the large t-shirt is 20.5 inches wide and 30.4 inches long.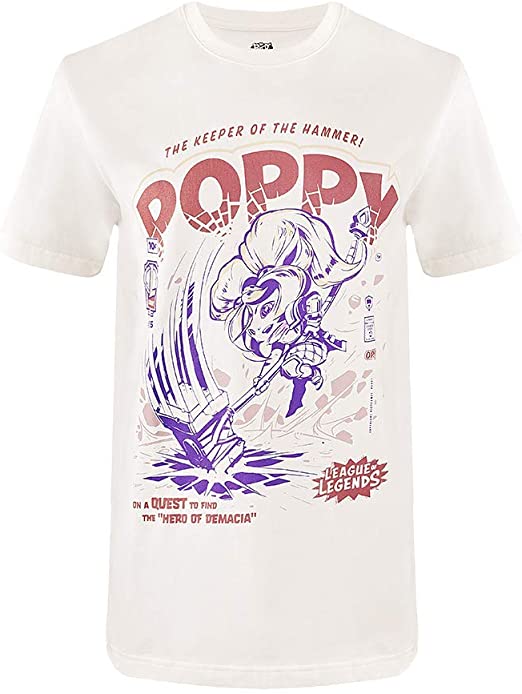 This t-shirt is an amazing throwback to old comics, and it is definitely one of my favorites. What I really like about it is not just the central pic showing Poppy as she's destroying the ground with her massive hammer but also all the small ads, price, and logos on the side of the tee, all of which were common for comic books back in the day.
Let's get back to the print. The author used ink blue to depict the contours of the champion, while the inside areas are completely white, merging with the t-shirt's background. You can also see small cream-colored pebbles in the background, made when Poppy smashed the ground.
On the top, you can see "The Keeper of the Hammer! POPPY" written. In the bottom right corner, there is "League of Legends," and there is "On a quest to find the Hero of Demacia" in the opposite corner. All in all, there is a lot going on the tee. Regardless, everything is done well, and nothing really stands out in a negative way. On the back, there is a big "L" signifying League of Legends.
Anyway, even if you're not a big fan of Poppy, this is something you need to have in a collection.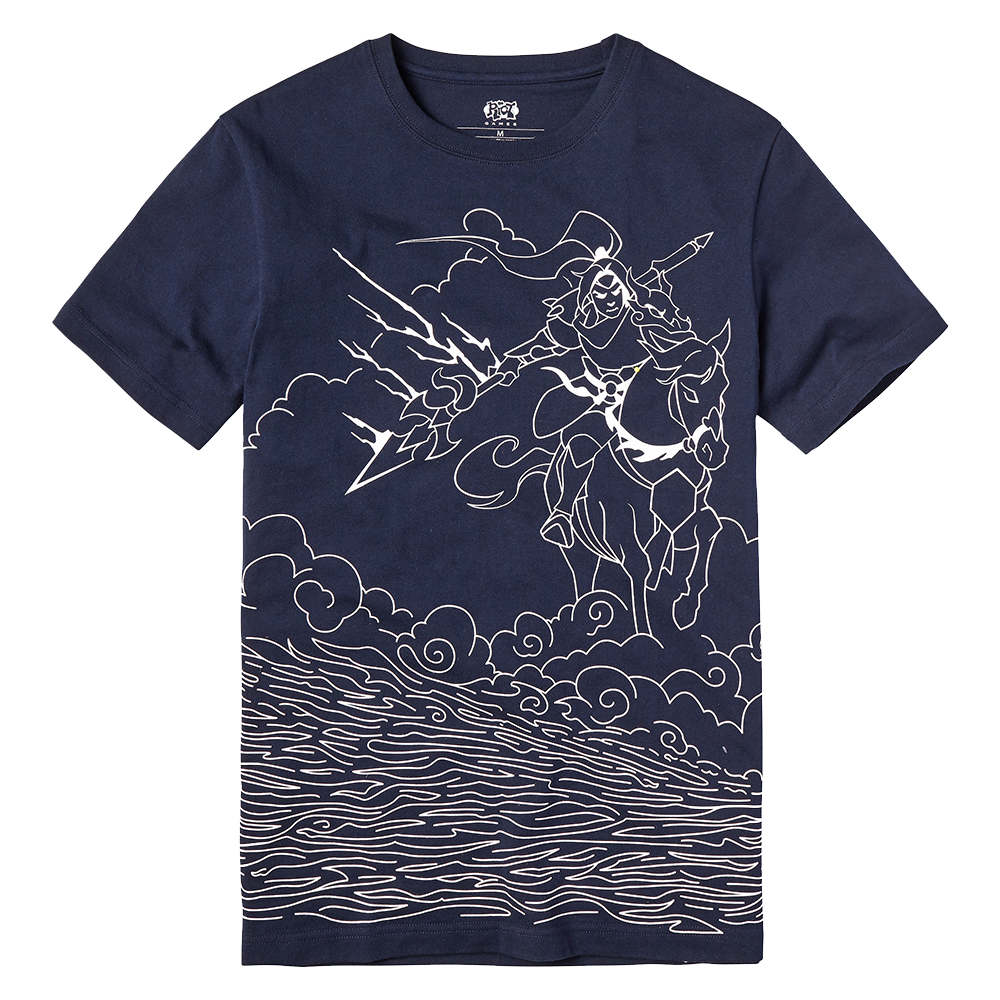 Another t-shirt with a unique design, Warring Kingdoms Xin Zhao, is a breath of fresh air, both figuratively and literally. The tee shows Xin Zhao on his horse as they glide over windy skies. It is a very poetic and beautiful image, and it can be a great purchase for anyone, even if they're not LoL fans.
The designers did a great job with colors. There are no excessive details, and everything is simplistic. The shirt is dark blue, while the wind, horse, and Xin Zhao are white. To be precise, you can only see their contours. There are literally no other colors on the product besides white and dark blue. While this prevents shading, the image of Xin Zhao gliding on the clouds is a powerful one.
Right now, the product is available on Amazon. It is 100% made from cotton, and unlike other prints, it is a bit easier to maintain. Although it is a bit hard that this skin is from the Warring Kingdoms collection, you can still recognize it if you take a closer look.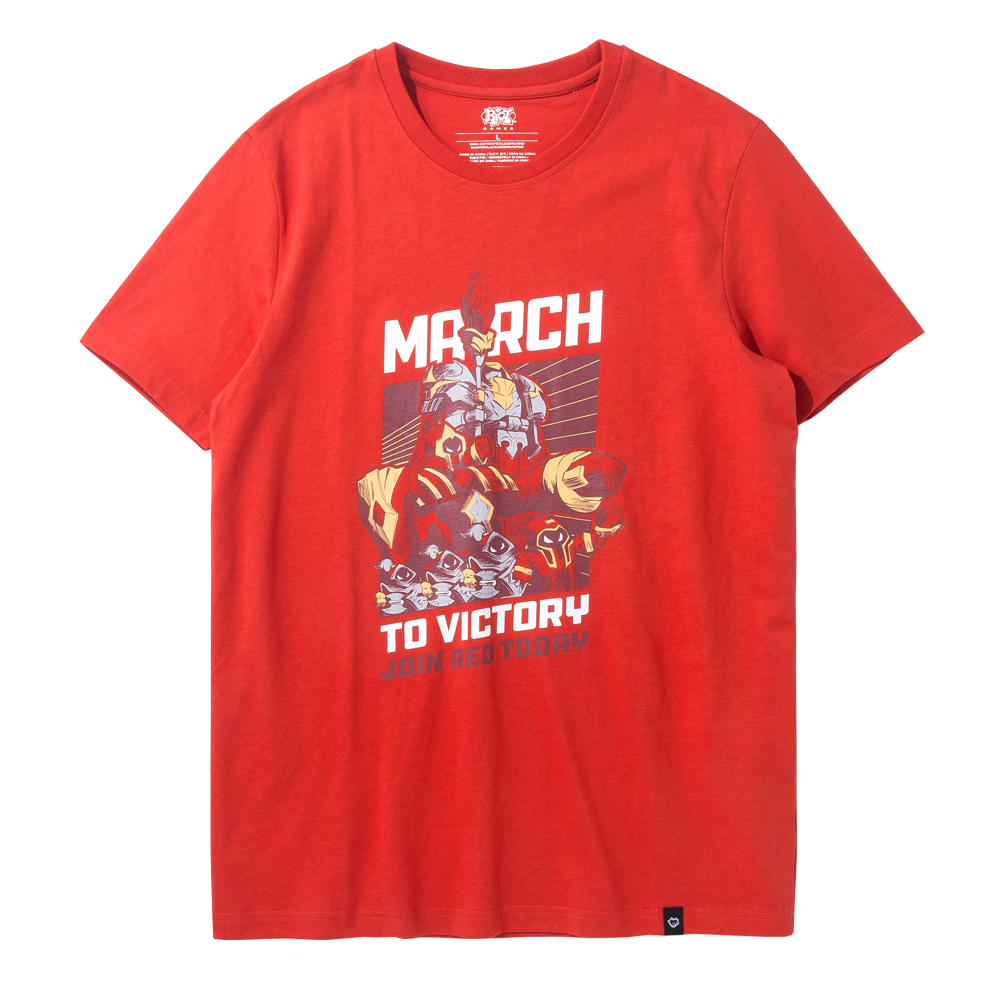 Recently, I wrote a guide analyzing the best League of Legends backpacks. One of my favorites is Join Red minion backpack. The same design is also used for a t-shirt, and while some players would prefer wearing champion-themed apparel, you can't deny that this product looks very cool.
First off, this is a fully-licensed Riot product ensuring the highest quality of the tee. The item is completely red, with a minion print on the front. It shows several melee minions, a caster minion, and a catapult pushing towards victory. There is also a turret behind them.
Overall, I like this throwback communist theme. This kind of apparel has become very trendy in the last ten years or so, and Riot also wanted to capitalize on it. Even without the message, it would still be a nice product. However, the phrase "March to victory, join Red today" makes it that much more powerful and impactful.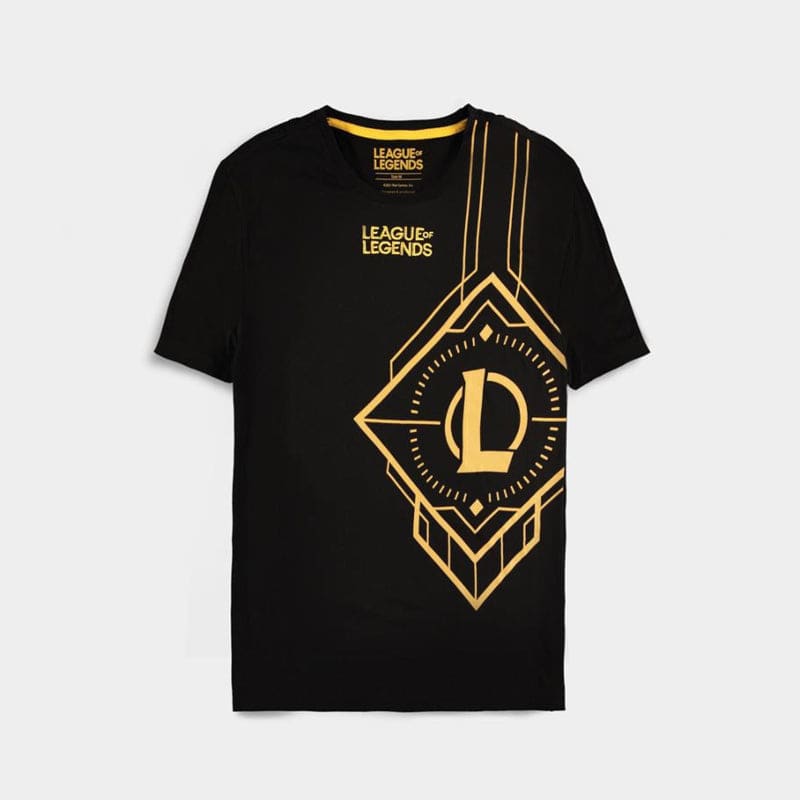 What better way to show your support for the game and the company than by wearing the basic League of Legends t-shirt? This is a really simple and straightforward product, and it looks very polished and clean.
Basically, the shirt is full of black with golden letters. On the front top, it is written League of Legends, while the left side of the shirt is covered with a large "L" surrounded by a golden diamond. There are also a few lines and other details to go with it. To be honest, it reminds me a lot of the Armani Exchange collection. The color combination and slick design make it look very luxurious.
Keep in mind that this is a men's product. It comes in S, M, L, XL, and XXL sizes, and it is fully made of cotton. The material is very resilient, yet, you can wash it without damaging the print too much. As if that wasn't enough, there is also a 2-year warranty, which is very uncommon for tees.
Kayn, the Shadow Reaper, t-shirt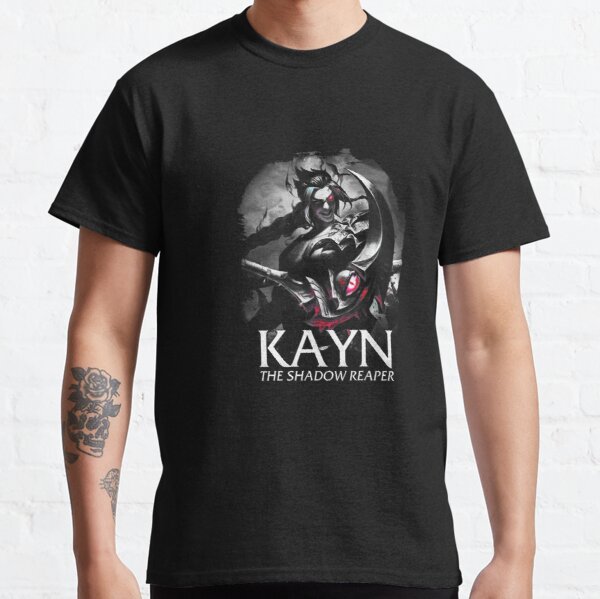 I often think that no matter what kind of Kayn apparel you make, it's going to be awesome. Simply put, this is one of the meanest champions in the game, and most guys love wearing tees with his face.
For the most part, this shirt is completely black. Kayn print combines different shades of white, gray, and black, with a bit of strategically placed red color. You can see the champion smiling while red energy protrudes from his left eye. The red color is also used for a few blade effects. This contrast between monochromatic colors and red is incredible, giving the champion an even more menacing appearance.
Besides Kayn, there are also large League of Legends words written below the print. The tee comes in S, M, L, and XL (for ladies), and S, M, L, XL, XXL, and XXXL for guys. It has short sleeves o-neck collar and is made from 100% cotton.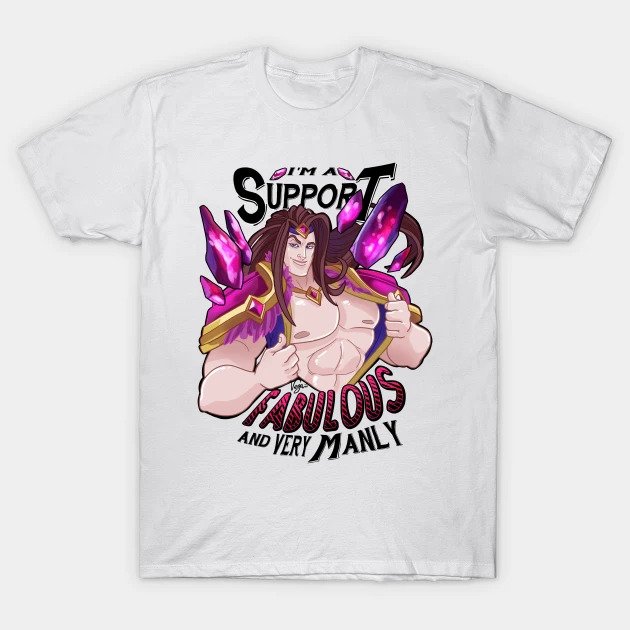 Here is another item that celebrates the role of support. It features Taric, who is ripping his shirt to showcase a manly body. For whatever reason, the champion looks like a character from a Disney movie. He wears a purple and blue outfit with golden outlines, and you can see purple crystals hovering above his shoulders. Confident in his masculinity, Taric has a very dirty look on his face.
Above Taric's head, there are letters "I'm a support," while "fabulous and very manly" are written below the main print. The color combinations are very jovial and relaxing.
You can choose between whopping 27 t-shirt colors and 8 sizes from S to 5XL. As if that wasn't enough, buyers, there 6 t-shirt styles, including classic, tri-blend, v-neck, premium, heavyweight, and eco t-shirts. The product is currently sold on the Teepublic site.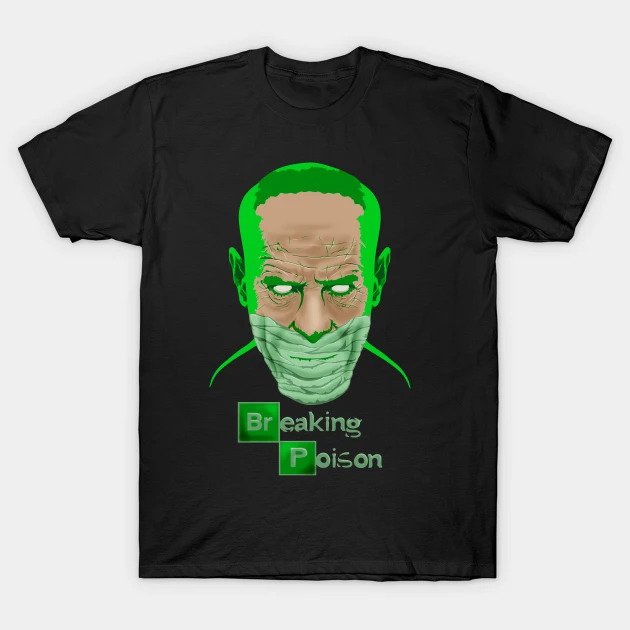 Singed apparel and collectibles are very rare, which is why this product gained my attention. The design combines Singed face with a popular Breaking Bad word scheme (Breaking Poison where BR and P are in squares).
The default tee is black, but you can also choose between 15 other colors, including red heather, royal blue, hot pink, and others. Green is dominant on the shirt; most of the Singed face is made with it, including several wrinkles on his forehead and around his eyes. He is somewhat similar to Walter White, and it makes it even better that both of them are chemists.
You can go with male or female print, 6 different t-shirt styles, and any size from S to 5XL.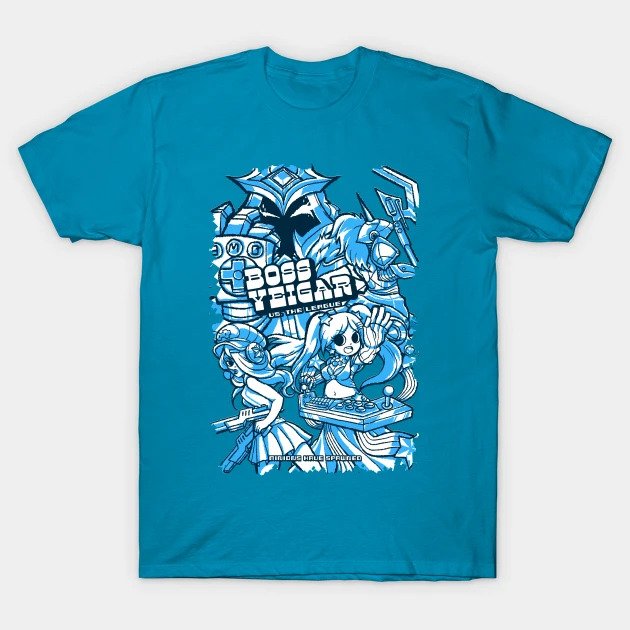 Here is another very unique product. It pays homage to the popular Arcade theme, where Boss Veigar takes center stage, with Arcade Miss Fortune, Arcade Sona, and Arcade Hecarim surrounding the evil mastermind.
The champions have a unique appearance and numerous details. One thing that stood out to me was Miss Fortune's and Sona's eyes, which look very similar to those of the Powerpuff Girls. The print utilizes several different shades of blue and white. Although they are not engaging each other, the champions look very dynamic. There are also "Boss Veigar vs. the League" letters written all over the print.
Besides the four basic t-shirts, you can also go with black and asphalt backgrounds. Like other League of Legends apparel featured in the Teepublic store, there are 8 sizes and 6 t-shirt styles to choose from.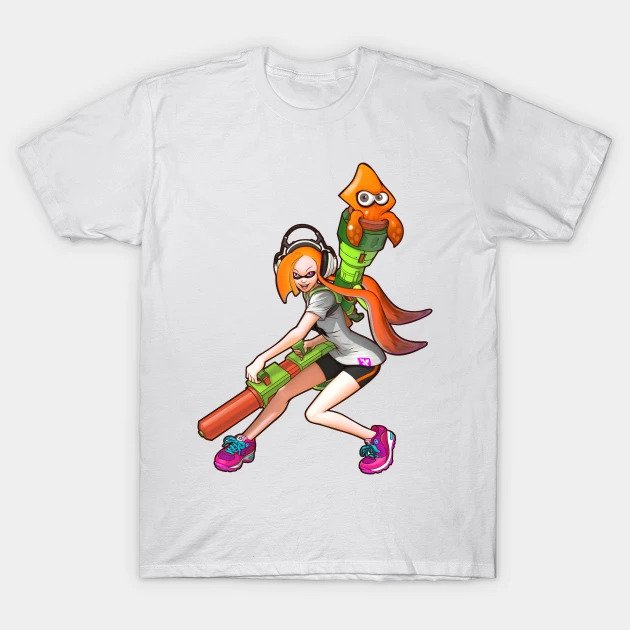 It is hard to talk about League of Legends collectibles and apparel without mentioning Jinx. This champion has gained enormous popularity after the release of Arcane, and now, you can see her stuff all over the place.
Squid Jinx is done in a similar graphic style as Taric in the I'm Support t-shirt. It is very lighthearted with lots of funky colors. The first thing you'll notice is the evil-looking squid peeking from the champion's bazooka. Speaking of her weapons, they are both green with orange bits, which goes really well with Jinx's outfit. She has orange hair, a white shirt, black shorts, and cool-looking pink sneakers.
The print can be placed on just about anything, and you can also find mugs, masks, and stickers with this design. It comes in 27 colors but, in my opinion, it looks the best against white and black backgrounds.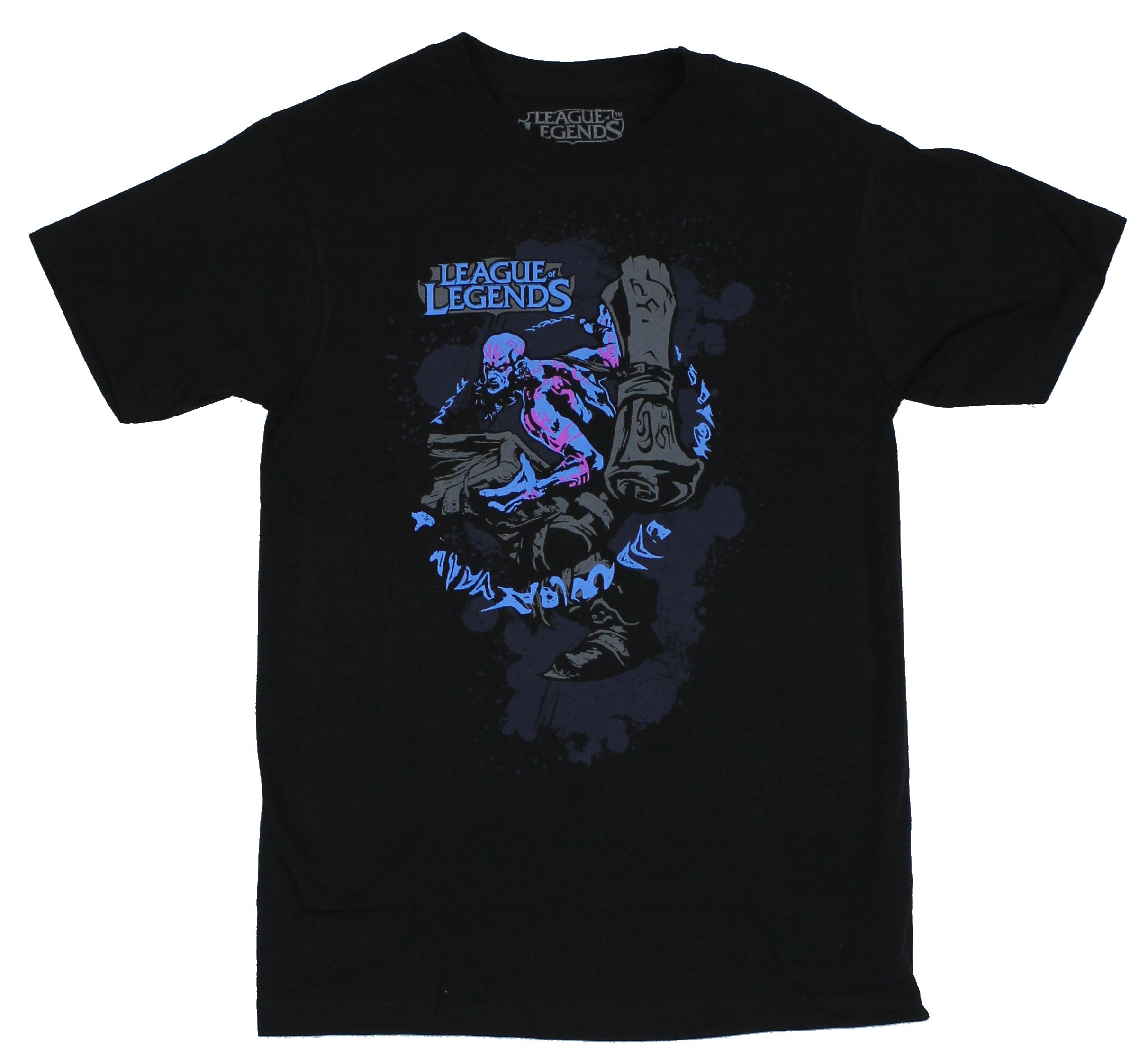 Ryze is another one of those champions that have been around forever but simply isn't getting enough love. Truth be told, he is rarely in the meta or promoted in popular publications, so it makes sense that manufacturers wouldn't make too much apparel with his face. This is precisely why this tee stands out.
On the front of the tee, there is a large purple circle that looks light night sky. Ryze is inside of it, preparing to unleash lightning from his hands. He looks very intimidating and powerful. On the bottom of the print, you can see a large League of Legends logo.
The product comes in 9 variants, and it has short sleeves with a round neck. It is a unisex product that is sold in XS to XXL sizes. It is made from cotton, and you can wash it in a machine without worrying about damage to the print.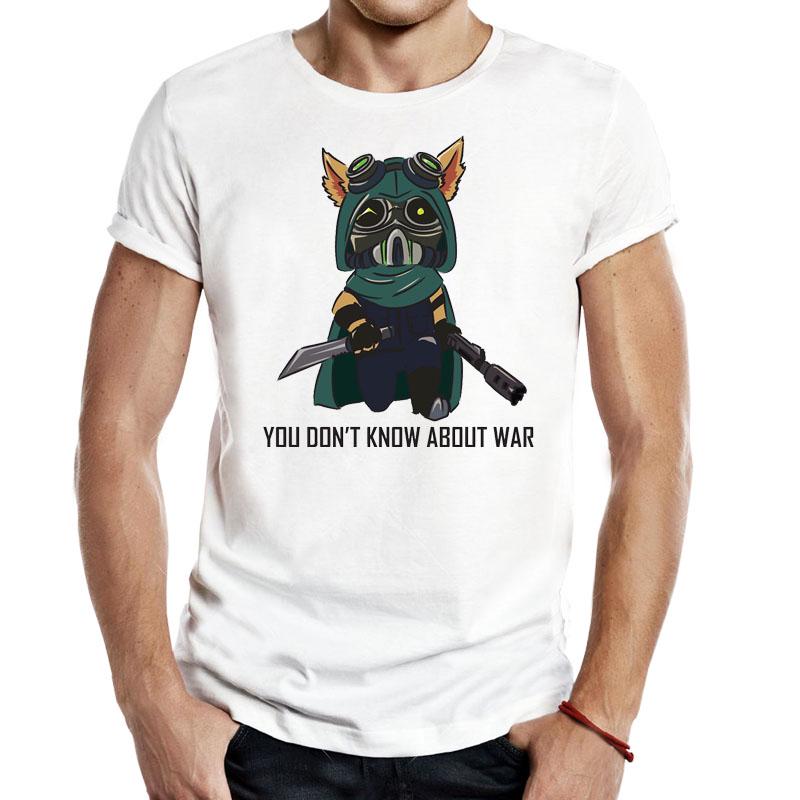 No matter how you utilize Teemo, the results will always be hilarious. Even when we're talking about the Omega Squad theme, a skin collection that is meant to be dark and gritty, Teemo somehow manages to look as funny as ever.
Omega Squad Teemo is placed against white t-shirt background. He has the outfit characteristic for this skin, with a green raincoat covering most of his body while a gas mask covers his face. He also has night goggles on top of his head with a knife and a gun in his hands. Below the print, you can see the letters "You don't know about war," which somehow feels hilarious coming from a character such as Teemo.
The product is currently sold on the Joom site, and you can choose between XS to XXXXL sizes. The tee is made from cotton.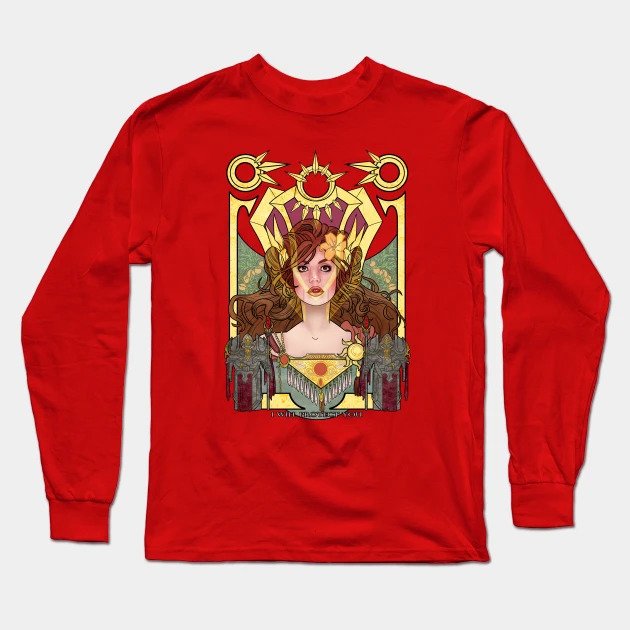 The last entry to this list is the Leona t-shirt. The t-shirt is meant to resemble a classic art piece, with lots of small details. There are only a handful of products on the market that looks like this making it very unique.
The champion is positioned in the front center of the t-shirt, looking at the sky. Her hair is all over the place, while Leona's shield hovers over her hand. There are various other neat details on the print, such as a flower in her hair and the two guardians at the bottom. It definitely looks different from what we're used to. You might also notice small "I will protect you" words below the print.
FAQs
Question: What are the best League of Legends t-shirts?
Answer: League of Legends t-shirts are among the most common LoL items on the market. Given that are so many different designs and themes, they are suitable even for those who don't play the game. My personal favorites are Minion Join Red t-shirt, True Damage official t-shirt, Yordles Abbey Road t-shirt, and Warring Kingdoms Xin Zhao. However, I would wear all the products on this list.
Question: How much does the average League of Legends t-shirt costs?
Answer: League of Legends t-shirts have the same price as most other shirts that you can find online. On average, they are between 10 to 20 dollars. Of course, this can vary significantly based on the manufacturer, quality of the t-shirt, and a few other factors.
Question: Which champions are featured on League of Legends t-shirts?
Answer: These t-shirts feature various champions. The most common ones are probably Jinx and Teemo, but you can find a lot of other characters such as Annie, Rammus, Sonna, Ekko, etc.
Best League of Legends Shirts: Conclusion
If you're a League of Legends fan, you should definitely consider getting one of these products. Most of them are fun, jovial, with bright colors, and you can wear them on any occasion. Of course, there are also some gloomy t-shirts featuring the likes of Kayn, Yasuo, Twisted Fate, etc.
These products are commonly sold on sites such as Amazon, Etsy, and Riot's official store. So, you shouldn't have a hard time finding them. I would recommend t-shirts such as True Damage official t-shirt, Minion Join Red t-shirt, Poppy comic inspired t-shirt, and Boss Veigar vs. the League (but honestly, I like all of them).
Read More: